Skincare
The most common misconceptions about Vitamin C—debunked by Dr Dennis Gross
Take your vitamins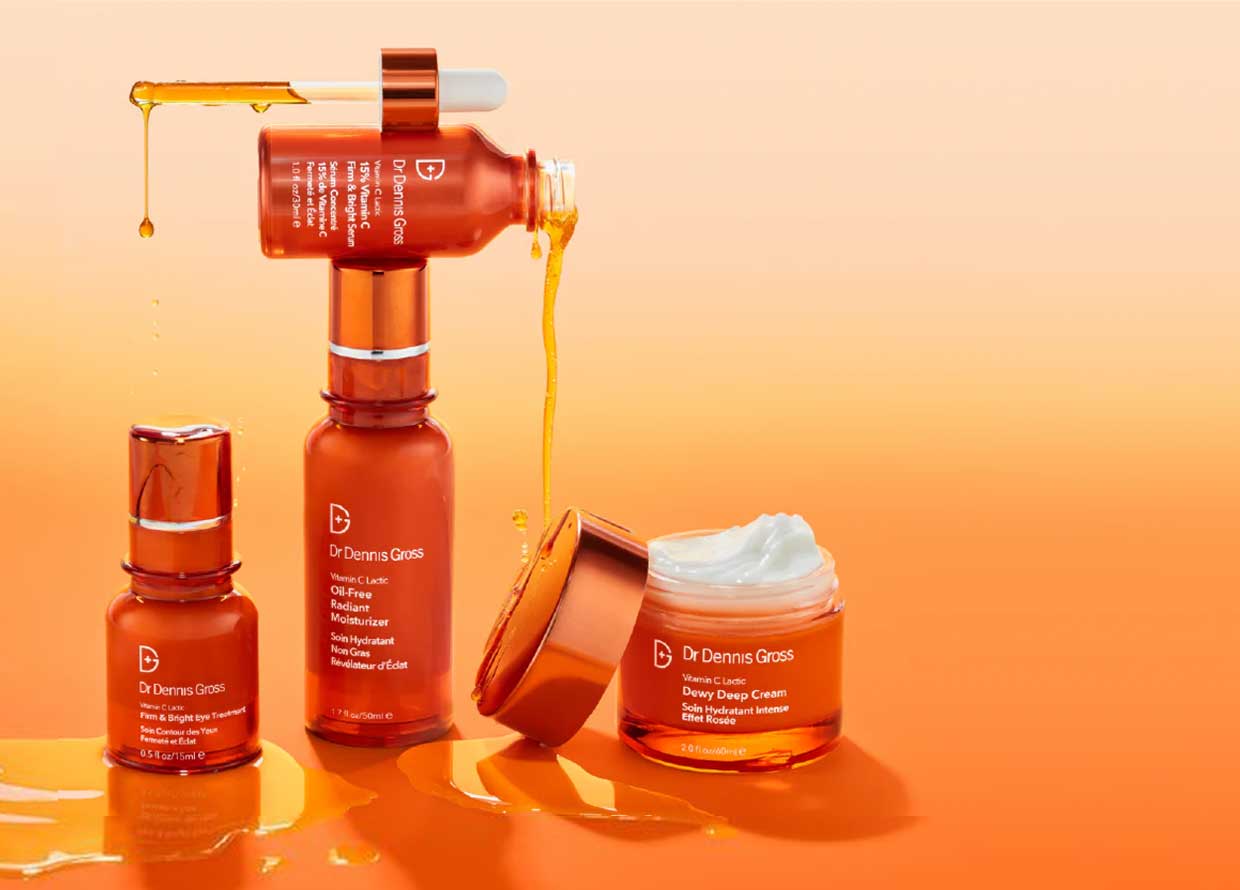 These are the vitamin C myths you may have heard (but shouldn't believe)…
Vitamin C is a powerhouse ingredient in the skincare world, which explains why it's in almost every product. However, not all products are created equal, and this discrepancy in quality and efficacy between different products has ultimately led to the rise of many misconceptions surrounding the ingredient.
To glean more about this incredible ingredient and debunk the biggest misconceptions, we spoke to practising dermatologist Dr Dennis Gross. His eponymous brand launched back in 2000 and has since expanded in both size and offerings in its 23 years of business. Each new launch from the Dr. Dennis Gross brand features state-of-the-art formulations that harness the power of active ingredients, clinically proven delivery systems and soothing botanicals to deliver real results—without the irritation.
In short, the brand has been at the forefront of innovation within the skincare industry since its conception, and that innovative streak has birthed the brand's new and improved Vitamin C Lactic range. So, who better to settle the score than the man behind the brand? From the dos and don'ts of mixing vitamin C to whether it's okay for nighttime use, find the vitamin C misconceptions debunked by Dr Gross ahead: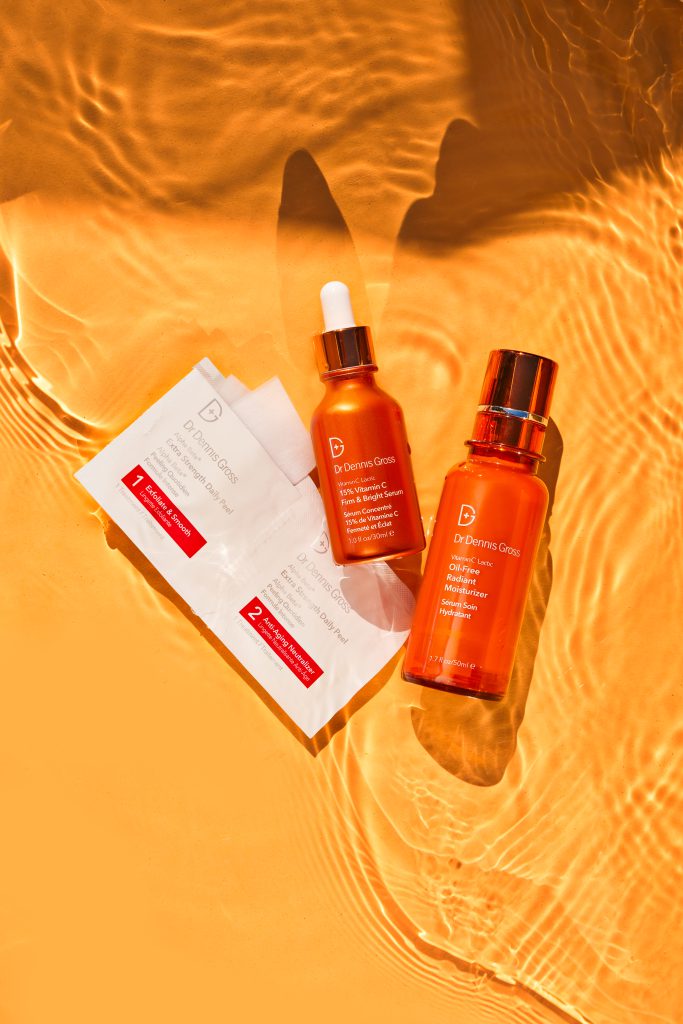 Myth #1: You should never mix your vitamin C
READ: The dos and don'ts of layering skincare: An easy guide to skincare chemistry
This is a common misconception… that actually isn't totally baseless. It's true that mixing some actives together can cause irritation—particularly when they are higher in concentration—but it isn't a hard and fast rule. Rather, it depends on a few factors:
How the product is formulated
The concentrations of the active ingredients in the products you're mixing
The condition of your skin
Dr Gross asserts that while it's true that some ingredients don't play well together, others may actually enhance the benefits of your skincare routine—and it's all about finding the perfect pair. "For example, I wanted to find a way to make vitamin C work harder for better benefits. After months and months of research, I discovered that lactic acid—previously never paired with vitamin C—actually improves the absorption of vitamin C, driving it deeper into the skin, and replenishing ceramides and GAGs to help strengthen the moisture barrier, which eliminates any irritation vitamin C might cause. There is also new medical literature that shows lactic acid works in the moisture barrier to neutralise free radicals in the lipid phase of the skin."
Myth #2: All acids are damaging to the skin
Acids have garnered a bad rep outside of the skincare world, so it's not surprising that this misconception is so prevalent. If you've been sceptical of any product with 'acid' listed among the ingredients, fret not! We're here to calm your qualms. The world of acids is vast and nuanced, and—believe it or not—acids don't just exfoliate and/or corrode your skin! Depending on the acid you're working with, it may have hydrating or rejuvenating benefits. For example, vitamin C covers a range of ascorbic acid derivatives, and we've just been through its many pluses.
Another example is lactic acid. According to Dr Gross, "lactic acid is a naturally occurring alpha hydroxy acid that stimulates cellular renewal, increases internal hydration synthesis and helps repair and protect the skin's moisture barrier." Essentially, as long as it has been formulated for the skin and used as directed, acids in your skincare are extremely useful!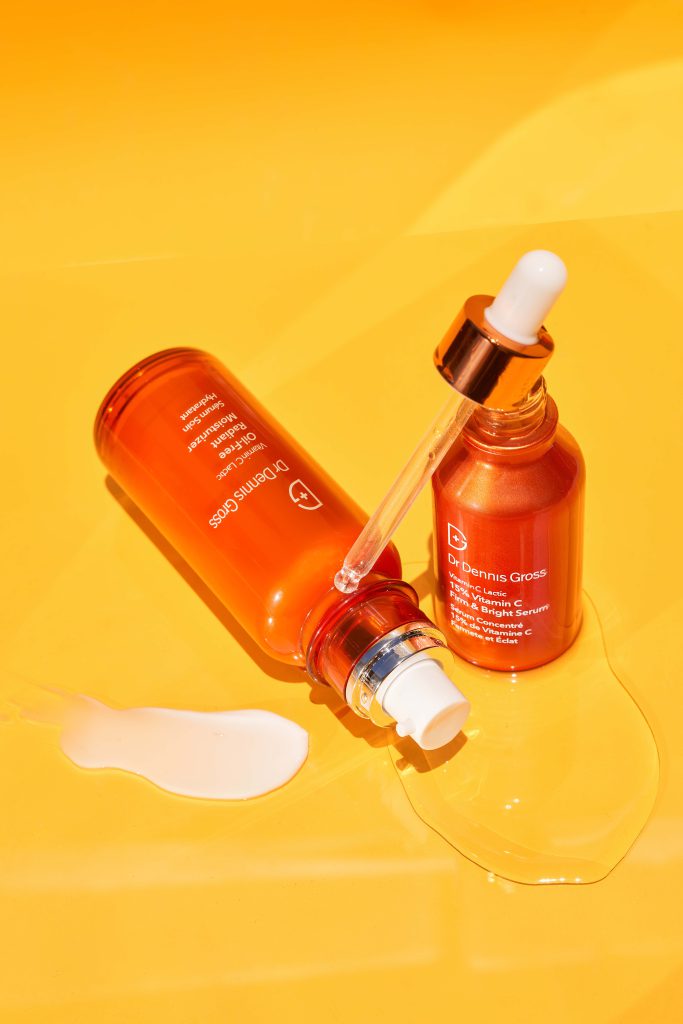 Myth #3: You only need to use vitamin C when you've got visible dark spots
READ: QUIZ: How well do you know your skincare ingredients?
Vitamin C does more than just lighten dark spots—it's an all-rounder ingredient that keeps the skin happy and youthful! "As a dermatologist, vitamin C is one of my all-time favourite ingredients. Because of the vast array of benefits of vitamin C, nearly everyone can benefit from the ingredient," says Dr Gross. "If you are looking to diminish hyperpigmentation, target fine lines and wrinkles, prevent early signs of ageing, improve radiance or strengthen your moisture barrier, the Dr Dennis Gross Vitamin C Lactic range is for you."
"There are so many benefits to vitamin C. It neutralises free radicals—the molecules that break down collagen—and stimulates our skin's natural production of collagen," he continues. "Remember, collagen is key to healthy, younger-looking skin. Vitamin C is a tyrosinase inhibitor meaning that it blocks the spread of excess melanin that leads to dark spots and hyperpigmentation. Finally, vitamin C has been shown to repair the upper layers of skin for improved skin health."
Myth #4: Vitamin C is only good to use during the day
There are plenty of benefits to using vitamin C during the day (particularly under sunscreen with SPF30 or higher). Specifically, Dr Gross explains that vitamin C "protects the skin from free radicals coming from the sun or pollution during the day while stimulating collagen production". That said, it's also completely fine to use the ingredient in your nighttime routine—you'll still be getting the radiance-boosting and collagen-stimulating benefits even after the sun goes down.
The Vitamin C Lactic collection from Dr Dennis Gross is available to shop here—here's a breakdown of how to incorporate the collection into your routine, according to Dr Gross himself: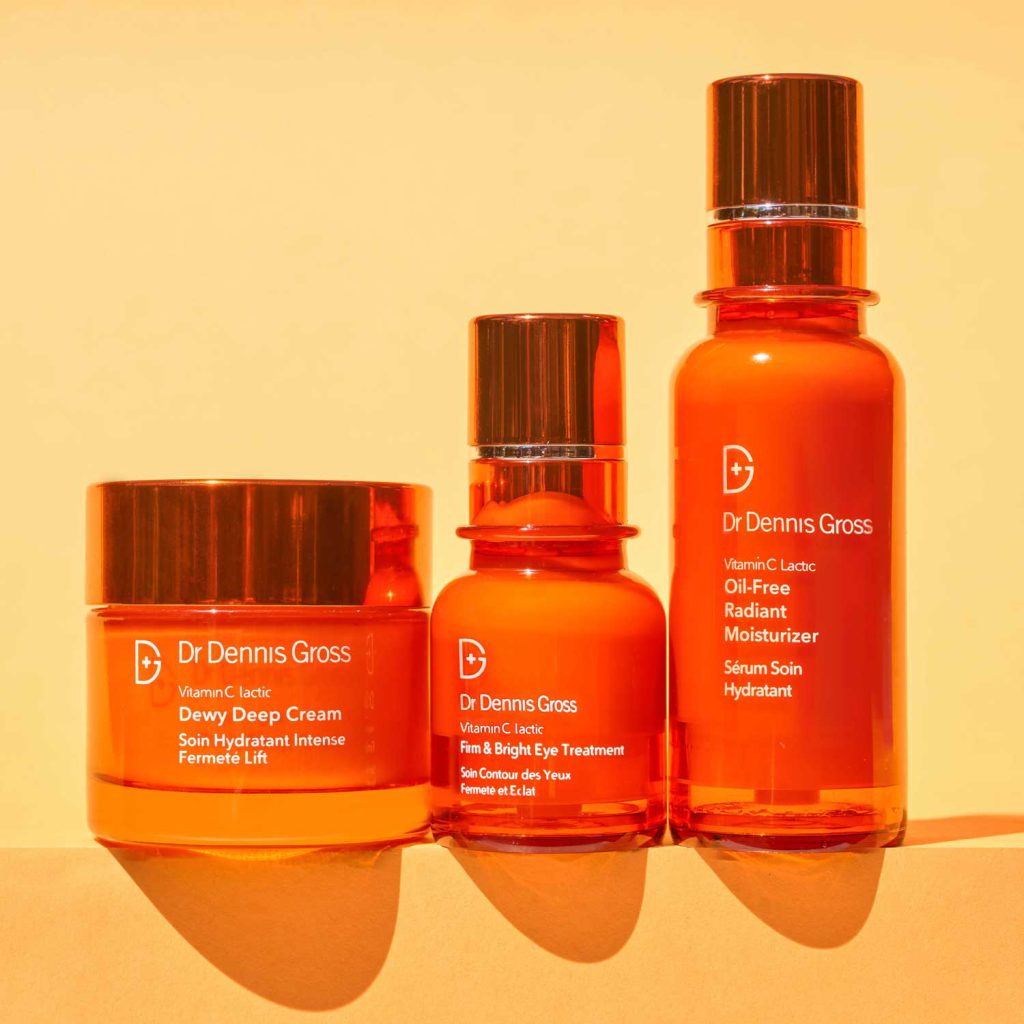 Step 1: 15% Vitamin C Firm & Bright Serum
"I like to use this product in the morning after cleansing and peeling. That said, you can use the product at night if you prefer."
Step 2: Firm & Bright Eye Treatment
"Apply this after your serum and before your moisturiser. Tap the product into the undereye area and crow's feet."
Step 3: Oil-Free Radiant Moisturiser
"Use this after your serum and eye treatment. I recommend this moisturizer if you have oily or acne-prone skin. You can use it morning and/or night."
Step 4: Dewy Deep Cream
"If you have dry, dull skin, this is the moisturiser for you. Use after your serum and eye treatment. You can use it morning and/or night."
Step 5: Sunscreen
"Always finish your daytime regimen with a sunscreen of SPF 30 or higher."
For more beauty reads, click here.
| | |
| --- | --- |
| SHARE THE STORY | |
| Explore More | |