Skincare
Brand focus: How Melixir's founder Hana Lee has revolutionised ethical K-beauty
Beauty insiders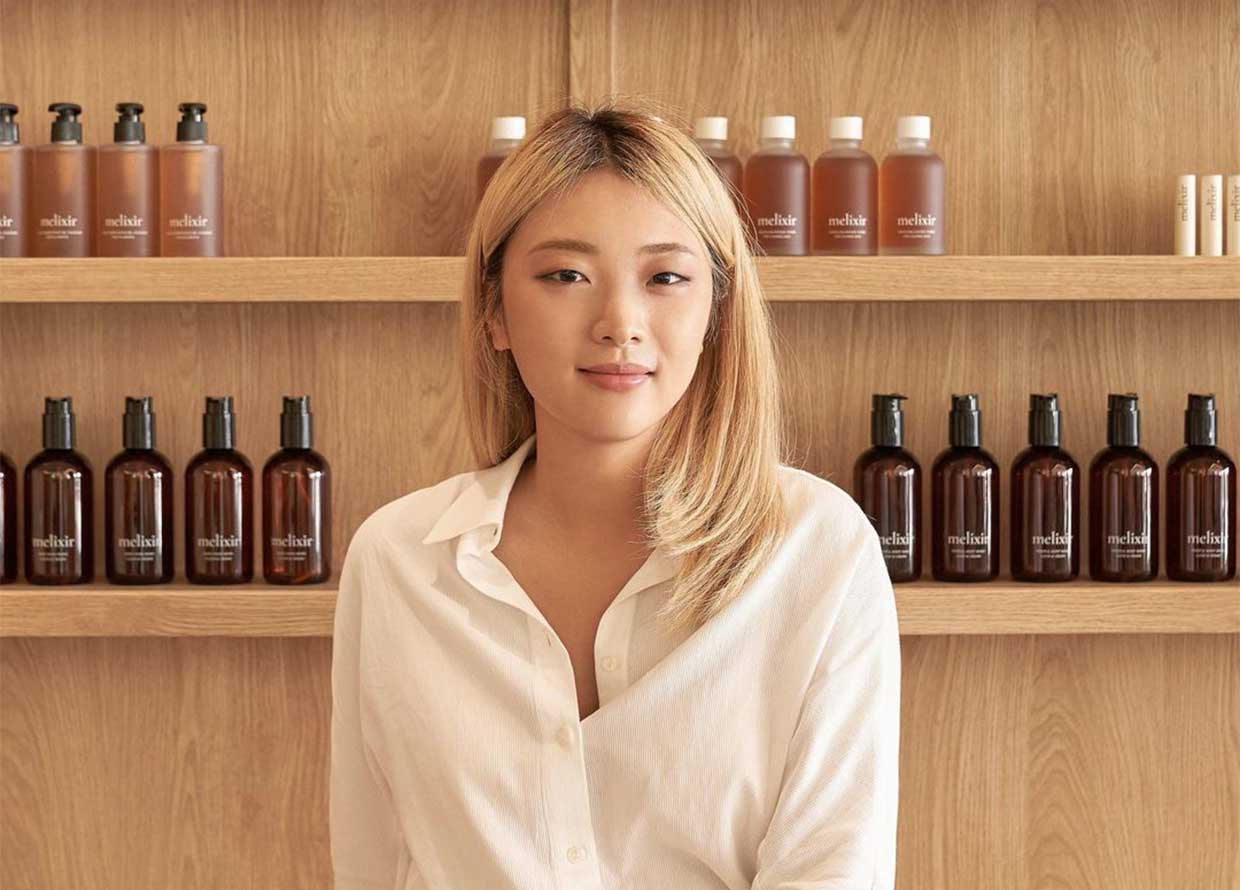 We headed to the Melixir HQ in Seoul to catch up with founder and CEO Hana Lee—read our full exclusive ahead.
Roll up, roll up: In news that will surprise absolutely no one, K-beauty is still extremely popular. Truly, if we had to pick one trend that has ruled the beauty landscape for years now, K-beauty is at the top of the list—and still, its influence keeps growing. In fact, at this point, it has transcended the idea of being a trend—it's now just setting the standard for the industry globally.
We are, however, at an interesting crossroads. As the Western and Asian beauty markets continue to merge and overlap, the niche continues to be reinvented—mostly for good. Whether it's the movement towards diversity or the increasing prioritising of sustainability, the K-beauty scene is evolving. But while others play catchup, there has been one brand at the forefront of it all, ahead of its time. Melixir.
Founded in 2018 by Hana Lee, Melixir was the first vegan and cruelty-free K-beauty brand in Korea. The brand found immense success both nationally and internationally, thanks to its lineup of effective, naturally-powered formulas. To learn more about the brand's beginnings and core philosophies, we actually headed to Melixir's Seoul HQ to chat with Lee in person and glean her thoughts. Read ahead for the full exclusive:
Melixir's status as a B-Corp-certified, vegan and cruelty-free brand is very novel in the K-beauty industry. You were really among the first, if not the first to do it—what inspired you to start your own brand?
"Before starting up Melixir in 2018, I was working at a startup that was retailing Korean beauty products in the US and other markets as well, including China, Southeast Asia, and Korea. I was in charge of e-commerce, operation and development as Head of Global Unit. At that time, Korean people weren't that knowledgeable about veganism and sustainability in the beauty industry. I was lucky to be in San Francisco at the time because people living in California or in the US were much more aware of vegan, vegetarian and sustainable beauty, so I was able to learn about it that way. And, from there, I found that there was a gap between the K-beauty market's needs and the products that were offered. I realised that so many big companies in Korea tested on animals, which is what made me want to create a brand without animal testing and ingredients."
Aside from being vegan and cruelty-free, Melixir also prides itself on the use of Asian medicinal plants in the formulations. What got you interested in botanical ingredients and medicinal herbs in particular?
"When I was creating Melixir, I had really sensitive skin and so I wanted to find natural remedies in skincare. Growing up, my mom would always use medicinal herbs to treat and cure our body and skin—remedies that have been around for centuries. I think there are a lot of powerful and potent essences in Asian medicinal herbs that we traditionally use and I want to incorporate them into the skincare solutions that we are creating. So we can just heal in a more natural way, more organically."
View this post on Instagram
As the founder and CEO of Melixir, who are some trailblazers that you look up to? 
"I am inspired the most by Patagonia. The brand started with the founder's personal interest in nature and climbing. They first made practical climbing gear, and then later on they expanded to outdoor fashion. But I think they have changed the fashion industry and completely reinvented it. Fashion isn't very sustainable, but Patagonia always tries to find a better way to operate its business for our planet, community, society, and its customers. And fundamentally, they have a very deep passion for the quality of their products. So, they're running a business for a better purpose. That's something that I always get inspiration from. I want to redefine the beauty industry and set a new standard on how we experience and enjoy cosmetics."
Melixir has gone global! It has been well-established in Japan, America and Korea, and just launched in Malaysia earlier this year. While it's still a relatively new concept in Korea, the clean beauty movement is a pretty familiar concept in other countries. How do you make your brand stand out against other vegan and cruelty-free skincare brands globally?
"That is a very good point. I think persistence is key. I don't want to promise too many things to our customers, but we are founded on three fundamentals: Firstly, we create products that are a hundred per cent vegan. Secondly, we design products for sensitive skin. And thirdly, we are always looking for a way to make our products more sustainable. Those three promises are something that we always keep. So, just assuring that we keep delivering on our promises I think will eventually differentiate us from other brands on the market."
View this post on Instagram
What were some of the most challenging moments that you've faced when starting your own brand? 
"In Korea, the cosmetics manufacturing system is very well-established. There are more than 10,000 manufacturers, so I thought it would be easy to start a brand. But, in reality, it was so hard to find the right manufacturer that could meet my vegan standard. Like I said, at the time, vegan beauty was not well-known, so no one actually understood what 'vegan' meant, and even if they did understand, they didn't want to make special batches just for our brand, because we were really small at that time. So, I had to knock on the doors of more than 20 manufacturers and finally found one that could meet my product standards. Then, thankfully, we launched our very first product, the Vegan Squalene Face Oil."
K-beauty has gone global, you've seen it because you've worked as a distributor, it's huge overseas, what do you hope to see more of, from the K-beauty scene moving forward?
"Diversity! Korean beauty is known to focus on East Asian beauty standards like white, glowing skin. But, there are many other ethnicities in the world who like K-beauty and want to try out trendy makeup and skincare too. In terms of colour and variety of the product, I think K-beauty needs to be more diverse and inclusive in what it offers, especially in terms of race and culture. Not everyone lives in the same climate and has the same skin tone. That's something that I want to embrace within our brand, making our brand more universal for global audiences; more gender neutral and more diverse in terms of colour spectrum."
"Another thing I want to see is more K-beauty brands that are rooted in Korean heritage. In Asia, there are a lot of brands that copy or try to emulate Western concepts, but I think fundamentally, it's always good to go back to our roots and try to embrace our heritage within the brand, so we can introduce our own culture to the world."
View this post on Instagram
If you had to pick one Melixir product, which one would it be?
"I have to choose the Vegan Relief Facial Cream. That's my favourite. I do want to say our sunscreen because I know so many people like it… but I have to choose the moisturiser. It's so hydrating and gentle but not watery."
For more beauty insiders like this, click here.
| | |
| --- | --- |
| SHARE THE STORY | |
| Explore More | |