Our future is shaped by the little things we do every day. From morning to night, having a daily routine keeps us focused and closer to achieving our dreams. Be it the food we eat, how we overcome challenges or our favourite skincare, making good choices propels us towards being the best version of ourselves.
Keep scrolling to find out how fitness entrepreneur Maggy Wang lifts her spirits and stays firm in achieving her goals, supported by Elizabeth Arden's new Advanced Ceramide Lift & Firm Day SPF Cream and Night Cream, and the Advanced Ceramide Capsules Daily Youth Restoring Serum in the new swivel jar.
Start the morning strong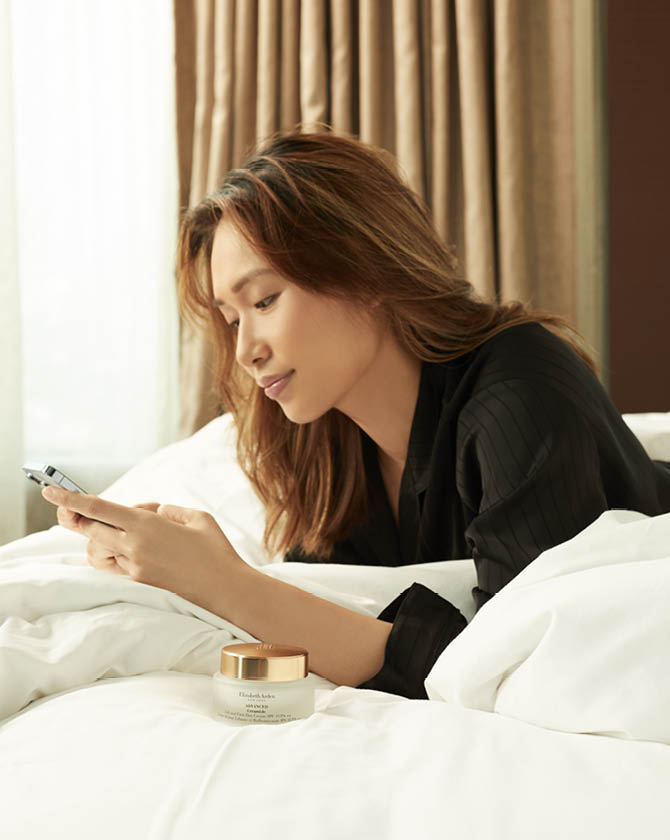 "I'm an overthinker. I'm usually bombarded with thoughts as soon as I open my eyes. So lately, I'd sit by the side of my bed and take a couple of deep breaths before brushing my teeth and getting on with the day. I used to check my phone as soon as I woke up but I've been trying to set a better morning routine for myself. It's still a work in progress.
"I think this season of my life has been very stressful, there are many moving parts that require my energy and attention. There's not been much mindfulness, to be very honest. It's just been checking off my daily to-do lists as best as I can. I'm reminding myself to practise more of that in the coming months. That's life, though, right? You can't possibly be mindful 24/7 for all of the 365 days. Some days, we slip a little and that's completely okay. "
Eat well for more energy
"In the morning, I'll go for a few good gulps of water to re-hydrate myself. I don't usually have breakfast but I've started to eat a small bowl of oats occasionally just to get my digestive system going. I typically don't have a full meal till lunchtime, which is when my body feels like it's ready for some food. I'm not on a diet, though: it's just my personal preference and that's different for everyone.
"I went for a full-body checkup early this year and found out that I've got pretty high LDL, meaning bad cholesterol. Ever since, I've been very mindful of the food that I consume. I think it does show in my energy levels, my skin tone and the way I feel too. So generally, my food intake leans towards the healthier side, but I do have a good balance.
"On days where I indulge in Korean barbecue with my friends, I'd balance it out with some brown rice or a poke bowl for my next meal. I practise eating in moderation too. Before, I'd overeat and stuff myself with food but I soon realised that's really not the way to go."
Exercise to feel good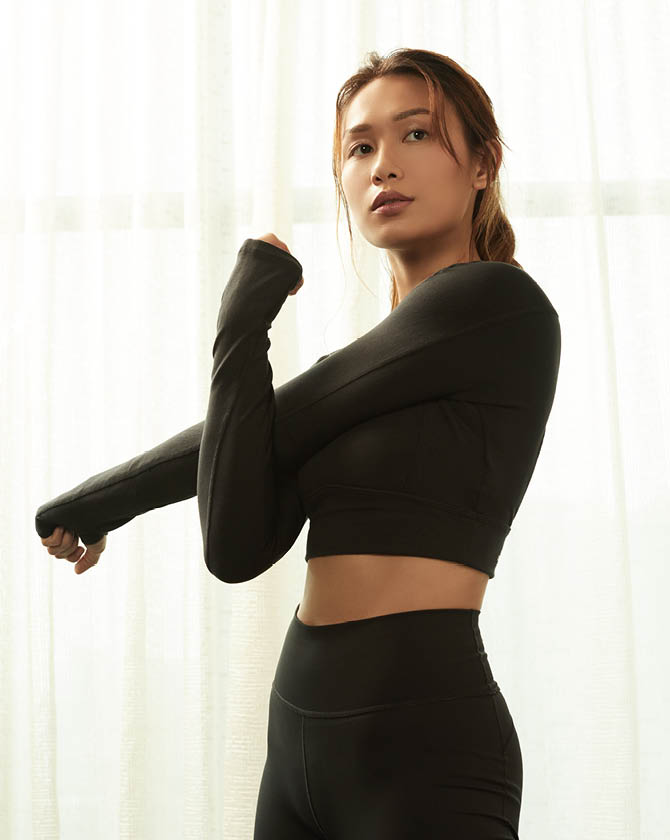 "I work out about four to five times a week, and usually coach about two or three classes weekly, sometimes more. The thing about training physically is that you've got to focus on your reps, movements, your next move and pushing your limits. It is a mental game as much as it is physical.
"Besides focusing on the present, working out is one way for me to release stress because it's scientifically proven that when you work out, you sweat and dopamine is released; it's a chemical that makes you feel good. That said, how working out regularly has really changed my life is the way it's improved my overall mobility. I just move better, you know?
"As you grow older, you'd realise there are many restrictions and pain when it comes to movement. That's when you think, 'Hey, maybe my lifestyle has been a bit sedentary.' So the earlier you can lead a more active lifestyle, the better. My goal isn't to have six-packs that pop; it's simply to keep moving well like I'm in my 20s even when I'm 30 and beyond. I just want to enjoy life and move around with my loved ones for as long as possible."
Stay consistent with work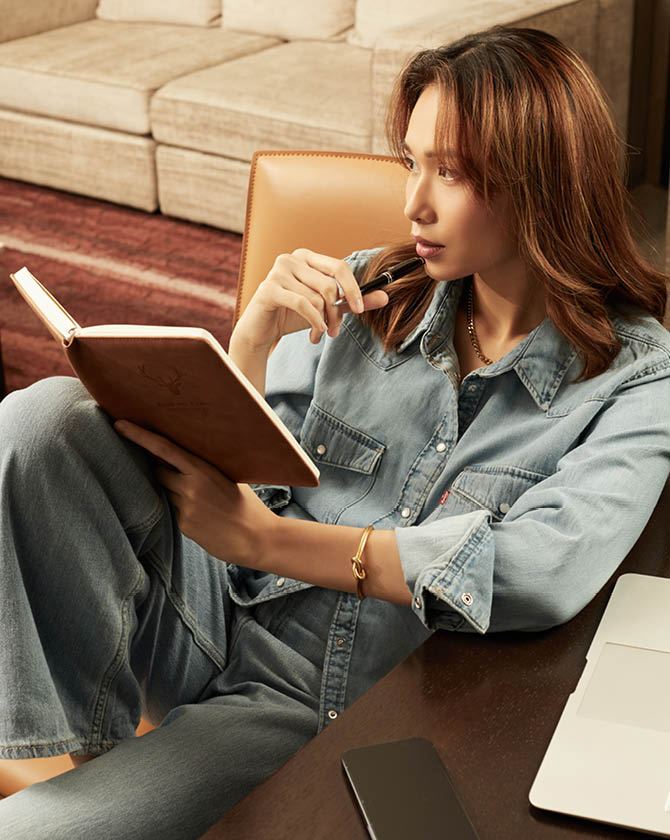 "I am very, very grateful for the opportunities that have come my way throughout the years. I never used to be able to fully own it when I say 'I am proud of myself' but I do now. We're often a little overly critical about ourselves, isn't it? I definitely need to learn to be less hard on myself. Over the years, I've realised that self-talk and being mindful about how I think about myself is very important. I shouldn't dismiss or discredit the hard work that I've put into this journey. Everything has been well worth it.
"However, ​​I'm not always motivated. I try my best to stay consistent, but on days when I'm really not feeling it, I sit with myself and question why I'm feeling this way. Life can get tough: there are many reasons why sometimes we lose motivation or interest in the things that we do. Therapy has given me the tools to manage my emotions and mental health. It's been a great part of my whole well-being, which isn't about just being physical.
"I'm currently going through a mental block when it comes to creativity and I'm burning out. So I've started listing down all of the things that I have to do, because my therapist taught me that sometimes things feel bigger and more overwhelming in our heads than it really is in reality. Penning it down gives me a better perspective on how I should strategise and reprioritise.
"Not thinking about work for a couple of hours, if I can't take a couple of days off work, helps to clear my mind too. It's about knowing when to take a break because we're not machines—and let's be honest, even machines need to recalibrate. Yes, training and eating well are important, but so is taking care of our mental health. I think they all play an equally important role to have a well-balanced life."
Indulge in a relaxing bedtime ritual
"What I've learnt from my mother, and from my own experience, is that every single thing matters when it comes to having good skin. There's the food you eat, the amount of water you drink, how much sleep you're getting, managing your stress levels, and of course, good skincare.
"It's why I see my skin's health as a gauge of how well I'm taking care of myself. Having healthy skin gives me the confidence to feel better about doing the things that I do. In my line of work, I need to always be in front of the camera, so I care a lot about how I look. This means taking the time to cleanse my skin and letting it breathe on days I don't need to have a full face of make-up on.
"My bedtime routine starts with a warm shower to reset my body, followed by turning on the diffuser—my favourite essential oil is peppermint, I find it very soothing—and that's when I start putting on my skincare. It's also when I reflect on what I've done for the day, what there is to do tomorrow, and really just unwinding before going to sleep. Bedtime is sacred to me. But of course, there are some nights where I'll binge watch Netflix till I fall asleep. Guilty as charged!"
Shape your future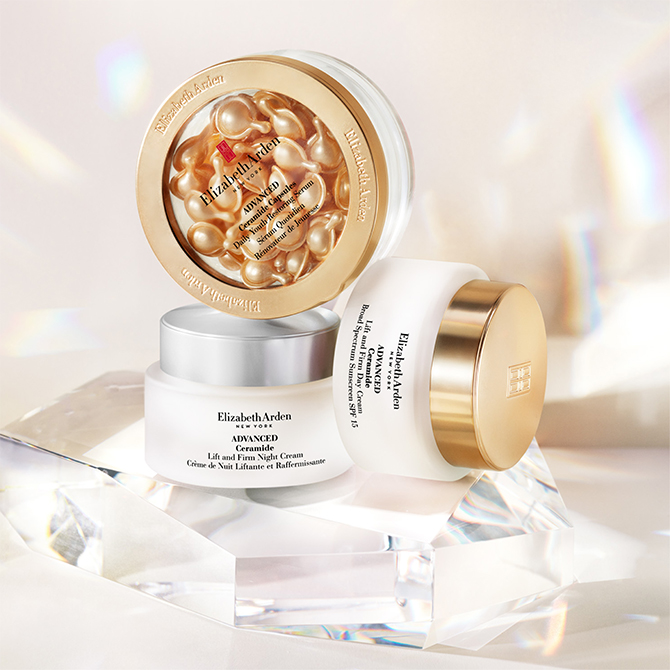 The Elizabeth Arden New Advanced Ceramide Lift & Firm Creams are now powered by five times the ceramide. This super ingredient nourishes, firms and protects against moisture loss by reinforcing the skin's barrier. This effect is boosted by the inclusion of tetrapeptides, which strengthen skin's density and restore firmness, resulting in visibly smoothened fine lines and wrinkles.
That's not all, as the formulation also contains red algae to provide all-day hydration and moisture retention, while edelweiss extract lifts and tightens for a more sculpted and youthful look. Instantly, your skin will glow with a healthy and dewy radiance—and in just one week, it'll look lifted, firmer, and tighter with more defined facial contours.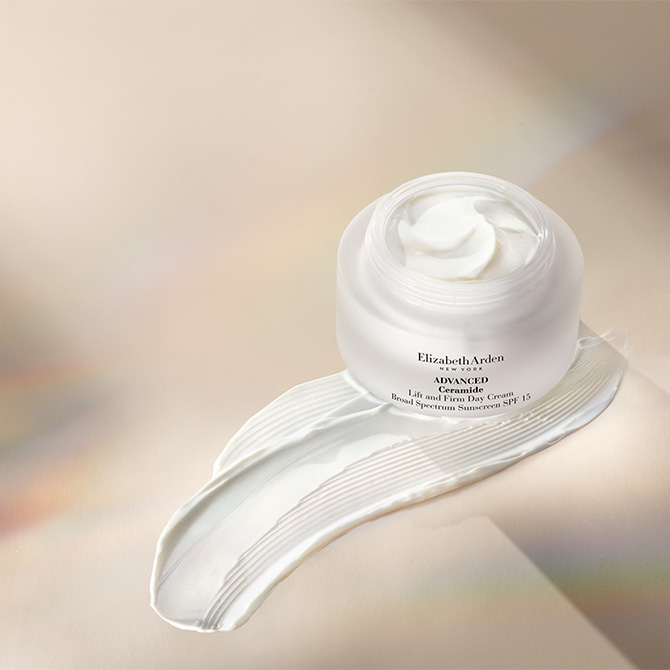 To protect your skin during the day, the Elizabeth Arden New Advanced Ceramide Lift & Firm Day SPF Cream is a fast-absorbing, lightweight SPF 15 lotion that leaves no white residue. Come nighttime, pamper yourself with the Elizabeth Arden New Advanced Ceramide Lift & Firm Night Cream. It's ultra-rich yet quick to absorb, with a silky texture that feels indulgent.
Both creams have levelled up too in packaging, with a portion of the glass jar and cap coming from recycled packaging. It's a win for the environment, your conscience and also your skin.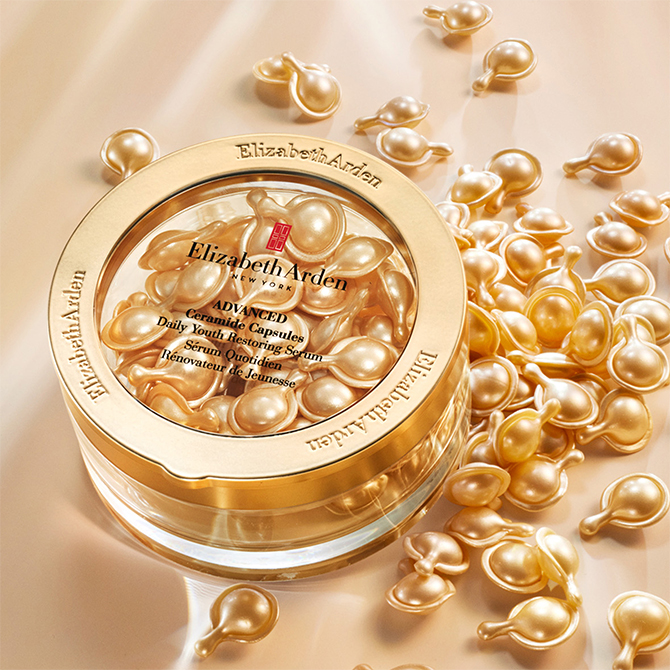 Want another tip? Add the brand's award-winning Advanced Ceramide Capsules Daily Youth Restoring Serum to your skincare routine to supercharge its youth-restoring results. Now available in a convenient and compact swivel jar, the serum goes on before the Advanced Ceramide Lift & Firm Creams. Use it twice a day to keep your skin nourished and firm.
The Elizabeth Arden Advanced Ceramide Lift & Firm Day SPF Cream, Night Cream and Advanced Ceramide Capsules Daily Youth Restoring Serum can be purchased at Elizabeth Arden counters and the official store on Shopee.
Click here for more skincare stories.
Credits:
Photography: Aaron Lee/Lenswork Production
Makeup & Hair: Taisu
Location: Sofitel Kuala Lumpur Damansara
Art Direction: Sarah Tai
Text & Creative Direction: Adelina Tan
| | |
| --- | --- |
| SHARE THE STORY | |
| Explore More | |