At-home skincare devices such as LED light therapy masks are on the rise—but is it just a gimmick?
The short answer is no. Considering that I'm writing this review here versus on the brand's website shows that my experience is a positive one. The beauty device in question is the Curicare Haru LED Mask from Korea. If you watched the Korean drama The King: Eternal Monarch, where Lee Min Ho's character wore this huge Ironman-like LED mask, you should be pretty familiar with such LED masks. (If you're interested, we did review that same mask here.) The Curicare Haru LED mask, by comparison, is lighter, smaller and easier to use.
Having been in this CMCO/MCO period, it has been ages since I had a facial and despite not wearing makeup as often as before, my skin does look like it has seen better days. There's only so much that sheet masks and sleeping masks can do. Hence, the rise of Light Emitting Diode (LED) masks—originally touted as Instagrammable and celebrities' luxury device—is only timely.
Traditionally, light therapy treatments at clinics are more costly and, thus, more effective. They're able to penetrate deep into the skin to trigger cellular-level reactions. It can accelerate skin renewal, stimulate collagen production, reduce redness and inflammation, among many things. These procedures at clinics are often targeted and specific to the patient's skin concerns. These LED masks can offer similar results (at a moderate level) for a more accessible price range within the comforts of your home. It also takes less time of your time.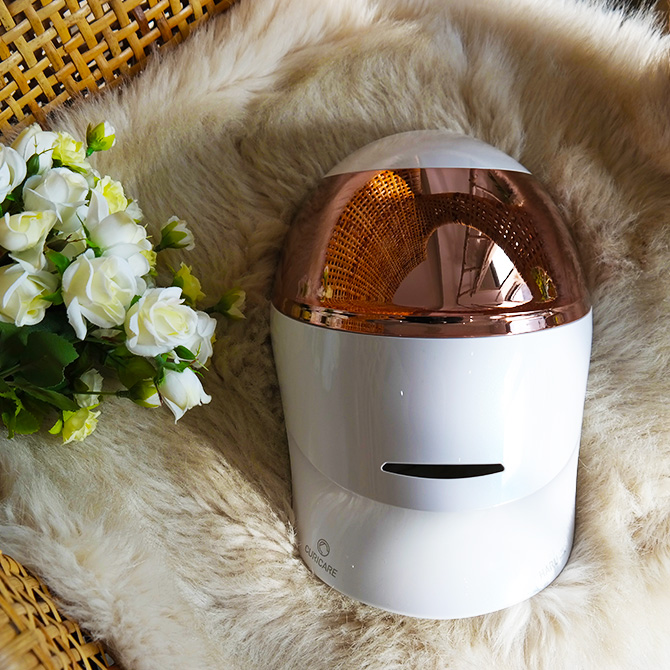 WHAT DOES THE CURICARE HARU LED MASK DO?
Every LED mask is different. For this, Curicare Lab—and its group of Korea's top technology development experts—has devoted 20 years of their experience and knowledge in the beauty industry to develop the Curicare LED Mask. While some LED masks can only penetrate the dermal layer up to 3mm, the Curicare Haru LED mask can go up to 7mm! As a result, the skin's collagen production is boosted, and the skin's brightness, density, elasticity and moisture levels are improved.
HOW TO USE IT
The Curicare Haru LED Mask is so easy to use. After all, the box comes with the mask, a stand, detachable eye shields, a charging cable and the user guide. Just cleanse your face, apply either a hydrogel mask or toner, tighten the mask around your face and press the (only) button at the top of the mask. Press again (and again) to select the mode of your choice. There are four customised modes to select based on your skin's needs or preference:
Daily Mode — The all-rounder. It improves and strengthens skin's elasticity and promotes collagen generation
Calming Mode — Great for those with sensitive skin as it soothes rashes and reduces inflammation that causes reddish spots and wrinkles. It improves the appearance of brown spots and freckles too
Secret Mode — Perfect for those who are sensitive to light or glare as it's a light therapy with a non-visible light. It accelerates the healing process and the growth of cells why boosting collagen production and skin's elasticity
Rhythm Mode — A 3-in-1 extensive LED therapy (combines red, yellow and NIR wavelength) that helps smooth wrinkles, promotes skin metabolism, and brightens the skin tone
Each mode runs for eight minutes and will automatically stop once the time is up. After that, it's recommended to wash your face with lukewarm water and then apply your moisturiser.
THOUGHTS: YAY OR NAY?
I've yet to try other LED masks, but the Curicare Haru LED Mask is a winner in my books. For starters, it's quick and easy. It only takes eight minutes, and I can use it daily or on alternate days. In that eight minutes, I'd just listen to music or podcast to disconnect just for that little while. I'd have to warn you, however, that if you're a little claustrophobic like me, it might take a few times to get used to it. But because of the 'ventilation window' at the bottom of the mask, you can still breathe like normal.
In addition, the shape of the mask means the light therapy is applied from your hairline to the neck area. All bases are covered. And my eyes are pretty sensitive to light (and gosh, it is very bright even with my eyes closed), so it's nice that there's the Secret Mode option. After each use, my skin does feel a little dry, so my tip is to apply your heavier creams (don't forget your serum!) once you're done. The treatment also helps the skin to better absorb your skincare products. Because of this, I prefer to use the LED mask at night. To my surprise, the first morning I woke up, post-treatment, my skin saw almost immediate results. The skin felt more moisturised, firm and had a glow. I've also been having horrible maskne and blemished around my hairline, but their appearance was all reduced too.
On the other hand, my only gripe with it is that it's hard to tell if I selected the right mode after putting on the LED Mask. This was especially true when I used the Secret Mode. I couldn't see any lights, of course, and for eight minutes, I wondered if I was just wearing it while it was turned off. (It wasn't.) This leads back to another pro of the Curicare Haru LED Mask. It turns off (or pauses) automatically if the mask is worn correctly and emits a small beep to let you know.
FINAL THOUGHTS
Overall, I'm a convert. There are more pros to cons, and I see more results (and faster) with just a few uses. It's incredibly lightweight as well. If you're new to LED masks, the Curicare Haru LED Mask is a great entry-level device to get started with.
The Curicare Haru LED Mask is available at SGD$619 / RM2,600 via their website.