Skincare
Exclusive: Carrie Gross on the process of creating a new Dr Dennis Gross skincare product
The woman behind the brand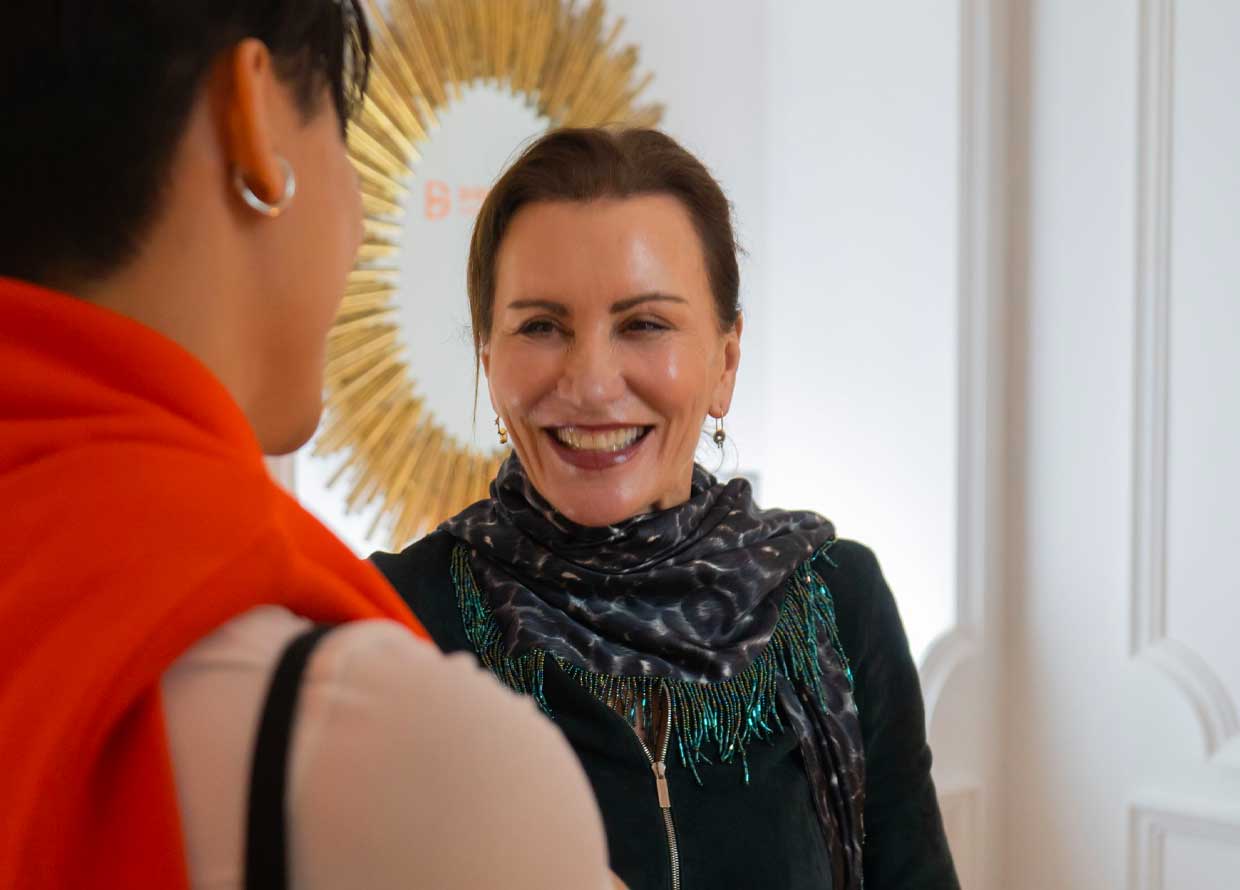 We spoke to Carrie Gross in Singapore earlier this week in order to get a glimpse into her role at Dr Dennis Gross skincare—and to get an insider's look at two new upcoming launches. 
You know how the saying goes: Behind every successful man is a great woman. Pushing the arguably misogynistic implications aside, this statement does hold truth, especially in the case of the Dr Dennis Gross Skincare brand. While you certainly know the face and namesake of the brand, Dr. Dennis Gross, you may not be so familiar with the woman who inspired the brand's creation—and continues to be a key player in its operations.
Meet Carrie Gross. She's Dr. Dennis Gross' wife, and she's also the CEO and co-founder of the namesake brand. It's no exaggeration to say that, without her, the brand would never have hit the market. The story begins in the early 2000s, when Dr. Dennis Gross had just created the world's first gentle acid peel. You may know it now as the brand's best-selling Alpha Beta Universal Daily Peel, but at the time, it was a treatment only available at Dr. Dennis Gross' New York-based practice exclusively. Word spread about the treatment like wildfire, and soon the office was booked back-to-back with people looking to experience the treatment for themselves. Business was booming, but unfortunately this left Mrs Gross unable to get an appointment for herself (the irony of which is not lost on her). 
She then began receiving the peels at home instead, in the comfort of their bedroom, which sparked the idea to formulate the peel for at-home use. The concept of a convenient, safe peel was then unheard of, but together, the Gross couple managed to pull it off. Thus, the brand was born, launching first with the peels that have now become a staple in vanities across the world.
Since then, the brand has buffed out their lineup of award-winning products, offering a range of novel formulations that have largely come about the same way—upon Carrie Gross' demand. Ahead, find out how a Dr Dennis Gross Skincare product comes to be, the 21st-century evolution of the beauty industry, and glean some exclusive insights into their upcoming June product launches—all from Mrs Carrie Gross herself!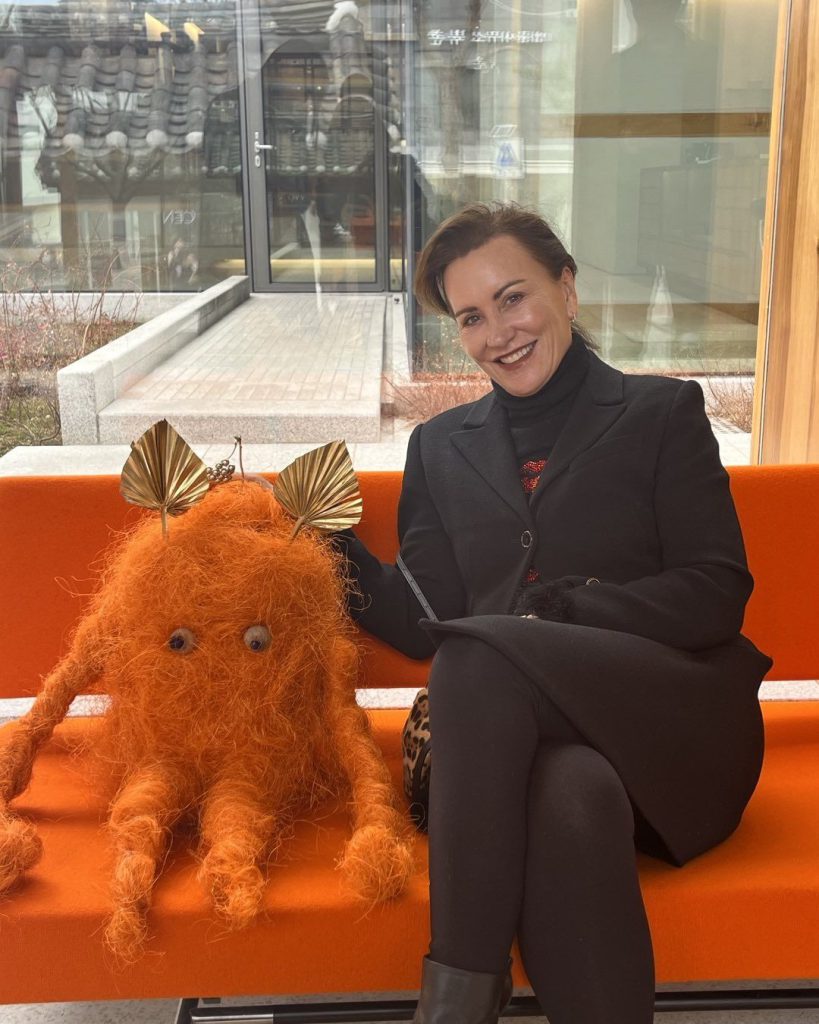 You've been in the industry for over 20 years. What is the biggest obstacle you've encountered?
"When I first started our brand, I felt intimidated as a woman who was the wife of a doctor, because I thought that people weren't going to take me seriously. 'She's just the doctor's wife', as they'd say. But I kind of approached my mission with a little bit of a badass attitude, and the truth of the matter is that I was dead wrong. So many powerful women are in the beauty industry, and we all support each other. I would say that it was not as bad as I thought it was going to be."
What does the process of creating a Dr Dennis Gross Skincare product look like from your end?
"From my end, I spend a lot of time ideating, thinking and dreaming. Then, I will go to Dennis and say, 'can we make this happen?'. He'll either say 'absolutely yes', or 'absolutely no'. We don't launch [for the sake of launching] and we don't launch trendy, so [a product] has to have a place within our brand. Sometimes it comes to a point where I'm thinking, 'Is there anything new happening in science and research? Is there any new data out there that could enhance this existing collection?'
"Then there's other times where we want something really disruptive, so I watch trends. Even though we're not trendy, I watch trends in beauty, wellness, fitness, travel, lifestyle and all that stuff. I'm taking it all in, I'm reading everything, talking to everyone, and then we just try to stay very true to our DNA and bring something to the market that feels like us. And it is us, and it's something that our clients don't have. Our DNA is really about disruption and the new, and being responsive to market needs.
"Once we decide on a product, what we typically do is have about 10-12 ideas that we're percolating and working on and developing simultaneously, and then we watch to see which one emerges as the biggest winner with the biggest results. Then, we start clinically testing everything. And then we do the product positioning, which is a part of the process that I am very involved in. It's the pricing, the naming, the components etcetera." 
Dr. Dennis Gross formulates each product from scratch—what does this process look like?
"We work with cosmetic chemists. We have our favourites—our partners that are good with certain things. Dennis will give them specific directions for the concentration levels, and we'll start with like, six different versions of the product that we'll test. We'll get lab samples and we'll test it, get feedback and then we'll tweak it again. 
"Sometimes, he can nail it in three tries, and sometimes it'll take three years. That part is not an exact science. It's a lot of tweaking. Sometimes it's like with raw materials, I want better quality. Or, lower this, raise that. Sometimes we're working on textures—all of the textures are also very specific."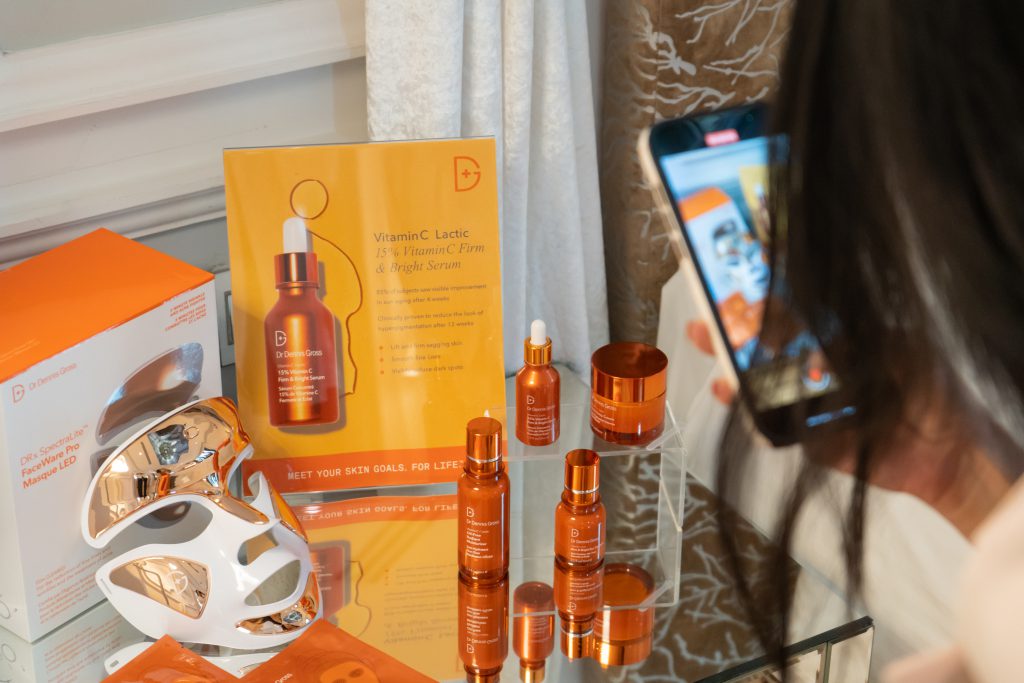 The new launch is a steaming machine—this is not your first rodeo with a steamer, so what is different about this launch?
"First of all, the steamer that we currently sell in the US doesn't have an international plug. Secondly, we thought, why should we just take that steamer internationally? Is there something we can do to enhance it and make it a little bit more enticing and more multi-functional? 
"So, we added the enhancement of the multiple temperatures, and we extended the time of the steam because the one in the US is only nine to 10 minutes, and we upgraded the design and made it feel a little more elevated. Now, it has USB so it can travel without needing to be plugged in, meaning it's chargeable—which is another upgrade. It's so cute! In our office, a lot of the girls have it next to their desks and they'll be steaming while they're working on their emails." 
So, how would you use the new steamer?
"The steamer is for use directly after cleansing. It's one of those things where there are not a lot of rules. You can use it in the morning, you can use it at night, you can use it every day if you wanted, but it's definitely more of a pampering step—unless you're someone with a serious condition with your skin that we design a specific protocol for using the steamer. It can be very very helpful for anyone with sensitive skin, dry skin or oily skin—there are so many benefits to it so you can't go wrong. And, it's so safe you can't overdo it!"
How would you incorporate this into your routine?
"It will make your skin glow if you're going out for a special occasion, but it's also something you can do for self-care Sunday, so I would say do it twice a week. Maybe you can do the first session with one of your favourite hydrating masks, and the second session perhaps with something more active—like doing a steam and following it with our Alpha Beta Peel for an extra exfoliation step to up your peel game. Steamers are hydrating and with treatment benefits."
The other new product set to launch in June is the Derminfusions Fill + Repair Serum, a formulation that promises filler-like results in a bottle. Could you walk us through the new launch?
"The key to this product is the delivery system, which is micellar. It speeds up the penetration of the ingredients—the cocktail of ingredients is so specific. What happens is that, ideally, you want to get your products into the lipid and water-soluble areas of the skin, and you want to get the products into the skin cell, but you also want to plump the areas around the skin cell. So, this product works to make that happen. It's a comprehensive volumiser. 
"There are four different types of peptides—these are proteins that go straight into the skin cell to build collagen. Then, there are four weights of hyaluronic acid that have been chosen to plump the tissues around the cell. Niacinamide and ectoin work together to smooth and repair the skin's surface barrier, so it's 3D all the way around, and that's how they work. Each ingredient is delivered to a specific site and has a job to do."
Find more beauty stories like this here.
| | |
| --- | --- |
| SHARE THE STORY | |
| Explore More | |