A new regime is introduced to the Spa of the World range, a firming ritual that will have you summer-ready in no time
Summer's here. Cue the island getaways and hours spent outdoors soaking up the sun—in your best summer outfits, of course. If insecurity about your body is keeping you from showing some skin, the Spa of the World Firming ritual from The Body Shop may just be your new-found saviour (and indulgence). 
Made to uplift, firm and tone, the new firming ritual infuses a blend of fruit extracts from forest and vines that will help you on your way to firmer-looking skin, boosting your body confidence along the way. With refining textures and refreshing fragrances, the firming ritual will awaken your senses and give you a luxurious spa experience in your own home. Here's how to do it:
Step 1: Nourish
First, massage your skin with the Thai Makrut Lime Firming Oil. A toning and firming oil, the zingy makrut lime awakens your senses while the marula oil component nourishes and soothes the skin.
Tip: Enhance your home spa ritual with the Indian Turtle Massager. Roll gently onto your skin in circular motions, focusing on the arms, abdomen, hips, bum and thighs until the toning oil is fully absorbed.
Step 2: Scrub
The new French Grape Seed Scrub doesn't just smell delicious (it has a fresh fruity fragrance), it is also packed with powerful antioxidant properties. The blend of grape seed powder and organic sugar helps invigorate, exfoliate and refine your skin all at once.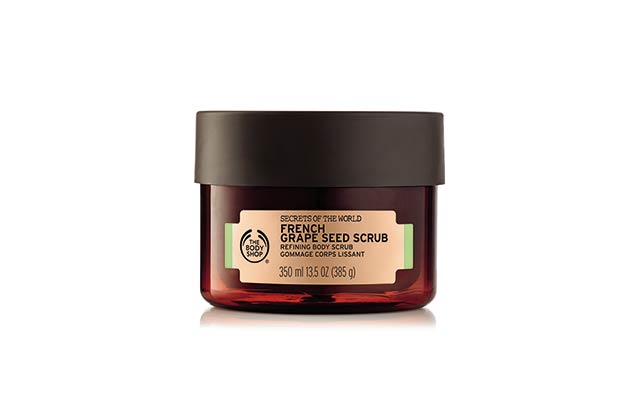 Discover the other rituals in The Body Shop Spa of the World range here.
The Body Shop Firming ritual is now available at all The Body Shop outlets. For more information, visit www.thebodyshop.com.my.
Related stories:
The Body Shop Expert Facial Masks: Superfood for your skin
Indulge in a luxurious home spa ritual with The Body Shop
Bath O'clock: How to get your best skin (and beauty sleep) by tonight