The Diptyque Le Sablier, a fragrance hourglass diffuser, returns with a beautiful, elegant new look
" My favourite pastime is letting time pass, having time, taking my time, wasting my time, living out of time [...] Each minute, which could be a gift, is nothing more than a gap between two other minutes. So, each minute—and this is the meaning of life itself—should be a minute that's full. Of anything: happiness, sun, silence, a true feeling."
That is a beautiful excerpt on time taken from Réponses, the autobiography of renown French writer Françoise Sagan. It illustrates the importance of having time for oneself, a moment of escape—or as Diptyque proposes: a magical moment of scented escape with the Hourglass Diffuser, also known as Le Sablier.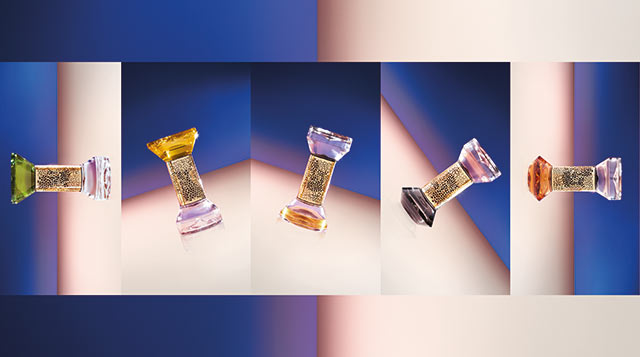 60 minutes. That is how long it takes for the fragrance to travel through the new hourglass diffuser from Diptyque, slowly releasing the scent into the room. In other words, that is one hour of me-time for you—whether you'd like to indulge in your favourite TV show, enjoy a good book, or simply sit back and relax—while basking in your favourite scent.
Upgraded from its predecessor, the new Hourglass Diffuser bears an exquisite new look, with a long glass form adorned with a perforated gilded metal sheath; an elegant ornament that will fit quite beautifully in your living space or bedroom when not in use. The scent diffuses in an area of three to four metres around the hourglass, perfect for scenting small spaces, but also ideal to create lightly perfumed ambiances in larger rooms.
The Diptyque Hourglass Diffuser 2.0 is available in six fragrances: 34, Baies, Figuirer, Orange Blossom, Ginger, and Roses—each scent featuring a different coloured glass.
The Diptyque Hourglass Diffuser 2.0 is now available at Diptyque Pavilion Kuala Lumpur and Kens Apothecary Bangsar Shopping Centre, KENS Apothecary Bangsar Village II, KLCC, The Gardens & One Utama.
Related stories:
When forgotten 18th century art inspires a Valentine's fragrance
Diptyque's Collection 34 is a fashionable work of art