Welcome to a meeting between Diptyque and Antoinette Poisson
A forgotten craft, a French tradition and a passion to revive a historical treasure, brought three young restorers of the arts together to form À Paris chez Antoinette Poisson—specialists of domino paper.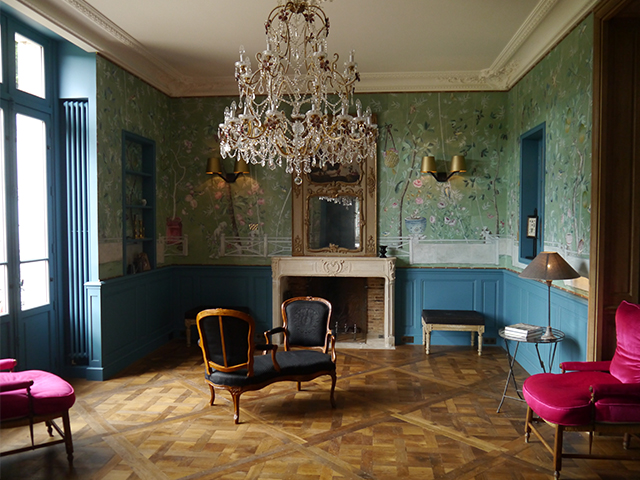 During the Age of the Enlightenment in France, 35 x 45 cm paper sheets adorned with ornate motifs were printed by hand using engraved plates while colour was applied with stencils. These decorative sheets of paper were called "dominos".
The exquisite material lined boxes and furniture. They breathed character into alcoves and corridors; and essentially birthed the idea of the wallpaper. After they faded with the turn of the 19th century, the only glimpse into the past lies in the binding of vintage paperbacks.
Enchanted by the technique and timeless delicacy of the floral and geometric motifs, the trio behind Antoinette Poisson brought the craft back to life as contemporary decoration in hopes of restoring its former glory. In true homage to a style inherited directly from the 18th century, the atelier retains the original block printing and hand colouring techniques—resulting in beautifully nuanced irregularities and subtleties, all of which can only be achieved through manual craftsmanship.
À PARIS CHEZ ANTOINETTE POISSON POUR DIPTYQUE
It was the creative fervour demonstrated by the atelier of Antoinette Poisson that struck a chord with the perfume brand, Diptyque, whose founding members embraced that same passion for the decorative arts. And so, a partnership was born. With it comes a Valentine's collection, both olfactory and visual, Rosa Mundi is a fragrance illustrated.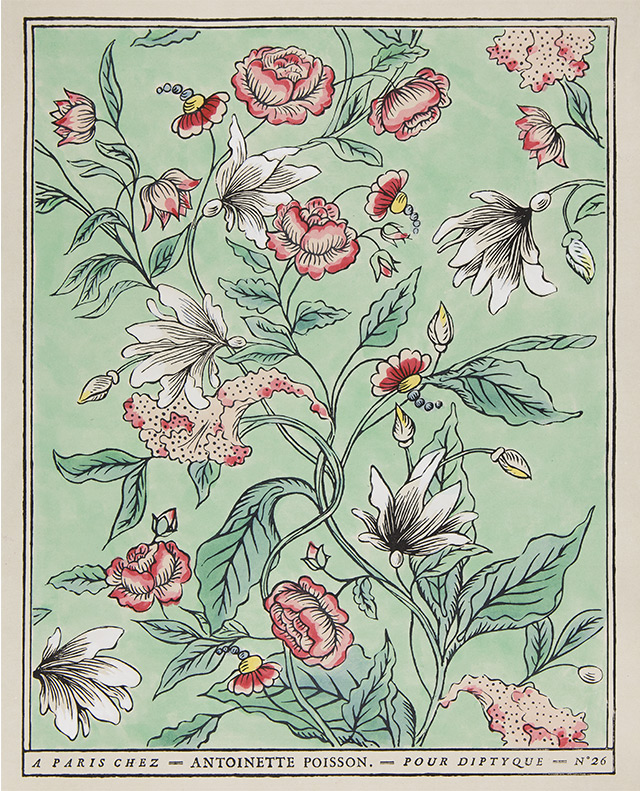 A distinctive arsenic green that is reminiscent of the 18th century plays backdrop to intertwined florals in pink. The duality of the colours evokes romance and vitality. A duet between two of perfumery's most adored roses, the Damask and May, echo the sentiment.
The Rosa Mundi candles burn with an introductory scent of black current and bergamot, while the freshness of lychee lifts and geranium intensifies the aroma; all to set the stage for the blossoming fragrance of a thicket of roses.
Let the romance of Valentine's linger with L'Eau Dominotée, a multi-use fragrance with the grace of the rose, spices of a graden and an ethereal waft of patchouli. Finally, a new solid Eau Rose embeds itself into Diptyque's repertoire. Encased within a luxurious engraved black box in the emblematic Diptyque oval, the Centifolia and Damask rose are enhanced by a sumptuous blend of lychee, honey and cedar.
Related stories:
Diptyque's Collection 34 is a fashionable work of art
Diptyque teams up with Olympia Le-Tan for a rose-tinted collection
Diptyque Pavilion KL has a new facelift - here's what you'll love about it