Clé de Peau Beauté's iconic Rouge à Lèvres takes on a new shape and look, with 12 breathtaking shades inspired by East Asian elements.
When it comes to makeup, we can't think of any out there that could inject a boost of much-needed confidence quite like a good tube of lipstick. A punchy red can take you to great heights, while a subdued neutral is the perfect complementary hue to any outfit. Call it a beauty armour, staple or bare minimum, a lipstick can make or break your look in a flash. For Autumn/Winter 2017, Clé de Peau Beauté is reinterpreting a lipstick's purpose through its iconic Rouge à Lèvres.
Previously, the Rouge à Lèvres lipstick sported a unique flat-edge top instead of a traditional diagonal shape and pointed tip. But this time around, it boasts a new design that is dynamic yet functional at the same time. Get this: The Rouge à Lèvres has been reshaped with an S-shaped tip that is designed to hold the contours of the lips. The slightly concaved angles closely mimic the shape of the mouth, thus providing an ease of application—which also translates to fewer beauty touch-ups for the rest of us.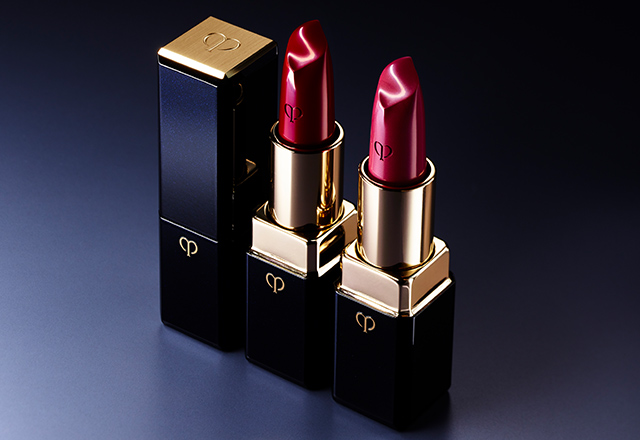 Formula wise, Clé de Peau Beauté incorporated the Translucent Pigment Technology that offers high luminance and wide colour range into the lipstick. In a nutshell, this means that the colour you see on the lipstick will be translated accurately on the lips with a vivid finish. Premium Argan Oil and a hydrating complex help to nourish your lips without drying it out as well—just about the ideal beauty must-have when you're on-the-go. As per every Clé de Peau Beauté product, the art of craftsmanship is not one to be missed, and the Rouge à Lèvres does not disappoint. Each lipstick case is hand-brushed nine times for a sleek yet luxurious look, and all are carefully crafted with a main purpose: Its weight is perfectly measured for a pressure-free application.
The inspiration for the Rouge à Lèvres' colour palette comes from a plethora of East Asian elements, including the rich tones of camellias in full bloom during springtime, the delicate yet sophisticated pink of a chinoiserie, and even a fiery red of a mythical dragon. Available in 12 colours, each shade is feminine yet evokes a different aesthetic. If you're one who prefers neutrals, go with Silk Scroll that is a subtle, rosy-blush hue. Those who prefer a bold statement will be inclined to the deep burnish red of Pillow Book. But if you can't make up your mind, take on Clé de Peau Beauté ambassador Amanda Seyfried's new favourite—Dragon Red. "It's a pop of colour, but it's simple. I love that there's always a new shade of red to explore every season. This red is a classic that would never fail you," she says.
Watch this tutorial on how you can achieve a smooth application with Clé de Peau Beauté Rouge à Lèvres in Dragon Red, featuring Amanda Seyfried: 
The Clé de Peau Beauté Rouge à Lèvres collection is now available at Isetan KLCC, Parkson Pavilion KL and Parkson Gurney Plaza Penang.
Related stories:
Tried and tested: Clé de Peau Beauté Radiant Multi Repair Oil
Level up on your nightly skincare with the La Crème