Rihanna brings back her infamous mullet, Tracee Ellis Ross claps back at fan who photoshopped her bum and more celebrity beauty news
The celebs really went wild with the makeovers this week; from Rihanna's new-old mullet to Lucy Hale's ginger-overhaul, they served. In fact, it doesn't even stop at hair transformations, either—some celebs are getting digitally-altered too (and they're not happy about it).
Find all the celeb beauty headlines from this week below!
This week in hair
Rihanna has a mullet again
In a quick teaser for the second-ever Savage X Fenty show, Rihanna gave us a sneek-peek at her new mullet. Jet-black, with a choppy, razored front and sides and just-below-the-collarbone lengths, this look is as edgy as they come.
As they say, it's not fashionable until Rihanna wears it, and boy does she show us how to really do "business in the front, party in the back" (sorry, Billy Ray Cyrus).
Lucy Hale's brand-new red hair is actually incredible
The Pretty Little Liars actress debuted a very different look this week—consistent as ever with her bold brows and her choppy lob, we couldn't help but notice she's now a ginger! The burnt-red hue of her hair is the perfect complement to autumn, and we are massively feeling this look? 
Sarah Hyland's brushed-out curls are a mood
Hyland shared a funny picture to her Instagram showing off her curls in all their brushed-out glory. Wide-eyed and feigning shock, the actress captioned her comical snap with "Rubeus Hagrid's daughter *This is what happens when you brush #curlyhair". 
Fans have joined in on the roast, with some comparing her to Monica from Friends, in the episode where her humidity hair comes out in Barbados (though accurate, that episode had some seriously racially insensitive undertones, so we'll stick to the Hagrid analogy—eek!).
This week in nails
Iris Law's sunflower manicure is the cutest set we've seen in a while
The supermodel's gorgeous nails were specifically created to match the custom motif for Loewe's SS21 Show-On-The-Wall, and we must admit that the little talons really stole the show.
Beautifully co-ordinated with the trippy background, the motif was designed by artist Anthea Hamilton and is entitled "Sr Jeanne Wavy Boots w. Gazanias and Snails" (2020).
This week in skincare
Millie Bobby Brown reveals the sweet background behind her new botanical face mist 
The Enola Holmes actress has kept busy, following up the debut of her new mystery film with the launch of a brand new face mist from her brand, Florence by Mills. According to Brown, the Lily Jasmine Zero Chill Face Mist is an homage to her mother and their family home in London. 
"When creating the new face mist, I really wanted to do something in dedication of my mom and what she likes during the springtime," Brown explains. "Lilies are her favorite flowers and all throughout my London home we have lily flowers everywhere and the smell is always the best thing to come home to."
This week in brows
Hailey Bieber's brows are gone
What do you think of when Hailey Bieber comes to mind? We think honey-blonde locks and dark, bold brows. Well, you're in for a shock with her latest transformation: The model was left quite unrecognisable on the streets of Milan with her brunette locks and bleached brows.
In town for Milan Fashion Week, there's no doubt that Bieber's extreme makeover is for a show. This isn't even the first time we've seen the star sans brows—remember her brows at London Fashion Week in 2016?
This week in body positivity
Sophie Turner's pregnancy glow is inspirational
The mum-to-be shared a throwback snap of her soaking up some sun, and we have to say that she looks positively radiant in the photo. The Game of Thrones star has never been shy to flaunt her baby bump, and this picture is just one in a sea of many that popped up on her 'gram over the course of her pregnancy.
Of course now, with baby Willa having been born in July, it's likely that Turner is just feeling reminiscent.
Tracee Ellis Ross does not want you to photoshop her butt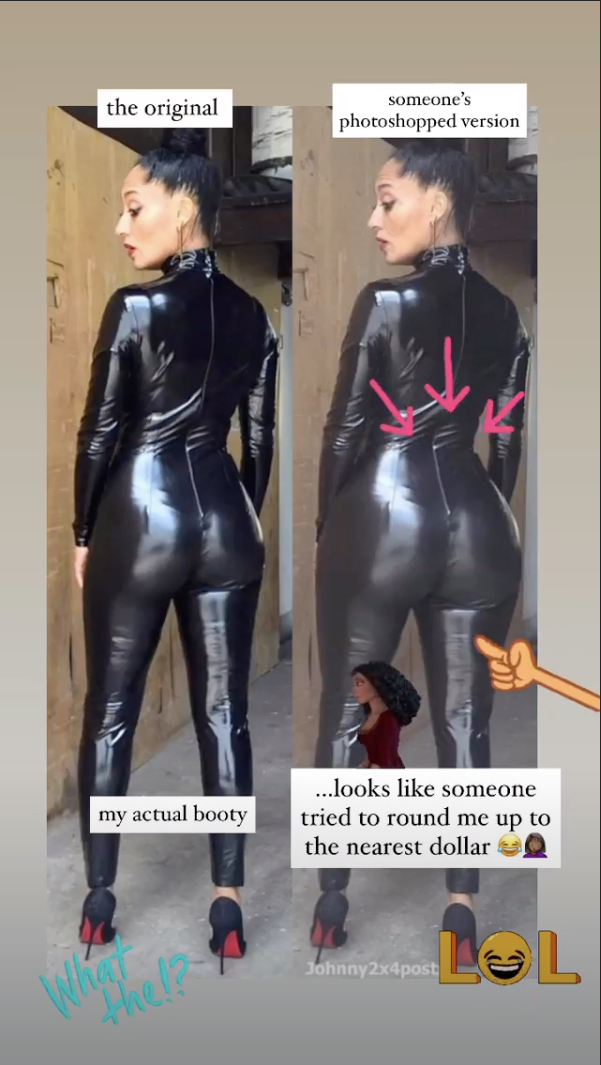 Imaging being Tracee Ellis Ross, minding your own business. All of a sudden, you come across a picture of yourself, only you're... thicc? Now that really did happen, and rather than sit there and take the disrespect (she did not need that edit at all), Ross called it out on her Instagram Story.
For more celebrity beauty headlines, click here.