One drop goes a long way with these six soothing treatments from Bobbi Brown
One of January's most exciting skincare trends is the rise of the tiny but mighty formulas. Skincare enhancers that work overtime to improve your complexion are all the rage now, and Bobbi Brown's latest addition, Superblends, taps on that premise with six treatments that target specific skin dilemmas.
If you have dull skin from environmental aggressors...
Go for: No. 91 Skin Reviver that has green algae, a fermented blend of kale, Brussel sprouts and spinach 
Why: Its incredibly concentrated amount of antioxidants and nutrients help to improve skin's vitality from free radical damage, hence reviving your skin's radiance in a jiffy.
If you have super parched skin... 
Go for: No. 86 Skin Moisture Solution for its combination of hyaluronic acid and mineral-infused waters
Why: Hyaluronic acid's moisture-binding characteristics are what you need to quench dry skin and increase its natural moisture levels. After all, youthful skin is skin that holds adequate water and a balanced amount of moisture.
If you've got weak skin that's prone to scarring...
Go for: No. 93 Skin Fortifier that has a complex of raspberry leaf wax, soybean emollients, and essential oils
Why: If your skin occasionally gets damaged from environmental aggressors, you'll need more than just a facial and mask to improve its resilience. This lipid-rich tonic helps to supplement the skin's natural barrier while keeping moisture in and toxins out.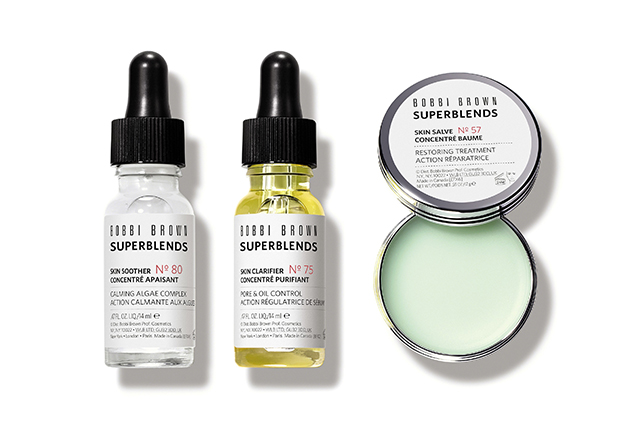 If you have overly sensitive skin...
Go for: No. 80 Skin Soother that has red algae complex and seaweed extracts
Why: You'll need a calming formula that doesn't allow your skin to react. Red algae is known for its antioxidant properties along with its ability to neutralise free radicals—perfect to reduce redness, irritation and relieve stressed skin.
If you have excess sebum that causes breakouts...
Go for: No. 75 Skin Clarifier that has non-pore clogging oils and salicylic acid
Why: This blend of emollients will unclog pores and balance oil levels to prevent that mid-day shine, not to mention strengthen your skin by increasing cell turnover for a smoother complexion.
If you have severely dry skin...
Go for: No. 57 Skin Salve that combines shea butter, beeswax, and extracts of turmeric and licorice
Why: Nothing like a soothing balm you can apply over your skin to nourish it adequately. You can use this salve on its own or on top of your usual skincare products to restore your skin's hydration levels. 
Tip: Apply two to three drops of Superblends twice a day on clean skin. You can also layer it with your existing skincare routine for maximum efficacy.
Bobbi Brown Superblends is now available at all Bobbi Brown Cosmetics Counters.
Related stories:
Tiny but mighty formulas to revive your skin's radiance
Chanel's new Blue Serum is revolutionising anti-ageing beauty rituals