Beauty sleep is not a fiction, not when you can wake up to a more radiant look with Laneige's latest sleeping products
It's a known fact that sleep and skin are closely related. Night-time is when our skin works to repair itself from a myriad of daily harsh aggressors and if we're sleep deprived, you'll see the effects on the skin's moisture levels, texture and clarity. Think dry skin and dull complexion. When you get optimum rest, the skin's permeability increases, so you can get the benefits of your skincare more.
Knowing this, Laneige has formulated its latest sleeping mask range with three different technologies – Sleep-Tox Purification helps to restore skin and normalise the fatigue rate caused by daytime aggressors; Moisture Wrap helps to keep skin well-balanced throughout sleep; and Sleepscent helps to relax the mind and promote deep, quality sleep.
To help you achieve the best beauty sleep, the Laneige Sleeping Mask range now includes three additional products:
Laneige Eye Sleeping Mask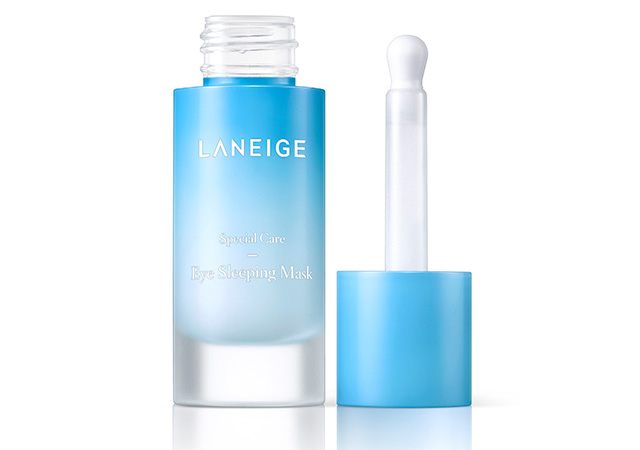 Specifically to target the delicate eye area, this mask contains caffeine, vitamin P and enzyme extracts that work to promote and increase blood circulation underneath the eye zone during sleep. So, you'll wake up with less puffiness around the eyes in the morning. It comes with a ceramic ball applicator so you can also massage the eye area in the a.m. to revitalise the skin.
RM145 (25ml), on counters from May 2017
Laneige Water Sleeping Mask Lavender
The Korean brand's bestseller is getting a new limited-edition release with Sleepscent lavender and the latest Sleep-Tox and Moisture Wrap technologies. This is the first scented Water Sleeping Mask edition since its release 15 years ago. Aside from purifying, moisturising and detoxifying, it has great relaxing properties to promote deep sleep.
RM120 (70ml), on counters from May 2017
Laneige Lip Sleeping Mask
If you love the lippie treatment from Laneige before, you'll be delighted to find four new flavour variants – berry, apple lime, grapefruit, and vanilla – to sweeten up your evenings. The Lip Sleeping Mask range features eight different types of antioxidant-rich berries to help counter the effects of free radicals while soothing dry and chapped lips, so you get all-round good lip care benefits. 
RM75 (25g), on counters from May 2017
Related stories: 
Go crazy with 90 possible shades from Laneige's latest lipstick range
Watch: K-beauty tutorial inspired by Laneige x Lucky Chouette