We had a whiff of Louis Vuitton's latest perfume while learning more about the art of creating a timeless fragrance
A perfume can divulge plenty when it comes to your psyche, whether it's piquant florals or musky woods that you gravitate to. Quite like one's personality, fragrances have the ability to express more than merely your olfactory taste.
"Perfume is not a commodity—it is something that is fitting to your personality, and a secret part of your personality because it is connected to your childhood," says Master Perfumer of Louis Vuitton Jacques Cavallier Belletrud. "Your olfactive memories are based on your childhood and your experiences from 0-18/19 years old."
On a recent trip to Kuala Lumpur, Belletrud introduced the complete Les Parfums Louis Vuitton range—comprising 11 women's fragrances, five men's fragrances and four unisex colognes at a media presentation.
After revealing captivating stories behind each perfume, Belletrud shared more thoughts on the evolution of the perfume industry, what makes Louis Vuitton's perfumes a standout in its own right, and the accurate way to apply perfume:
How have fragrances evolved in the last few years?
JCB: "The fragrance market has grown very massive across the world. Recently, when I did a store check in Kuala Lumpur, I saw many worldwide brands—which is good! I've noticed a lot of creativity and niche brands in the market.
"Louis Vuitton is not a niche brand; it is more than that. What I think clients want today is a personal experience. I see many millennials—I call them 'young people'—who are more interested in understanding and experimenting with fragrances. We want more perfumes for ourselves. That's why Louis Vuitton offers 20 perfumes, because I prefer to offer the possibility to have a variety of perfumes, even to mix and layer them.
"I think we will see more luxury fragrances moving forward, and more personalisation options. There is a demand to understand and to have very qualitative perfumes, or at least perfumes that bring lot of emotions. And many commercially popular perfumes—like movies—are very good but they lack emotions."
What are some of the characteristics of Les Parfums Louis Vuitton that make it stand out from all the other different fragrances on the market?
JCB: "The massive use of natural raw materials—that is very important. The richness of the ingredients and the cost we invest in each bottle of fragrance make a huge difference. It's like cooking—I like McDonald's but when you are going to a very famous restaurant, if you are attracted by something that you love, you will always remember it. McDonald's? Not enough.
"What makes our perfumes different is the quality of the materials and the freedom of the creation that comes with it. I don't conduct any consumer tests when I create fragrances. I don't have people to help me decide what goes in the bottle—I make that decision myself. I'm like a fashion designer; I'm practicing the line of my job more like a fashion designer rather than perfumers who are in a laboratory and working for many brands at the same time (which I did years ago).
"I don't follow trends, I offer our clients a range of different emotions and ideas of perfumes—all based on my personal experience. The story behind each perfume is true, it's not something fake nor is it a marketing gimmick. What we do here in Louis Vuitton is really something genuine and very simple, but we always bring chicness in a bottle—as with everything else."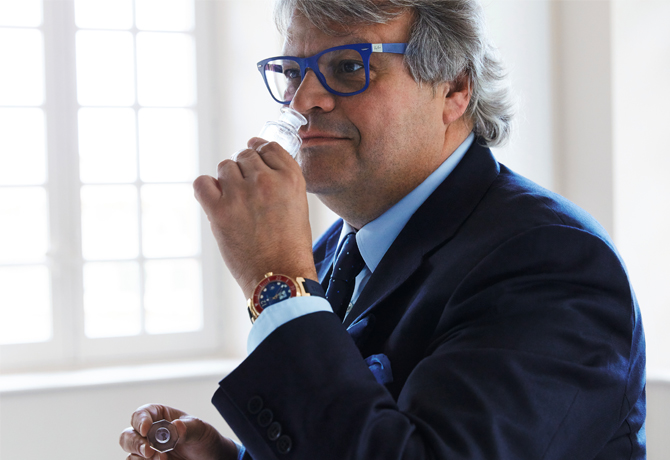 How do you decide what raw materials to use for a perfume? Do you create a story first, or pick the raw materials before creating a story?
JCB: "It can be both even at the same time. Of course, the emotions that I have when I am making my choices for raw materials are very important. For example, the way I am seeing the patchouli can change if I go to Indonesia and smell the leaves in the field. It can give me other ideas to make a perfume based on patchouli.
"The way I am seeing patchouli right now is not the same as the way I saw patchouli 20 years ago. Every day is a new day, and this experience is bringing me ideas on how to rework the patchouli—whether to make it in Grasse or to create the heart of patchouli in order to avoid all the bad smells of it (the top notes for example).
"25 years ago, nobody was thinking like this, not even me. So, [the perfume's creation process] can start from the ingredient, the discussions I have with the team or with Nicolas Ghesquière, or after a visit to the atelier when we are making special orders at Louis Vuitton. It can also come from a concept that I want to express in general. For example, with Matière Noire, I wanted to explore what darkness is like in fragrances. So I went together with marketing to find a name together and work with some different options.
"I recently just discovered what I have been seeking for the past five years. When I smelled it, I was like 'wow'. I was looking for this—the colour, the atmosphere, etc. (I cannot tell you what it is yet!) Initially I was thinking of starting from an accord that I wanted to put in a Louis Vuitton bottle, but I wasn't satisfied five years ago because it was only 'okay', and it wasn't 'wow'. And the 'wow' came a few weeks ago. So that inspiration is always coming—but the ingredients and the journey are the magical part of it."
How do you intend to take perfumes into the future and beyond the 21st century?
JCB: "Louis Vuitton is the first brand that uses clean technology for the extraction of flowers including jasmine and rose. That's very important because we do not use fossil solvents from oil. We extract jasmine and rose from the husks under a lot of pressure so it preserves the beauty of the smell of the flowers. In the classical process of extraction, we are heating the flowers at 90°C in the bulk of the fossil solvent, so it is killing the most volatile parts and it is focusing on the other parts of the smell.
"The second method, CO2 extraction, is green. We are not delivering more carbon dioxide, we use it to trap the smells. It's a new technology that I also use for seeds. It was first invented for ingredients in the food industry, such as to extract caffeine in coffee beans. I discovered this technology 20 years ago and I asked the supplier to develop an entire collection of ingredients from this technology for perfumes. It wasn't soluble in alcohol, so I couldn't use it in perfumes.
"I was the first in the world to use those extractions in a perfume; it was for Yves Saint Laurent 25 years ago. For dry ingredients such as incense and cardamom, I use this method of extraction. It is more expensive than the regular extractions but I don't care. My obsession is really what goes in the perfume.
"The perfume industry in general is trying to make things in the right way by producing less products create pollution. I am sure that we are working on some technologies in the future that can extract ingredients while at the same time, preserving the earth and health of the people who harvest the crop and carry out the distillation and extraction methods. I hope to offer our clients a green product in the most respectful way possible."
Which is more important to you: creating a timeless perfume or novel perfume?
JCB: "A timeless perfume is fantastic. It's all what we dream to create—a perfume that will be successful even after 50 years. Perfumes that are timeless are usually successful and we have had some successes like this. Fortunately in perfumes, trends last for about 15-20 years and we have many trends at the same time.
"Today it is difficult to convince customers that they need more than one or two perfumes. We need to spend some time with them to make them more aware of the perfumes we have. It is our clients who are contributing to the success of what we are doing, and the success is nice, of course. What is more difficult to achieve is continuous success in the long run."
As a master perfumer, can you advise us on how to wear perfume properly?
JCB: "I am for the freedom. Do what you want. At Louis Vuitton, I said to the people who are selling the perfume to our clients—advise it based on your own experience. You can mix Les Sables Rose with Ombre Nomade, or Ombre Nomade with Coeur Battant, which is fantastic too, but try it on your own. Don't mix everything—that's not good. I know that a lot of brands are doing it now, but this is not the right way to do it. If you think that you can mix your everyday perfume with another one—good!
"The best way to experiment is to apply it on the back of your hand, not in the insides of your elbow. It was the tradition since the early 19th century because we didn't have atomizers, and the only way to apply perfume on the skin was with a dropper. You can spray perfume on your hair or shoulder so that the scent is closer to you and the people behind you can notice it as well.
"The back of your hand's surface is larger and the temperature is very good, so throughout the day, the scent will be noticeable to you. Never rub your wrists together after spraying the perfume on. By doing that you are hitting your skin, and you are killing the mandarin [notes] in Les Jours Se Leve. It's like putting a good bottle of wine in the microwave. It was a traditional practice because perfumes back then were darker and heavy with no top notes. But nowadays, perfumes do not require that. Wear the perfume on your left hand and arm—close to your heart."
What are some of the challenges you face when it comes to creating perfumes?
JCB: "The biggest challenge for the future, I think, would be the pollution and delivery of raw materials all around the world. Because we are working with materials coming from the earth, this is the biggest challenge and we are very involved in this activity, at Louis Vuitton in particular. Here, we have prepared a fantastic programme of direct link with our producers and making them comfortable for the future."
Les Parfums Louis Vuitton is available at all Louis Vuitton boutiques. Cœur Battant is now available in 100ml, 200ml and Travel Spray sizes.