Celeb hairstylist Adir Abergel shows us how to take on Saoirse Ronan and Jessica Biel's seriously chic hairdos.
Yesterday at the 75th Annual Golden Globes Awards proved one thing beauty-wise—that you can use it to full effect when it comes to making a statement. Wearing all black in support of the #TimesUp initiative didn't mean that celebrities' beauty looks sported an equally sombre tone. If anything, they sought to dazzle in varying degrees be it with hair adornments or stunning hairdos that echoed a 'business in the front, party in the back' sentiment. 
Case in point, Saoirse Ronan's chic masculine-meets-feminine updo along with Jessica Biel's modern ponytail. Below, celebrity hairstylist Adir Abergel breaks down a step-by-step guide on how to achieve this look: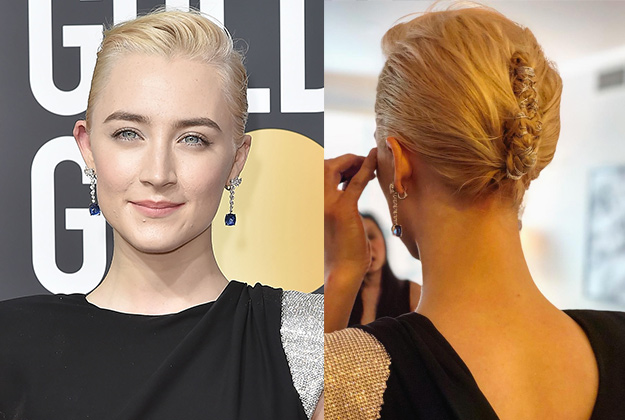 The inspiration: "Saoirse's look was all about creating a beautiful structured updo that celebrated both feminine and masculine details with the construction. The look was slicked back with height, which created masculinity in the front and finished with a fishtail braid that was spun with silver threading."
How-t0:
1. Apply a volumising mousse for extra lift and a heat protectant spray to protect and add shine to the hair.
2. Set a deep side part and blow dry hair with a round brush until completely dry. 
3. Curl and set the hair using the GHD Gold 18k Styler to help give the hair memory and hold. Once the hair cools, brush it out and slick hair back with the side part in place using a texturizing spray.
4. Tightly secure the hair at the nape and create a fishtail braid. Turn the braid upwards towards the crown and secure in place. For a feminine touch, sew in a silver thread.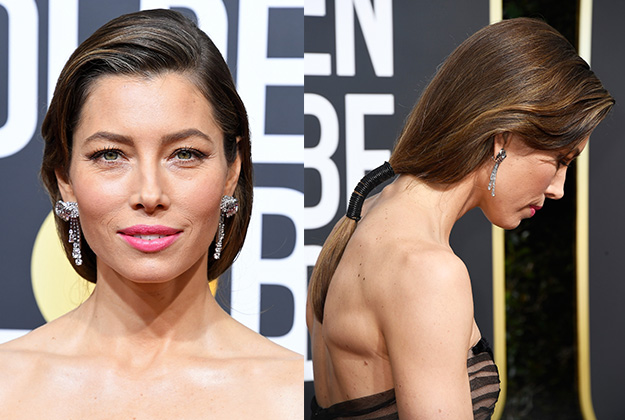 The inspiration: "To compliment Jessica's Dior Couture dress, I created a classic look with a modern edge—a luxurious low slung ponytail with a deep side part that was swept off the face."
How-to:
1. Apply a leave-in conditioner to keep the hair soft and smooth. Before blow drying, set a deep side part following the arch of the brow for precision.
3. Dry hair completely smooth using the GHD Air Hairdryer, pushing all the hair back and tucking it behind the ears.
4. Once the hair is dry, use the GHD Gold 18k Styler to smooth out the cuticle and lock in the shiny texture.
5. To finish, spray the hair with a hairspray for hold before securing the ponytail in place.
6. To emulate Jessica's hair which is accented by a black twine wrapping detail, create a faux bob effect in the front by starting six inches below the nape of the neck.