The Body Shop's Global Skincare Expert, Dr. Terry debunks the myths and breaks down why facial oils could very well be the missing link between you and ultimate skin health
As an avid facial and body oils fan, I was partly intrigued (but mostly delighted) to hear that The Body Shop Oils of Life range will soon hit our shores. Of course, what with our weather and humidity, any gasps of horror and raised eyebrows at the thought of slathering an additional layer of facial oil can almost be expected. Which is why, we took your concerns to the expert herself, and here's what Dr. Terry has to say.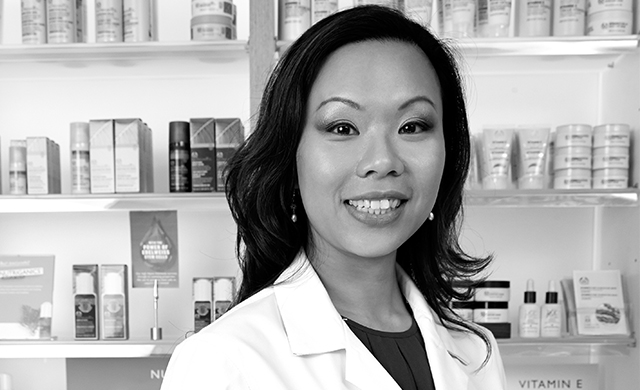 Q: Facial oils? In a country like Malaysia?
"I understand that living in a humid country like Malaysia, there may be some cautiousness to using facial oils. I'd like to take this opportunity to debunk some myths around the effects of using facial oils.
"Oils enhance your skin's natural barrier function, reducing TEWL (transepidermal water loss), maintaining its moisture and hydration while nourishing and protecting the skin, visibly reducing the appearance of fine lines and wrinkles, leaving skin softer and smoother. Here's how you can identify good quality oils with the right formulation:
1. They sink into the skin quickly, leaving skin soft and smooth without leaving an oily residue. 
2. Effectively hydrate the skin without over drying it.
3. Contain anti-inflammatory and anti-bacterial properties, which are beneficial for both dry and oily skin.
"Mineral and synthetic oils can cause breakouts as they block the pores. Naturally derived oils don't. Some naturally derived oils are anti-inflammatory and anti-bacterial, which are particular good for skin prone to breakouts.
"Good oils should not cause the skin to be oily. It should absorb instantly so the skin does not look shiny or greasy but rather leaves a sheer glow. Overproduction of oil in the skin occurs when there is inflammation. Some oils have anti-inflammatory properties, which help to soothe the inflammation, helping to regulate sebum production and reducing the shiny look throughout the day.
"Oils are also a powerhouse of super-antioxidants, nutrients and fatty acids providing a natural barrier to protect the skin against harsh environments. Oils are like to the skin as to super-foods are to our health. By using oils, these ingredients are naturally found in the oils so it's pure and unadulterated by chemicals or synthetics.
"Our skin creates its own natural oil to keep it hydrated, smooth, supple and radiant. However when we strip too much of our natural oils away, it can actually cause inflammation, dryness and cracking of the skin. The skin if able, will then try to make more oil to compensate. This can lead to premature ageing and blemished skin.
"Well-purified oils act as a humectant. They reduce the water from evaporating from your skin (including your water-based beauty products) and also help dry, cracked skin."
Q: Key benefits to adding facial oils to a beauty routine?
"The reason why oils are a great choice is because humans share an incredible amount of DNA similar with plants, hence why seed oils have such a skin affinity. There's a reason why oils have become skincare's new obsession: not only are they incredibly nourishing, ultra-lightweight and quick to absorb - but they also have the perfect texture to penetrate skin easily and deeply.
"Seed oils are particularly exciting because their potency provides nutrition and radiance. Seeds give life to a new plant, making seed oils one of the most concentrated sources of essential nutrients on Earth.
"For The Body Shop Oils of Life range, the seed oils are cold-pressed to their pure form to preserve their potent properties and ensure the utmost affinity to skin. The carefully balanced blend of three seed oils contribute to revitalising skin, reviving radiance and visibly reducing signs of ageing:
1. Black Cumin Seed Oil from the Egyptian Nile Valley - known for its concentration in antioxidants.

2. Rosehip Seed Oil from the Andes foothills of Chile - rich in omega 3 and 6.
3. Camellia Seed Oil from the evergreen trees of China - naturally rich in nutritive oleic acids.
Q: Your 3-step product recommendations and/or combinations?
For oily skin
OOL Intensively Revitalising Essence Lotion morning and night after cleansing to prepare and activate the skin. 
OOL Intensively Revitalising Gel Cream, which is lighter in texture and is perfect for both day and night.
OOL Intensively Revitalising Facial Oil as a once in a while skin treat at night when you're travelling in dry climates or environments. 
For dry skin
OOL Intensively Revitalising Essence Lotion morning and night. 
OOL Intensively Revitalising Facial Oil as a nourishing and revitalising treat for the skin.
OOL Intensively Revitalising Cream, which is richer in texture both day and night as a finishing step.
Q: Your interesting tips on using facial oils?
1. Add into your favourite skincare. 
2. Use 3-4 drops into your night mask/cream as a boost for extra nourishment.
3. Use as a pre-make up base to prep the skin.
4. Add 1-2 drops into your foundation if you have dry skin or if you want a more summery feel.
5. Use after being exposed to sun, sea, wind.