Buro Loves
What's the secret behind Song Hye Kyo's good skin – and, can you guess her latest Sulwhasoo's must-have?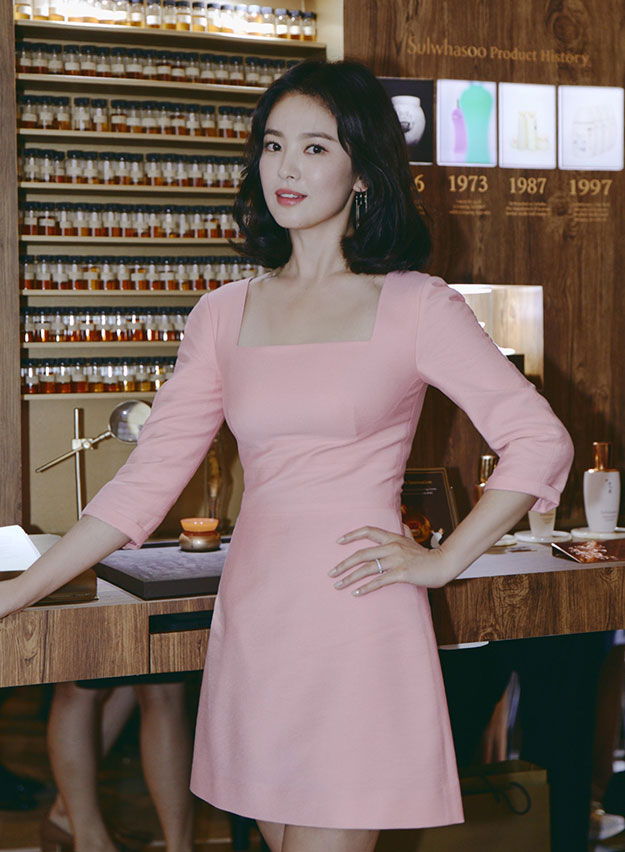 In the world of K-drama, one name that is consistently in the limelight is Song Hye Kyo. Her acting prowess is flawless, and her beauty even more so. The face of Sulwhasoo is known for her timeless beauty. We were privileged to be in her presence recently at a press event in Hong Kong and her glowing skin got us wide-eyed with admiration (ok, envy!).
Sulwhasoo believes in the holistic approach to beauty in which Asian philosophy and wisdom have been at the forefront of its skincare. It is this same belief that Song Hye Kyo now shares with the brand as an advocate of beauty that stems from harmony and balance. The Korean actress tells us more about her skincare routine and why the new Sulwhasoo Concentrated Ginseng Renewing Serum is a must-have.
As a brand muse, what are some of the values that you share with Sulwhasoo?
I personally think that Sulwhasoo has a certain greatness about the brand. They take such high measure in cultivating a cultural background and tradition into their products. It's great how the brand combines old wisdom with modern technology and emphasises both on the inner and outer appearances as a whole. I think this resonates with me to also embrace this tradition and make sure that we continue with this vision.
What are you most excited about the new Sulwhasoo Concentrated Ginseng Renewing Serum?
I'm happy and honoured to be introducing such a great product. I know from experience that it is a good addition to my skincare. I feel everyone who uses it will feel the same way too.
You're known to have a perfect face with symmetrical features. Can you share with us what's your secret to maintaining flawless skin?
I think you're exaggerating my beauty. [Laughs]. My secret is simple – just like all women, I like to go for facials on my day-off to make sure my skin stays balanced. As women get older, changes are bound to come no matter what so I just try my best to prevent those changes from happening as much or as soon as possible.
Tell us what is your skincare routine like?
Well, after cleansing I start with the Sulwhasoo Concentrated Ginseng Renewing Water to tone, and then I use the new serum, the cream and occasionally I will use the mask too. The morning after when I wake up, I feel that my skin is really moisturised and also healthier. When I see people around me using the same products, it feels like they're approaching beauty the same way as I do.
What about when you're busy working, how do you take care of your skin?
To be completely honest, it's very hard to keep my skincare routine when I'm busy with a tight shooting schedule. But when I do have more time and not much work to do, I definitely keep to these steps because I truly believe that the K-beauty routine really matters in how healthy your skin is.
What other beauty tips do you subscribed to in helping you look amazing all the time?
Since I hit my 30s, I do try to exercise more regularly now and I also do yoga. There is this river in Seoul called the Han River, I try to go for a walk or run or even a bit of both when I can. I feel that when I worked up a good sweat after exercising, my skin becomes healthier.
Song Hye Kyo's must-have
The all-new Sulwhasoo Concentrated Ginseng Renewing Serum is targeted at skin's elasticity by helping to create firm facial contours. It contains microcapsules infused with precious ginseng seed oil to give skin nourishment. The formulation also includes ginseng leaves, stems and roots, which all work in harmony to plump up the skin from within and help with the appearance of wrinkles and fine lines. The serum has a rich, silky texture without any sticky residue, leaving skin smooth and firm.
Sulwhasoo Concentrated Ginseng Renewing Serum is priced at RM690 (50ml).
| | |
| --- | --- |
| SHARE THE STORY | |
| Explore More | |