Beauty
Play to win daily prizes and the Buro 24/7 Holiday Box worth more than RM15,000!
Get your sweet tooth on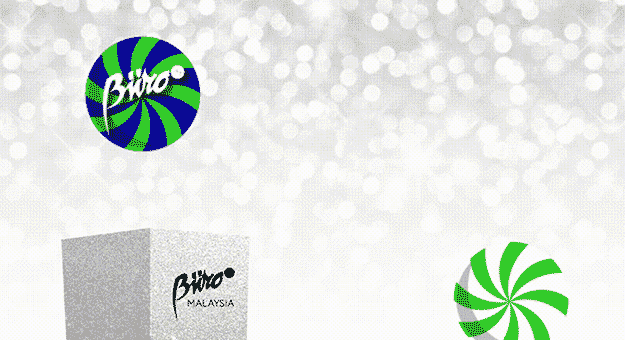 Doesn't it feel like we just made our new year's resolution yesterday? Time sure flies. But on the bright side, it's the season of giving and you, our dear readers, are in for a real treat.
For this year's #BuroLovesGiving, there is an exciting array of prizes worth more than RM15,000 up for grabs. We present the Buro 24/7 Advent Calendar, where we are giving away a different prize every day for six days, starting today! All you have to do is play our Candy Catcher game, collect as many Buro 24/7 candies as you can within 15 seconds, and share the game on Facebook. Come back each day to find out what we are giving away as we unveil a new prize daily. It doesn't stop there—continue playing over the final four days and you might just be the lucky winner to take home our Buro 24/7 Holiday Box worth more than RM10,000! (Check out what's in the box here.)
Just follow these easy steps:
1. Click on the image below.
2. Play Candy Catcher and collect the Buro 24/7 candies!
3. Fill in your details and share the game on Facebook with the hashtag #BuroLovesGiving. (Make sure your share settings are on "Public")
Tip: the more you play, the higher the chances of you going home with a prize.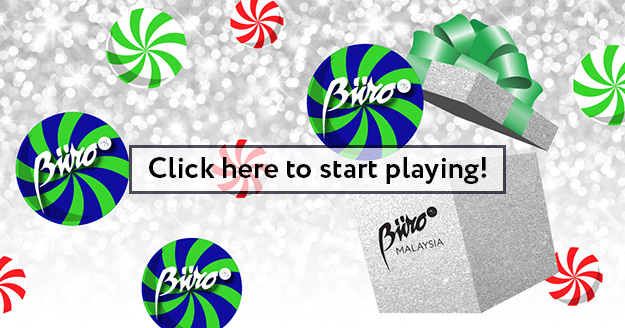 This giveaway is now closed. Congratulations to our winners!
Winners of Day 1: Cynthia Ong Kah Yan, Aliff Asyraf Zainal
Winner of Day 2: Toh Jun Xiang
Winner of Day 3: Sow Shin Yeek
Winners of Day 4: Liew Shu En, Nurul Fitriyani
Winner of Day 5: Kimberly Yong
Winner of Day 6: Shereen Chew
Grand Prize Winner: Cynthia Ong Kah Yan
Terms and conditions:
This giveaway ends 11:59pm, GMT+8, 15 December 2017. The winner(s) will be announced on 19 December 2017.

The winner(s) of this giveaway will be notified via email.

All information must be entered to qualify for this giveaway.

Inability to contact the winner(s) within 2 weeks of notification will result in disqualification and selection of an alternate winner(s).

Prizes not claimed within 2 weeks of notification email will result in forfeiture.

This giveaway is only open to residents within Malaysia, excluding employees of Buro 24/7 Malaysia.

The final winner will be chosen based on Buro 24/7 Malaysia discretion.

Buro 24/7 Malaysia reserves the right to disqualify results deemed unattainable.

Buro 24/7 Malaysia will not entertain any complaints on the quality and quantity of prizes after the prize is in the possession of the winners.

Buro 24/7 Malaysia shall not be liable for any loss, including but not limited to direct, indirect or consequential loss or damage, personal injury or death which is suffered or sustained (whether or not arising from any person's negligence) in connection with participation in this competition or accepting or utilising a prize.

Prize is final; no cash equivalent or alternative prize will be given. Prize is non-transferable, non-exchangeable and strictly not for resale. If the winner is found to be selling the prize(s), Buro 24/7 Malaysia reserves the right to demand for the return of the prize.

All personal particulars furnished are meant for identification purposes and will not be sold or given to any third parties. In the case of giveaways, our partners may wish to offer you services which require your personal particulars. These specific requests will be expressly stated within relevant giveaways, with a choice to opt out.

Buro 24/7 Malaysia reserves the right to amend these rules or terminate the giveaway at any time at its sole and absolute discretion. All decisions made by Buro 24/7 Malaysia under these rules shall be final and no discussion or correspondence will be entertained. Buro 24/7 Malaysia may, but is not required to, justify any decisions relating to this giveaway.

The Participant acknowledges that the interest and good reputation of Buro 24/7 Malaysia is of paramount importance. Buro 24/7 Malaysia reserves the right to disqualify a Participant from the giveaway, or to withdraw the prize if it is believed the Participant is in breach of its obligations under the rules. The Participants shall not by act or omission, directly or indirectly bring the Organiser into disrepute.
| | |
| --- | --- |
| SHARE THE STORY | |
| Explore More | |