Beauty
Supergoop! founder Holly Thaggard shares the real reason why SPF30 is good enough for our skin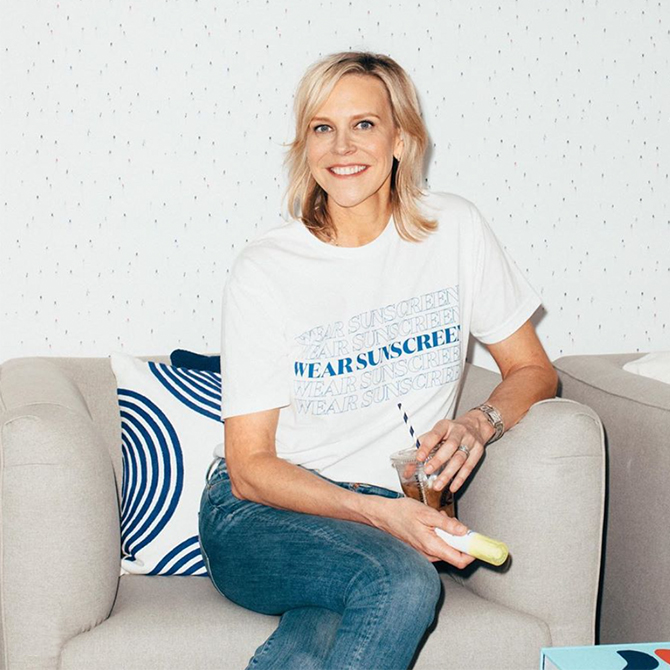 Cult favourite suncare brand Supergoop! has come a long way from its inception 13 years ago. The brand made waves when it launched the Play Everyday Lotion SPF 50, the first ever oxybenzone- and paraben-free chemical sunscreen in the USA. Fast forward to 2020, Supergoop! now boasts a range of SPF in various formulations for the face, lips, body and even hair (scalp sunburn is real, y'all—and it hurts).
For Supergoop! founder Holly Thaggard, looking for new ways to innovate SPF is more than just a passion. The avid skin health advocate walked us through her journey from being a harpist to an entrepreneur, why SPF should be used all year round and her top Supergoop! essentials:
You launched Supergoop! back in 2007—what were the challenges you faced back then when you first started out?
"When I first started Supergoop!, SPF was an extremely sleepy category—very little innovation behind it and it was only given attention or shelf space during the summer months. Changing the minds of retailers and customers was a huge challenge for us.
"UVA rays are present year round and they penetrate through clouds and glass so daily SPF is truly the most important thing you can do for your skin. Seeing a shift in consumer behaviour and growth in the market as a result of our efforts has certainly been a highlight."
What made you decide to launch Supergoop?
"When a close friend of mine was diagnosed with skin cancer at age 29, I learned that it's the most common type of cancer in the USA—and that it's primarily preventable with the use of daily SPF. I also discovered that the number one reason people don't wear it every day is because it doesn't feel good on their skin.
"So in 2007, I launched Supergoop!, a collection of ingredient-conscious, efficacious formulas that deliver broad spectrum protection in unique, user-friendly and feel-good ways, to end the skin cancer epidemic and change the way the world thinks about sunscreen.
"I've dedicated the past 13 years of my life to developing new ways to infuse SPF into your favourite products that have traditionally never been made with your skin's health in mind, advocating for skin health in Washington DC and creating a community of SPF superfans."
You were previously a harpist before you embarked on a completely different career path—what parallels would you draw from both vocations?
"Part of what I loved about playing the harp was the business of it all—finding clients, booking venues, marketing. I have an entrepreneurial spirit so it's where I got my start running a small business. Plus, performing requires many of the same skill sets of an entrepreneur: consistency, discipline, confidence and perseverance."
If you could pick one Supergoop! product to use for a lifetime, what would it be and why?
"This is the hardest question—I love them all! Our Play Everyday Lotion SPF 50 formula was the first ever formula I created back in 2007. It's great for your face and body; it's sweat and water resistant so you can really do anything in it, and it works as a lightweight moisturiser too."
What are Supergoop! essentials you would recommend to a first-time user?
"The truth is, we have over 40 options so I love to talk with people about their skin types, skin care concerns and lifestyle—then make a recommendation based on those factors because we really have something for everyone.
"Supergoop!'s Unseen Sunscreen SPF 40 for the face and Play Everyday Lotion SPF 50 for the body are always great options to start with. These are two of my very favourites! Unseen is a total game changer. It's a completely invisible, weightless, scentless SPF that works as a makeup primer while protecting your skin from UVA, UVB and blue light as well. As for Play, well, what's not to love? It's lightweight, it feels incredible, it doesn't have a scent—it's really the perfect SPF for the whole family."
Supergoop!'s wide variety of products cater to a diverse audience, from stick sunscreens to SPF-infused scalp powder—how do you get inspiration for the product development?
"I literally dream about SPF! I work very closely with Sofia, our Head of Product Development, to create new ways we can infuse SPF into your favourite products that have traditionally never been made with your skin's health in mind. And I'm always listening—to our customers, our followers, the influencers we work with, our retail partners. Listening is key!"
What are common suncare myths you'd like to dispel?
"There is so much misinformation about suncare and SPF out there. My top three are:
1. SPF 30-50 is the sweet spot! Any dermatologist will tell you that SPF 30 is the minimum needed daily protection. ​The biggest downfall of SPF over 50 is that it gives wearers a false sense of all-day protection (no matter what SPF you wear, you must reapply every two hours). Furthermore, any SPF over 50 will also expose the skin to a much higher concentration of active ingredients than necessary.
2. SPF is not just for the summer! UVA (ageing) rays are present year round and penetrate through clouds and glass. Wearing SPF every single day is the most important thing you can do for your skin.
3. We create clean chemical and 100 percent mineral SPF because we believe that there's a time and a place for each type of formula. Our chemical formulas are all oxybenzone and octinoxate free and every Supergoop! formula is synthetic fragrance, paraben, phthalate and cruelty-free. I recommend our Clean Chemical formulas for people looking for incredible textures, invisible formulas and water and sweat resistant SPF. Our 100 percent mineral formulas are great for everyday use and for those with sensitive or acne-prone skin."
What can we expect in the near future from Supergoop!? What are you most excited for?
| | |
| --- | --- |
| SHARE THE STORY | |
| Explore More | |