Beauty
Women in beauty: 'Instant Influencer' Norvina on taking over Anastasia Beverly Hills, the challenges of the beauty industry, and her alter-ego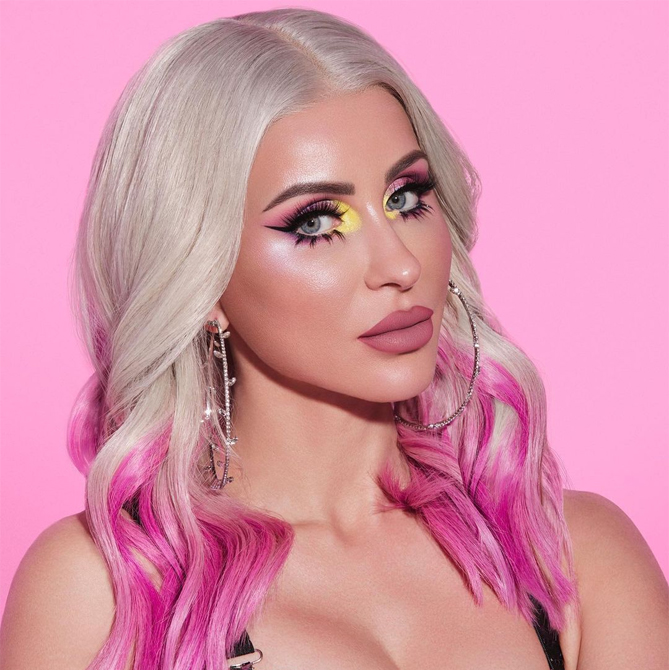 In case you missed it, Anastasia Beverly Hills has a new President and Creative Director, and her name is Norvina. Daughter to founder Anastasia Soare, the 33-year-old beauty mogul—born Claudia Soare—is following in her mother's footsteps and building on her legacy, starting with her very own namesake line within the Anastasia Beverly Hills brand.
To get to know a little more about the beauty businesswoman, we sat down and had a chat with her about all things makeup, empowerment, and change. Here is what we learned:
Your given name is Claudia Soare, but you're known as Norvina—where does the name come from?
View this post on Instagram
"Norvina was actually my given name but my mother had to change it to a Romanian name at the time so that's how Claudia came to be. In an interesting way, it works perfectly for my work. I like to think of Norvina as my alter-ego."
You are now helming your mother's brand, Anastasia Beverly Hills, and have been since 2016. What has been the biggest challenge you've faced as the president?
View this post on Instagram
"I'd say expanding the brand from its legacy of brow products and adding in our colour line to the mix—in terms of expectations for what the brand would put out, that made for really high stakes.
"Taking on product development was intimidating in the beginning because it's so technical but I truly believe that's where I've found my place and have developed an eye for it. I'm able to bring to life a creative and colourful world I didn't know I could tap into before."
Has working within the beauty industry always been the end-game for you?
View this post on Instagram
"Honestly, no—I mean, I've loved every job I've had at Anastasia Beverly Hills over the years (starting from working behind the front counter at the flagship salon), but I truly love art and always saw myself opening a little gallery in Venice or something like that.
"But, in a funny way, the campaign work I do at our Studio has in its own way kind of become a morphed reality of that gallery dream—we're creating and curating the art of the brand, and I find that exciting in a new way that I really never expected."
What inspired you to start your Norvina collection within the Anastasia Beverly Hills brand? Why was it important for you to launch a distinct brand under your name?
View this post on Instagram
"I wanted to hit colour in a new way. I've always experimented with colour and the Norvina brand gives me the opportunity to fully showcase the artistic range and creativity within myself.
"The Norvina brand is built around the artist community, and I want every artist from beginner to pro to have access to pro-quality tools that not only inspire them to create but consistently deliver."
How does the Norvina collection differ from the rest of the brand's lineup?
View this post on Instagram
"The Norvina brand is all about self-expression and a place for creativity. Norvina products are perfect for the artist who wants to have the ultimate colour collection in their kit, and for the makeup fanatic who is ready to take their creativity to the next level. I create products with unlimited artistry in mind."
What is your philosophy when it comes to designing new collections?
"My philosophy in designing collections is really in bringing the full vision to life—from product performance to custom packaging to campaign imagery. My passion really lies in product development and creating high-performance products that meet the needs of our customers and industry."
What is your earliest beauty memory?
"In my early years, I used to go to pro makeup stores with my mom and I was very inspired by stage makeup. I grew up doing theatre, so I felt like I had found my place. My goal when starting to create makeup was to make the look of stage makeup more accessible for daily wear. I love creating different looks and characters—and with makeup, there really are no rules to it, you can be who you want to be."
What is one beauty item you cannot live without, and why?
"Our Luminous Foundation—I always wear foundation to even out my skin tone and mask any discolouration. I can't start my day without it. It gives me natural coverage, feels lightweight and lasts all day."
SHOP: Anastasia Beverly Hills Luminous Foundation
Where do you see yourself and the ABH brand going in 5 years time?
View this post on Instagram
"I'm constantly evolving and looking to the future. Our goal is to continue to expand our line and launch innovative products that meet the needs of our customers."
This month has been centred around women, from International Women's Day to Endometriosis Awareness. Do you have any advice for women looking to break into the beauty business?
"My advice would be to stay true to yourself and focus on your special talents and individuality – that will always set you apart. Set your goals and don't be afraid to take risks."
What does beauty mean to you?
"Beauty to me is all about self-expression. Makeup gives you the ability to transform yourself and feel confident."
Find more beauty insiders here.