With the advent of lunchtime lasers and three-minute fat-freezing sessions, non-invasive beauty procedures are all the rage right now, thanks to the accessibility and efficacy of such treatments. If 2018 was the year of lip fillers and butt lifts, 2019 might just be a game-changer in both facial enhancements and body contouring.
Ahead, we had a chat with Dr Vicky Koh, Medical Director at Clinic RX, on popular and new facial aesthetic treatments to keep an eye out for this year:
What are some of the exciting facial aesthetic trends that will be big this year?
What we noted from 2018 is the increasing interest in body contouring (both for males and females), alongside non-invasive treatments with minimal downtime, as many people are still not keen on the pain that comes with more invasive procedures.
There's this term called pre-juvenation that a growing group of people are interested in. They don't necessarily want to fix a specific feature or part of the face, but they want to prevent visible signs of ageing in the future. As yearly trends predict, there are more people using botox and fillers merely for the purpose of pre-juvenation.
Facial profiling is quite big too. As we know it now, people are on social media all the time, and they want to look good from any angle. What we do is to analyse their features and see how we can enhance it—but it isn't major procedures, only very slight enhancements here and there. For example, if someone already has a high nose but the chin isn't defined, we'd recommend adding volume to the chin.
The key things to look forward to is harmony and symmetry—a prominent nose and a weak chin isn't harmonious, hence adding volume to the chin for overall harmony. A lot of clients tell us that they want to look better but they don't know what they need, so we help them out with that.
How young do your clients start on pre-juvenation?
I'd say early 20s. It's a trend from our Western counterparts, so I think that it will catch up soon here. I have quite a few clients in their 40s and 50s who'd come for firming treatments despite no obvious signs of sagging on their faces—but they do it more for prevention than for instant gratification. Speaking of clients, a lot of men are also open to such facial aesthetic trends nowadays. I'd say males comprise 10-20% of our clientele—some come with their wives, and most are in their 40s or older.
What would you say are very popular with your clients right now?
The Korean-inspired look is still trending, actually. A lot of youngsters are taken by the Korean ideals—the high nose bridge, V-shaped chin, and full upper cheeks. A lot of Asian girls are concerned about their nose and want to enhance their flat bridge. Usually, we use fillers to add volume to your nose. Fillers work as a gel-like mold, so it's easily shaped to create a nice contour to the nose.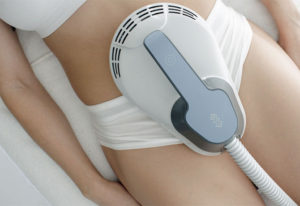 What kind of body contouring treatments are available now?
Our exclusive treatment, EmSculpt, is a paradigm shift in body contouring treatments. Traditionally, there have always been two types of non-invasive body slimming technology—one heat and the other extreme cold. This is completely different: it uses high-intensity focused electromagnetic currents to generate an electromagnetic field in order to stimulate motorneurons to fire, hence contracting muscles in the process. The contractions are much stronger than your regular contractions. The EmSculpt can produce up to 20,000 muscle contractions in 30 minutes!
One thing that is unique about this is that it targets both the fats and muscles. It is the world's first non-invasive abdoment and buttock toning procedure. When your muscles need to adapt to these contractions, it responds with a deep remodeling of its inner the structure that results in muscle building and burning fat.
There are no other machines that can offer non-invasive butt-lifts at the moment. People typically go for invasive surgeries to enhance the butt, such as Brazilian butt lifts. But EmSculpt is great for postpartum women with stretched abdominal muscles. Traditionally, the only way to reduce that part of the abdomen is with surgery, but EmSculpt can help with that now. Mothers can try out the treatment three to four months after giving birth.
What are Brazilian butt lifts and what are some of the side effects to this?
I've seen an increasing number of women who are interested in this treatment, and what happens is that [the doctors will] usually transfer fat from a certain part of body to be injected to the butt. People are moving away from silicones (as it has a higher risk of infection) and invasive surgery, which explains the sudden popularity in this treatment.
Potential side effects from butt lifts include fat embolism, which is dangerous to the patient. I'm a big believer in non-invasive options—if you really can't get it done that way, then perhaps you can explore minimally-invasive procedures.
What would you say the best age is to undergo such facial aesthetic treatments?
In Clinic RX, we focus a lot on the skin. There's no one definite view on beauty, but if you have good skin, you'd generally look much better. To me, it's something you should treat no matter the age. Some of the young girls don't share that viewpoint—they think it's okay to hide their skin with makeup, but they're more obsessed with getting a higher nose and a more prominent chin.
In such cases, I would suggest to treat both simultaneously—fix the skin and then enhance the features. That said, there are many things to invest in as part of your lifestyle in order to consistently look good. Applying sunscreen is a must, no matter how many procedures you spend on your skin. If you want to look slim, you still have to watch your diet and work out, instead of merely relying on body contouring treatments.
| | |
| --- | --- |
| SHARE THE STORY | |
| Explore More | |