Ever wondered what the hype is behind this new lash treatment? We took the liberty to try out four different lash lifts from beauty salons in KL to see if it's worth a second visit in our books. But before that, we answer all the burning questions you have about this eye-opening treatment, with the help of lash lift expert Elaine Tan from Sparks By Tiny.
Lash lifts vs. lash perms
Lash perms do not lift lashes from the root at all. However, lash lifts lift the lashes upwards from the root—the silicone that the lashes is placed on is tight enough that you can actually feel a pulling sensation from the root. In lash perms, the lashes are wrapped around a metal rod, followed by a curling cream on the lashes, resulting in a permed look that isn't necessarily lifted.
Lash perms do not involve precise combing of lashes—which is important as this step ensures your lashes are neatly separated. The general result of a lash perm is curly lashes in all directions, and some even result in frizzy lashes. It helps to research the solutions and creams used in the lash lift treatment you are going for. Opt for those that are FDA-approved, so that it doesn't irritate your eyes and the area around it.
Lash lifts vs. lash extensions
The lash extension process bonds artificial lashes on top of your natural lashes. It is generally more high-maintenance—rubbing your eyes is a strict no-no when you have extensions on. You should also refrain from using oil-based eye makeup remover, or even applying eye makeup as these would induce your extensions to fall. Lash lifts only require you to abstain from wetting your lashes, using mascara and oil-based makeup products for 24 hours after the treatment.
The effect from extensions is more dramatic and bold, in comparison to a more natural look from lash lifts. "Some of my clients opt for lash lifts, followed by extensions for a more "lifted" and less droopy effect," says Tan. Extensions tend to induce your lashes to fall more often, and the recovery process for some might take a long time—think up to a year for natural lashes to grow out on the lash line.
Are lash lifts for everyone?
For those with monolids or hooded eyelids, the effects of a lash lift might not be as pronounced or long-lasting compared to those with double eyelids. "If your eyelid is shaped in a way that pushes your lashes down, and if your lashes are quite short, then I would not recommend lash lifts," says Tan. Lash extensions are a sound investment in this case, especially since it results in a more apparent finish. Note that lash lifts only help to lift the lashes, and not to help it grow in length or volume.
Below, we put this treatment to the test to see how it fares IRL. Read all of our reviews below:
FabuLash Keratin Lift (RM248)Fabulash
Pre-lash lifts, I saw some 'after' pictures on social media and was immediately sold. The thought of not having to be overly careful with lash extensions (I can rub my eyes!), the fact that they're meant to last for a couple of months, and that I can wear eyeliner (basically everything you can't get with lash extensions) appealed to me. The procedure itself is fairly similar to getting lash extensions done: turn up, lie down, leave looking like a new person (almost).
What I generally dislike about getting my lashes done, however, is the length of time it takes, which on average is about 1.5-2 hours. This lash lift session took a bit longer though, because I first had to get my lash extensions removed. The end result is pretty much what I had expected, a gentle curl in my lashes, which so far have lasted daily eyeliner applications and removal, eye rubs, showers, sweat and tears.
However, as my lashes are pretty short, they're not actually very visible so if I'm going to be spending two hours lying on a bed getting my lashes done, it will be with extensions next, after all, it's volume and length that I'm missing, which a lash lift can't change. If you're already blessed with full lashes, then I would definitely opt for a lash lift instead as they're so low maintenance compared to having lash extensions. — Cai Mei Khoo, Editor-in-Chief
Lash Lift (RM130)The Hair TRIC & Lashility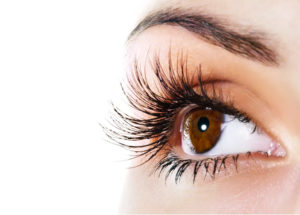 I was never interested in lash extension before – I just don't have the patience for the proper care it needs to make the lashes last. In other words, I'm too darn lazy! So when I heard that there is another alternative to get beautiful lashes without the high maintenance, I was sold. Lash lifts are made for time-strapped girls like me.
I didn't know much about lash lifts treatment when I walked into The Hair Tric & Lashlility salon. The therapist made sure to explain the steps of the treatment and the three different levels of curls/lifting available – soft, medium or extreme. As a first timer, I was recommended the medium curl so as not to irritate my lids. I do have sensitive skin. After cleaning the eye area and lashes, a soothing mask was placed under my eyes. The lifting involves coating the lashes with a keratin solution that is applied over a mould. All it took was just 45 minutes and the therapist was thorough and gentle throughout. She finished off the session with a tint to make my lashes appear darker and look more lifted.
The before and after difference was apparent but sadly, within a week I noticed that the lifting was beginning to droop. If I had another go at lash lifting, I will try the extreme curl to see a bigger, and perhaps longer lasting, effect. I do like how lash lift helps to open up my eyes with minimum effort. — Gwen Ong, Deputy Editor
Yumilash Lash Lift (RM250)Sparks by Tiny
Prior to this review, I was looking for a better alternative to lash extensions—one that is longer lasting and doesn't induce my natural lashes to fall. After scrolling through this Instagram account, I was pretty much convinced that lash lifts were the beauty lifesaver I was searching for, especially since it supposedly can last at least two months; in comparison, lash extensions can get you by for three weeks if you maintain it impeccably.
The procedure was super quick and almost relaxing. My therapist, Elaine, was super helpful in giving thorough explanations of each step throughout the process. After applying a silicone pad on my upper eyelid, she "processed" my lashes by softening the roots with a solution. She then applied a cream and hot pad on top of the silicone pad to activate the lifting. To ensure my lashes stay lifted and nicely separated, she constantly combed it throughout to adjust the direction as well. She completed the treatment with lash tinting and a keratin solution to strengthen my lashes. Before I knew it, I woke up with prettily-curled, seriously-lifted lashes.
I liked that it gave my peepers a brighter, eye-opening effect, and it doesn't require much makeup for everyday. Also, mascara applications were easy breezy as well. It lasted a solid eight weeks, with my natural lashes growing out in replacement of the lifted ones. I can list all the reasons why I'd go back (low maintenance, long-lasting, super natural, no irritated eyes from false lashes poking my eyeballs, etc)—can you tell that lash lift is my new favourite beauty treatment? – Loh Wei Yeen, Senior Fashion & Beauty Writer
Lash Lift Boost Treatment (RM188)Apronbay
I have a love-hate relationship with my eyelashes. The good being volume and length, the bad being its resistance to curl. Even with the help of a good eyelash curler and mascara, they never seem to stay up, slowly finding their way downwards several hours later. I've been curious about lash lifts and lash perms for awhile now after having tried extensions.
The first thing to know about lash lifts is that they're not identical to a lash perm. My therapist, Ashley, describes lifts as a gentler treatment using flexible silicone rods as opposed to a perm's traditional cylindrical rods which create a shortening effect once the lash is permed. Another key difference, the solutions used are free of paraben and formaldehyde.
The chemical procedure works by breaking down the keratin (the protein that provides the physical structure to hair), followed by moulding or "lifting" your lashes to its desired curl and reapplying the keratin to lock in the shape. Apronbay uses a specially formulated keratin boost treatment on top of it for good measure. Depending on your lash length, volume and desired curl type, a lash lift usually takes about two to three hours. Naturally your eyes will be closed, so clear your calendar for the day, you won't be able to multitask here.
Ashley opted for a 'J curl' on me to suit my eye shape and lash type, and the results were eye-opening—literally. My lashes were lifted from the root, fanned out and framed my eyes—my lashes have never looked this good! One month in and I haven't touched my eyelash curler since; two coats of mascara are all I need now. Safe to say I prefer a lift to extensions and would be more than willing to try it again once the results wear off (they usually last up to eight weeks). Compared to extensions, a lash lift appears and feels more natural and I don't have to worry about wonky fake eyelashes falling off. – Stephanie Boey, Fashion Writer
| | |
| --- | --- |
| SHARE THE STORY | |
| Explore More | |