It is perhaps every bride's dream is to have a MFBB (my face but better) makeup look on her wedding — after all, you would want you to look every bit like yourself but 10 times more glowy/photo-worthy/mind-blowing on your big day. For some of us, finding the best makeup look for your face might be more challenging than you think. But before you fret over the mechanics of scoring your dream team to prep you for your wedding, here are some handy lessons to learn from past brides including entrepreneurs Angelyn Chong and Lee Yin Yen. If you've seen their breathtaking beauty looks on their wedding days on Instagram and want what they're having, read on for all the deets:
On scoring the beauty look of the day:
Yin Yen: I've always pictured something classic that I can look back at my wedding album 10 years down the road and still recognise myself. I'm a very carefree and happy person so I opted for my hair to be down in natural waves, along with a Jennifer Behr headpiece to complete the fairytale look. I got volume and length lash extensions which looked kind of heavy. I didn't put much thought into it until my wedding day when I realised it was a little extravagant for my overall look. If I had the option to choose again, I would have gone for a more natural look.
Angelyn: I had a sort of ideal look I wanted for my wedding day — elegant but young. So I looked for some ideas online and tried different make-up artists to see who could match what I wanted. I opted for a standard natural makeup for my first gown, and a more dramatic look for my second. I wanted to have two different looks for the night that didn't veer too far from my go-to makeup looks (I only chose beauty looks I usually wear or have worn previously.)
On bridal makeup inspiration:
Yin Yen: I am inspired by a lot of things all over the world but I am forgetful. I think the way it worked was that I pinned everything that I love from beginning to end on Pinterest. After a while, it slipped my mind so I went back to what I had decided upon in the first stage because I knew that it was what I wanted originally. I showed my make up artist and hairstylist my favourite looks and we actually tried it out before my big day — which was a fun process.
Angelyn: I didn't have a board — my inspiration was really just a compilation of pictures sent via Whatsapp. I like that my makeup artist (KF Bong) because he managed to pull off a look I couldn't do alone. As for my hairstylist (Keith), I've heard and seen a lot of his work, and I quite like what he does. He styled my hair previously at my hen's party and I knew he was the right person to trust my hair with for my wedding.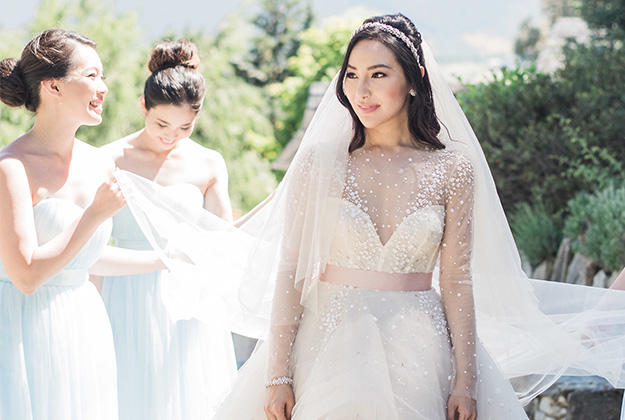 On scoring the perfect wedding day look:
Yin Yen: I would definitely insist on a trial run before as you want to make sure you know that it will be the look you want to go for on your wedding day. No surprises at all! Also you don't want to keep your guests waiting on the day (if your makeup goes wrong and you want a redo or something). Always go for what you want and share your vision with your beauty team. Don't be afraid to try new looks but make sure to have fun along the way and that your final look is still you.
Angelyn: A good tip for brides-to-be is to really think about what you want to look like during your wedding day, and how you (and your children) will think of yourself when you see your wedding pictures 50 years later. Choose a look you are comfortable with, and I definitely do not suggest experimenting with something new during your big day — you only get married once in your life! Do a lot of research, attempt to try them out yourself, get as many recommendations as possible (from friends or online), stalk all their work, and call your shortlist for trials. It is perfectly normal to try just one makeup/hairstylist and confirm him/her from the get-go if you are certain of what you want.
On beauty routines before the big day:
Yin Yen: Definitely get plenty of rest, spend more quality alone time with yourself and your family and keep yourself hydrated. I did not have a lot of time to fit in an exercise programme but I made sure I ate bird's nest every morning and night. I focused on getting adequate rest and also to watch what I eat. Apart from that, I stuck to my usual monthly facials to take care of my skin as well.
Angelyn: I went for intensive facials once every two weeks for the two months leading up to my wedding. It wasn't anything special – just ordinary facials but at a reliable, recommended spot that I found. I also dyed and trimmed my hair about four to five months before my wedding, and I did my nails 10 days before. But I recommend getting your nails done less than a week before your wedding day, just in case. I religiously applied facial masks almost every night, drank a lot of water, and tried not to miss my daily supplements.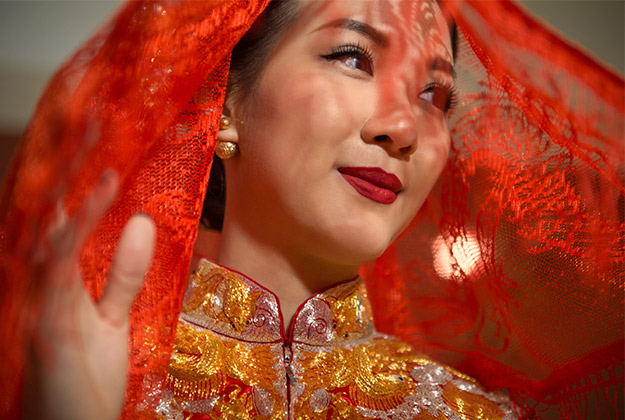 On beauty routines during the big day:
Yin Yen: I asked my make up artist to use my own makeup (mostly from Dior Beauty, Clarins and Urban Decay) as I am well-versed with products that will last throughout the whole celebration, and I am familiar with the colours. I love surprises but I don't think I need any uncertainties on my wedding day (especially when it comes to my skin.)
Angelyn: I had a good makeup artist and hairstylist so I didn't worry over my hair and makeup throughout the wedding. The only tip I can think of is to remember to eat, drink, and smile a lot (because you never know where the cameras are at!)
On major lessons learnt after the big day:
Yin Yen: Be in the moment. I reminded myself not to stress but I did (to no one's surprise). Fortunately, I was aware of it and I reminded myself to breathe and just enjoy the moment, remember the happy faces of my loved ones and have my fair share of fun. There was something poetic about that day and I will always remember it.
Angelyn: Take a lot of pictures and selfies with your own phone — you will definitely not regret this. Eat and drink on your big night! Make a point to go to every table and take pictures with as many of your guests as possible. Also, talk to your husband — the night is about the both of you and the love you are celebrating. Don't forget to have fun and dance wherever you are (because you won't have time to do that on the dance floor at the end of the night).
| | |
| --- | --- |
| SHARE THE STORY | |
| Explore More | |