If most of you have already made exciting plans for this weekend (including eating, art-exploring and perhaps travelling for some of you wanderlusters), don't forget to sneak in some beauty TLC for your body's largest organ—your skin—in between all the weekend warrior-ing.
On our weekend beauty checklist are: a one-of-a-kind organic hair treatment that doubles up as an aromatherapeutic regimen, a celebrity-approved oxygen facial to revive your skin (Madonna, Kristen Bell, Michelle Yeoh and Justin Timberlake all swear by it), and a new hair removal treatment that's been touted as the new (better version of) IPL.
Immerse yourself in a sensorial experience with La Mer at Suria KLCC Main Concourse
La Mer's The Concentrate has a revamp and the brand is going all out in  once more. From now till 21 April, drop by the pop-up event at Suria KLCC's Main Concourse to explore with a slew of activities. Get a personalised skin consultation with La Mer therapists and treat yourself shortly after with a sensorially luxurious hand treatment. Also, take a closer look at La Mer The Concentrate's new design—inspired by kelp (what makes the hero ingredient, Miracle Broth)—and find out what makes the formula a bestseller.
Fun fact: La Mer The Concentrate is actually a multifunctional product that you can combine with other essentials in your beauty regime. Mix it with your moisturiser, foundation and even face mask for optimum results. A tip we gleaned from the event? A drop of this skin saviour in La Mer The Hand Treatment will give your tired hands the intense nourishment they deserve.
From now till 21st April at Suria KLCC Main Concourse.
Indulge your locks in an organic hair treatment with OWAY Head Spa at Number 76, Tribeca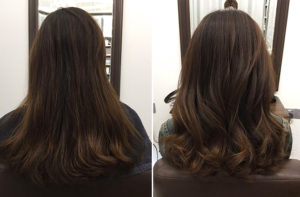 Did you know—also known as Organic Way, OWAY is all about bringing the goodness of organic hair care ingredients from Ortofficina, Italy, to kickstart your hair pampering ritual in a big way? All ingredients in OWAY products are not only harvested but also distilled and produced on their very own farm estate in Bologna—and you get to experience them right here in Kuala Lumpur!
Things you'll love: We love a good brand story, but we guarantee the OWAY Head Spa experience will be the best time-out you've had all week. Fully customised to your needs, this spa program is also an aromatherapeutic treatment rolled into one. Bonus: besides putting life back into your hair, the treatment comes with relaxing head and shoulder massages using custom oil blends to melt the stress away and transport you into a state of bliss—even if just for an hour or two.
4 Surprising moments:
A hair and scalp analysis, which revealed concerns we never realised we had—this is why a professional opinion matter!
It's not a one-size-fits-all—the head spa is curated based on your needs, after which, one of four treatments (ultra-delicate, purifying, detoxifying or micro-stimulating) will be selected for you.
Handcrafted solutions: be pampered by hair masks, infused with a divine blend of essential oils and purifying solutions to rejuvenate dull tresses—the results speak for themselves.
Anti-ageing Flowerfall: the final step of 'bathing' your hair and scalp in organic floral water (expect mild prickly sensations) as the liquid forms a protective shield against oxidative stress, preparing you to face the world head on—we highly recommend the experience.
OWAY Head Spa starts from RM390 for approximately 120 minutes at all Number 76 salons. By appointment only. 
Try out Madonna's favourite facial from Intraceuticals at Away Spa, W Kuala Lumpur
Facials that double up as skin therapy are our favourite for a few good reasons—even better when it comes with zero downtime, is absolutely painless, and feels wonderfully relaxing (almost sleep-inducing, might we add). If you're all about facial quickies that rejuvenate your skin with effective results, opt for Intraceuticals' oxygenated facials exclusively at W Kuala Lumpur's Away Spa.
How does it help your skin? When we say that your skin will be boosted with oxygen, we literally mean it—hyperbaric oxygen is administered with professional-strength serums directly to the skin. Intraceuticals' exclusive treatment promises to visibly plump and hydrate skin, reduce the appearance of fine lines and wrinkles, and dramatically lift the contours of the face.
Our takeaway: As far as relaxing facials go, this is on top of our list for how therapeutic and effective it is. I opted for the Rejuvenate Oxygen Facial that contains ingredients such as low weight hyaluronic, vitamins A, C, E, and green tea. Using an instrument that's hooked up to a special oxygen machine, the therapist gently glided it on my skin—infusing both oxygen and the serums in smooth strokes. Needless to say, I dozed off very quickly, and only to wake up 60 minutes later with radiant skin (the I-woke-up-like-this glow is legit) that looked as though I already had base makeup on.
Intraceuticals Oxygen Facials start at RM250 for approximately 30 minutes at Away Spa, W Kuala Lumpur. 
AFT is the new IPL: What you need to know about the latest (and near-painless!) hair removal treatment in town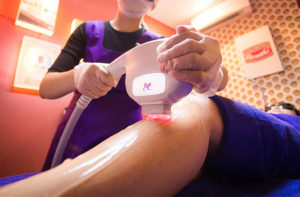 Move over Intense Pulse Light, there's a new long-term hair removal solution and it's supposedly more effective and painless than the IPL! When STRIP told us about their new patented offering, the Advanced Fluorescence Technology (AFT), the news was met with anticipation and maybe just a little scepticism—how pain-free can waxing possibly be?
Our verdict: We approve—to our surprise, the AFT treatment really was as painless as it comes. Using the Powerpac Machine, an AFT session can be likened to an ultrasound experience, where a cooling gel is applied before the handheld tool is swept over in multiple passes across the targeted areas. The slightest (possibly the only) discomfort was a mild sting at certain points of the session but if you are accustomed to the standard waxing experience, this is a walk in the park. Key takeaways of the new technology:
AFT has the ability to distribute energy more evenly and precisely so you get better results and more thorough hair-removal.
The 'In Motion' technique used to sweep over targeted areas deliver just the right amount of energy over key areas for more successful hair removal compared to IPL treatments too. One thing to note though, for best long-term results, you'll need around six AFT sessions.
Until 30th June, you can experience AFT trial offers below at all STRIP outlets.
AFT Underarm for women and men at RM 68 and RM 88 (Usual Price: RM 450 / RM 585)
AFT Brazilian at RM 188 and AFT Boyzilian at RM 288 (Usual Price: RM 900 / RM 1,170)
AFT Bottom Half Leg for women and men at RM 288 and RM 388 (Usual Price: RM 900 / RM 1,170)
| | |
| --- | --- |
| SHARE THE STORY | |
| Explore More | |