Ever looked at a well-equipped eyeshadow palette for a dramatic eye makeup look and had a moment of nervous apprehension while thinking: "How do I use all of these shades without looking like I've got bruises for eyes?"
This is where Urban Decay's new Naked Smoky eye palette comes in. With nine sultry shades from matte to satin finishes, the pigmented warm and rich browns, greys and blacks flatter all skintones and a lookbook is included with each palette for a step-by-step guide to achieve the alluring smoky eye.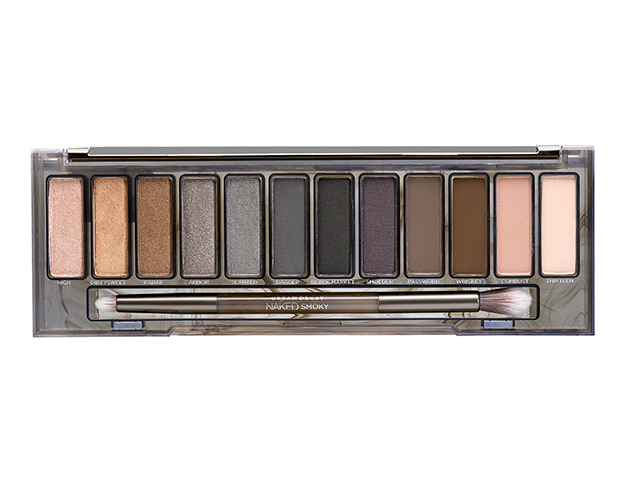 Thanks to a masterclass with established makeup artist within the industry KF Bong, here's a few pointers on how you can make the most out of this palette, along with simple tips you can use for your everyday makeup look:
On eyeshadow:
1. The first and most important rule to achieving a successful smoky eye is to blend the colours over and over again.
2. Apply lighter shades of eyeshadow where light falls on your features—to do so, place a light source right by your hairline so that the light shines downwards. Chances are, it's your brow bone, cheekbones, nose bridge, cupid's bow and lower part of your chin. You can also use lighter shades 1) to highlight the inner corners of your lower lash line; and 2) on the area between your brow and eyeshadow colour on your lid for a softer look.
3. Apply the eyeshadow colour and blend it over an oval shaped area on your lids. If you have monolids or would like to enlarge your eyes, lengthen the area of eyeshadow coverage outwards.
On eyebrows:
1. Going one or two shades lighter than your hair colour is a good way to choose an eyebrow shade.
2. Fill in your brows in the middle first and then outwards with a thin angled brush with eyeshadow if you don't have an eyebrow kit at hand.
On foundation and concealer:
1. The best way to apply concealer with a brush is to start from the middle of your face and dab/stroke horizontally outward or downward—distinct from skincare products that advocate for a upward motion.
2. The difference between using a sponge and brush is this: a sponge offers the best coverage whereas a brush gives a more natural, lighter finish (for a casual, daytime look).
3. Using a tapered brush to apply powder from your compact helps give the same finish of a loose powder that isn't too cakey or unnatural.
On contouring and blush:
1. Suck in your cheeks, note where shadows fall on your features and use a shade that is one or two shades darker than your skintone and start blending from the middle of your cheeks in a circular, up-and-down motion.
2. Other spots to note are: the sides of your nose bridge, the sides of your jawline, and the area close to your hairlines. If the colour is too warm or cool for your skintone, mix it accordingly with another contouring shade.
3. Apply blusher on the apples of your cheeks if you're going for a younger, "cuter" look; apply blusher to the area next to your eyes and above the area where you've contoured for a natural, more defined look.
Urban Decay Naked Smoky, RM199 is now available at all Sephora stores nationwide.
| | |
| --- | --- |
| SHARE THE STORY | |
| Explore More | |