Time check: 4.45pm on a Wednesday afternoon – I was impressed. It was one of those chockfull-of-meetings days, but I still managed to navigate my way through KL traffic, arriving at the Four Seasons Hotel with 15 minutes to spare.
Around this time last year, La Prairie left us in awe with the launch of the luxurious La Prairie Platinum Rare Cellular Night Elixir. Naturally, I was intrigued to see how the brand planned to elevate this collection to the next level – I was not disappointed.
In an intimate setting at the Four Seasons Kuala Lumpur Spa, La Prairie revealed the newest extension to its Platinum Rare Collection – the Platinum Rare Cellular Life-Lotion, which is also the most deluxe (in more ways than one) pre-serum you'll find in the market today.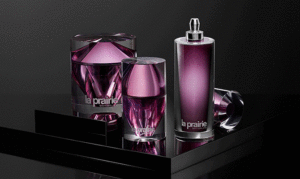 Instinctively, when I hear about an ultra-luxurious skincare product – a first-step, no less – that comes with a hefty price tag to match, I switch between discerning beauty junkie, unbiased editor and savvy consumer to investigate if this additional step is necessary or better yet – recommended – by answering some of the questions you're already thinking.
Q: Do I really need a pre-serum added to my ritual?
I hear you, some days we're struggling to even cleanse our faces at the end of a long day, so the thought of adding yet another step to our beauty rituals may seem a little counterintuitive – especially at a time where we want to use less products, which do more for us.
But this is exactly what Platinum Rare Cellular Life-Lotion aims to do in the long run. This first-step essence-in-lotion is the success story after years of research in skin rejuvenation, with three key long-term promises for your complexion from a cellular level:
1.     Detoxifies – removes and repairs existing damage whilst preventing future skin damage and reviving the skin's natural functions.
2.     Renew – recycles damaged cells and increases cellular energy from within to renew your skin.
3.     Reset – strengthens the skin's detoxifying functions and antioxidant enzymes to improve its ability to protect itself against both external and internal stressors.
A: In my opinion, yes, if like me, skin ageing concerns (such as fine lines, wrinkles and skin elasticity) are high on your list. This pre-serum is formulated to work from the core and thoroughly preps your skin by building a solid and healthy foundation for it to absorb the nutrients from the rest of your beauty ritual. In short, naturally stronger skin, for longer – so you may just end up having to do less for your skin in the future.
Personally, I only started using anti-ageing skincare when I hit 30, but in hindsight, I should have started in my late twenties or soon as I noticed the early changes in my skin – prevention is always better than cure.
Q: How do I justify this indulgence?   
Now that I'm well into my thirties, I have a much better understanding and appreciation for good skincare to naturally maintain my skin for the long-haul sans time-consuming, costly or worse – painful procedures. Also, as a savvy consumer, I highly recommend that you stay curious about your investments – skincare included.
Here's a quick guide to help you understand exactly what you're investing in with the Platinum Rare Cellular Life-Lotion:
Precious ingredients: Platinum is a potent enhancer of skin renewing peptides, which effectively repair skin damage from a cellular level – this serum is packed with platinum peptides to do exactly what it promises.  
Innovative technology: Years of research have gone into formulating this pre-serum so that it doesn't just boost your complexion but detoxifies inside-out before renewing then resetting the skin to its naturally healthy state.
Science meets art: The meticulous attention to detail doesn't stop there, the precious silky liquid is encapsulated in a tall decanter in amethyst tones, which really is a visual treat from every angle, especially when the cap uniquely catches the light. In short, a gem-like addition to your vanity table.
A: In my 'now-thirties' opinion, the benefits of investing into repairing and correcting your skin now vs splurging on a mini getaway could very well outweigh the ageing skin issues and procedures you may have to deal with in the long run. Just think – the more you save from having to fix problems in the later years also means more travel funds to see the world. Funny how things always work out at the end.
Fun fact: An exclusive and rare metal, platinum was coined 'the only metal fit for kings' and was selected by Louis XVI of France as the only metal to be used at Versailles to embellish parts of its interior.
Q: More importantly, does it work?
A: And finally, the answer to the golden question. Here are my takeaways after applying religiously (day and night post-cleansing) for under a month:
This silky, iridescent pre-serum is extremely fuss-free to use (no special tools or techniques required) and absorbs fully and quickly into my skin. I'm not a fan of products with fragrances but do note that this pre-serum comes with a hint of the collection's signature scent that is delicate and not overpowering – I didn't mind it at all.
Honesty is key when it comes to reviews, so while I won't say that my skin is perfect since adding this extra step, I can truthfully say that I've noticed some key visible results after just weeks of application – my fine less are less pronounced, skin is smoother and my complexion, clearer and more radiant every morning.
Also, all other things remain unchanged – my makeup seems to sit better during the day without regular touch ups. It does feel as though the products I've been using (both makeup and skincare) are working better by the third week as though my skin has gone through the detox and renewal phase without me even realizing it.
So far, despite not being the only first-step skincare player around, this deluxe pre-serum has proven to be quite the contender and worth the investment if you're at long-term skin health. That said, can it stay at the forefront of the smart skincare wave in 2019? We'll be keeping tabs – watch this space.
La Prairie Platinum Rare Cellular Life-Lotion, 115ml, RM2890 is exclusively available at Isetan KLCC, Isetan Gardens and Parkson Pavilion KL
| | |
| --- | --- |
| SHARE THE STORY | |
| Explore More | |