I have to admit, when I first heard of facial acupuncture (and saw pictures of it subsequently), somewhere inside of me shrivelled up in fear and skepticism. The former is attributed to watching too many sequels of Final Destination—that acupuncture scene!—while the latter because I tend to reserve a healthy amount of doubt when it comes to holistic beauty treatments. Or any beauty treatment, really.
But a friend of mine waxed lyrical over this traditional Chinese medicine-backed treatment (he regularly goes for 400-needle acupuncture sessions) and the wonderful effects that have transpired—we're talking improved blood circulation, reduced pores, clearer skin, scar reduction, a "lifted" appearance, sharper jawline, the like.
Naturally, the inquisitive side of me wanted to find out if this hodgepodge of wellness treatments is more than meets the eye—"How can poking 100 needles into my face really help with blood circulation?"
So I took a trip to Neng Liang Health Care Centre to find out what the hype is all about. I mean, if A-listers such as Madonna, Jenna Dewan and Kim Kardashian-West are reportedly fans of this treatment and term it the "new Botox", it's definitely saying something.
Scrape away
The founder of the centre and traditional Chinese physicist Madam Chan identified my skin concerns and prescribed three specific treatments: Lymphatic Drainage and Lifting, Face Realignment, and Facial Acupuncture. The first incorporates moss agate, a semi-precious gemstone that is believed to "balance and strengthen the energy flow of the face to help remove toxins, improve blood circulation and strengthen the immune system", according to her.
Using the stone, she scraped the contours of my face in strokes similar to gua sha. It didn't feel too painful on my skin, and I could feel "bumpy" sensations as the stone went over parts of my face. She calls those bumps "blockages" of toxins that have attributed to my skin dilemmas i.e. acne, scarring, dull skin tone, etc. It felt bizarre to experience that but I thought of it as an intriguing, deep-tissue face massage.
Knuckling my bones
Just when I thought that the following two treatments were going to be a breeze (like the first one), I was dead wrong. The Face Realignment treatment felt like my face was a piece of dough and Madam Chan's skilled phalanges were that of a baker—a very strong one with a penchant for hitting kneading all the right spots.
Madam Chan pointed out that the right side of my face was slightly asymmetrical no thanks to late nights and poor health/eating habits. To realign my face, she used her fingers to literally push my facial bones back to position. She also massaged my gums and the insides of my cheeks with her index finger—my excruciating expression in the video tells all—to relieve the tension from my muscles.
I thought my pain tolerance was commendable but apparently it didn't pass the gum massage test… and then came the acupuncture session. *cues Jaws soundtrack*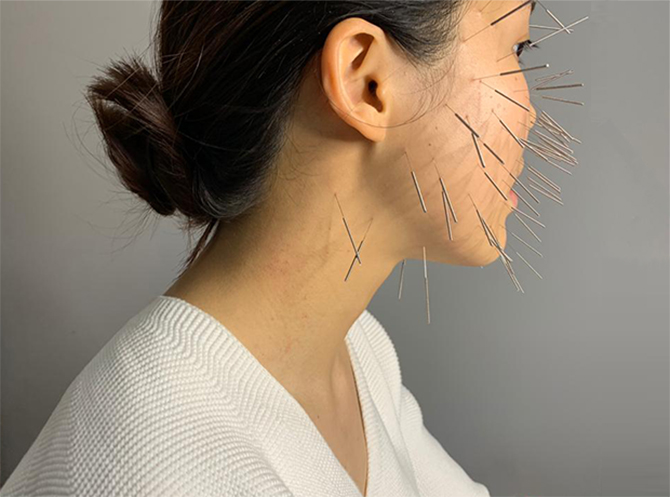 Poking deep
The adjective "painful" wouldn't do justice to describe the precise moment she started inserting silver needles into my skin. She focused on specific Meridian points of my face by stimulating it with needles—that is, by slowly twisting it into my skin (I could feel it digging into my epidermis at this point). According to her, this process restores the yin-and-yang balance of my body, which in turn improves my general health and well-being along with my physical appearance.
The slight drilling of needles almost induced my jelly-like legs to bolt from the bed and out the door but I stood my ground (despite my clenched fists) because what is beauty without pain, right? Following that, the regular acupuncture process of inserting about 80 needles into my skin felt like a breeze.
Apparently, it's safe to walk around and eat, go to the loo, etc with hundreds of needles on my face. But I chose to stay reclined instead—I've seen enough horror movies to know that bad things can happen to good people. Ahem, or any kind of people, for that matter. She left the needles on my face for a good 45 minutes before removing all.
Does it work?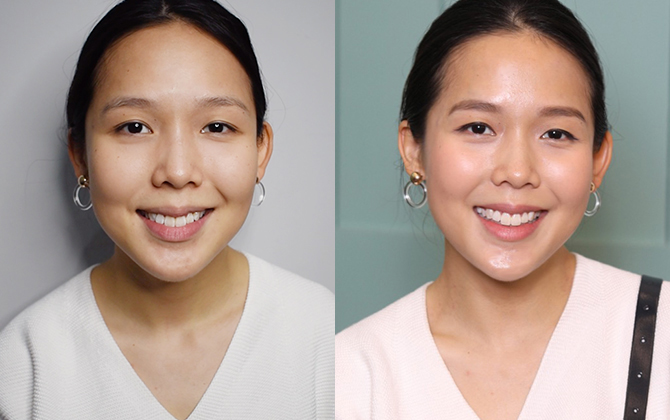 The pain on specific parts of my face only lasted for an hour or two after the treatment, but I did experience minor bruising and swelling on other areas. The bruises subsided after a week or two, and there's nothing that a good concealer/foundation can't do to cover up the uneven skin tone in the meantime.
Skin-health wise, I'm happy to note that my eczema hasn't flared up since. I flew to Shanghai for a work trip shortly after this review and found that my skin was surprisingly docile throughout—no dry splotches that usually result from the cold and dry climate (it was 12°C on some days). My skin felt smoother, my cheekbones looked lifted, and even my jawline had the makings of a V-shaped visage.
Will I go back? Yes and no. I'm keen for another round of gua sha and face realigning, but it may take more than nerves of steel to undergo needles digging into my face. But according to Madam Chan, you can integrate your usual facial treatments with these holistic facials for more impressive results.
A handy concealing trick
For those who are about to try these treatments out, fret not if you spot some light bruises and swelling on your face—it typically lasts for a few days or weeks, depending on your skin's healing abilities.
But if circumstances don't allow you to walk out with a face full of bruises (I got asked a lot of questions by curious—and concerned—folks), try this makeup tip below, as told by pro makeup artist Shiyo Joo:
How to conceal light bruising on the face:
1. Use a concealer in a darker shade than your skin tone—preferably in the same tone as the bruise—and dab it on the affected area. "I typically use M.A.C Cosmetic's Studio Fix Concealer and Too Faced Born This Way Concealer for this step," he says.
2. Do not blend the concealer, leave it as a small patch on the area.
3. Set a layer of powder on top of the concealer.
4. Use a cushion foundation (Shiyo recommends Tom Ford Beauty) and dab over the area—again, do not blend any of the products on that area, just pat it on.
5. If you have oilier skin, apply another layer of powder over the foundation.
6. Use a powder puff instead of a brush when applying powder for steps 3 and 5.
Credits:
Videography: Chong Yi Suen
Special thanks to Neng Liang Health Care Centre
| | |
| --- | --- |
| SHARE THE STORY | |
| Explore More | |