There are many things and moments that make a good holiday memory. Cold refreshing cocktails, sumptuous spreads of food, sands between our toes, sea breeze in our face and sweet summer fragrance – you know, all the elements that engage the five senses.
The #BuroGetaway got our editors packing up their favourite Jo Malone essentials for a dream vacation in Bali. With the summer vibe dancing to our heartbeat, we share some must-bring items and pro-tips to help you scent up for the full holiday spirit.
Cai Mei, Editor-in-Chief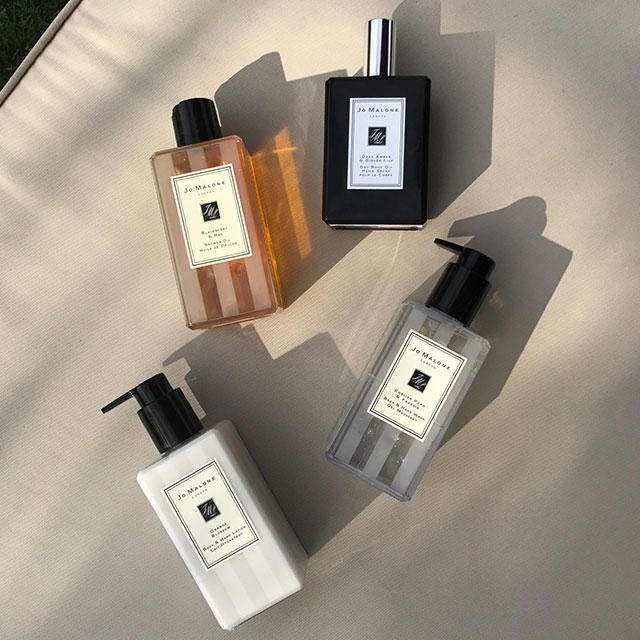 Scents evoke memories, even more so when I use a new fragrance while travelling. For our #BuroGetaway to Bali this May, I brought along a couple of Jo Malone products with me, some in scents I've not tried before. Given the beach destination, I chose lighter scents to suit the occasion. A personal favourite is English Pear and Freesia cologne, so I brought along the body and hand wash to layer on this fresh, fruity scent. I gave it a little twist by layering the body and hand lotion in Orange Blossom post-shower – the scent of which now reminds me of Bali. For something a little more indulgent, I also packed a shower oil in Blackberry & Bay. This shower oil doesn't strip skin of its natural oils, especially after having been under the sun and in seawater the whole day, and leaves my skin feeling satiny soft. A dry body oil is also a great addition to any beach beauty bag as it doubles up as both a non-greasy moisturiser, and gives the skin a radiant glow – all the better to show off that newly achieved tan.
Gwen Ong, Deputy Editor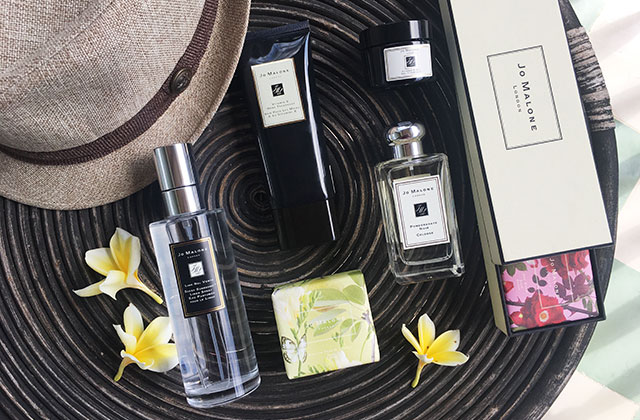 "On an island in the sun, we'll be playing and having fun, and it makes me feel so fine, I can't control my brain" – this song by Weezer played in my head as we headed to the 'Island of the Gods'. I'm always seduced by a tropical holiday where sunshine and sea breeze is just the thing to lift up the weary soul. With a spritz of my newfound fragrance of the hour –Pomegranate & Noir – I was ready to soak up the beauty and culture that Bali has to offer. It has a light fruity yet warm scent that is not too overpowering for a hot day. If you take a peek in my bag, you'll find Jo Malone's Vitamin E gel and hand treatment in my beauty pouch. With all the UV rays that I was exposing myself to, I was glad to have the Vitamin E range on hand to protect my skin and moisturise it with a luxurious touch. I also stashed a few bath soaps in my luggage so my holiday #ootds are always smelling fresh like I just stepped out of the shower. Speaking of which, a linen spray is also great to freshen up everything from your duvet to the cupboard, bathroom and more when the occasion calls for it.
Jason Lim, Fashion Editor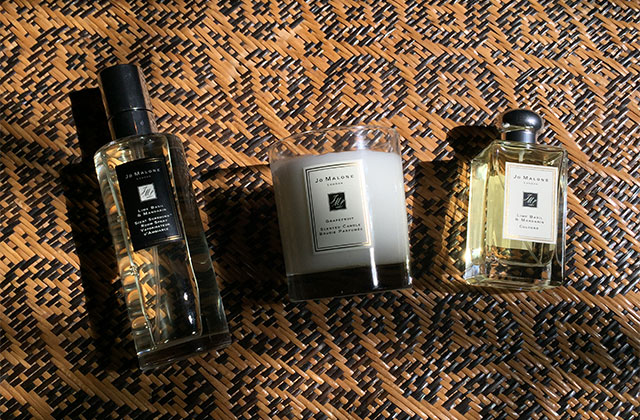 Heat and humidity calls for citrus—no ifs, ands or buts about it. I like a cold glass of orange juice in the morning, a sharp twist of lemon in my gin and tonic and the slightly bitter notes in my grapefruit body wash. It's a jolt of much needed energy when forced to suffer the sweaty, sticky lethargy of the tropics. A beach getaway will never be my idea of R&R (too warm, too sandy, too wet) so for a little bit of familiarity, I fill my toiletry bag with a few comforts from home. The issue I have with rooms situated near a large body of water is that things can begin to smell a little damp. Lime, Basil and Mandarin is a personal favourite from Jo Malone and the room spray is great for cutting through any lingering mustiness. Candles have been a recent obsession and the scent of grapefruit is lovely and refreshing—suitable for both day and night. I also love the warm, flickering shadows cast by candlelight-perfect for setting the mood should you be required to receive guests.
For more of our #BuroGetaway series…
#BuroGetaway: 5 Homeware havens in Bali that fulfil all your interior needs
#BuroGetaway: Playful flavours aplenty at Sangsaka, Bali
#BuroGetaway: Our HomeAway from home, Villa Theo, Bali
| | |
| --- | --- |
| SHARE THE STORY | |
| Explore More | |