Beauty
Buro 24/7 Exclusive: Meeting beauty guru, Terry de Gunzburg at her Paris HQ
The artist at work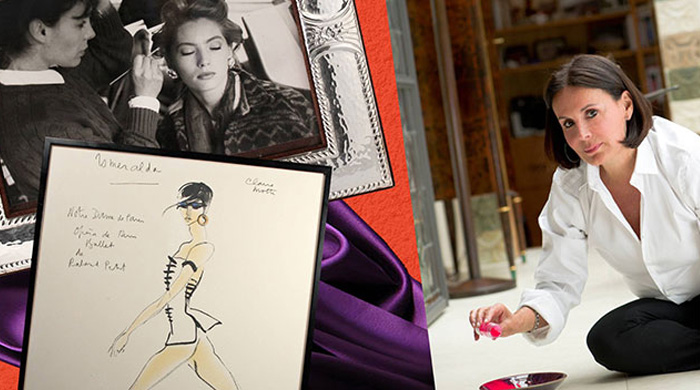 It's not everyday that you get to meet an iconic woman who has created a makeup and beauty line adored by ladies all over the world and revered for being innovative. Terry de Gunzburg is a beauty guru who has played a pivotal role in bringing simple solutions to all women through her brand, By Terry. Dubbed the Steve Jobs of makeup, Terry de Gunzburg was responsible for creating the famed Yves Saint Laurent Touche Éclat brush-on highlighter pen in the 90s.
This year in celebration of By Terry's 10th anniversary, she introduces yet another brilliant product—the By Terry Rouge-Expert Click Stick, a hybrid lipstick that utilises the same 'one-click' mechanism. Buro 24/7 made our way to the By Terry's headquarters in Paris for a one-on-one with Terry de Gunzburg herself to talk makeup innovations and smart beauty solutions.
Hi Terry. Thanks for inviting us to your office. What was most important for you when creating the By Terry Rouge-Expert Click Stick?
"The idea was to reinvent the gesture and the application of a lipstick in any colour, whether in nude, bright red or even dark and intense shade. My vision was to create the iPhone equivalent of sophisticated and bold lipstick because I see a lot of women who love red lipstick and they love all these tutorials, yet they are not skilled enough to do it themselves. So I said to myself, "Ok, what if I create something that makes it extremely simple for them but with all the benefits of a pencil, a balm and a lipstick with pure pigment, an all-in-one!" Hence I created something that is like a pen and with the click, it gives the precise amount of product while keeping the formula intact. My idea was to create a hybrid so you'll be able to do your perfect lips on the go, that even without a mirror you're an expert. It's to simplify the application to be as fast as possible."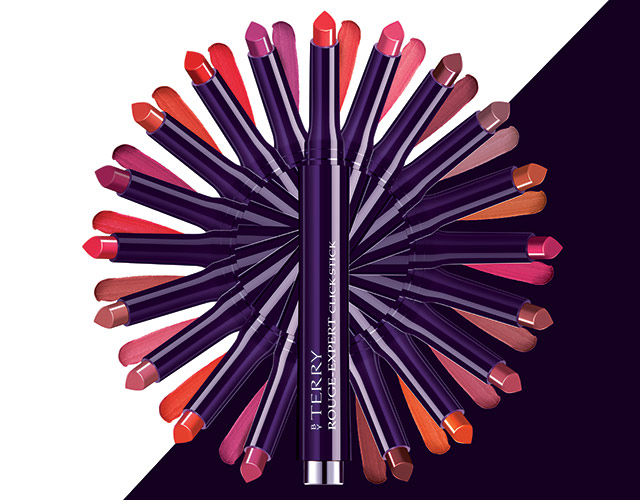 How long did it take to come up with this collection? What was the process like at the Laboratory of Creation?
"Actually, I had this idea five years ago. I'm obsessed with the 'click' because when you don't have the time, you need something easy and fast. With the click, I know it'll deliver the right amount of colour and a clean texture. It's not just to make it fun but it has a real function with benefits behind the technology. I saw something like this a few years ago in Korea and I thought it was interesting but the formula and shape weren't up to mark. So I worked in collaboration with the Koreans R&D but the formula is our own and we fine-tuned everything to make it like the Rolls-Royce of the click.
"To come up with the colours, it took us two years to be able to get the correct shades because it's a long process for me; I have to try everything on myself. If it doesn't work on me, that means it won't work on my customers. You can't imagine how many samples we've tried here at the Laboratory; it was too dry, too glossy, too creamy, not long lasting enough or very long lasting but drying. There was also the process of getting the right formula that must also be compatible with the container. So, it was a very long process and a lot of work that involved testing colours, formula, compatibility, production, etc. But truly, it's really a collaborative effort of all our teams."
Beauty, as you know, is always changing and the challenges are immense. So how do you know what works?
"My instinct and my feelings. That's why hopefully I can name myself as a beauty designer. When you're a designer, you have the intuition that keeps you alert of the transitions. It's almost like fashion, I'm observing what's happening around me and I get inspired by many things such as art, music, botanic, etc. Though I must say that I very rarely follow market trends; I anticipate them and I believe I'm a trendsetter. That is my goal and that is what I love to do. That is what I've always been doing for the last 40 years even when I was with Yves Saint Laurent for 15 years. You're not creating the Touche Éclat just because you follow trends but you look at the market and you see the changes, the habits and how fast things are moving. So you adapt to that and create something new and useful. This has made By Terry very different."
What do you look for when it comes to beauty/makeup?
"I look for the holy grail of products that allows you to still see normal skin after makeup. Personally, I like the 'no makeup' makeup look that leaves no texture yet it's perfectly finish. I'm constantly looking to get the glow more than to get the perfection because the glow keeps you alive and young."
So, what is the Terry de Gunzburg way to achieve glowing skin?
"I am very disciplined with my beauty routine. I have a fast-track routine when I don't have time like for example, when I take the first flight out at 6 in the morning, and I have a day spa routine when I'm at home and I have more time. The fundamental of this is skincare.
"Cleansing is super important. For this step alone, I'm using at least three products—the Cellularose Comforting Balm Cleanser, Cellularose Cleaning Oil and Cellularose Micellar Water. By doing this very deep cleansing, it is the first step to promote the skin's collagen and the hyaluronic levels, plus it is also a de-puff gesture. I finish off with a hot towel followed by a cold towel. All these doesn't take more than five minutes. Then I infuse my skin with moisturiser and lots of serum because I'm doing it as a mask. For my eyes, I'm using the Liftessence Eye Contour but sometimes I skip this because the serum acts as a cream already. It's really simple, I don't give more than five to seven minutes for my skincare every day.
"In the evening when I don't have to go out, I remove my makeup as soon as I come home and I'm repeating the same skincare routine but now I also exfoliate with the Cellularose Dual Exfoliation Scrub and use the Cellularose Hydradiance Mask. I'm doing much more at night because it's the time when the skin reparation process begins."
If you have one beauty advice to share with girls these days, what would it be?
"Be you. Keep your personality and try to define your own style. Have fun with your beauty or makeup but find your own look, don't try to be someone else. Even with fashion, have fun. And sometimes try to surprise yourself with a new colour but always be you. It gives you an unique body language and it gives you a special kind of confidence."
Related stories:
24 Questions with Terry de Gunzburg
Your new lip need: By Terry Rouge-Expert Click Stick
| | |
| --- | --- |
| SHARE THE STORY | |
| Explore More | |