Small braids, strong eyes, and flawless complexions were on many moodboards this Haute Couture AW19 season
Haute Couture AW19 week went by in a flash and in case you didn't keep tabs on the most scene-stealing moments on the runway and backstage this season, here's a roundup on the major looks you can't miss out on. Perhaps the only (and best) time to showcase the whackiest and most over-the-top looks, couture season never disappoints at dishing out a load of visually-astounding fanfare.
From glitter-addled gazes to hairdos that vary between austere and awe-inducing, these are our favourite beauty moments from Haute Couture AW19:
Dior's idea of "modern purity"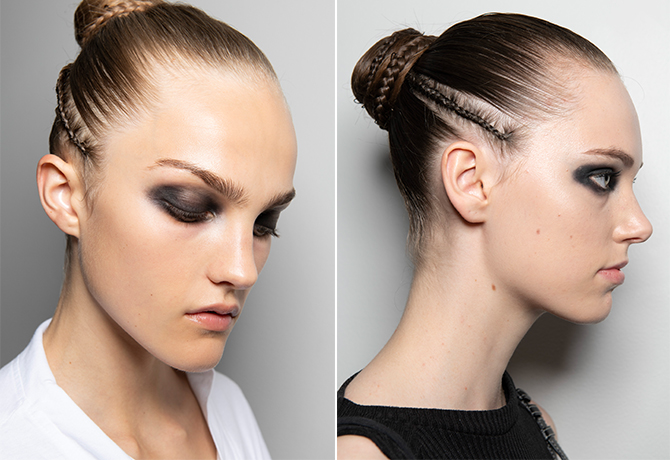 "I emphasized the eyes by making them softly smoky, but still really quite intense. It's a look of modern purity, subtly worked with simplicity, where a translucent complexion also plays an important role" said Peter Philips, Creative and Image Director of Dior Makeup. The look spoke volumes without making too much of a statement—he chose to omit mascara after smoking out the eyes, but kept the skin naturally flawless with the help of the Dior Backstage Foundation.
The eyes took centre stage with high buns, tightly pulled back with a few small braids woven on the sides of the head and around the bun.
Glitter girls at Valentino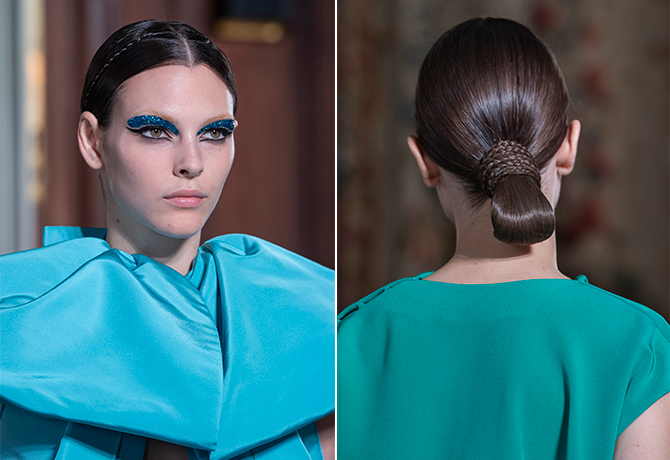 Small braids were definitely a micro-trend this FW19 couture week, with braid-clinched looped ponytails peppering the runway at Valentino. Makeup maestro Pat McGrath ensured the eyes stole all the limelight with not one, but three makeup trends, namely bleached eyebrows (Kristen Stewart did it first), a graphic cat eye, and swathes of colourful glitter above the cat eye. The best part? Each shade of glittery arch matched the shade of the model's respective look—talk about monochromatic magic.
Bold strokes at Chanel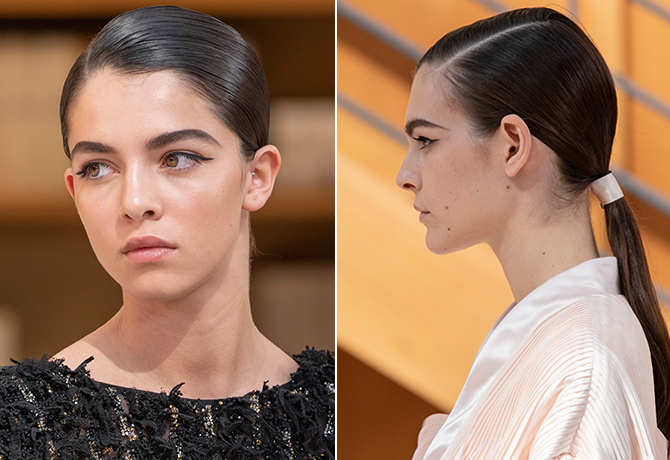 Chanel's take on a makeup look for sophisticated book readers/librarians who wear glasses? One that draws attention to the peepers, of course. Strong brows (with a masculine edge) and winged liners let the eyes do the talking. The icing on the cake came in the form of side-parted, sleek ponytails tied low with minimalist accessories. Herein lies a perfect example of beauty in simplicity.
Eclectic chic at Schiaparelli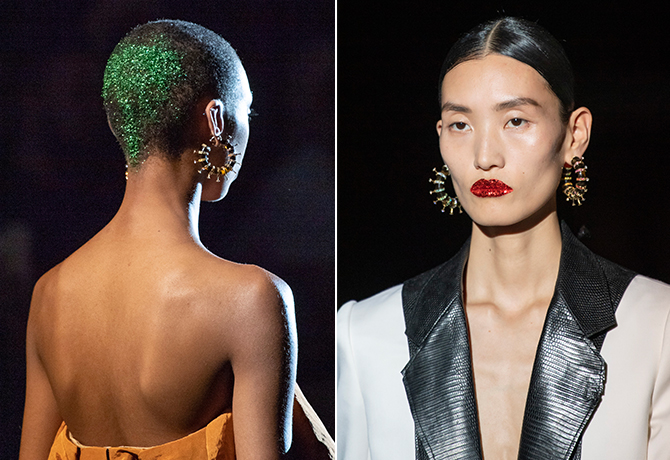 At Schiaparelli, the memo of the day seemed to be "the more the merrier". Metallic glitter in vivid shades speckled models' lips while nails were blinged out with lengthy crystal tassels. On the back of models' heads, the texture play here was nothing short of OTT—a dusting of green glitter, a smattering of crystal embellishments, and even a tri-coloured beaded "cap" resembling a flapper headpiece.
Armani Privé's tribute to the '90s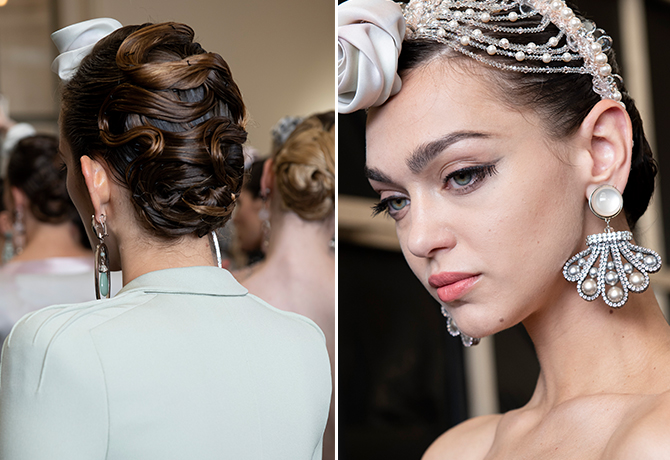 The trick backstage at Armani Privé to acing full, dramatic lashes was a spoon. Makeup artist Linda Cantello took inspiration from the house's Armani Beauty Code circa the early 1990s—fluttery top lashes that were extra long with ends that flicked up in a cat-eye effect, made possible with by curling it with a spoon and a blast of heat (from a hair dryer). The statement eyes were juxtaposed with natural complexions that were achieved with foundation shades lighter than the models' natural skin tone (for that jarring, two-toned '90s look).
Pearl-studded princesses at Ralph & Russo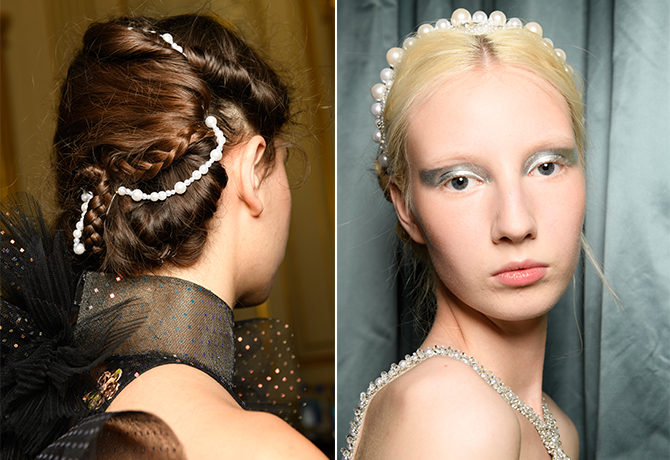 From the pearl-studded headbands and hair accessories to rosy cheeks, there was an otherwordly yet ethereal mien that models repped backstage at Ralph & Russo. The eyes were made to stand out—painted with single-coloured shadows, and some were decked with a miniature pearl in the inner corners for a futuristic twist. The rest of the face was kept simple but not yawn-inducing—flawless complexions that were delicately flushed and colourless lip tints to bring out the natural colour of the lips.
Givenchy goes punk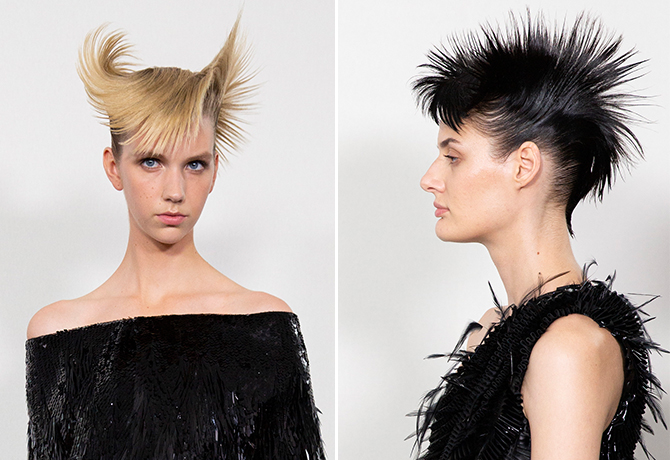 Sculptural hairdos were the only thing we could see when models glided down the runway at Givenchy. And that's evident, because the towering 'dos (by hair whiz Guido Palau) pretty much defied gravity with its three-dimensional shapes. Three-parts bird-inspired and one-part punk princess, the hair looks kept its height by way of extreme-hold hairspray and lots of careful moulding.