The last time we were at Be Urban Wellness was to try out an Inversion Yoga class so when we heard that they have upgraded their EMS (Electrical Muscle Stimulation) training to a wireless one, we knew it was time for another awesome #FitnessFriday visit. Together with new Friends of Buro Megan Tan and Jenn Chia—and a tangled heap of nerves—we headed in, strapped on the kickass EMS suits, and did a 20-minute workout that produced extra results from the stimulation.
Watch the video below to see how we fared and read on for the team's testimonials.
Gwen Ong, Deputy Editor
Getting zapped while working out sounds like a torturous activity that nobody who is sane enough would put him/herself through and yet, that was what I did. I must be losing my marbles. This month's #FitnessFriday was not what I had expected—it was better. I think that should be my trick from now on when it comes to exercising—think of the worst-case scenario but come out all the better after. It was tough going through the paces while strapped to the body suit. What, with my arms/muscles twitching involuntarily? You can understand why I'm going crazy, right? Although the EMS workout was just a short 20-minute session, I felt the after-effects as if I had several hours of strength training. My body was drained and my appetite grew 10 folds by dinner time. The EMS definitely jolted me out of my usual sedentary pace.
Rating: 4/5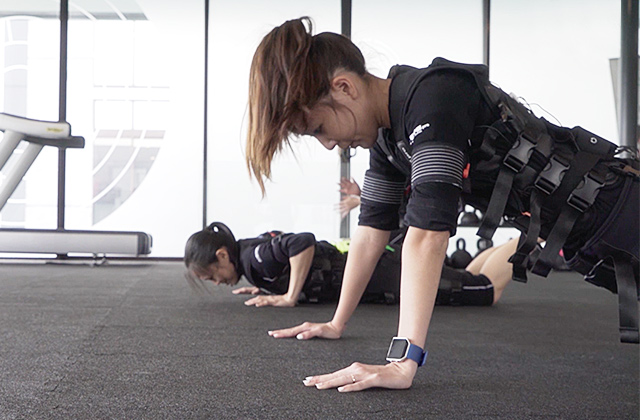 Rachel Au, Lifestyle Writer
Prior to the session, my only comforting thought about EMS was that it involves moves less intense than CrossFit or HIIT. My main concern was how painful it might be to be zapped. So when we finally tried out the class, both assumptions were surprisingly misplaced. As they only conduct the EMS class for three people per session, we were split into two groups. I was in the first one with Megan and Gwen, which involved more strength and core training, and which means I hate push-ups. The good thing is the format is quite similar to HIIT where we do each move for a short period of time and then get quick breaks. The zapping part, however, was not as intimidating as I thought but while others were saying it felt like a massage, I felt like I was getting whacked by hundreds of miniature wrestlers. Well, no pain, no gain, right? Despite that, it was pretty enjoyable, especially because we weren't doing a lot of intense and quick-paced moves (refer to this episode of #FitnessFriday where I almost wanted to collapse), but I could feel it and know I'm burning more than it seems—and the latter is the most important thing of all.
Rating: 4/5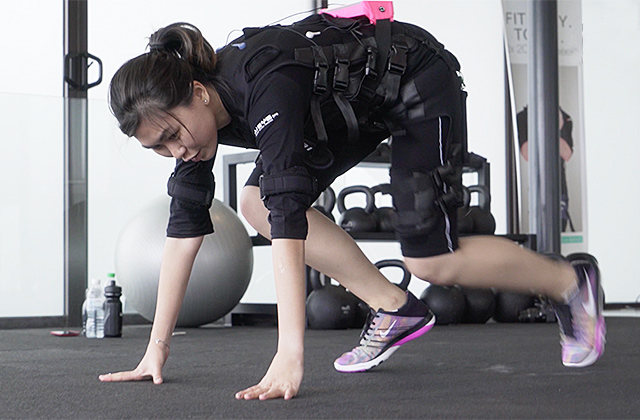 Wei Yeen Loh, Fashion and Beauty Writer
Working out while sporting ultra-cool bodysuits that would zap us to lose more calories? I was sold the moment I heard that this month's #FitnessFriday was EMS. It is easy to get hooked on this workout because it only lasts a mere 20 to 30 minutes—which is a breeze compared to the usual hour-long HIIT sessions. But our group was subjected to salsa dancing moves and sumo squat twerks (yes, it is a thing), so it was a change of scene for me despite my two left feet. They weren't kidding about the after-effects—the intense muscle contractions during the workout meant that I should expect equally intense soreness the day after. Needless to say, I was slumming around all weekend at home after burning 500 calories on Friday (and apparently, up to 3000 over two days!)
Rating: 5/5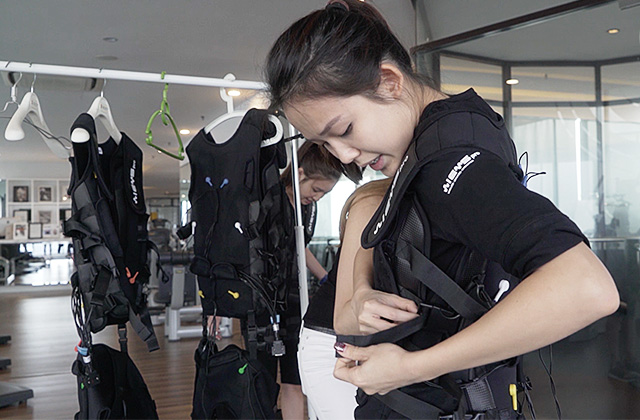 Alyssa Lee, Editorial Assistant
I had mixed feelings going into this. And by mixed feelings, I mean 90% reluctance (since my last PTSD-inducing workout) and 10% concession to the fact that supplementary physical activity is necessary to prolong one's existence. Surprisingly, the scales tipped a little upon getting strapped into the EMS suit. First off, it's almost ideal for someone who is not used to strenuous exercise, seeing as it has adjustable levels of intensity, and aids in muscle simulation, which basically means you reap more than you sow. Secondly, the electrical pulses are in no way unpleasant; the little jabs and squeezes were akin to those from an advanced massage chair or a masseuse with very deft fingers. Third, we looked like secret agents – enough said. Even taking into account my dislike of exercise in general, I thoroughly enjoyed the class. Ros' high spirits had the room pumping while her switch-ups between resistance training and dance steps kept things interesting. She also readily demonstrated regressed variants of the exercises whenever I struggled to keep up. The novelty of being hooked up to a device under someone else's control like a character in a video game aside, it was the quickest 20-minute workout I have ever experienced and dare I say, I was ready for 20 more.
Rating: 5/5

The new wireless EMS workout sessions are available at BE Urban Wellness in Work@Clearwater, Damansara Heights. Find out more about them here. 
Related stories:
#FitnessFriday: Team attempts Inversion Yoga at BE Urban Wellness
#FitnessFriday: Team tries Sanguis at House Atlas Strength & Training Facility
#FitnessFriday: Team workout at Firestation.fit in Plaza Mont Kiara
| | |
| --- | --- |
| SHARE THE STORY | |
| Explore More | |