From entering the local fitness scene with a fiery HIIT class at their first outlet in Jalan Batai to opening Fire2 in Plaza Mont Kiara with two new classes, Firestation has not ceased to amaze us as one of the best boutique gyms in KL. Their latest venture is Fire Yoga which is inspired by their Ride Yoga classes. Watch the video below to see what it entails and read on for the team's testimonials of the session.
Rachel Au, Senior Lifestyle Writer
Generally, yoga intimidates my inflexible body. Add the word 'Fire' next to it and I was in fear. However, Tracy's energy was infectious and with her clear instructions, I managed to keep up with the pace of the class. I would describe it as a fusion of HIIT and yoga with the only time you have to take a breather is towards the last ten minutes or so of the class where we did some restorative poses. All in all, it was a good alternative workout and my muscles were mildly sore for the days that followed. That means I did a good job, right?
Rating: 4.5/5

Wei Yeen Loh, Fashion & Beauty Writer
When it comes to early morning workouts, nothing beats yoga sessions to kickstart the day. While I was expecting to get a good stretch out of Fire Yoga, what caught me off-guard were the HIIT elements incorporated into the routine. Alternating push-up planks along with downward dogs that transitioned to mountain climbers? Bring it. I liked that the flow was smooth and easy to catch on, thanks to Tracy's instructions that were concise and straightforward. If you're looking for a yoga sesh that will get your heart rate up while toning your limbs, this one's right up your alley.
Rating: 4/5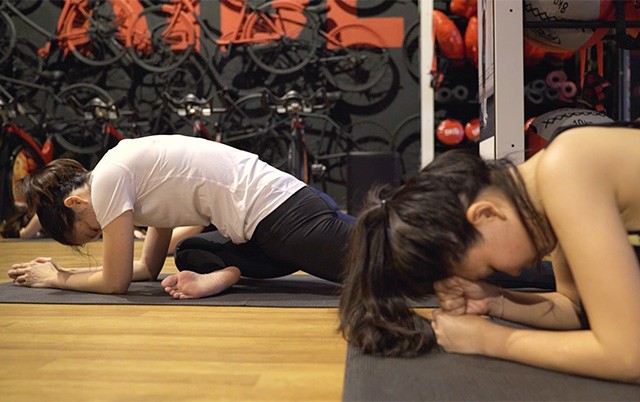 Su Fen Tan, Writer
For those who find yoga classes too slow for their liking, Firestation has got your back. Fire Yoga is definitely not your usual yoga session—that was established from the get-go as we started the class accompanied by some of the latest upbeat hits playing in the background. While there were no particularly difficult asanas, we were instead challenged to a faster-paced flow with a couple of HIIT exercises (including mountain climbers) in between. Towards the end of the class, the pace was brought down a notch as we moved into chill grooves (my jam!) and stretches—a great way to end the class.
Rating: 4/5

Yi Suen Chong, Art Director
Being a Firestation regular myself and a fan of their HIIT-based workouts, I was thrilled to hear they were introducing a new class. Fire Yoga is definitely not your typical yoga session as they incorporate HIIT moves into the routine as well. Think chaturanga with a couple of tricep pushups, or plank exercises with a few mountain climbers thrown in—the class had me sweating and panting right from the start. It's a great workout switch if you're tired of the usual HIIT and explosive exercises, and looking to stretch some muscles but maintain a nice level of intensity.
Rating: 4.5/5

Fire Yoga is offered at both Firestation gyms in Plaza Batai and Plaza Mont Kiara. Check out their website and Facebook for more info.
Source: https://www.buro247.my/lifestyle/health-fitness/strike-ride-firestation-fit-gym-mont-kiara.html
Related stories:
#FitnessFridays: Team HIIT workout at Firestation.fit
#FitnessFriday: Team workout at Firestation.fit in Plaza Mont Kiara
#FitnessFriday: Discovering Budokon Yoga at Organica Studios
| | |
| --- | --- |
| SHARE THE STORY | |
| Explore More | |