Beauty
Where would Aesop's new 'Othertopias' fragrance collection take you? Perfumer Barnabé Fillion leads the way
Fragrances have the power to transport individuals to different places. Aesop's 'Othertopias' takes inspiration from "the boat, the shore, and the wasteland".
For you, where exactly in the world is that when you smell Miraceti, Karst, and Eremia?
"They weren't exactly real places that I've been. I had some ideas for Erémia from the urban garden near my house in Paris, so I went to visit it, but really, I was thinking of all the wastelands and urban gardens around the world (particularly of Detroit). There were also images of shores in my mind. But I never focused on just one because it was important to not be geographical—geography is important, but not of one site specifically—in this project. Reality is a departure point to reverie, to the abstract—that's how perfume is an 'Othertopia': the skin acts as a window between nature and the abstract."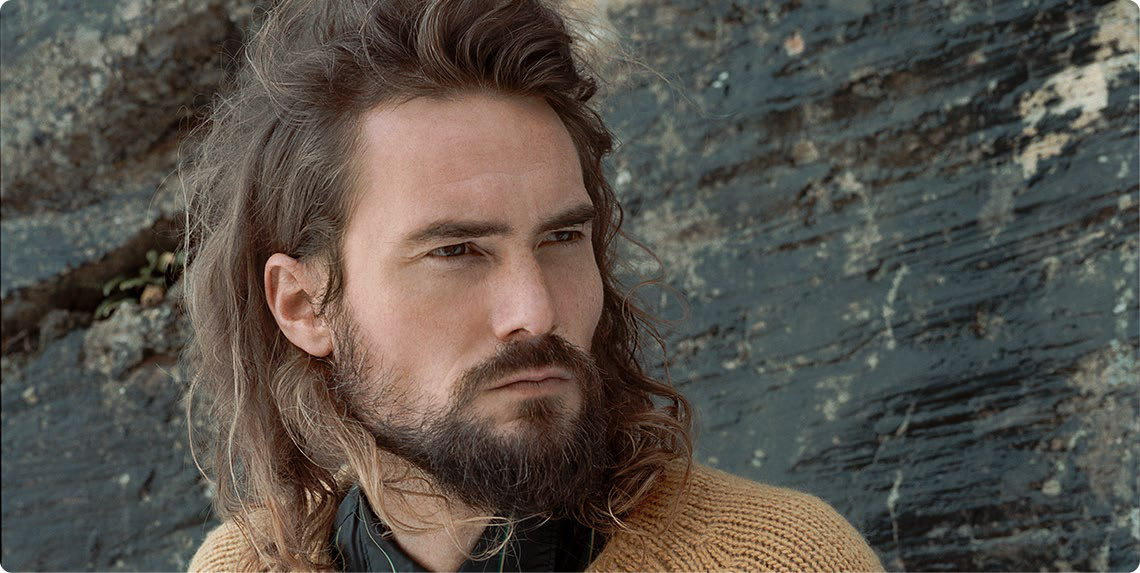 The name "Othertopias" sound very apt in our current times where people are often stuck at home, craving to be teleported somewhere (anywhere but here). How do you recommend people to wear the three different fragrances under 'Othertopias'?
"I think the development of 'Othertopias' as a collection was where the idea started; each perfume has a facet of spatial exploration. But we had three very clear images that came out of our research for the first three perfumes.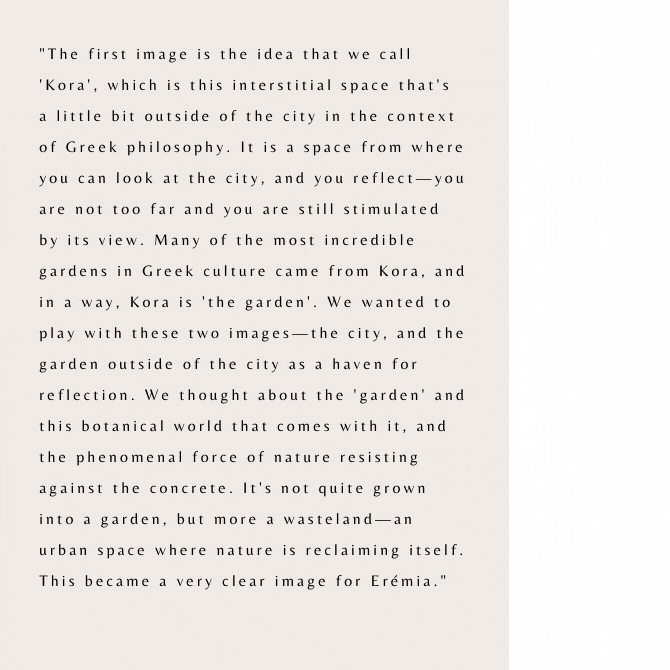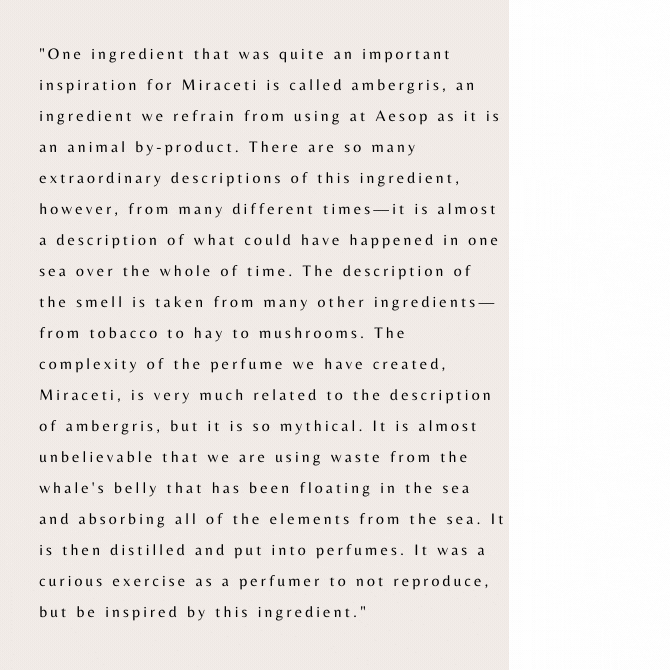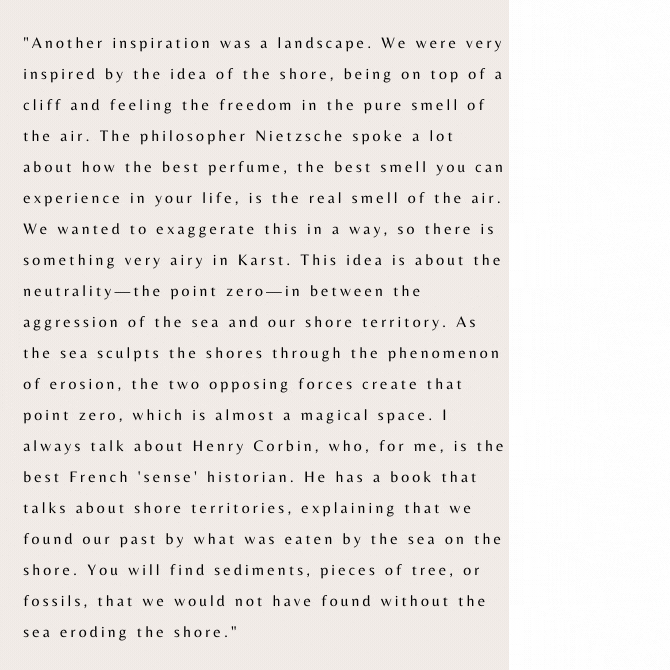 What was the process like in creating these fragrances with Aesop, from start to end?
"This collection is about the study of interstitial space; it is a piece of research on the boundaries between real and imagined. The concept served as scaffolding the development of these perfumes. They are an homage to the work of Gaston Bachelard and many other philosophers and thinkers that have worked with the idea of these spaces that are relative to realities—that are not utopic—but have a connection to mythology, or poetry, and have this capacity to make us travel and unlock reveries.
"I was collaborating with a philosopher friend of mine, where we went through various texts, and we thought about perfume as an interstitial space itself, and how we could create a collection around this concept. When considering the texts, we thought about geographical space, poetic space and abstract space, and we started to find an idea of the perfumes being able to project us into a poetic landscape. So, the concept was poetic, conceptual, philosophical—it gives access to reality, but it's slightly stronger than an experience because it's perfume.
"The aesthetic behind this is the idea of a transition from the physical to the conceptual. It's a transformation, it's a transition, a pause, a gap, a lending, and a breath. It's a little bit like the mental image that a reader has in their mind when reading poetry. In a way, literature transports, as does perfume. I think, for us, it has been important to have some geographical, geological, botanical, etymological, phenomenological and psychoanalytical references to the project. A large part of the creative process was the work I did with the philosophers, gathering the ideas and then sharing them with the creative team at Aesop, and then starting to formulate the fragrances. In a way, when I mention the idea of the images that the reader sees when they read poetry, this is little by little how the perfumes shaped into those conversations, through the study and exploration of this process.
"In relation to the idea of interstitial space, we wanted to interrogate the relationship between Man and Nature, because we are working with ingredients that come from nature. We also wanted to explore the idea of a dialogue between Science and Nature, a concept that is familiar and important at Aesop. In each of the 'Othertopias' perfumes, there is always a presence of this relationship between Man and Nature. Sometimes the Man is fully imminent, such as with Miraceti, and sometimes it is nature that is more obviously present, in its never-ending resistance against the mineral city. Each 'Othertopias' perfume is a tool for measuring the relationship between Man and Nature.
"And when I think about a Window to Nature: The idea is the juxtaposition of dreams and memories, reality and mythology, space and the time, and Man and Nature. It's a juxtaposition of many concepts that are important."
We read in your profile that you've been composing fragrances using traditional craft-oriented methods. In layman's terms, how is it different from "modern methods", and how do the results differ?
"Of all the fragrances I have created, 'Othertopias' is some of the most complex I have ever made. We have used a number of CO2 extractions and unique ingredients that are very sophisticated. In Miraceti, we include a blend of Labdanum (a transformation of a cistus into an absolute), Ambrette, and Styrax; together these are a very sophisticated compound and are also very historical ingredients. We also included Chilli Leaf, Green Maté, Ambrette and Red Seaweed, all of which have not been used before. The Red Seaweed is a CO2 extraction, so it is a very technical ingredient. We didn't want to use ambergris, but the idea of alluding to this was important to the perfume's conception. So by blending together Labdanum, Styrax, Tobacco, Ambrette, Black Pepper, Red Seaweed and Patchouli, it can smell like ambergris.
"On new techniques used, in Miraceti, the Frankincense we have included is what we call a 'super essence', so it's a Frankincense Absolute that we have redistilled, which is two processes alone, a sort of double extraction. Red Seaweed is also a supercritical gas extraction (CO2 extraction)."
Miraceti has spice and warmth. Karst is stormy with mineral notes. Eremia is green, seductive and floral. But what do the three fragrances share in common?
"The approach with 'Othertopias' is much more to build a recognisable landscape, and suddenly open the window to nature, the window to reverie, the window to memory, and the window to abstraction. The choice of superposition of spaces that this collection projects makes them need a more complex formulation—they offer something a little bit more experimental.
"I hope to transport the wearer to a much more engaging territory, where people need to interrogate their reality, meaning not only seeing what you see as it is, but understanding different perceptions. We will use the shore as an example: you go to the sea, you sit with a friend on the beach looking out to sea, and you realise how you can see the world differently. You are sitting at the same point together, looking at the same thing, and yet you see totally different things. The sea is a good example for the whole project and life in general. The aim of the project is to give us a feeling of freedom and implore you to work with sensitivity and to have another field of perception."
Aesop's 'Othertopias' is now available with each 50ml EDP retailing at RM715. Alternatively, Aesop offers a "Call and Deliver" service where customers may call the nearest Aesop store to purchase products with complimentary delivery for purchases above RM400. Find out more here. 
For more information, visit their website.
| | |
| --- | --- |
| SHARE THE STORY | |
| Explore More | |