It all begins in 2015: The Boss The Scent collection by Hugo Boss is launched, followed shortly by the more feminine Boss The Scent For Her in 2016. From there, further editions of the collection are added.
However, our story starts in 2018. The launch of the Boss The Scent Private Accord was punctuated with a killer campaign featuring Jamie Dornan, the star of the 50 Shades of Grey franchise and Dutch model Birgit Kos—the perfect faces to capture the magic and allure of the collection.
Two years on, the magic continues with Boss The Scent Absolute. Released in September of 2019, just before the pandemic settled in full force, this chapter of Boss The Scent is the most intense to date.
The olfactory embodiment of both attraction and mystery, this latest his-and-hers pairing is the most intimate and most intoxicating yet. To learn more about the new campaign and delve a little deeper into Dornan's reprisal as the face of Boss The Scent, we sat him down for a quick chat.
Ahead, find his take on the Boss fragrance family, sensuality and navigating the tumultuous pandemic.
Can you tell us your favourite thing about the Boss The Scent fragrances?
"The smell? (laughs) I'm sorry, that was a joke. I love the message behind the fragrance. When I wear it I feel confident, self-assured, masculine and sophisticated. You know, most things that you'd want from a fragrance; something that makes you feel like a heightened version of yourself. I feel that the Boss The Scent fragrances give you exactly those feelings."
Boss The Scent fragrances are deeply inspired by the art of seduction—what does sensuality mean to you?
"It's sort of a personal thing, sensuality. It means different things to different people, but I think sensuality is like a magnetism; a trust and a willingness to go somewhere with someone but still feel warm and comforted. That's my version of sensuality—wanting to be in a seductive place with someone, yet still feel safe there. At least, that's my vague way of summing that up."
What sets the Boss The Scent collection apart from the rest of the Boss fragrance family for you, personally?
"I think it's a bit more modern. It's more youthful; it culminates a lot of different sensualities and senses of humanity. You can definitely tell with the advertising campaigns, but it's a little bit more poetic than some of the other fragrances within the brand—it means slightly more than just 'guy putting on a shirt in front of a mirror', like that 'getting ready for the day' kind of stuff. This is a little bit more sensual, and seductive than maybe some of their other fragrances.
What was it like filming the new campaign?
"It was great, you know. I love getting together with Birgit [Kos] who is the girl in the campaign because she's really fun and I don't get to see her that often. Well, actually, I usually get to see her more when we're promoting this, but obviously with everything going on this year I haven't gotten to. So, it is always nice to see her.
"Plus, I've worked with the Boss brand for 17 years and they always create a very relaxed atmosphere and environment in their campaign shoots. It was cool! We also got to shoot this one in London, which is obviously convenient for me. (laughs) So, I had a great time."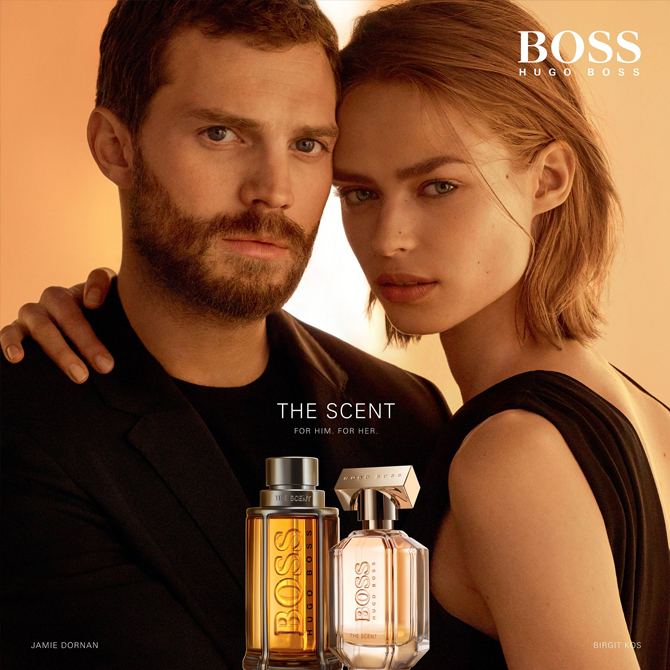 That's great to hear! Speaking of the whole of this year which has been—for lack of a better word—unprecedented, how have you managed to stay grounded during these uncertain times?
"I agree with you on that! (laughs) I'd never heard the word 'unprecedented' before in my life, but now over the last eight months it's everywhere—it really has been a crazy time.
"As for what keeps me grounded? Well, I have three kids under the age of seven, so that's sort of the most grounding experience that you can have, I think. To go through lockdown with children who aren't able to go to school, where you have to homeschool them; it's all very surreal.
"We live out in the countryside in the Cotswolds, and we're kind of away from everything. It's just us, and it feels like our regular lives a lot of the time, regardless of the pandemic. So, really, the girls are the greatest distraction from all the madness that's happening in the world. All of my focus and my wife's focus sits on these three little girls that we love. I guess it was pretty easy to stay grounded."
For more beauty insiders, click here.
| | |
| --- | --- |
| SHARE THE STORY | |
| Explore More | |