Watches + Jewellery
24 Minutes with Fine Jewellery Designer & St. Regis Connoisseur, Wan Bao Bao
Her job rocks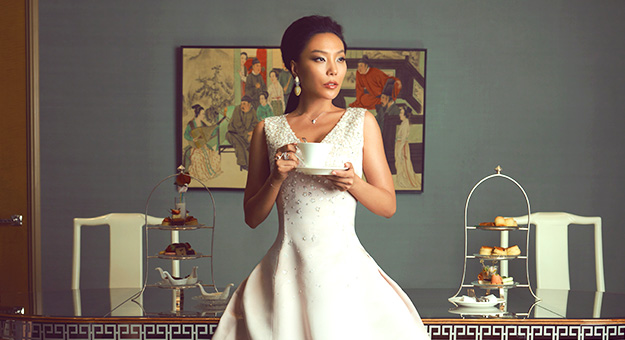 There's a saying that diamonds are a girl's best friend but not everyone gets to work with that best friend. Wan Bao Bao can. Born in Beijing and a renowned jewellery designer, socialite and global tastemaker, her opulent pieces are often known as a breathtaking testament of the beauty of Chinese culture and history—yet modern. It is this vision of hers and the character she possesses that seamlessly epitomise today's St. Regis luminary, inspired by modern glamour and cultural sophistication. And thus, Wan was appointed as the first St. Regis Connoisseur from China in late 2016, joining the already impressive portfolio of St. Regis Connoisseurs such as Jason Wu, Nacho Figueras and Jamie Cullum.
In that same year, Wan debuted the first design collaboration with the brand—an exquisite pin in honour of the St. Regis Butlers throughout greater China. Fast forward a year later, The St. Regis and Wan Bao Bao have yet another limited edition jewellery piece to offer: A teapot-shaped pendant adorned with inlaid gemstones. We spoke with Wan at the exclusive launch event at The St. Regis Shanghai Jingan to find out the inspiration behind the design, her creative process, and what are some of her favourite gemstones.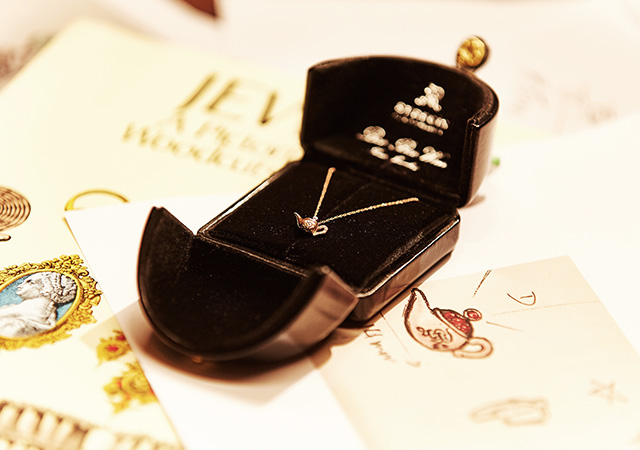 A lot of your jewellery pieces feature beautiful Chinese symbols. What led you down that path?
I'd say my upbringing gave me a lot of inspiration. I grew up surrounded by ancient Chinese architecture and nature—gorgeous pagodas that are hundreds of years old, bamboo gardens, you name it. Some of them were next to my house and some literally inside of my home. I was an only child and I spent more time with nature and architecture than with friends (laughs). Hence, all these images have been planted in my head so I turn them into jewellery pieces.
What else influences your artistic vision?
Surrealism is a very big influence in my design. Salvador Dali's work opened my mind when I was just starting out. As a photography major, I take form very seriously so some of my pieces are like moments captured in a photo. Architecture is another huge inspiration to me—not just Chinese architecture—but everywhere that I go too.
Once when I was living at The St. Regis in Florence, I went out for a walk along the river and saw the reflection of a church in the water. I quickly went back to the hotel and asked the valet to give me a pencil and notepad so I could do a rough sketch of that very reflection.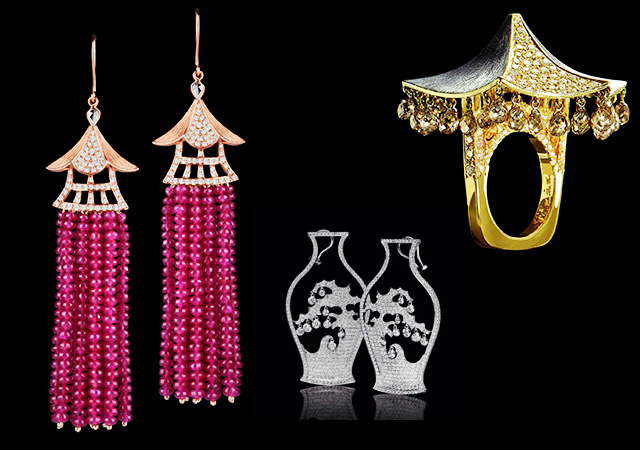 What are some of your favourite gemstones and materials to work with?
First of all, the foundation is always an 18K gold and diamonds. But gemstones? I'm completely crazy for them, especially since I like to use colours a lot. Sri Lanka and Thailand have a lot of beautiful gems but wherever I go, I'd check out the museum first to see their jewellery or to see if they have any gemstones in the region. Personally, I love alexandrite because it changes colour according to the light. Paraiba is another favourite because it has this electric neon blue colour. But we don't get to see those two gems very often though.
This time you worked with St. Regis to create a limited edition jewellery piece, which is a teapot-shaped pendant. What was the inspiration behind it?
Three things: The Afternoon Tea culture that's classic of The St. Regis brand, the Bloody Mary and the glamorous lifestyle that comes with it all. I'll break it down for you. As I said earlier, the foundation is always gold. This time, I used an 18K rose gold, which has a very shiny polish, to represent the glamour. Then, I added a ruby on top to represent the Red Snapper. For the final touch, I put seven little diamonds in honour of Mrs Astor's tradition. She was known for her love of diamonds.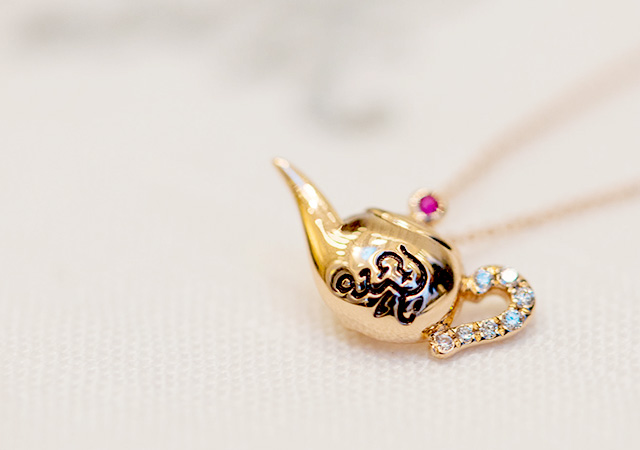 We heard you had originally thought of making it a macaron piece though.
Yes, I did make a macaron but I didn't like it. I was working on it for five months, trying to create the illusion of the creme oozing out of the shell to make it look playful. It was very hard and the macaron was really small which didn't help. I managed to make that melting look effect on an ice cream design though but only because it was bigger.
Having collaborated with M.A.C Cosmetics and even dabbled in designing smart cars in China, you're no stranger to working with other brands. How different is it this time to be working with a hotel such as The St. Regis?
It's my first time and it's truly very precious. With M.A.C, I created lipstick colours for them inspired by gemstones. For example, there was one called Burmese Kiss, which was essentially taken after a ruby. For the smart car, I recoloured them and designed a logo with my name on it. It was crazy though. All 666 of them were sold out in seven hours. But collaborating with a hotel encompasses more. It's not just selecting colours. You have to have the product ready and it must carry the lifestyle, values and the story of the brand.
And what's a core value which you share with The St. Regis?
The attention to detail. When I make jewellery, I have to consider a lot of aspects. It's not just about a pretty ring. It also has to sit well on your skin. As a jewellery designer, you have to consider your sense of beauty, your customer's preferences and how it feels; and that's exactly like The St. Regis with their hotel service, the warm environment as well as their respect for tradition.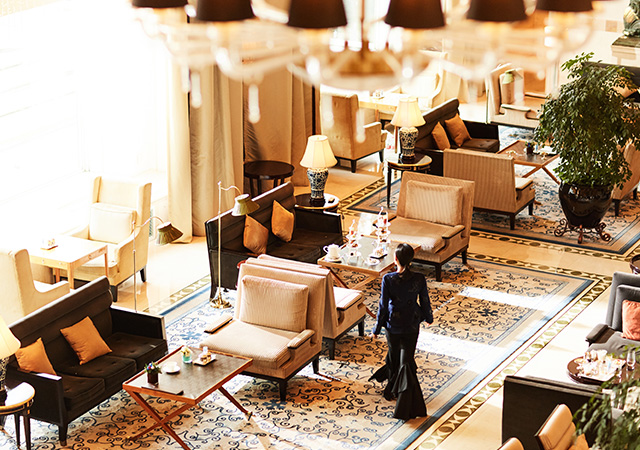 What are you currently working on?
A piece inspired by the Temple of Heaven, which is going to take about eight months to complete. There'll be a small plate with the words 'Temple of Heaven' in Chinese and an emerald cut stone. Then, since no one would wear earrings with steps on it, I'll add drops of diamonds to represent the stone steps.
What was the last thing you saw that make you want to design a jewellery piece in its image?
A Chinese traditional bridge. I thought of it when I was walking in the Summer Palace a few months ago so I'll probably work on that soon. Because I was thinking I've done a lot of Chinese symbols like pagodas and bamboos, and even a Western church; but what else can I use to show people the beauty of my country and its rich history. It was then when I saw the bridge but I need to figure out how to make it comfortable to wear as a ring.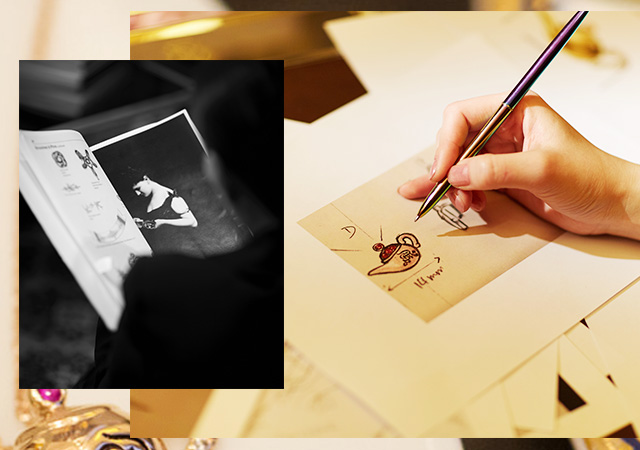 What's your creative process like?
First, I see the shape. Second, I do the sketch with a dimensional perspective. Comfort is very important and it's something you have to consider when designing a piece with a lot of diamonds. You won't want to wear it with a beautiful cashmere and it scratches the material. My secret trick is to rub, or rather, brush the gems along my clothes to test its makings. After that, I look at the angles and corners of the stone—you don't want a strong or sharp one that would scratch the people around you either.
From there, I consider which stones to use and what colours would match beautifully. When it comes to colour though, I don't just look at pictures of jewellery for inspiration. There was once I saw a ceiling roof that had a very washed out pink colour with specks of washed out green so I sought out gems with that similar palette of colours to match a gold piece.
I don't always plan it step by step. I think I receive signals from the sky—from God. And then I just do it.
The Afternoon Tea Ritual Necklace By Wan Bao Bao is priced at US$ 1,094 and is available at the St. Regis online boutique.
| | |
| --- | --- |
| SHARE THE STORY | |
| Explore More | |