The Roger Dubuis Excalibur 36 Shooting Star is a bold celebration of femininity
Some shooting stars seemingly burn brighter than others—Roger Dubuis' stunning Excalibur 36 Shooting Star definitely falls into this category. Made for the empowered Roger Dubuis woman who effortlessly stands out from the crowd, the unique timepiece draws inspiration from the cosmic phenomenon it is named after—bold, beautiful and out of this world. 
With the Excalibur 36 Shooting Star, it's the first time Roger Dubuis has displayed a skeleton flying tourbillon in such a dainty-sized case—an elegant 36mm to be exact. The brand's watchmakers worked tirelessly for two years to develop the incredible new RD510SQ Poinçon de Genève-certified calibre, based off the existing X42 tourbillon.
Framed by a glittering bezel, Roger Dubuis' iconic astral signature leaves a sprinkle of diamonds in its trail, while complementing enamel stars flank its sides. The captivating model comes in three colour interpretations: blue, white and pink. All three versions are issued in 8-piece limited editions, making them truly exclusive.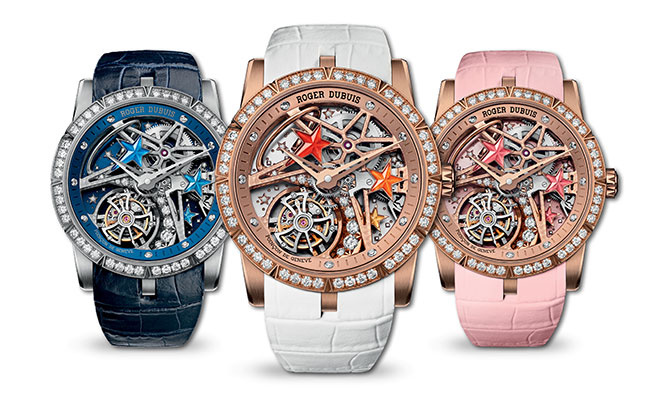 On the other hand, if you prefer a bigger silhouette on your wrist, or perhaps you have a partner who isn't afraid to don some serious bling, behold the Excalibur Spider Ultimate Carbon. A groundbreaking hyperwatch of extraordinary watchmaking and innovative technology, this masterpiece has the honour of being the first timepiece by Roger Dubuis to be made almost entirely out of multi-layer carbon—including the strap—and is fitted with a whopping 195 diamonds. How is that for a star timepiece?