Angelo Bonati, CEO of Panerai, talks this year's novelties and the value of a relationship
One gets a glimpse of life as CEO of Panerai though the enigmatic response from Angelo Bonati of Panerai. When asked about his favourite moment of the Salon International de la Haute Horlogerie is, he replies: "The last day." He views this yearly timepiece fair in Geneva as a week-long catharsis, before work resumes on next year's novelties. "It's almost like being in jail," he jokes. "The last day certifies that it is the end of the fair and the day after that - we restart and think of the next one."
Since his appointment as CEO 15 years ago, Bonati has turned Panerai into one of the foremost names in sports luxury timepieces. In the process, he has accumulated an envious track record; from consecutive double-digit growth to an in-house movement manufacture in Neuchatel, the brand today is testimony to Bonati's focus. "When something appears in front of my eyes, I go straight," he says. "It's my character to make a decision the moment I have an idea and, thankfully, up till now, it has turned out well."
"Ideas come to me at different moments; sometimes when I'm shaving or washing my hands," he says. "Today, I saw a picture, immediately had an idea and called someone to say we have to talk about it as soon as we can," he says.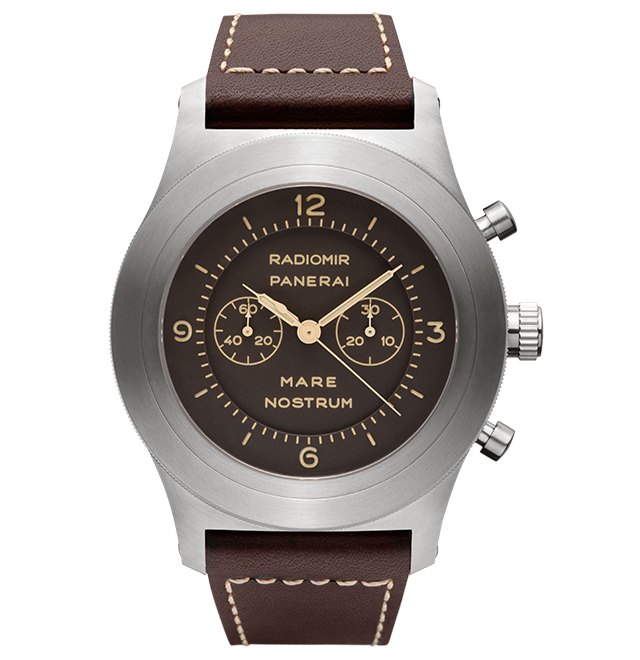 This year's novelties underline another masterstroke in Panerai's evolution with highlights including the historical-tinged 52mm Mare Nostrum in titanium and the futuristic 47mm Luminor Submersible 1950 Carbotech. The latter is an entirely new composite which makes its entry into haute horlogerie for the first time ever. High pressure and temperature on thin sheets of compressed carbon fibres yield a new material, lighter than titanium or ceramic with greater resistance to corrosion and external agents.
"Our strength has always been in the movement, design and materials," Bonati observes. "Due to our military origin, we are driven to provide materials which are able to provide an important technological benefit," he says, adding, "and just as importantly, we have a new image to present to the clients, instead of us just asking for them to look behind."
For Bonati, the whole experience of Panerai has taught him the value of relating to other people. "The value of a relationship is a metaphor for our own learning. I can give something positive or negative and receive the same in return. With people, you can measure yourself and, if you are humble, you can understand the many lessons that you receive."