Watches + Jewellery
Fendi Policromia unveiled: A high jewellery watch in collaboration with Delfina Delettrez Fendi
Mystical allure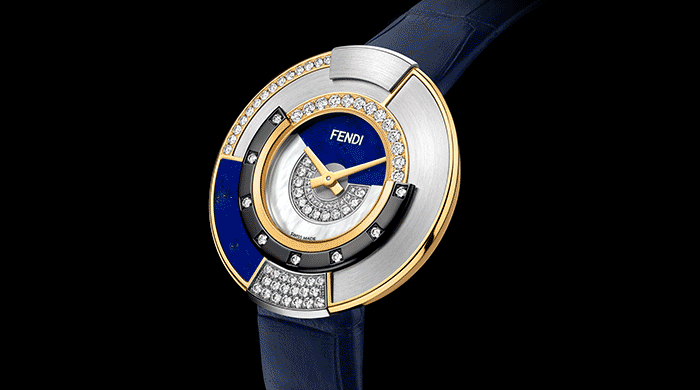 Enchanting and both mysterious and mystical, Fendi's new high jewellery watch was designed in collaboration with Delfina Delettrez Fendi, the jewellery designer who belongs to the 4th generation of Fendi women—clearly, brilliance runs in the family.
The Fendi Policromia Watch Collection features twenty different models, each a work of art of its own with different precious elements of high jewellery. The name Policromia finds its origins in the Greek words "poly" (multiple) and "khrôma" (colours), which is embodied by the timepiece with its tasteful combination of colours on different surfaces, multiple shaded pieces, precious inserts and unique asymmetrical bezels, including malachite, lapis lazuli and mother-of-pearl. The play on materials and geometry creates a stunning 3D effect, resulting in an innovative, daring silhouette.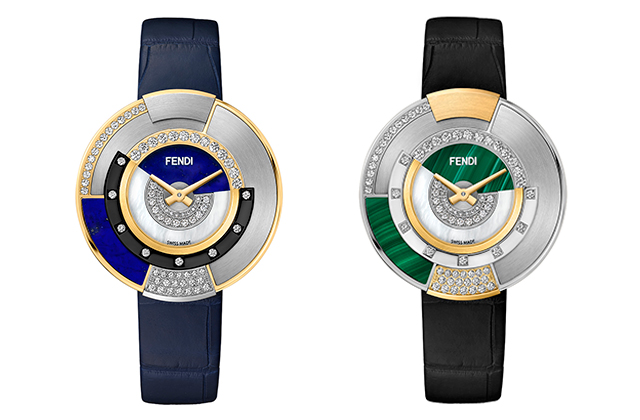 What inspired the creation of this mystical high jewellery watch collection? Here is an exclusive interview with Delfina Delettrez Fendi herself for further enlightenment:
You belong to the 4th generation of the Fendi women. How much has this influenced you?
My family and my mother have always been an inspiration to me. I grew up surrounded by exceptional women united by talent and creativity: all with very strong yet different personalities, but in some ways complementary. By living with them, I learned to appreciate the aesthetic value of everything that surrounds me.
Female energy is pretty dominant in Fendi's heritage. Do you consider this important in your inclinations, tastes and in the way you design?
Female energy is really predominant in my family. It gave me the inspiration, curiosity and will to develop my own taste. When I was 10 years old, I came back from boarding school with a "punk" attitude, but my mother never said no to experimentation. So that was the environment I grew up in and the mindset that has always inspired me. It was very free!
What is your common value with Fendi?
I like to design what has not been designed yet, going beyond existing things, this is perfectly in line with Fendi's motto that "nothing is impossible". I also love dualism, one of the Fendi values and part of its strong DNA, always keeping an eye to traditions and one towards the future.
You have already collaborated with Fendi designing fashion jewels, but, now, you have been asked to design a high jewellery watch. What was it like?
It was an amazing experience, a really challenging opportunity. It has been my very first time in designing a watch, especially a haute joaillerie watch. We wanted to create a very unique watches collection featuring very precious models with mystical elements celebrating time and elegance in a subtle way.
What does Policromia mean and why did you choose this name?
The name Policromia origins from the Greek, meaning poly (multiple) and khrôma (colours), embodying the idea of several colors together, with a reminder to a surreal Goddess living in a far world. A powerful and feminine divinity with mystic powers and virtues influencing time and shaping future. This word reminds me of the idea of combining multiple stones on different surfaces creating something like modern talismans. Precious objects that give strength and power to the wrist celebrating my aesthetics, where surrealism meets conceptual elegance.
What inspired you to design this watch?
The elements and materials used in the watches celebrate Rome and its eternal magnetism in a whispered way. The layers are mixed-up in a play of full and empty volumes, recalling Palazzo Della Civiltà Italiana, the new Fendi Headquarters in Rome, and its unique arches with the light shining through them setting time in a unique and surprising way. Elegant ellipses create surfaces overlapping on the watch's dial inspired by the architectural structure of the city of Rome with its unique streets.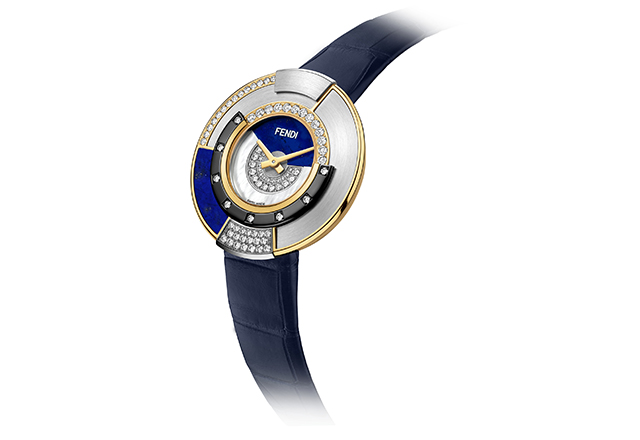 Which are the characteristics of Policromia you like the most?
I love its 3D effect, the watch's bold shape with the unique design of the dial made of different layers. It creates a really unique shape! And then the mix of materials: malachite, lapis lazuli, obsidian and other precious stones are blended together with mother of pearl, gold and diamonds, giving life to a perfect modern mosaic, natural yet technological.
Which is your favorite Policromia model?
My favorite one is the model featuring the green malachite. I love this mineral stone, especially its vivid color and its distinctive pattern, that gives to the watch an hypnotic power. It is repeated while being at the same time different, creating an illusion of time passing like a luxury time gate.
Does Policromia reflect your style and personality?
It definitely reflects my personality. It is eclectic and mystic. It blends tradition and innovation, values dear to me and to Fendi. This watch has also a strong power, its vibes attract a self-confident woman looking for the highest sophistication.
This watch blends together your unique creativity with the Fendi watches savoir-faire. What about mixing these two universes?
I feel really honored to have collaborated with all the watches artisans who have given life to Policromia. I was impressed by the extreme care of details and by the highest savoir-faire in the making-of and finishing phases, values that really belong to my idea of excellence in craftsmanship. Two different yet similar worlds coming together to create a new enriched universe. Fendi has been able to give life to my ideas, realizing a unique haue joaillerie watch with a surreal allure.
Related stories:
Embrace your inner punk with Fendi #Punkarlito
| | |
| --- | --- |
| SHARE THE STORY | |
| Explore More | |