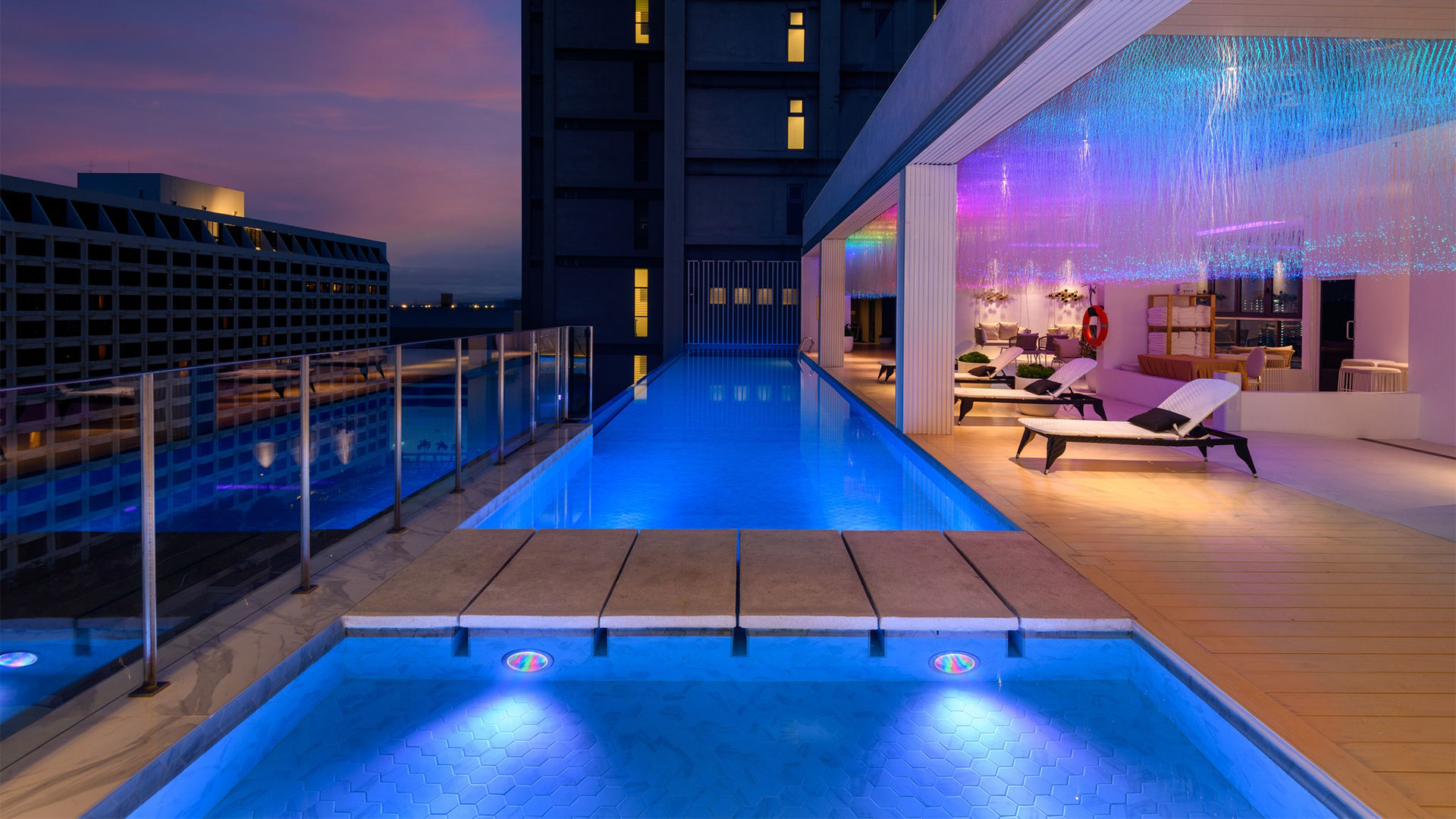 No matter how many times you've visited, there are always new reasons to visit Malaysia's northern state of Penang. Whether it's for the love of street food, discovering new cafes and bars, or learning about the local culture, the Pearl of the Orient is truly a melting pot for locals and international tourists alike.
While there's a plethora of accommodations in the state for different preferences, I opted to stay in a relatively new hotel at the heart of George Town during my recent visit. Cue The Granite Luxury Hotel, which has refurbished and rebranded from M Summit 191 Executive Hotel Suites to welcome visitors beginning 31 August 2022.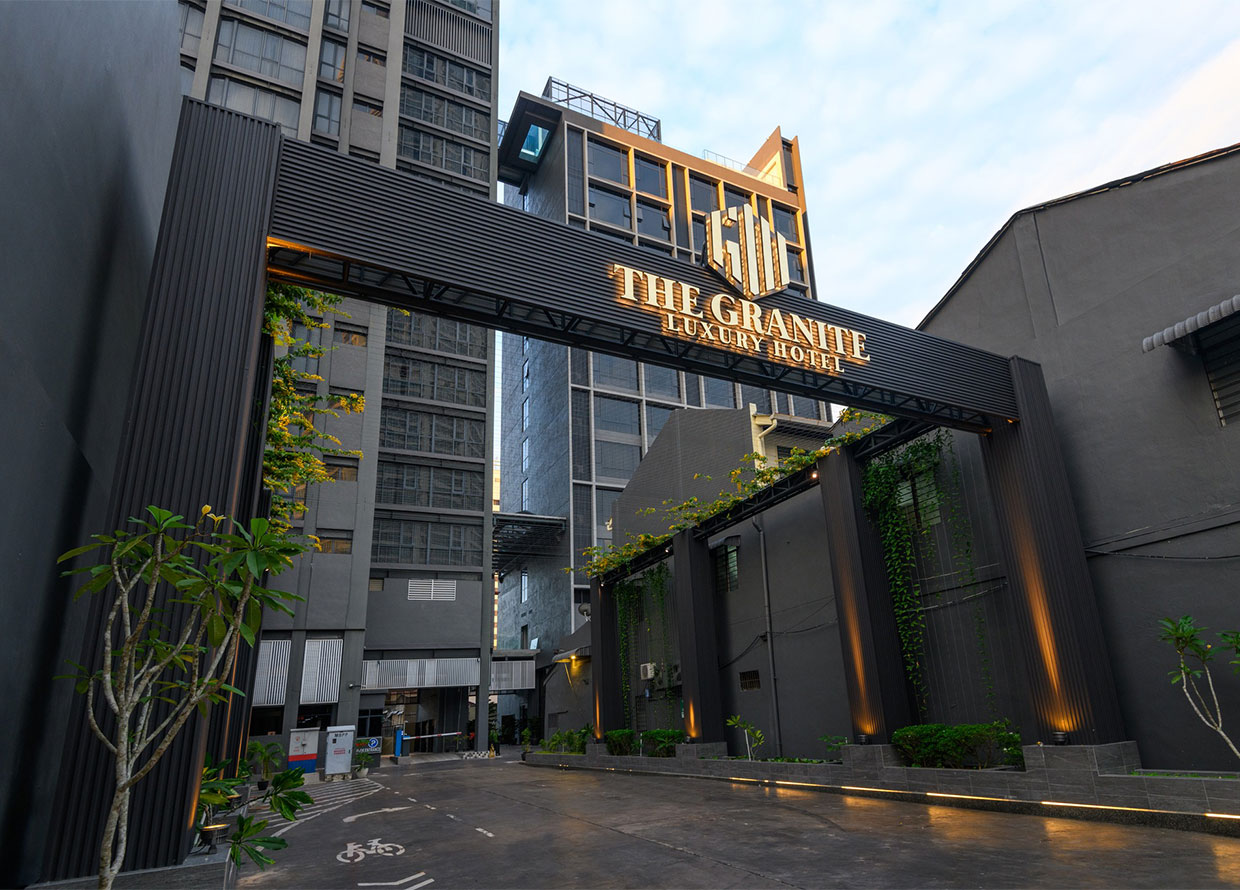 With its strategic location along Magazine Road (opposite the famed Komtar building), The Granite Luxury Hotel is an ideal choice for travellers seeking convenient access to hotspots in George Town without compromising comfort. The property consists of two interconnected wings, comprising 152 rooms and suites. It has also collected several accolades since its opening, including two entries in the Malaysia Book of Records (find out what they are below!) and two Asia Pacific Property Awards. 
To help you decide if you should book a stay at this boutique luxury hotel, read on for my full review. 
ARRIVAL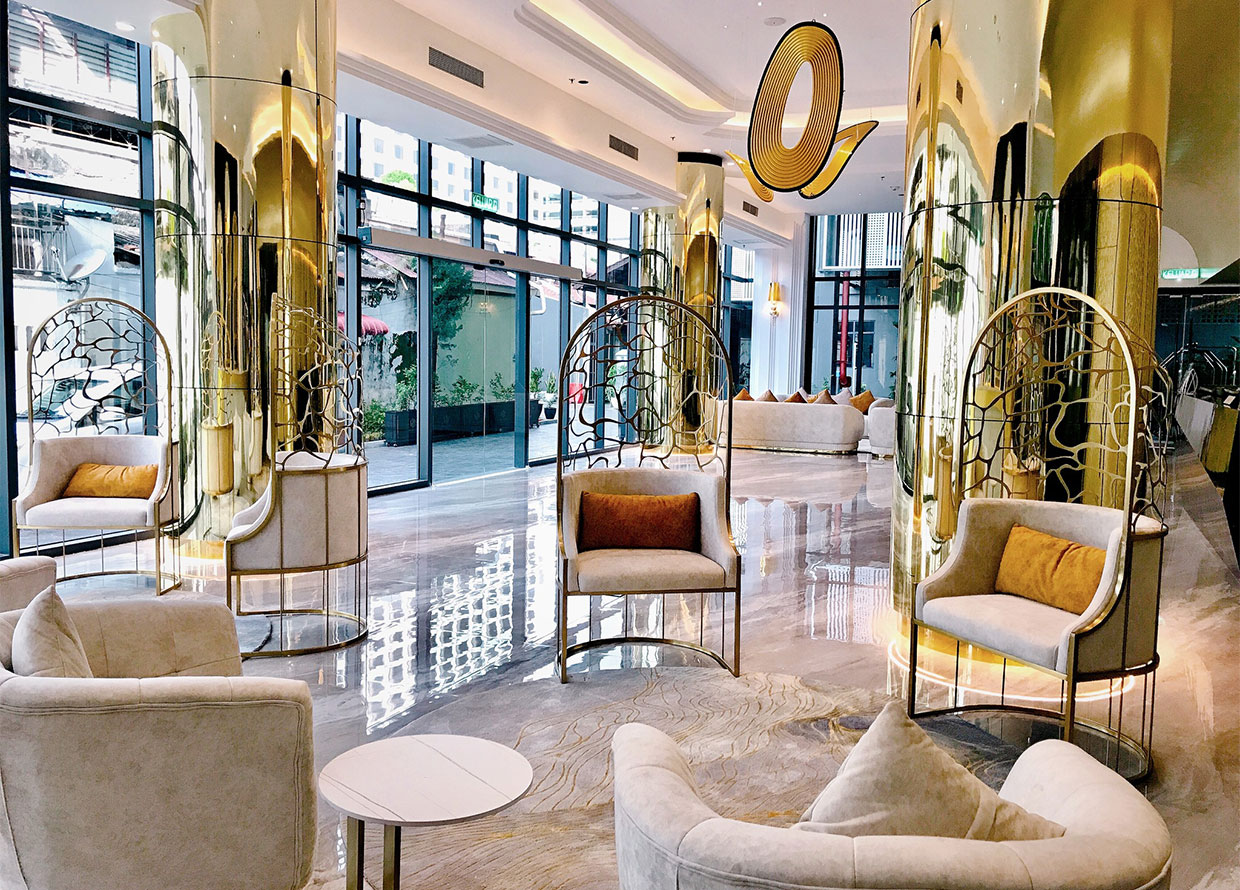 It was the peak season on the day of my arrival, with a long queue of guests awaiting their turn to check-in. Thankfully, the modern, spacious lobby had ample seats for my partner and I to rest our feet after a long journey. Where first impressions are concerned, The Granite Luxury Hotel lives up to its name with shiny gold decor, polished marble floors and contemporary furniture welcoming guests at the reception.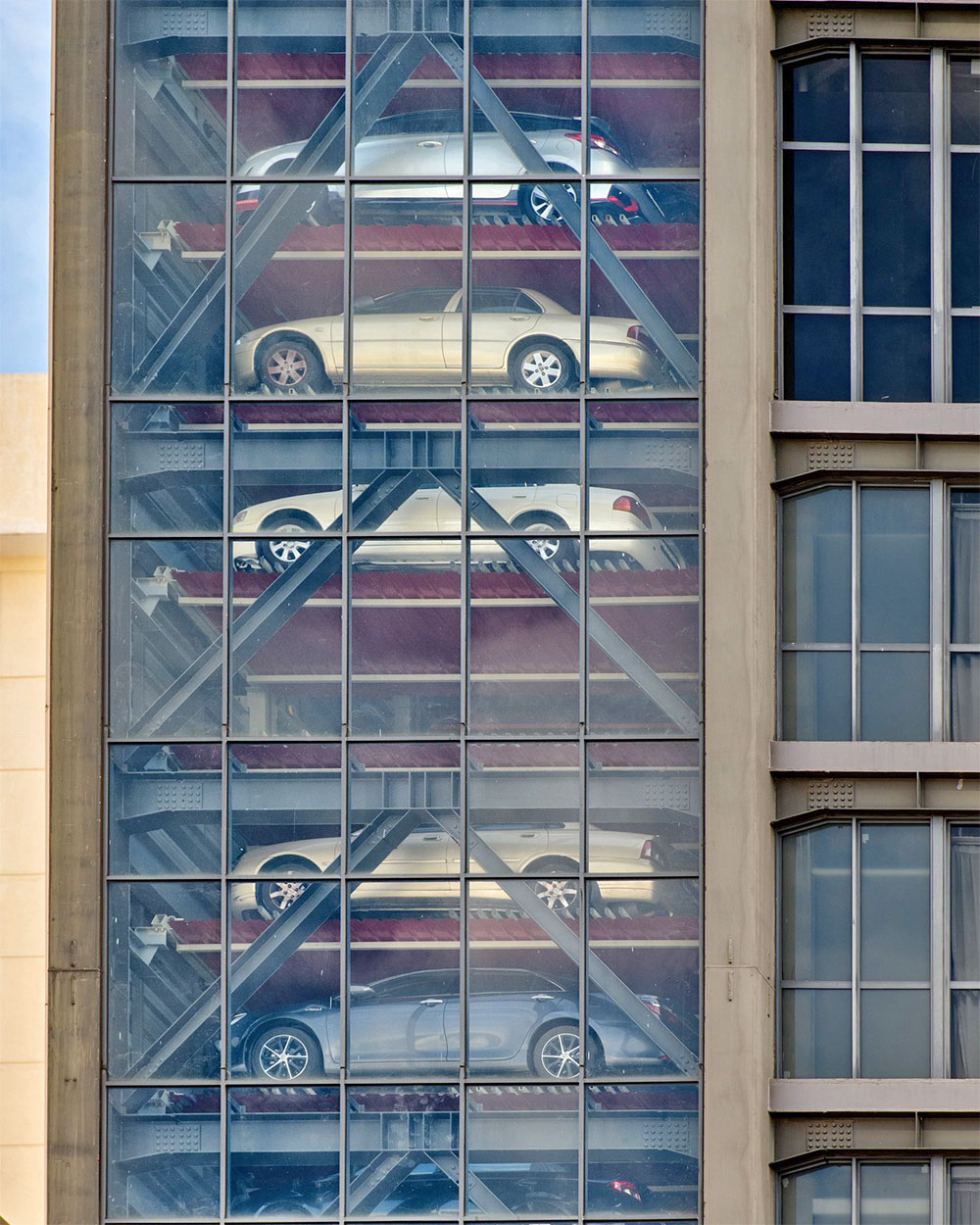 Although we didn't drive to Penang, it's worth mentioning that the hotel offers onsite parking (RM5 per day for guests) at the 'Tallest Automated Hotel Car Park' in the country—one of its two Malaysian Book of Record entries. This innovative vertical car park is able to accommodate up to 204 cars at one time. However, do note that the entrance to the parking area is in a tight corner, which can be trickier for larger vehicles to reach. 
STAY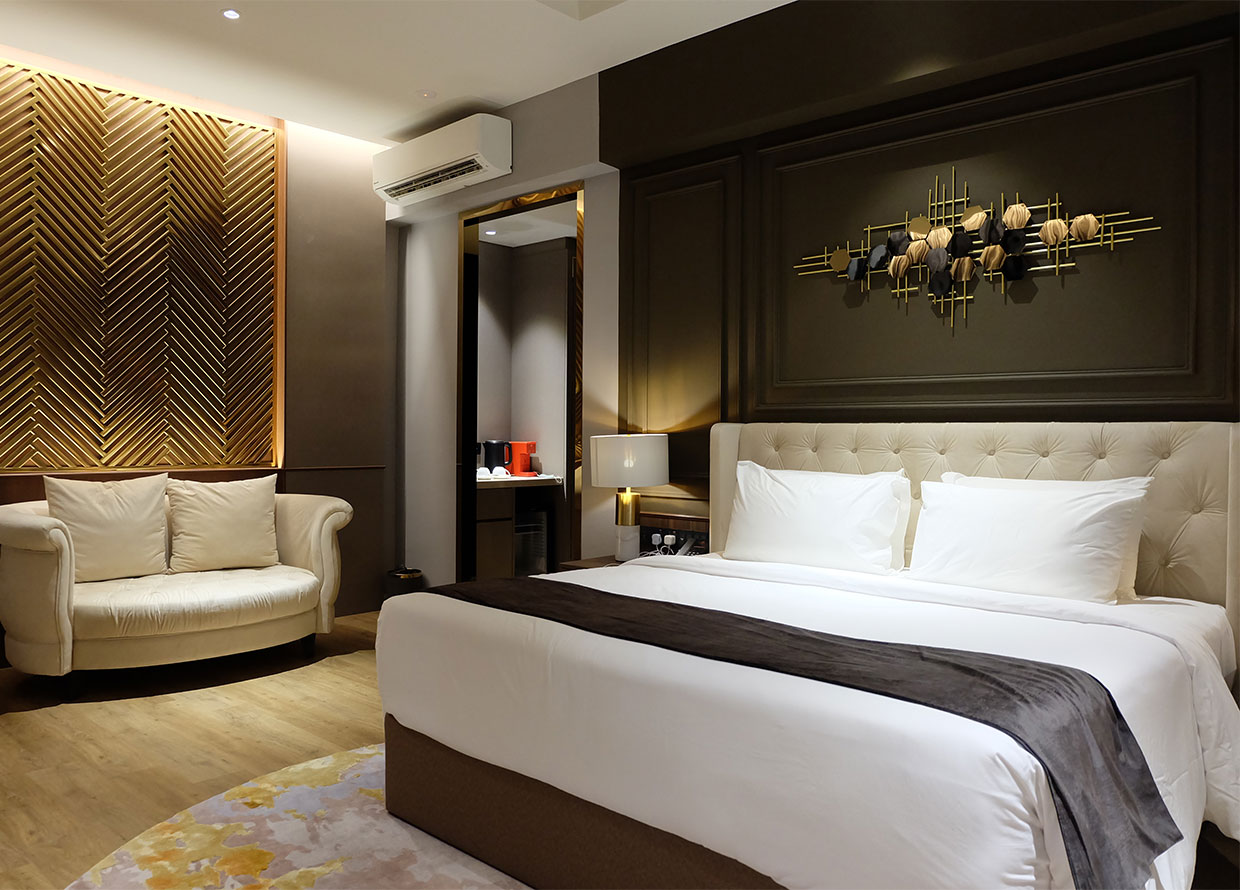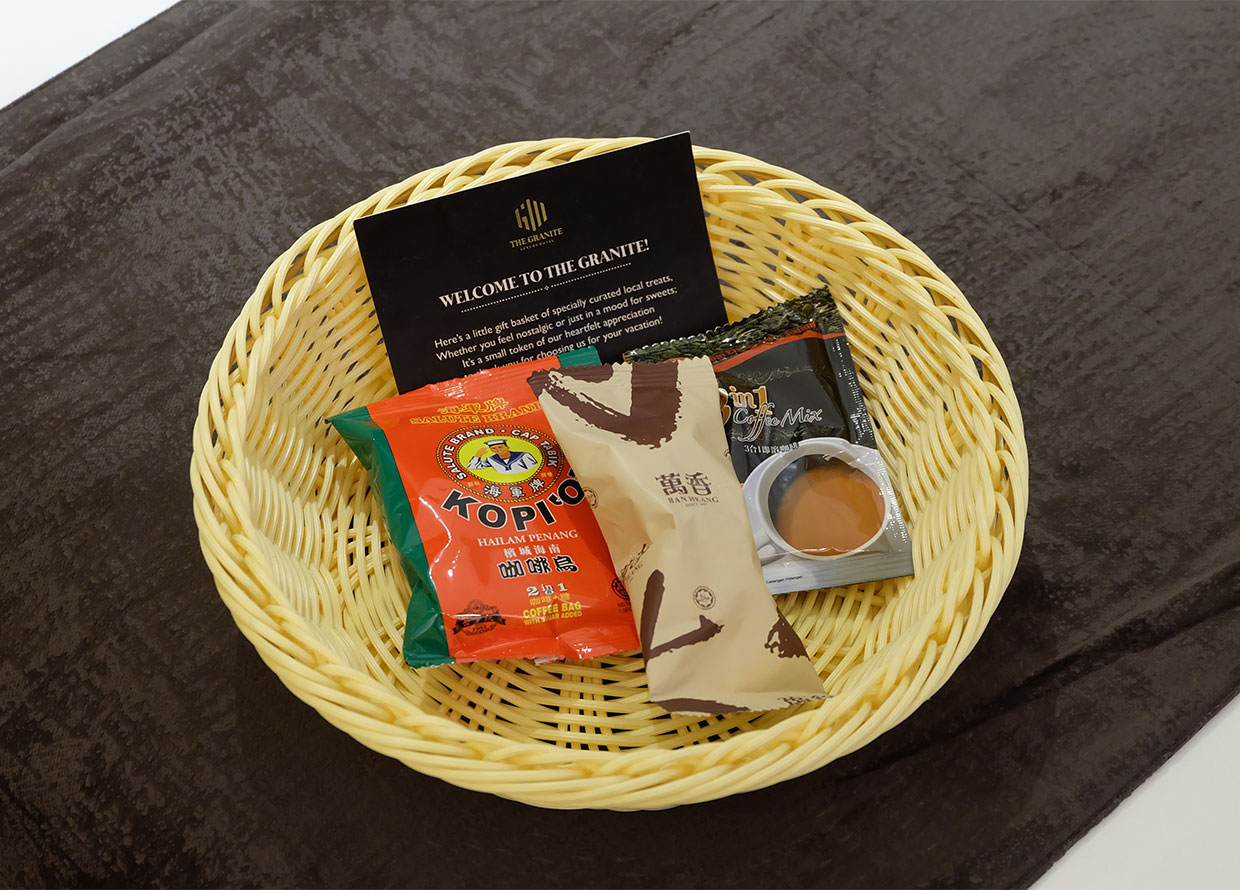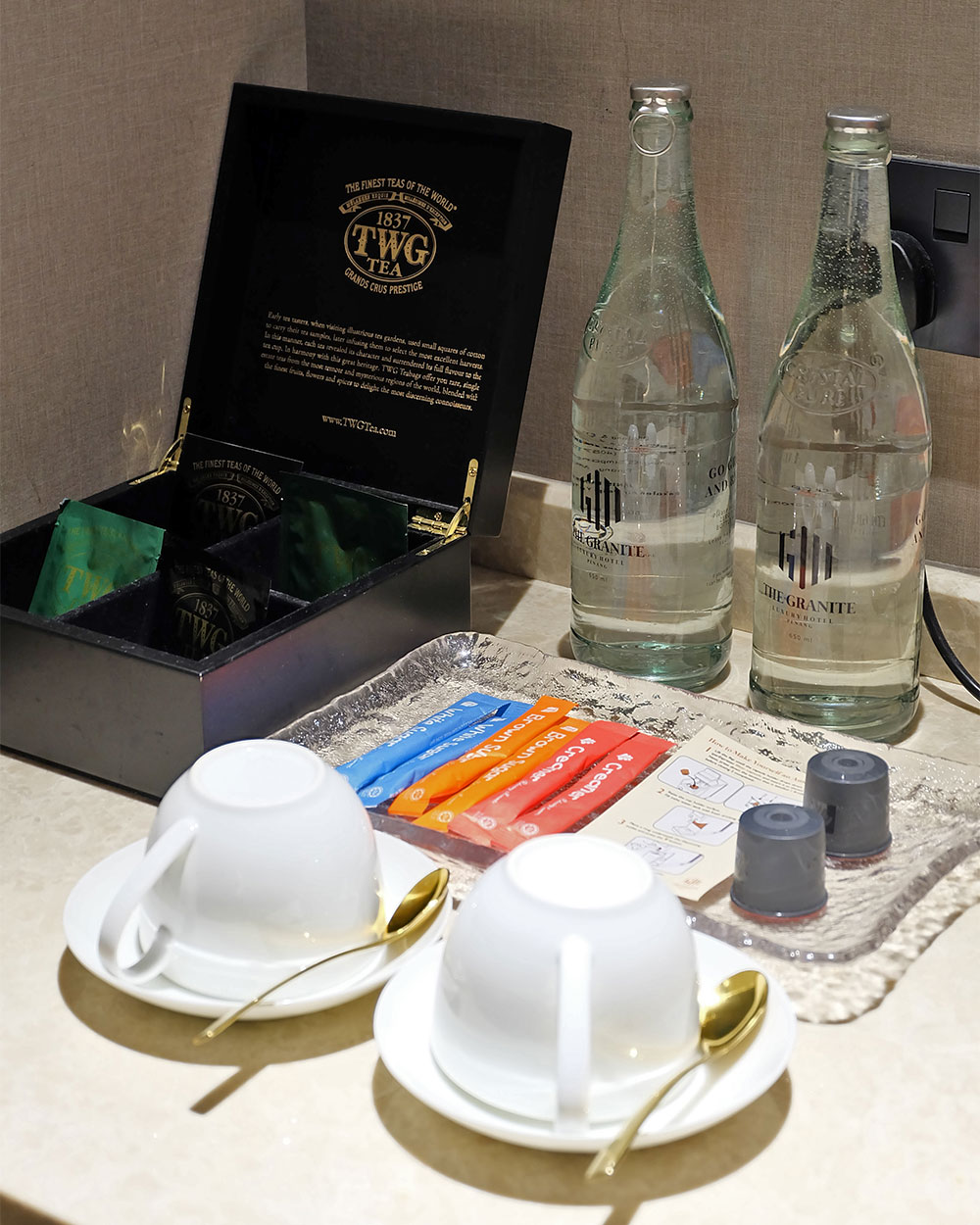 Half an hour later, we were ushered to our 484-square-foot Luxury Room. There are also other room options, starting with the base Superior Room (247 sq ft), Premium Plus Room and Premium Twin Room (366 sq ft), as well as a variety of suites that fit up to four guests. At the time of my visit, I was told that there would be newly renovated suites ready in 2023, designed with unique themes to offer a one-of-a-kind experience, such as the Safari Suite (made for families with young children) and Diva Suite (think bachelorette parties and birthday celebrations). 
Circling back to my room, it comes equipped with a plush king-sized bed, a comfortable lounge sofa with a side table, a flat-screen TV, an Illy coffee machine, TWG tea, and a complimentary basket of local treats. The space is adorned in rich dark brown and neutral tones with contemporary gold touches that exude opulence, complete with views of the city and Komtar tower.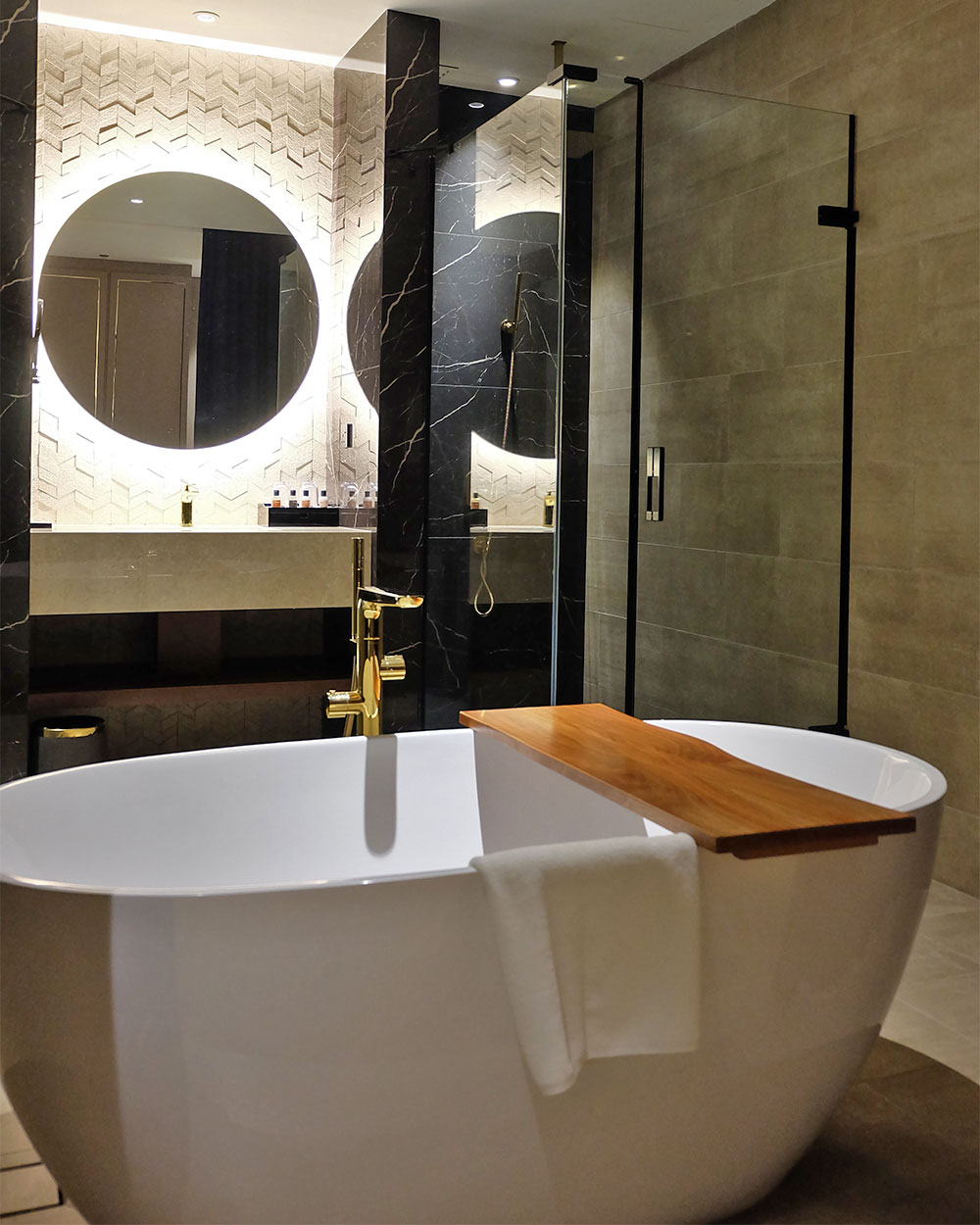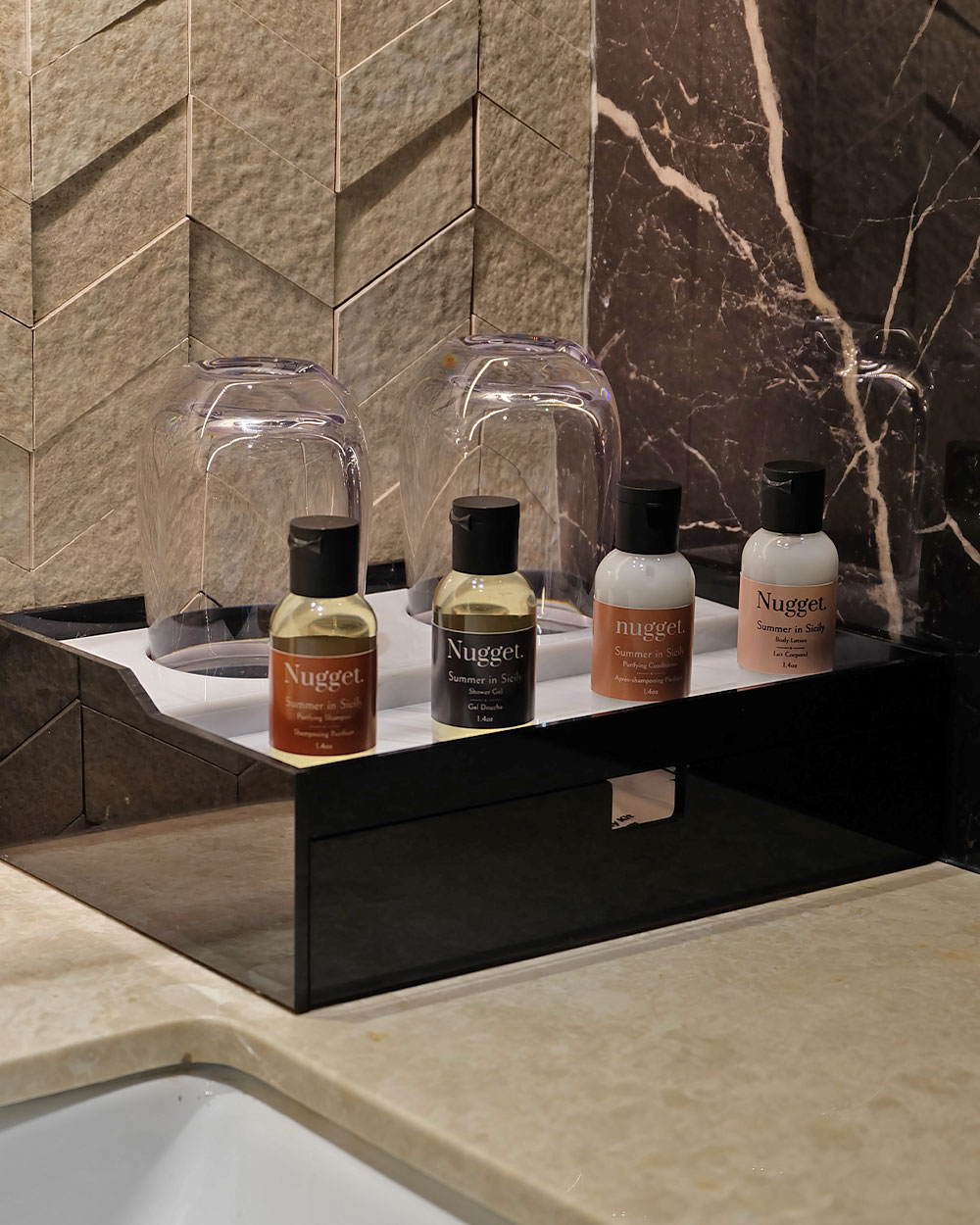 The bathroom deserves a shoutout of its own, dripping in grandeur with dark marble floors and walls, exclusive toiletries by Nugget, and a sleek porcelain bathtub right at the centre. Guests may call for room service to draw a bath with their preferred scent—a true mark of luxury. I highly recommend taking advantage of this for an indulgent perfumed bubble bath! 
PLAY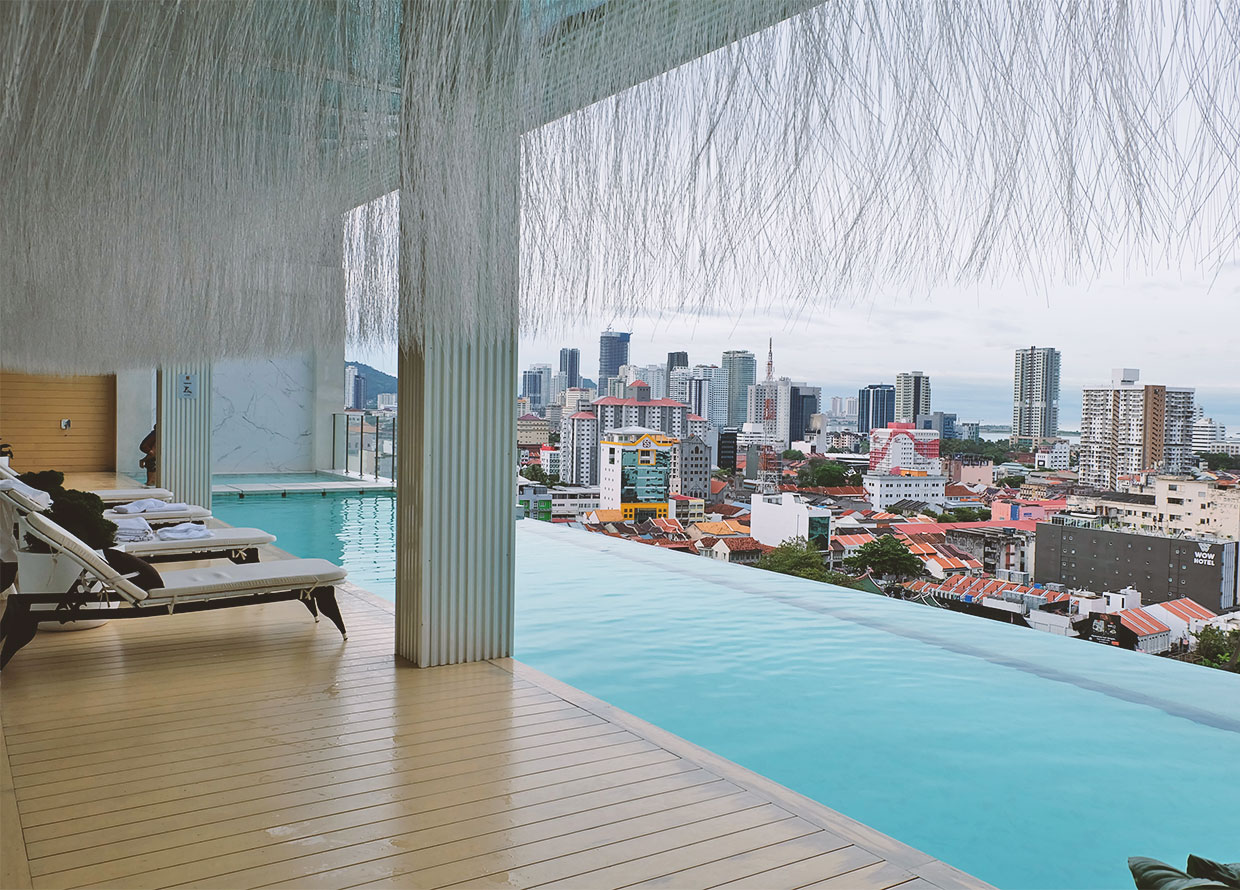 One standout feature of The Granite Luxury Hotel has got to its infinity pool on the 13th floor, which earns the second MBR entry for being the 'Highest Cantilevered Acrylic Bottom Swimming Pool'. This is a remarkable design and construction feat in itself! Dubbed the Mirage Pool Deck, the poolside area is the perfect spot to kick back and relax with panoramic views of George Town's skyline.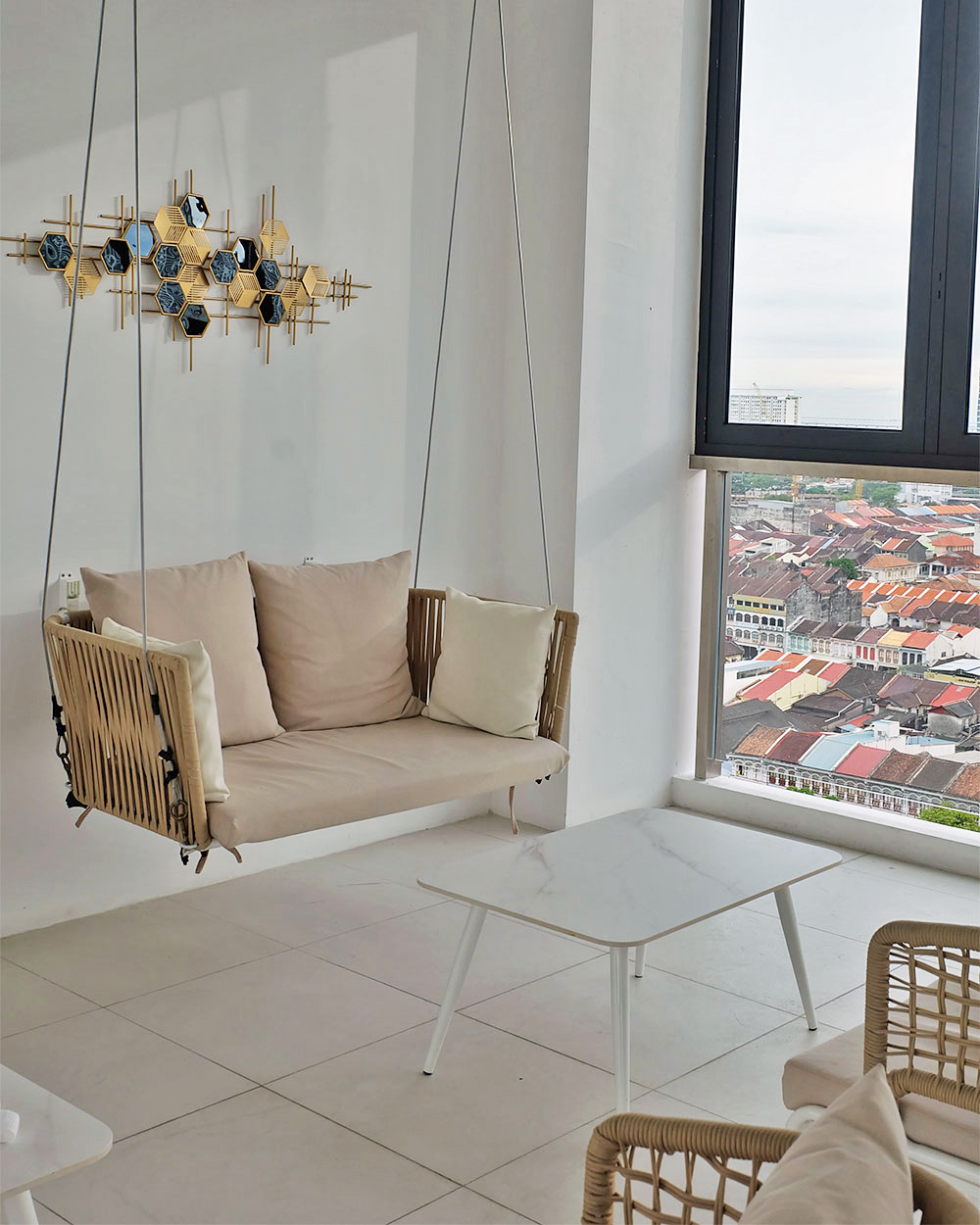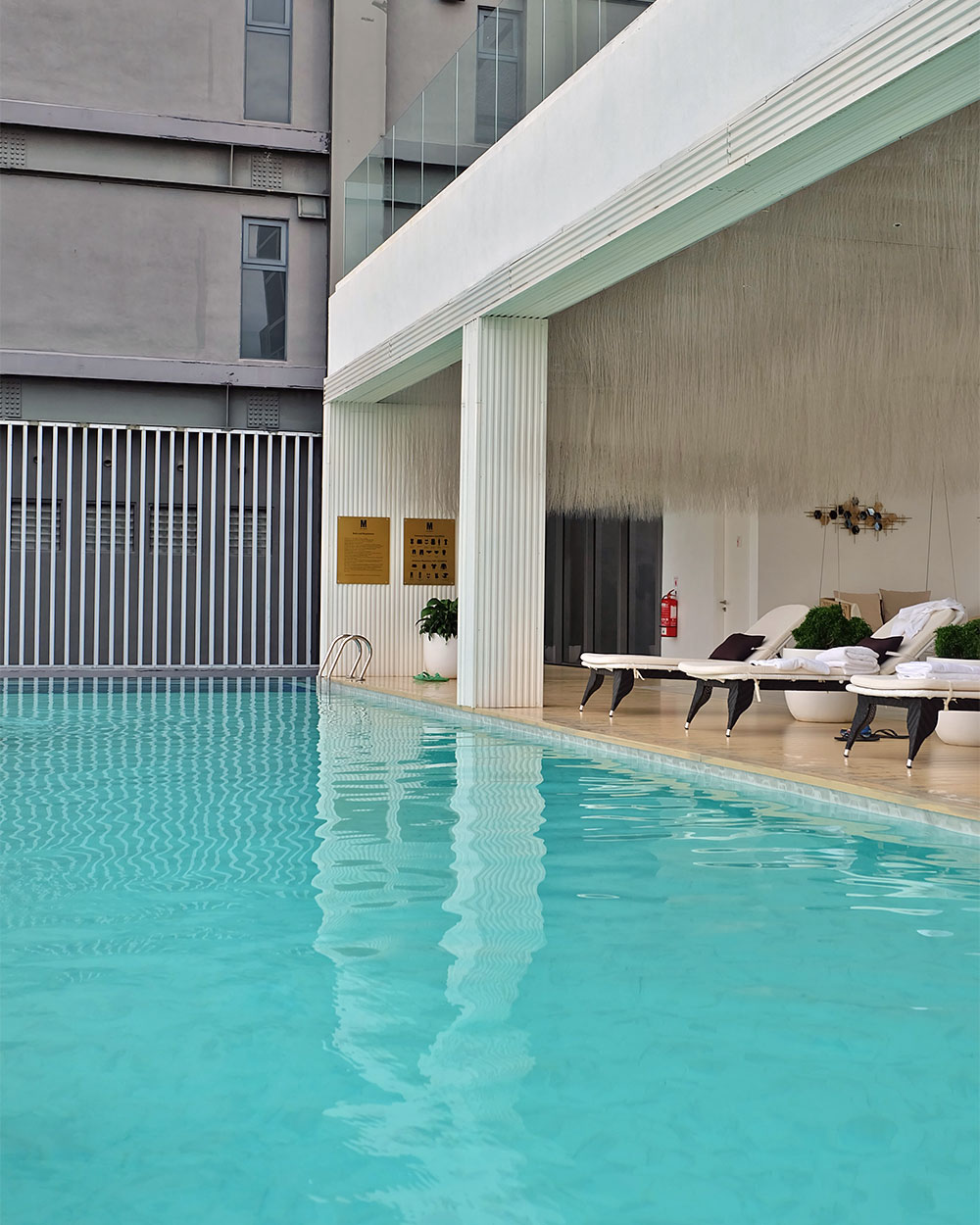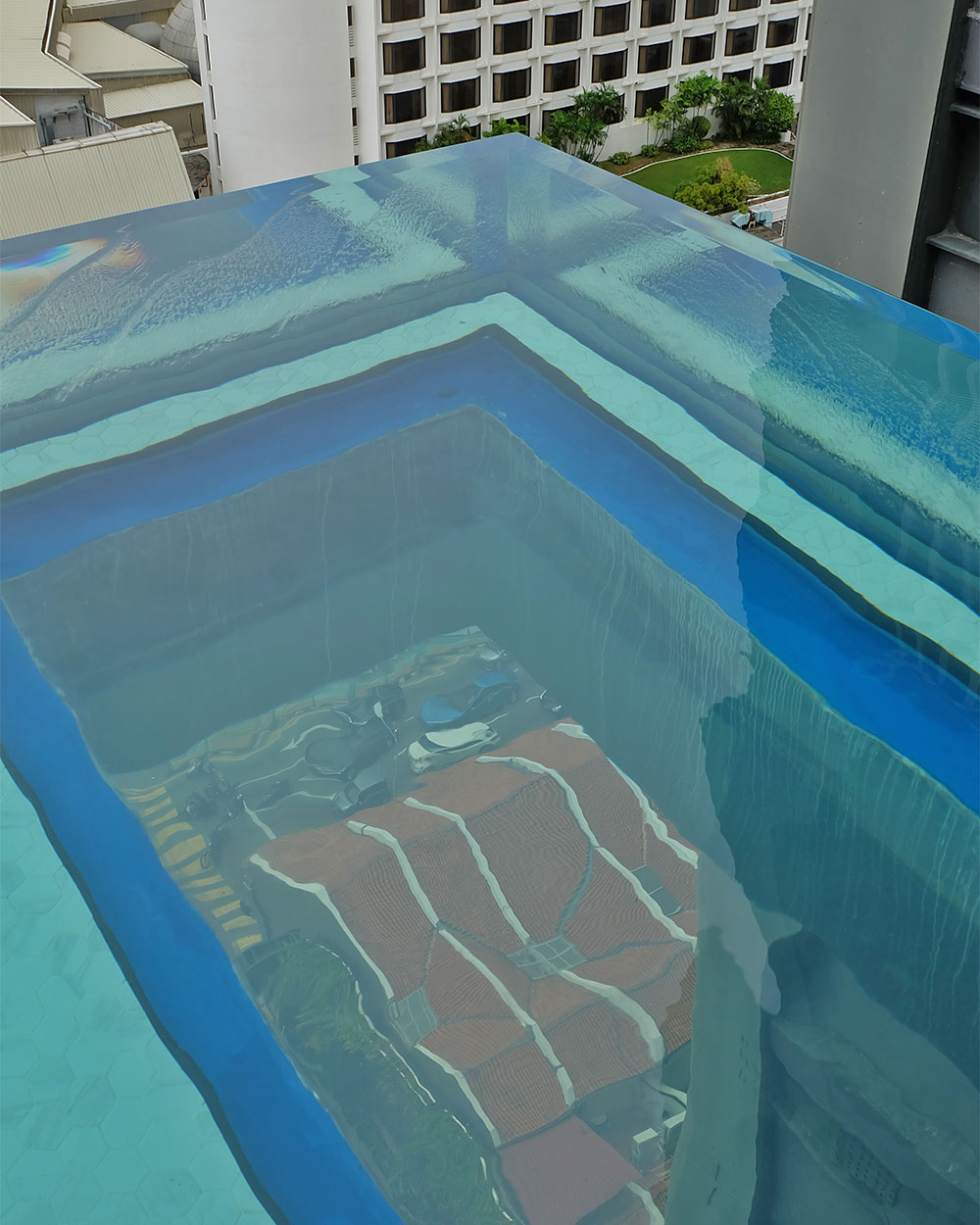 If you dare, jump in and swim over to the end of the pool where the acrylic bottom is and take a look all the way down! After sunset, catch the fibre optic installation lighting up the deck with a mesmerising neon-coloured display as you enjoy the evening breeze.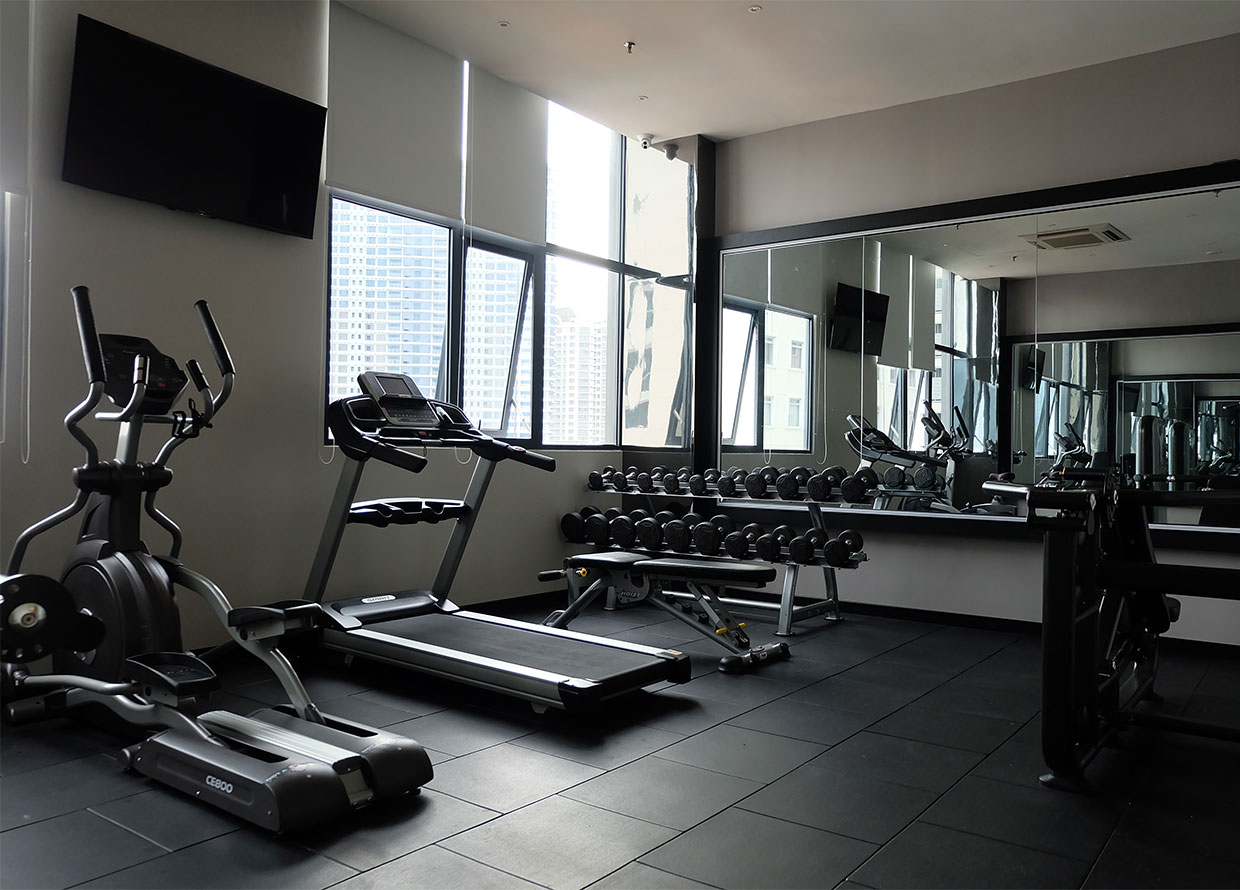 As for those who never skip workouts even on a holiday, there's a well-equipped gym on the same floor for you to keep up with your fitness goals. Aside from the pool and gym, there's an event space in the old wing that houses up to 180 guests. Named The Skye, it features an aesthetically-pleasing flower wall, giant wooden swings, and a charming glasshouse with crystal chandeliers—all of which can be utilised for various events and parties. On the other hand, the hotel also offers executive suites for business meetings and other formal events. 
EXPLORE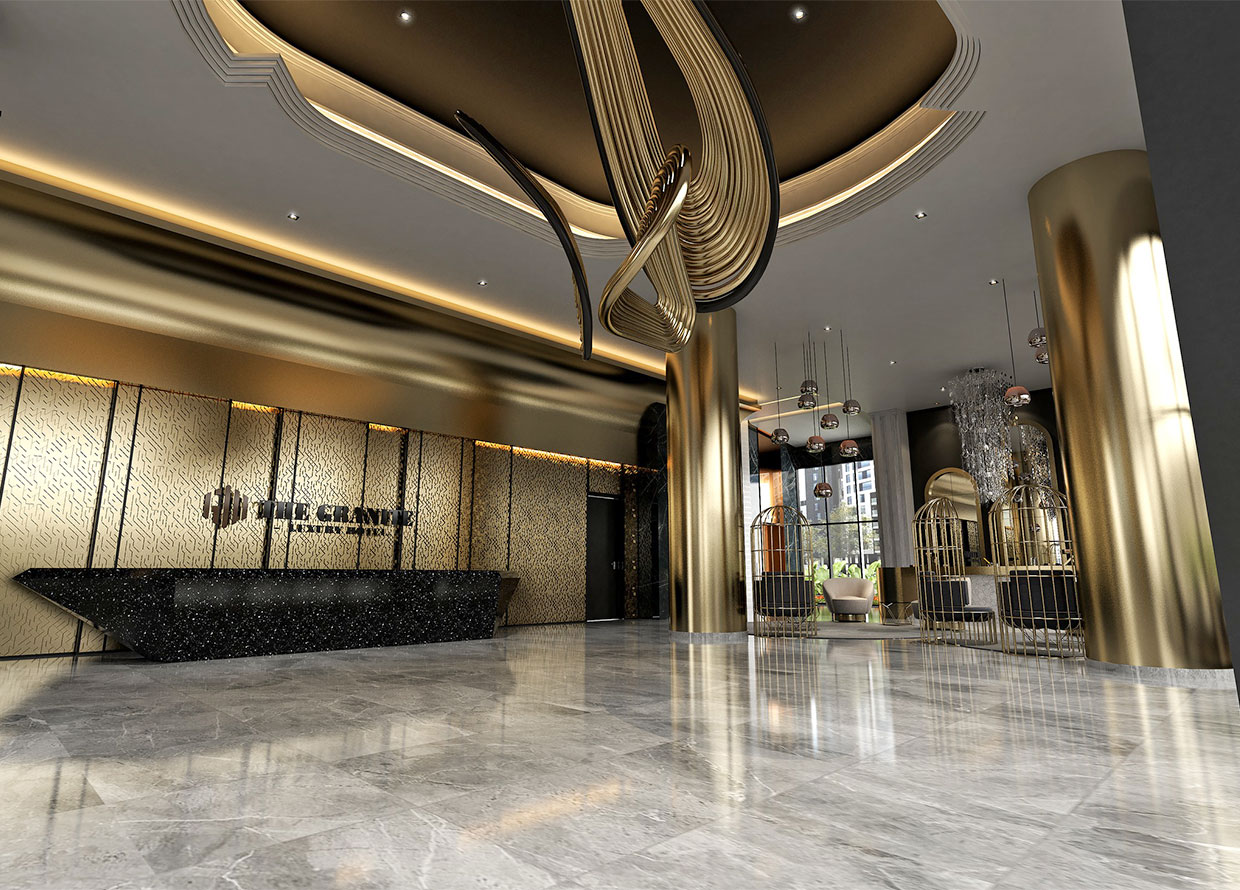 In terms of dining, The Granite Luxury Hotel currently only features a rooftop bar. Named Attic 23, the venue offers a plethora of cocktails, spirits, beverages, and dishes to enjoy alongside spectacular vistas of the city. I was told there are plans to open an immersive dining experience in the hotel lobby, which is expected to launch this year. 
With that said, the hotel's prime location means guests are only a stone's throw away from a number of attractions in town. Just to name a few, there's Hin Bus Depot about 300 metres away (home to renowned bars like Backdoor Bodega and cafes like Lé); 1st Avenue Mall located further down across the street (if you'd like to get some shopping done); and Komtar, which has local food stalls and a glass skywalk at the top. 
VERDICT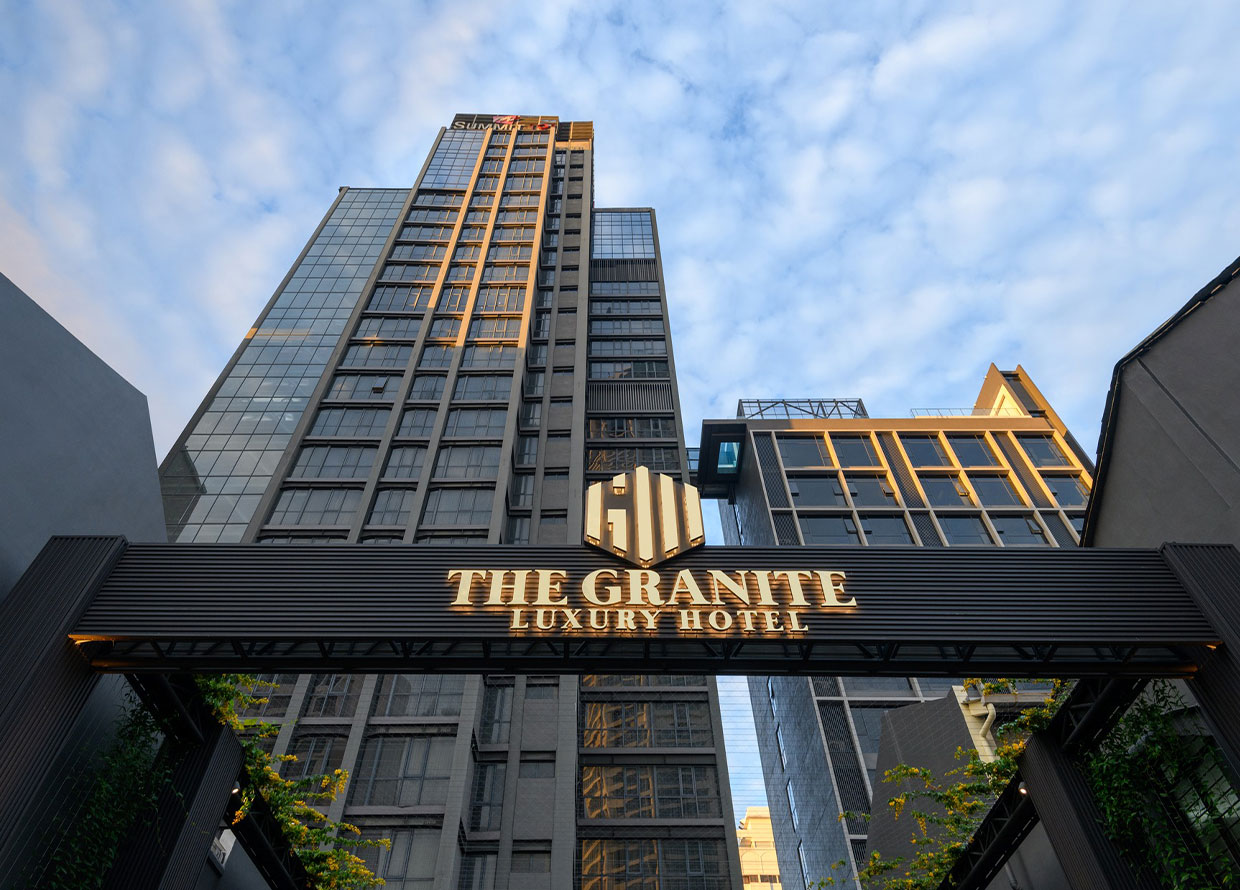 From my experience, The Granite Luxury Hotel proved a modern, well-appointed addition to George Town's hospitality landscape. It boasts lavish rooms and facilities with easy access to a variety of malls, eateries and attractions, with more exciting features to look forward to in the months to come. If comfort and convenience are your main considerations, look no further than The Granite Luxury Hotel for a pleasant stay. 
---
The Granite Luxury Hotel
Address: 191A, Jalan Magazine, George Town, 10300 George Town, Pulau Pinang
Contact: 04 296 9191
Reservations: +6012 237 7191
Website | Facebook | Instagram 
For more hotel reviews, click here. 
| | |
| --- | --- |
| SHARE THE STORY | |
| Explore More | |