It doesn't matter if you and your partner are more into beach getaways, or adrenaline-filled adventures, or city escapes because Hawaii has something for every couple, and every type of traveller. Even better, there's something romantic about its islands; perhaps it's the lush greenery, or the stunning beaches, or maybe the long, winding road trips you can go on. If you're still thinking twice, this might change your mind.
1. Take in the gorgeous scenery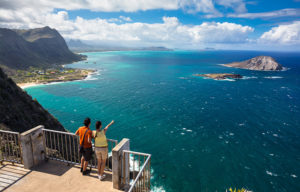 romantic things to do in hawaii
Hawaii is a natural gem. From rolling hills and volcanoes to lush greenery and breathtaking blues from the ocean, it's truly a sight for sore eyes, no matter where you look. Couples who like to take the high road will find a generous list of hiking trails for all levels of ability and be rewarded by a view unlike anywhere else.
Where to go:
Makapuu Lighthouse on Oahu — It's one of the most popular hiking trails that's great for all ages and promises a picturesque view.
2. Go on a boat tour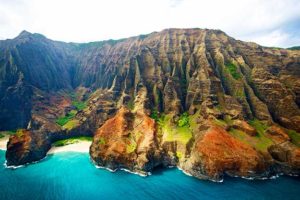 A bird's-eye view of Kauai Island's Napali Coast
Swap it around and view the islands from the water instead. There are plenty of boat tours you can hop on (from small or large groups to private ones) or alternatively, charter a sailboat or yacht for something a bit more special. Most of these come with a programme but can also be customised according to your wants. Go snorkelling, get a tan on the sundeck, share a romantic evening at sunset and make everlasting memories.
3. Try your hand at kayaking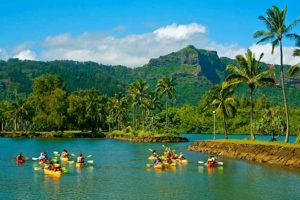 Take a scenic kayak trip up Wailua River
Kayaking is another easy way to explore the islands. If you're a first-timer, there are a couple of places that offer lessons and guided excursions. You can even opt for a double kayak to make sure you don't leave your partner behind (or vice versa).
Where to go:
Wailua River on Kauai — It's Hawaii's third largest river and you'll be able to see lush jungle landscapes and waterfalls too.
4. Enjoy a romantic evening stargazing or watching the moon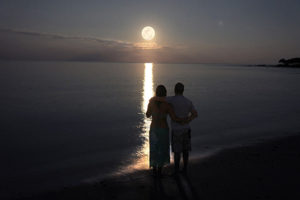 romantic things to do in hawaii
Come nightfall, you can take it up a notch and spend a romantic evening with walks by the beach or go chasing stars. Places like the Kohala Coast, with little to no light pollution are perfect for stargazing.
Where to go:
Anaehoomalu Bay on Hawaii's Big Island —  The crescent-shaped beach on the Kohala Coast is a great spot to watch the moon set too.
5. Relax with a traditional Hawaiian couple's massage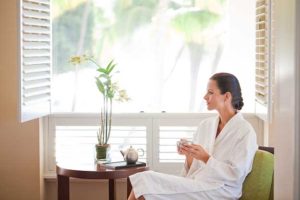 Relaxation beckons
It's not just Bali and Thailand that are known for a good massage. The lomi lomi massage with pōhaku is an ancient Hawaiian healing practice that uses warmed lava stones to soothe pressure points.
6. Renew your vows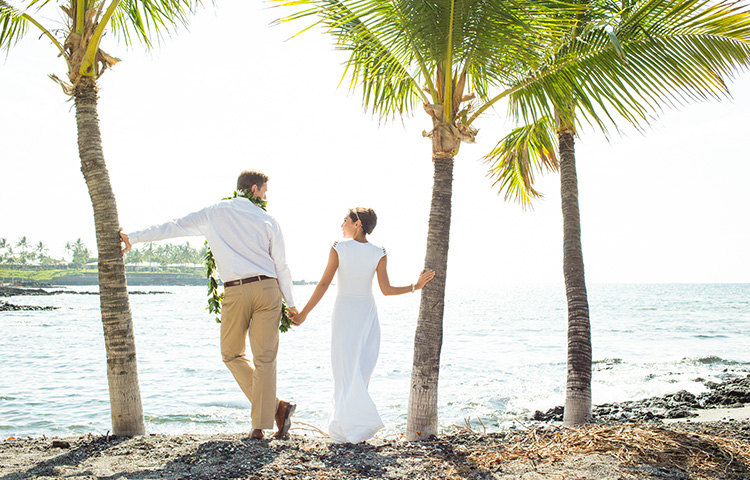 romantic things to do in hawaii
Hawaii is a great place for a destination wedding (or elopement) but if you can't do it there, who's to say you can't at least renew your vows there? Imagine doing it with a unique ceremony steeped in the beauty of Hawaii, overlooking the beach with the sun and the ocean as your witness.
7. It's easy to fly to Hawaii
AirAsia now flies daily to Honolulu with an all-in fare from only RM899 (one-way) while non-member fare starts from RM904 (one-way). Flight woes for two sorted!
Travel period: 8 Jan – 13 Aug 2019
Booking period: Now – 31 Dec 2018
Click here to book your tickets now. For more info on Hawaii, please head over to the website.
| | |
| --- | --- |
| SHARE THE STORY | |
| Explore More | |