Fun fact: Lake Toba is the world's largest volcanic lake and it's only 1.5 hours away by plane
It's a never-ending journey when you have a thirst for adventure sprinkled with a heavy dose of wanderlust on top. But this also means you can be easily stumped by either a lack of time to travel far or the ability to narrow down one destination out of hundreds of others on your bucket list. To help answer both dilemmas, we'd say Lake Toba in North Sumatra, Indonesia. A hidden gem that is situated just 'next door', it's the perfect destination for a quick getaway.
However, calling it a lake doesn't quite cut it when it measures at over 1,145 square km with a depth of 450 meters but that's what makes Lake Toba the largest lake in Southeast Asia, and one of the deepest lakes in the world. What makes it even more interesting is that it has an island—Samosir Island—that is almost the same size as Singapore at its heart.
As one of Indonesia's many natural wonders that's surrounded by stunning mountains, it's a great place to disconnect from the usual hustle and bustle of a city. And because Lake Toba is 900 meters above sea level, it has a cooler climate, giving you more reason to escape KL's heat.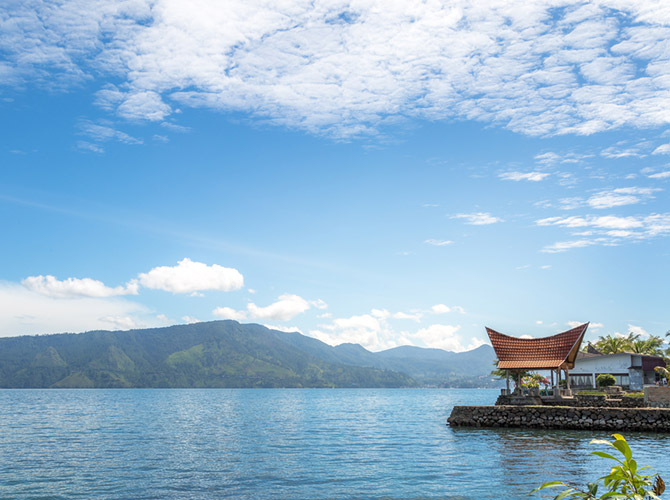 How to get there:
Fly direct to Lake Toba via Silangit Airport (1 hour 20 minutes) from either KLIA or Subang airport.
Fly to Medan via Kualanamu International Airport (1 hour) and head to Parapat, the town by Lake Toba (under 6 hours). You can opt to travel by a minivan shuttle, renting a car with/without a private driver. Upon arriving at Parapat, you can catch the ferry to Samosir Island. 
Best time to travel:
If you want to see Lake Toba at its best, visit during their dry season which is between May and September. Any other month would only shower you with a constant heavy downpour and that would neither make for a good photo or a great time. 
Where to stay:
From Airbnb listings to homestays to hotels of varying stars, the options for accommodations around Lake Toba is more than enough to take your pick. Our suggestion: Taman Simalem Resort. A 4-star hotel that's perched on a cliff overlooking Lake Toba, it offers modern day comforts and a grand view of the lake itself (especially if you choose the Lake View Room). 
Your next best choice: Tiara Bunga Hotel and Villa for that glory of a lakeside stay. Because the hotel is only accessible via a 30-minute boat ride, absolute privacy is absolutely guaranteed. They also offer several water activities such as canoeing and fishing. 
What to do:
Lake Toba, through and through, is essentially a natural paradise but it's not just all scenery and no play. Indonesia prides itself for its five wonders that make the country an all-inclusive travel destination for every type of traveller and their different goals: Nature, culinary, culture, recreation and adventure. Lake Toba is no different. Here are some of the things you can do there. 
1. Take a bath at the Sipoholon hot springs
It's okay if you can't make it to the onsens of Japan because our neighbouring country has quite a few of them too. The sulphuric pools, in its vibrant blue-green hues, are supposedly great for your health and skin. Sipoholon hot springs are especially popular because it's surrounded by limestone hills in shades of orange, yellow and green, making it an Instagram-worthy site.
2. Be in awe of Sipiso-piso waterfall, the tallest waterfall in Indonesia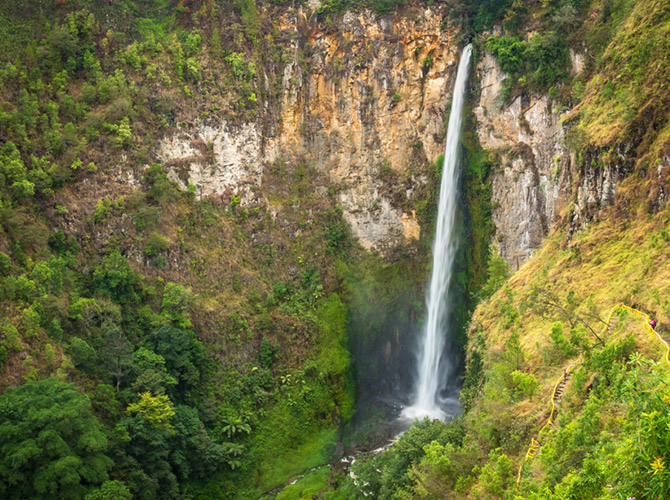 There are several stunning waterfalls around Lake Toba but none as jaw-dropping as Sipiso-piso with its plunge depth of 120m. For the adventurous and for those who would do anything for the 'gram, it's worth considering a hike down to the bottom of the waterfall. Just be sure to allocate around seven hours for a return trip. 
3. Climb a volcano named Mount Sibayak
Calling all avid hikers, this is one of Sumatra's most stunning volcanoes. At 7,247 feet, it's recommended to begin the trek up Mount Sibayak around 3am to be able to reach the summit just in time for the sunrise. 
4. Learn about the Batak culture at the ancient Batak village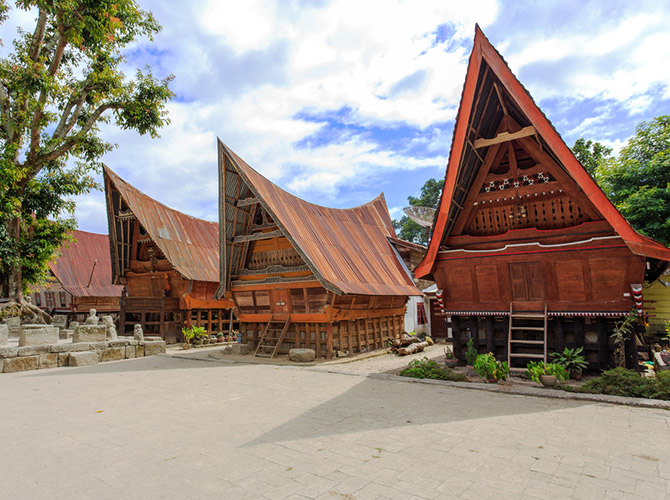 Samosir Island is home to an ancient civilisation called the Bataks. Though history has mentions of their cannibal rituals in the past, today, they are known to be among the friendliest locals in Indonesia. The ruins of an ancient Batak village—including stone chairs believed to be over 200 years old and a head-chopping block—can be found in the nearby village of Ambarita and where more can be learnt about the unique culture of this ethnic group. 
5. Feast on popular and traditional Batak dishes
If anything, Batak cuisine, which is predominantly found in North Sumatra, is reason enough to visit Lake Toba. Most of the dishes are made from pork—be it roasted, fried or braised—but one of the must-eat ones is the Mie Gomak, a traditional curry noodle dish. Usually prepared by hand and served in broth or fried, the dish is mildly spicy and great for the chilly Lake Toba weather. 
6. Shop for souvenirs at Tomok Market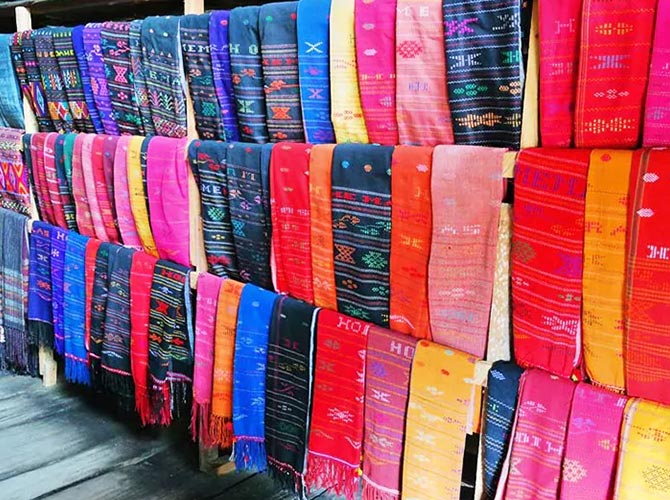 Start and end your trip at this market—which is located in a traditional village of the same name—to get a firm grasp of the life and culture on the island. Better yet, here is where you can go to get unique souvenirs.
7. Explore Samosir on a bike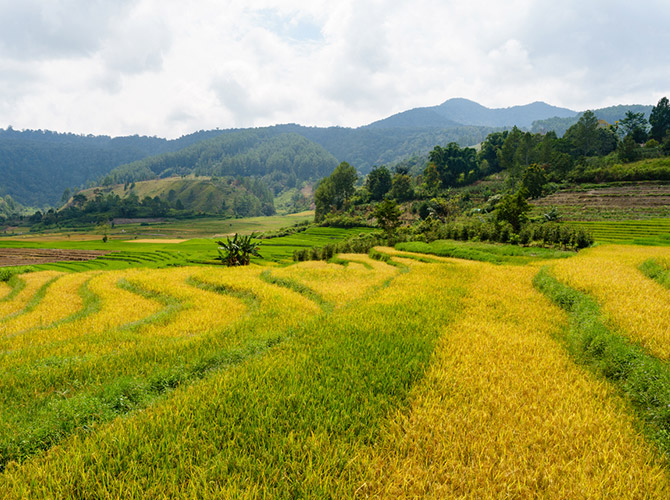 There are plenty of other adventures to embark on and sites to see and be amazed at, but the best way to enjoy Lake Toba and its Samosir Island is to bike around it. From the lush rice fields to the blue lakeside views, it'll truly be a sight for sore eyes. 
Ready to see it all IRL? Visit The Ministry of Tourism of the Republic of Indonesia's website for more info.
Related articles
Buro 24/7 Selection