Here's a fun fact about Putrajaya: It is just a 40-minute drive from KL, but somehow manages to feel much, much more remote than it is. Rife with beautiful buildings and plenty of cultural hotspots to explore, the city takes you out of time in a lot of ways—in particular, Putrajaya's buildings derive their design from both modern European and Islamic influences, the juxtaposition of which actually works in its favour.
It's a fascinating place to explore, and there is no better way to do so than with a staycation.
I checked into Doubletree by Hilton Putrajaya Lakeside for an overnight stay, where I was treated to the Tiffin Set Lunch, the brand-new Light of the Season Buffet Dinner as well as a decadent breakfast buffet at Makan Kitchen. Here is a breakdown of my stay:
First impressions are important, and Doubletree by Hilton Putrajaya Lakeside certainly knows how to make a good one. Upon check-in, I was welcomed into the hotel with the Signature Doubletree Chocolate Chip Cookie. Before you ask: 1) Yes, it was baked on-site and 2) yes, it was delicious. The entire check-in process was very efficient—before I knew it, I was being handed my keycards and ushered to my room for the night.
The door to the twin room I had booked was marked with a seal, indicating that the room had been fully sanitised prior to my arrival (a detail that I very much appreciated). Overall, the room was very comfortable, equipped with a flat-screen TV, a work desk, a mini-fridge and a small balcony. Truth be told, I wasn't totally sold on the decor of the room, but the stunning view more than made up for it. Once I had settled in, I headed down for lunch at Makan Kitchen where I was greeted by a generous buffet spread in addition to the restaurant's Tiffin Set Lunch.
All in all, it was a lot of food. Personally, I much prefered the Tiffin Set Lunch to the buffet service—while both were enjoyable, I found that the flavours of the dishes were far more pronounced in the Tiffin Set. I tried each of the three sets available (Malay, Indian, and Nyonya), and of the three, my favourite was definitely the Nyonya chicken dish.
Following lunch, I was given a tour of the property, where I got to learn a little more about the hotel. Fun fact number two: The Doubletree by Hilton Putrajaya Lakeside property was initially intended to be a museum before it was converted into a resort. This explains the eclectic differences between each wing of the hotel—each building's design draws influence from different cultures, making the property feel almost like a mini village.
Unfortunately, rain followed me for most of my trip, so I didn't get to explore the area (nor the facilities) as much as I would have liked. That said, the weather was kind enough to take a quick break during the dinner service, which allowed me to get a pretty sweet view of the sunset as I ate.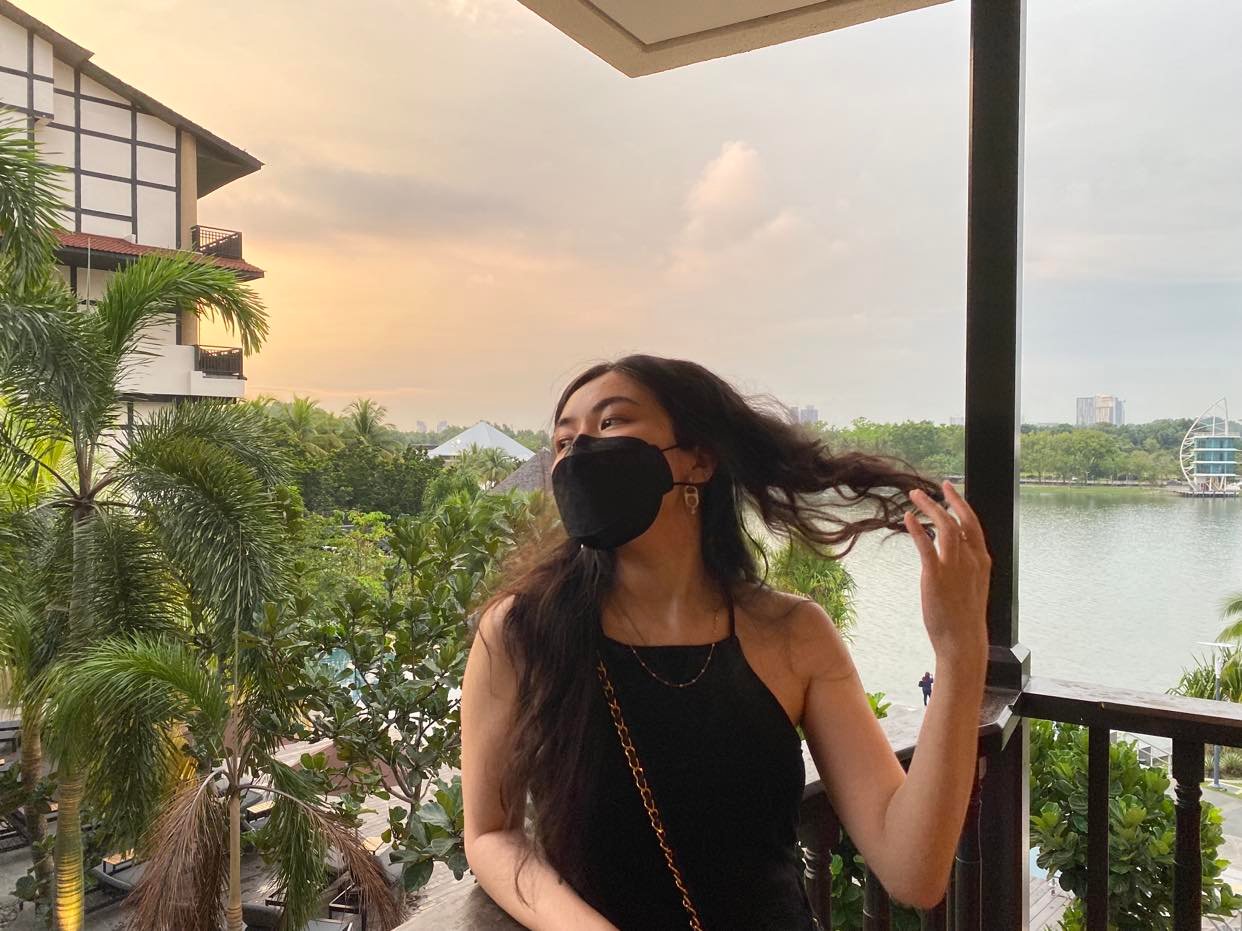 Though social distancing was in place, I chose to sit outside in order to avoid the crowds. This turned out to be an excellent decision, giving me a wonderful opportunity to soak in the picturesque view of the pool and the lake.
Really, the only drawback of this decision was the dampened ambience of the restaurant's outdoor seating—the pool is open from 8am to 8pm so children were definitely splashing about. That said, if the sound of children having fun really bothers you that much, you can always move indoors!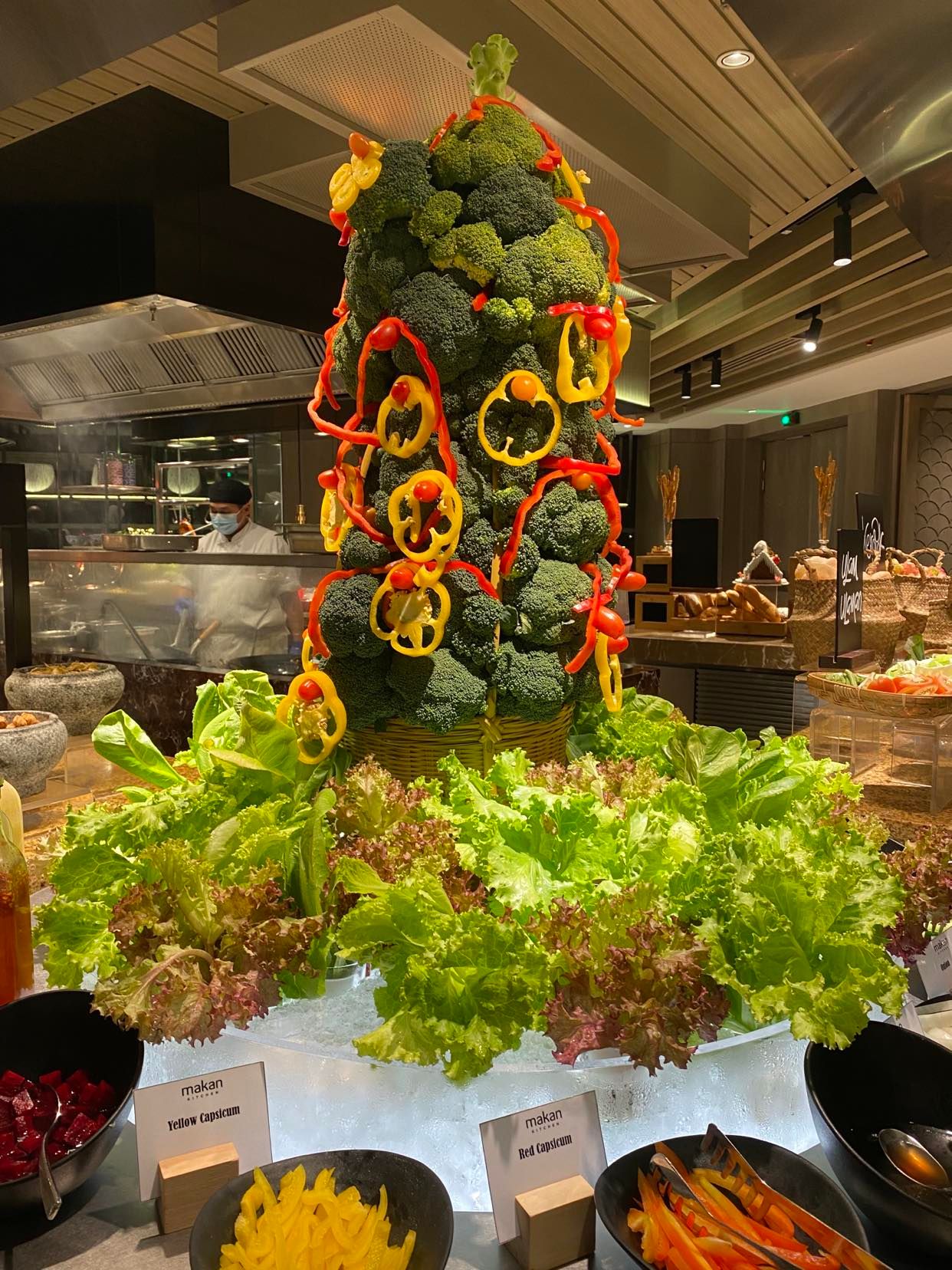 The dinner spread was mouth-watering, with a varied choice of local cuisines to choose from. However, what I was particularly drawn to was the salad table. I know what you're thinking, but hear me out: This is no ordinary salad table. No, this spread was made up of fresh produce from Doubletree by Hilton Putrajaya Lakeside's own on-site garden; all part of the hotel's desire to give back and be more eco-conscious.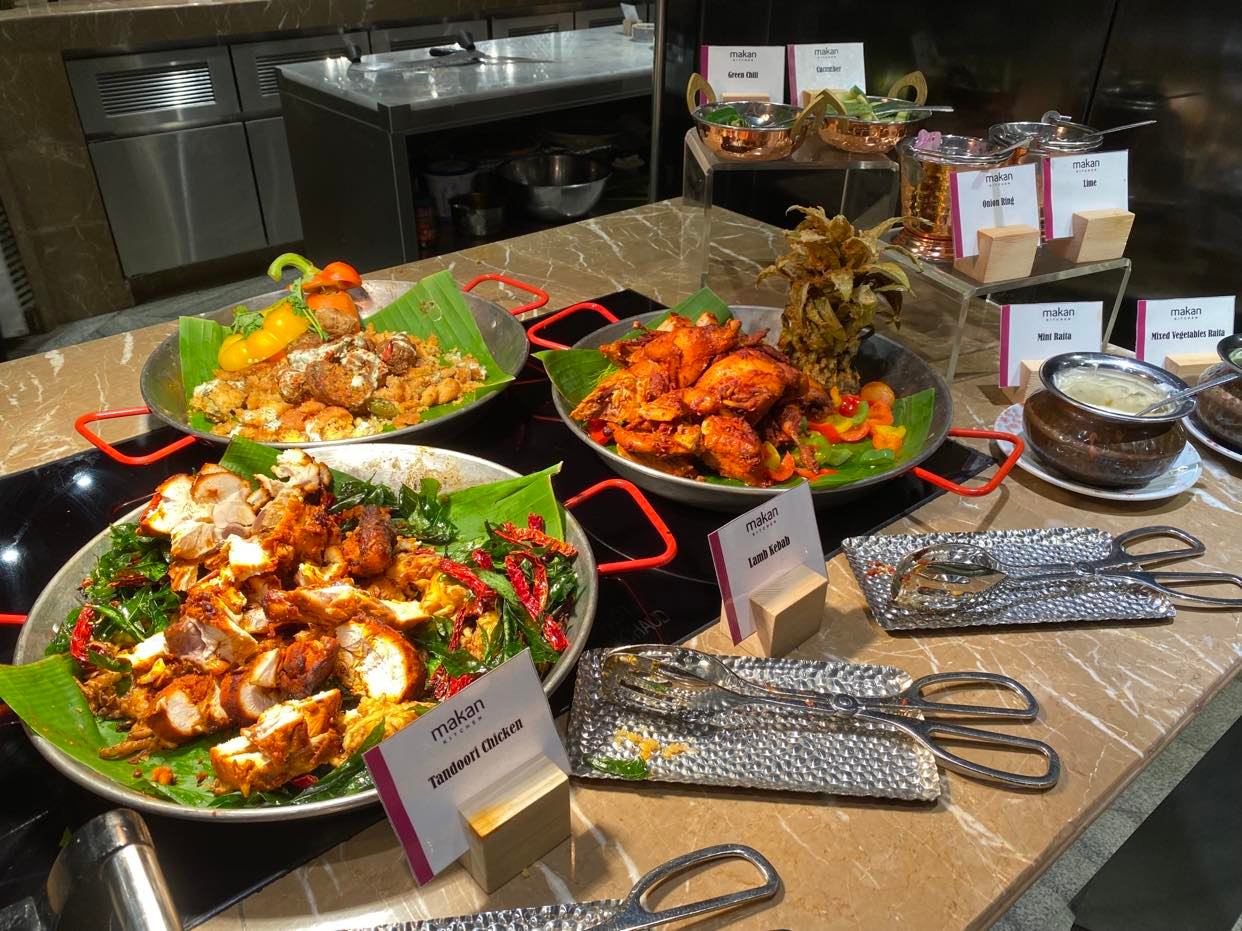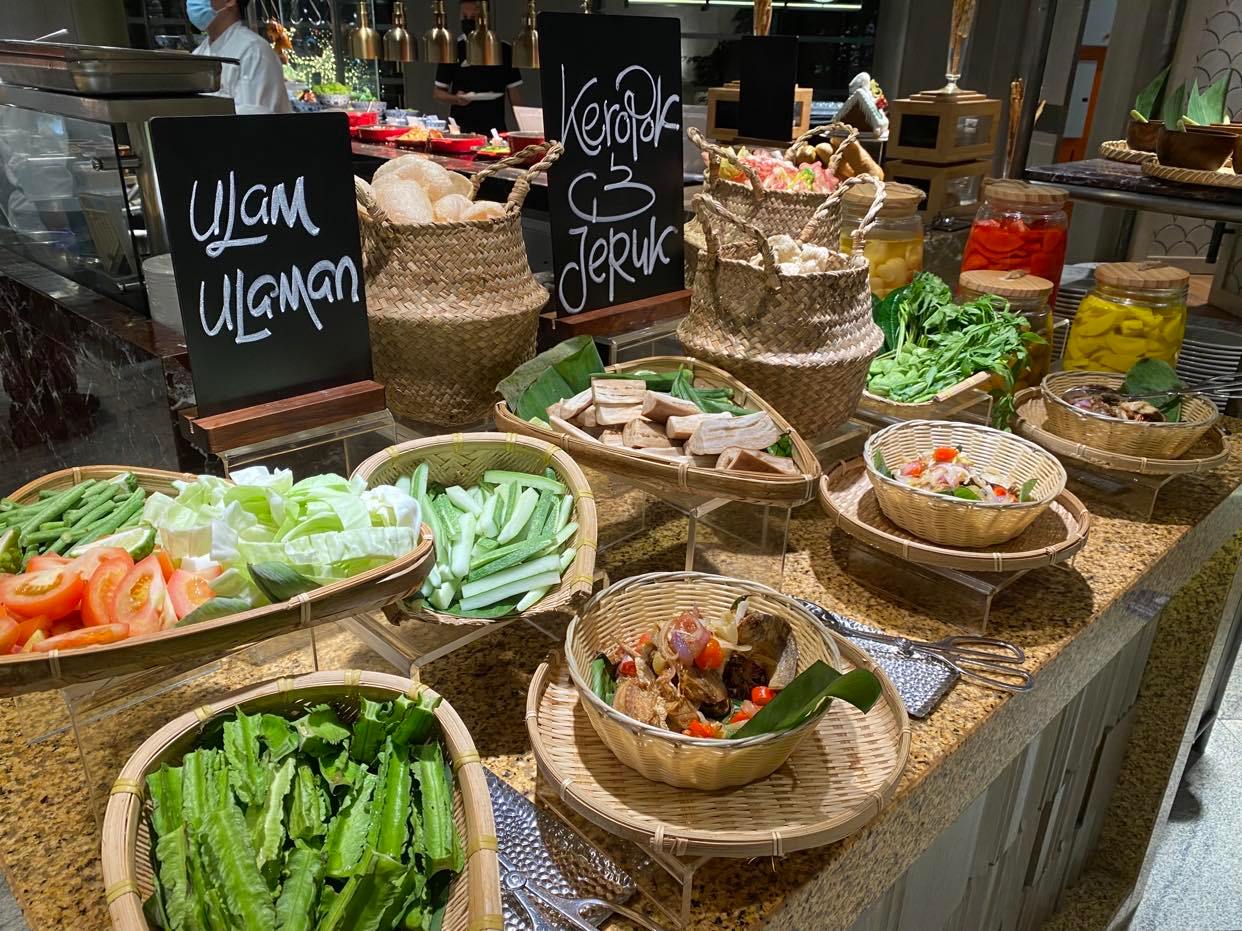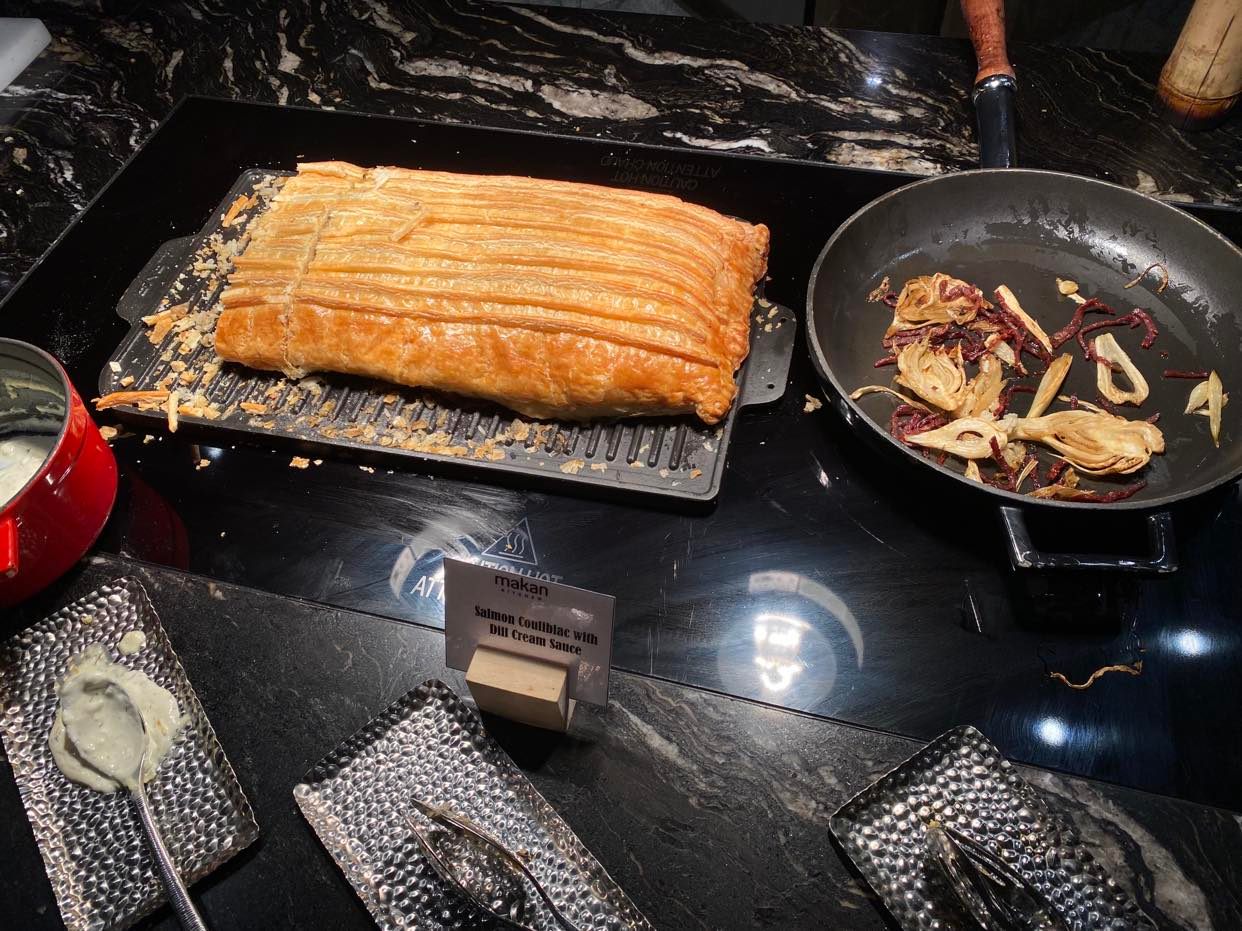 I ended up pacing myself quite poorly for this meal (lunch was unexpectedly huge, in my defence), so by the time I had tried everything in the Indian cuisine section, there was no longer room in my belly for anything else! Fortunately, my companion for the evening picked up my slack and remarked that while the Malay and Chinese options were good, the Indian dishes definitely outshone them by a mile.
I couldn't leave without paying the delectable dessert spread a visit, so I did pick up a few sweet treats to wrap up the meal. My personal favourite was the Pandan Waffle—served with a choice of chocolate, strawberry or vanilla ice cream, it was the perfect way to end the meal.
Once dinner was over, I headed back to my room for a much-needed shower and sleep. Overall, sleep was a success… that is, of course, until my noise-cancelling earbuds ran out of battery and I was rudely awoken to the sound of snoring at 6am. That did not bring me down, however—rather, I took the opportunity to get a glimpse of the morning sunrise… which I then ended up missing on account of there being a torrential downpour outside. Nevertheless, the sounds of the rain soothed my sleep-deprived body and, before I knew it, it was time for breakfast!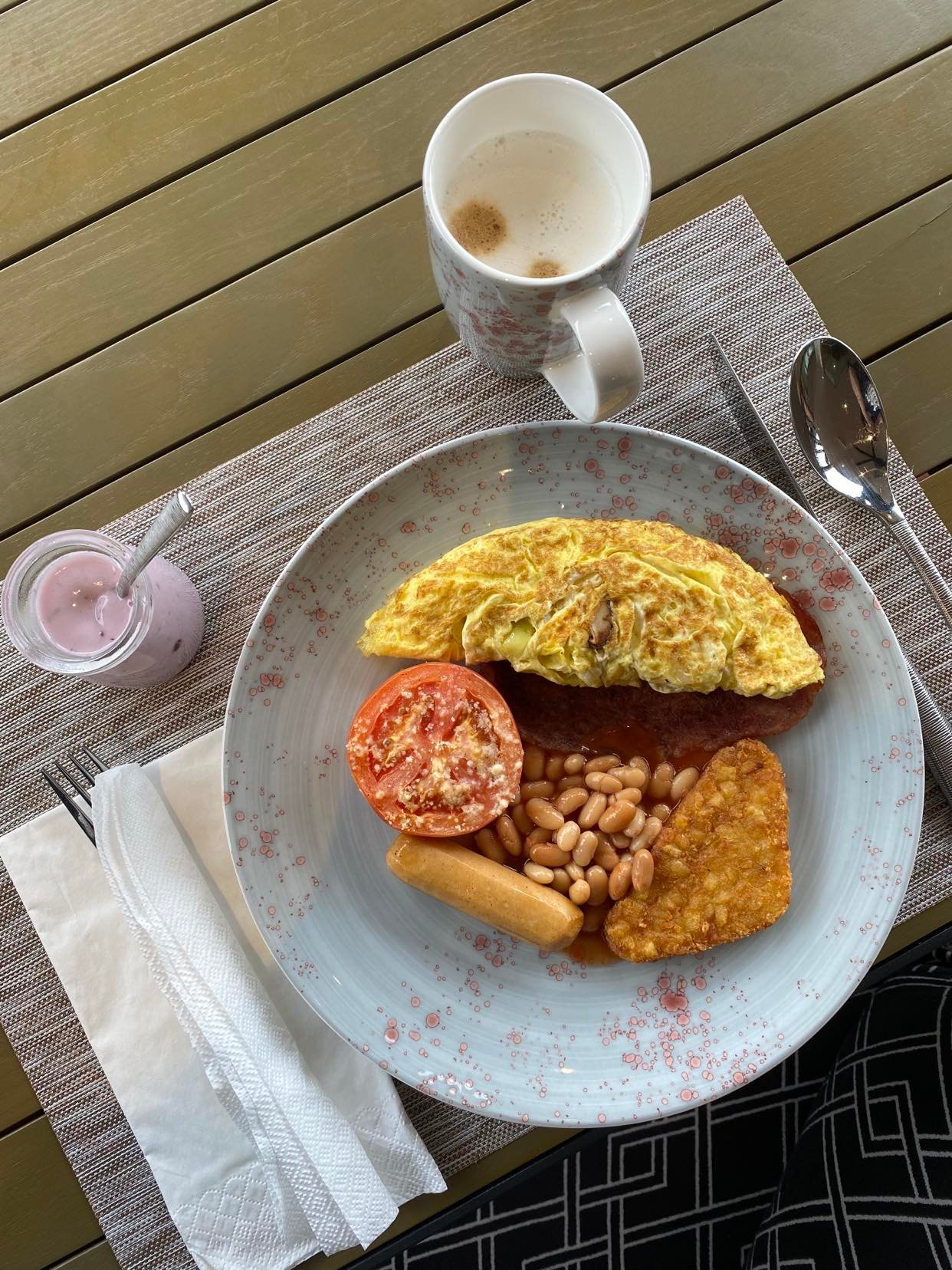 Honestly, I hadn't given the "Western" section of the World Kitchen enough love during my stay, so I thought it was only fair to wrap up the trip with an English breakfast. In hindsight, I regret giving the freshly made roti and nasi a miss, but the made-to-order omelette was still an excellent way to fuel me up for my trip back to KL.
Overall, I found Doubletree by Hilton Putrajaya Lakeside to be a great (and convenient!) destination for business travellers and families alike. The hotel's proximity to Putrajaya's many attractions such as the Millennium Monument, the pink Putra Mosque and the Putrajaya Botanical Gardens in addition to its many on-site facilities give travellers the option of a culturally-enriching trip or a relaxing end-of-year refresh.
For more information and bookings, visit the Doubletree by Hilton Putrajaya La
| | |
| --- | --- |
| SHARE THE STORY | |
| Explore More | |