One does not simply include any city in the upper echelons of top travel destinations. There is so much weightage that goes with being called the destination. A city has to impress even the most critical, from inspiring cultures to unique attractions. If there's one destination you would want to visit that encompasses the best overall value, it's Canberra. The Australian capital, listed third in Lonely Planet's Best in Travel guide in 2018 behind Detroit and Seville, is the gateway to discover more of the island nation. This isn't surprising, however. Canberra is filled with national landmarks, as well as a plethora of memorable cultural and award-winning gastronomic experiences. If discovering one good thing after the other interests you (it should), this is the city for you—in fact, this is the city for everyone.
Canberra, located in between Sydney and Melbourne, has been staking a claim for the title of the coolest city in Australia. The cosmopolitan metropolis that became Australia's capital in 1927 is where one goes for expansive open spaces interspersed with dense pockets of civil activity. If you're interested in exploring the picturesque surrounding region, Canberra is the perfect central base. Treasures galore await you in Canberra and the best part – there are many Instagrammable spots in the city.
1. National Arboretum Canberra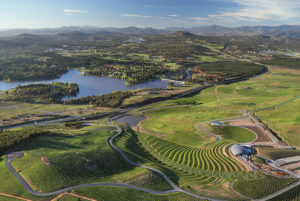 Canberra National Arboretum
Spanning across 250 hectares, you can cycle, walk, drive, or ride a horse through 94 forests of rare, endangered and symbolic trees from Australia and around the world. Don't miss out on the living artworks in the National Bonsai and Penjing Collection. At the National Arboretum Canberra, expect to be struck by a range of botanical beauty. This is the perfect opportunity for an upgrade in your Instagram aesthetic.
2. Canberra Glassworks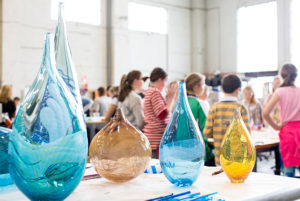 Canberra Glassworks
Head over to the historic Kingston Power House to witness the beauty and versatility of glass in a new light. This contemporary glass centre is the only one of its kind in Australia and it showcases the heritage of the city. Canberra Glassworks is where you can make your own glass paperweight and see ground-breaking exhibitions. Snap shots of your own creation or the numerous visionary masterpieces here.
3. Canberra Balloon Spectacular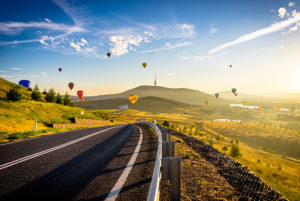 Canberra Balloon Spectacular
The Canberra Balloon Spectacular involves more than 30 hot air balloons, from Australia and beyond. During autumn, you can wake up to mesmerising views of the hot air balloons floating across the city. On the lawns of Old Parliament House, pilots begin inflating their balloons at 6.15am each day. Mark your calendar – this experience of the senses will be happening in March 2020. If that isn't Instagrammable, what is?
4. Parliament House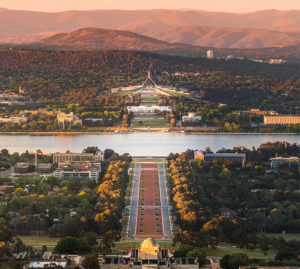 Canberra Parliament House
High on Capital Hill lies the iconic Parliament House of Australia. This is where you can witness democracy in action, take a glimpse at historic documents, and browse through impressive Australian art, such as one of the world's largest tapestries based on an Arthur Boyd design. Don't forget to check out the popular Queen's Terrace Cafe while you're there.
5. Enlighten Festival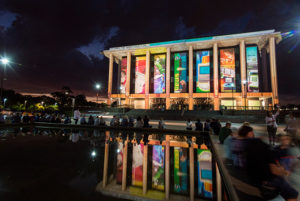 Enlighten Festival Canberra
The Enlighten Festival, usually held over the first 17 days of March, is a true celebration of culture and creativity. Always a highlight in Canberra's annual calendar, witness the city transformed through the architectural projections in the Parliamentary Triangle that go on for 11 nights.
The SQ connection
Natural beauty. Iconic attractions. Spectacular festivals. Canberra firmly holds its ground as one of the best destinations to visit and capture amazing photographs, not just in Australia, but the world. These Instagrammable spots are just some from a plethora of gorgeous sites. What's even better is that—via Sydney—there are daily flights from Singapore to Canberra with Singapore Airlines. SQ flies to Sydney 35 times weekly via Singapore which means it is very convenient to get to Canberra. As fares are already inclusive of the flights to Singapore, Malaysians can depart from Kuala Lumpur, Penang, or Kota Kinabalu.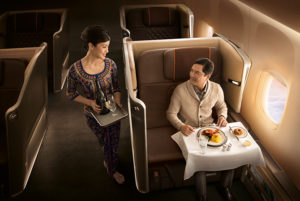 Singapore Airlines First class dining male
Everyone loves enjoying the best experience they can get and Singapore Airlines is known as the best in the world for many reasons. Here's why: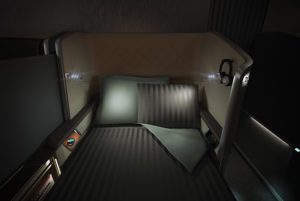 Singapore Airlines First class bed scene
1. The in-flight experience on Singapore Airlines flights are in a class of its own. Choose from four available cabin classes for this route, comprising First Class, Business Class, Premium Economy, and Economy.
Fun fact: Did you know that First Class, Business Class and Premium Economy offers Book the Cook? Up to 24 hours before a flight, select from a menu consisting of a wide selection of meals, including creations inspired by an International Culinary Panel.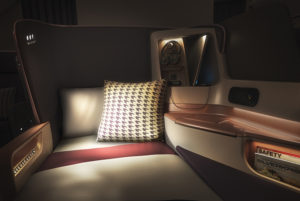 Singapore Airlines Business Class Bed
2. Singapore Airlines is not just award-winning, it's also the world's most awarded airline. Singapore Airlines' commitment to service excellence is recognised by the industry and that is apparent here. Some of the titles they've received recently include Best Airline in the World (TripAdvisor Traveller's Choice 2019 Awards) and the World's Best Cabin Crew (Skytrax World Airline Awards 2019).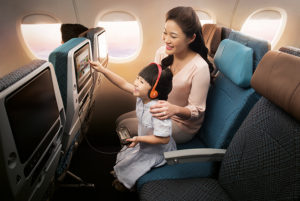 Singapore Airlines Economy Class Inflight Entertainment
3. Boarding pass privileges is another reason why flying with Singapore Airlines is the right choice.
Valid within a month of your date of travel; you are entitled to exclusive discounts in hotel stays, car rentals, restaurants, boutiques, shopping malls and other tourist attractions. All with that one boarding pass

You can enjoy these privileges all year round if you're a KrisFlyer

In Singapore—can be used from attractions, such as Gardens by the Bay, to retail such as Bowers & Wilkins

Beyond Singapore—can be used in EmQuartier (Thailand), Plaza Premium Lounge (Malaysia), Lane Crawford (Hong Kong), Printemps (France), and AAT Kings Tour (Australia) among many other selections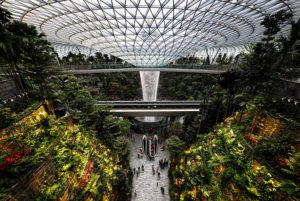 Jewel Changi Airport Waterfall
4. In addition to top-notch in-flight service, industry recognition, and boarding pass privileges, you can also benefit from the seamless transit via Changi Airport Singapore. What to do when you have some time before your next flight?
Visit Jewel Changi Airport—there are more than 280 retail as well as food and beverages outlets, with some opening for 24 hours. Jewel is located in the public area of the airport. This means that you would have to proceed to immigration clearance to exit the transit area before visiting. Good news: take the Skytrain that runs between Terminal 3 and Terminal 2 for magnificent view of the Forest Valley and Rain Vortex (if you don't have enough time)

Appreciate art, visit the green oasis, feast on a wide array of international cuisines, or watch a film in the movie theatre in Changi Airport

Changi Transit Privileges—Changi Dollar Vouchers valued from S$20 can be redeemed when you fly Singapore Airlines
For more information on amazing Singapore Airlines fare deals to Canberra and city highlights, visit this website.
| | |
| --- | --- |
| SHARE THE STORY | |
| Explore More | |