What lies within the tall, dark building that is Alila Bangsar? We went on a mini staycation to find out
Alila Hotels & Resorts are undeniably known for their modern retreats in unique locations; where they take a lot of the surrounding character and adapt it to the hotel. Alila Bangsar is no exception. Occupying the top six floors of a mixed-use development known as The Establishment, Alila Bangsar is akin to a resort in the sky. The lobby is located on the 41st floor (the highest in the building) and as the doors of the lift opened, we were greeted with a view of lush greenery that acts as the centrepiece. With tall windows that look out to the KL cityscape (and thus provide an abundance of natural lighting) and an even higher ceiling where the plants can stretch towards to, the space is a minimalist's dream.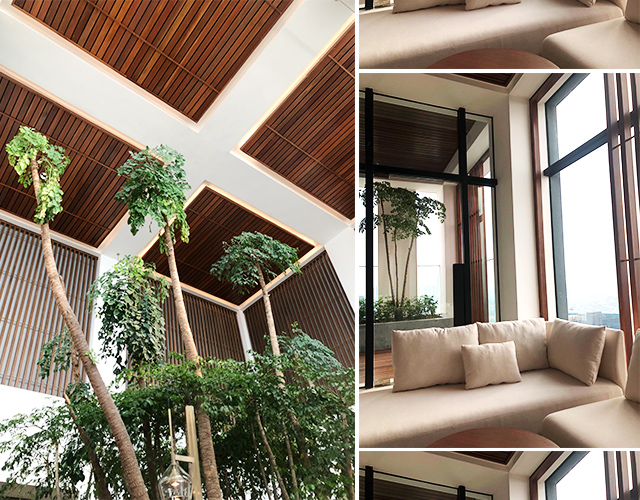 But while there are sofas littered around for anyone's sitting pleasure, here is not where the guests check in. After checking our names on his iPad, a staff promptly invited us to follow him. He brought us to the lifts that lead to the guest rooms and hit the number 35—the only floor that's currently open as Alila Bangsar is still in its soft launch phase. We exited the lift and was introduced to what would become one of our favourite features of the hotel: The Living Room. 
Available on every floor, here is where you can get free flow juice, coffee, tea and snacks. You can even make your own infused water with the sliced fruits in the fridge. In the mornings, you'll find additional mini breakfast options such as nasi lemak bungkus and pastries. The idea was to create a common area for guests to mingle or relax with refreshments and some reading materials. As our room was at the end of the hallway, we later secretly wished there was a small trolley or basket to help carry three paper cones of murruku, ice gems, and wheel crackers; a glass of orange juice; and another glass of infused water. Or maybe we were just greedy (and lazy) to make multiple trips.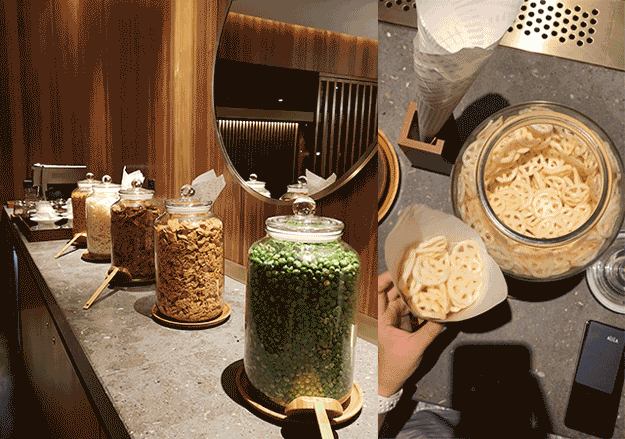 THE ROOMS
Five categories, 143 guest rooms. There's the Studio Room, Balcony Studio, Deluxe Studio, Bangsar Suite, and our crib for the night, the Deluxe Corner Studio—which is the second largest room in the hotel at 59 sqm. Upon entering the room, the staff introduced the features available as well as the facilities provided by the hotel before finishing up with the check-in procedures and a quick signature on his iPad. Alila as a brand is big on sustainability. Hence the paperless invoicing; the IPTV technology to access all the information via the TV; a Press Reader app to access magazines and newspapers directly from a mobile phone or tablet.
As such, the room looks and feels clean as a whole. No clutter, no trace of paper—except the ones in the bathroom—and an interior design brimming with minimalism, Japanese-style. Think browns of wooden elements, golden accents, furniture with clean-cut lines, and lots of natural light. The bathroom, on the other hand, sits more on the modern end with white tile walls, mirrors framed by neon lights and a wide grey stoned sink.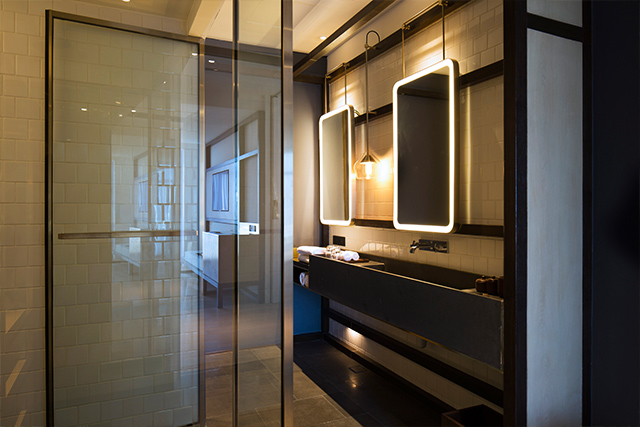 Interestingly enough, we received a lot of queries about the bathroom (among others) on Instagram. Is there a bathtub? No, none of the rooms at Alila Bangsar has one. Are the toiletries in-house? Yes, they're using Alila Living products which are placed in refillable bottles in the shower room. What's the mini bar like? By default, your mini bar will be empty unless you make your selections when you book the room or upon request. Tea and coffee are by local brands for that local flavour. Is the bed comfy? It is if you love slightly firm ones. The air conditioning is at its peak though!
THE FOOD
Fun fact: Alila Bangsar is the first Alila Hotel to have independent restaurants. The three bars and two restaurants are all curated and operated by the Platform Hospitality Group—or better known as the people behind Botanica + Co and Bocosan Izakaya. 
We've talked about Botanica + Co and its Alila Bangsar-only dishes before and a full review of its other main restaurant, Entier will be coming up soon. But just to give you a snippet; by night, Entier is a French nose-to-tail concept restaurant helmed by Japanese Chef Masashi Horiuchi (whose impressive resume includes five years at the two Michelin-starred L'Atelier de Joël Robuchon in London) and by day, it's where you have breakfast.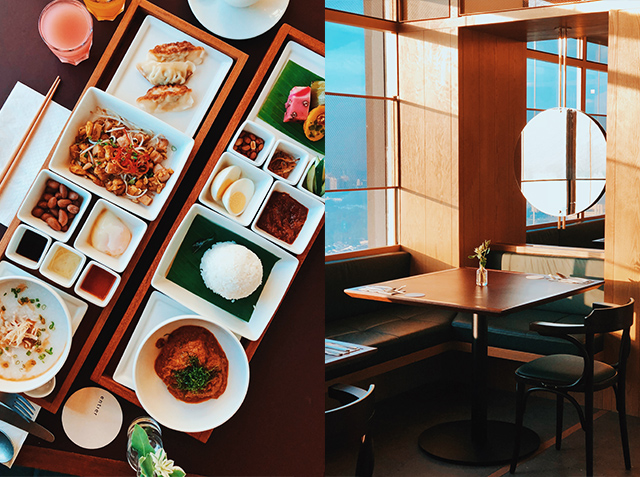 There are five options for the breakfast set: International (the usual eggs, beef bacon, chicken sausage, and more), Oriental (chicken congee, pan-fried dumplings and fried carrot cake), Malay (the nasi lemak one), Indian (roti canai with chicken curry, vadeh and more) and Vegetarian (steamed mix vegetables, baked beans, vegetarian dhal and more). As it's a semi-buffet style, the spread is relatively smaller, serving fresh juices, fruits, salads and pastries only. 
Next to Entier is the Pacific Standard Bar and it is glorious. Boasting playful cocktails that pack a punch as well as an interior inspired by the 1960s American glamour, it certainly raises the bar for most evening hotspots, especially during sunset hours. It's an understatement to say that Principle Bartender Ruben Anandha and team know what they're doing. Whether you're adventurous or not, feel free to let them surprise you or give them hints of what kind of drink you like. Alternatively, we recommend their slightly spicy Moscow Mule, the sweet Sunset Swizzle and the fried cheese balls (the best out there!).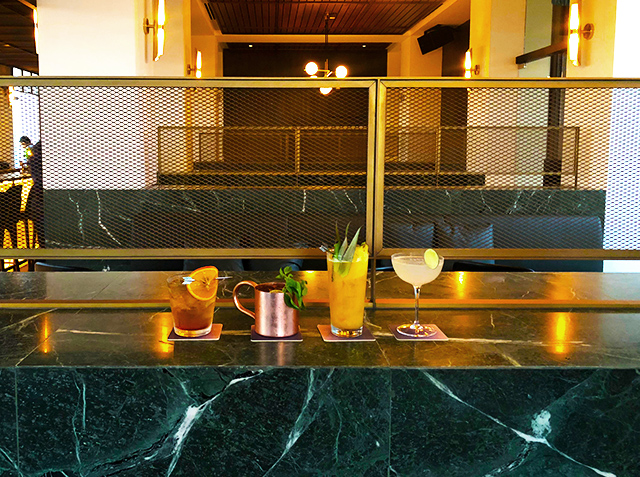 There's also a pool bar and an upcoming rooftop bar that's due to open between July to August. 
THE FACILITIES
Alila Spas are known to be quite the luxurious treat but unfortunately, Alila Bangsar does not have one. Instead, the hotel is keen to promote the local culture/tourism. Looking for a relaxing massage? They'll call in one of their wellness centre partners to send a masseuse over to your room. Looking for something to do? Choose from pewter crafting at Royal Selangor to an off-the-road cooking class to a Segway tour at the Lake Gardens. Within the hotel, however, there's a 24-hour gym and a swimming pool. They also provide unlimited return chauffeur service to KL Sentral, Bangsar Village and Mid Valley City. 
THE VERDICT
If you're a tourist who prefers a relaxing stay in KL, transportation options are great. If you're doing a staycation, everything you need and want is within the building—except perhaps Alila Spa itself and a bathtub. Also, it's great that they're donating RM2 per night booked to the Malaysian Association for the Blind. Some people find its location extremely convenient, seeing that there's a bridge connecting it to the Bangsar LRT station, and thus, instant connectivity (although you can opt for the chauffeur service). Others find it a little strange, being in the quiet corner of Brickfields. But once you're inside, it's clearly an oasis in the middle of a bustling city. 
Alila Bangsar's opening package 'Breakfast on Us' starts from USD 109 per room per night (excluding tax and service) for booking until 31 July 2018 and stay until 31 Dec 2018. This includes breakfast and is based on two sharing a Studio Room. For more info, or to book your stay, visit Alila Bangsar's website.
Related articles
Buro 24/7 Selection