Think of Japan and what generally comes to mind is a picture of punctuality, efficiency and commitment to the highest standards. In the Land of the Rising Sun, attention to detail is deeply ingrained into everyday life. It's where trains arrive and depart like clockwork; artisans dedicate their whole lives to perfecting a single craft; and where some of the most iconic breakthroughs in technology were discovered.
In turn, the world has looked to Japan when setting benchmarks for innovation, design and craftsmanship. We've also come to recognise the "Made in Japan" label as an assurance of quality. Be it food, electronics, tableware or timepieces—just to name a few—Japanese design effortlessly balances beauty and functionality. This is possible due to the Japanese's enduring appreciation for their traditional culture and way of life.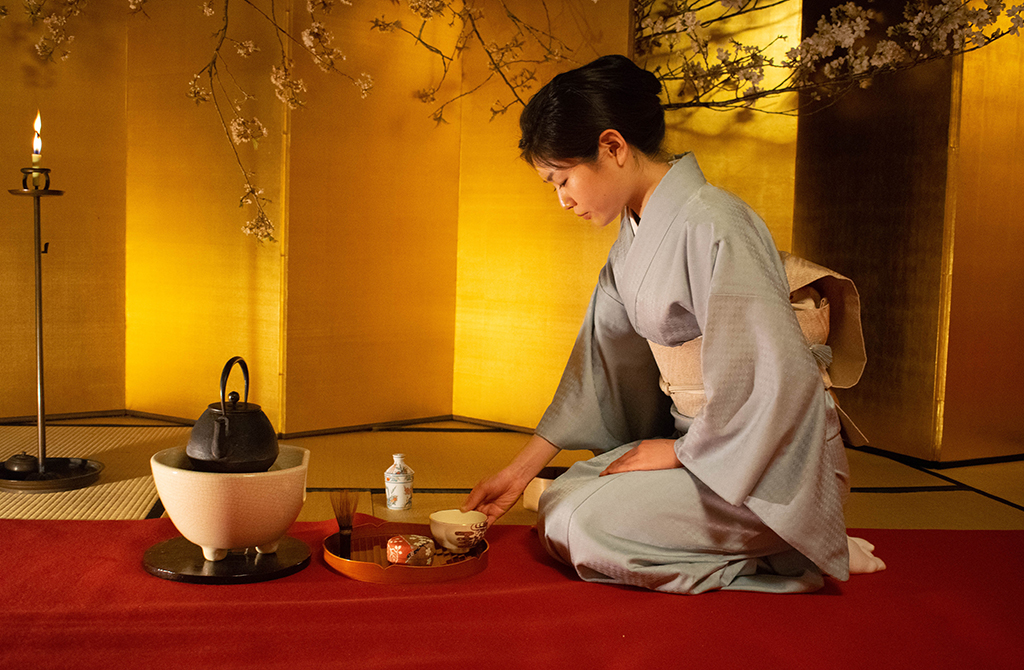 It's also why, according to the locals, the only way to produce the best of anything is to specialise in it. From the whisky in Hokkaido to the sushi in Tokyo to the knives in Osaka, takumi—the Japanese word for skilled artisans—train for years to hone their craft. Even after rising to the ranks of a master, they constantly strive to be better at what they do.
However, this dedication to perfection isn't limited to just traditional crafts. There's a reason why so many visitors to Tokyo set aside time to shop for electronics. Besides their advanced technological innovations, devices from Japan's leading brands have a reputation for being reliable and well-designed.
Likewise, Fujitsu's Takumi Craftsmanship standard is the reason we've set our sights on the brand's premium laptops, especially the impressive Fujitsu UH-X and the highly portable Fujitsu CH. Both models strike the right balance of design and performance in meeting the needs of today's career-oriented lifestyles.
For the modern professional who wants it all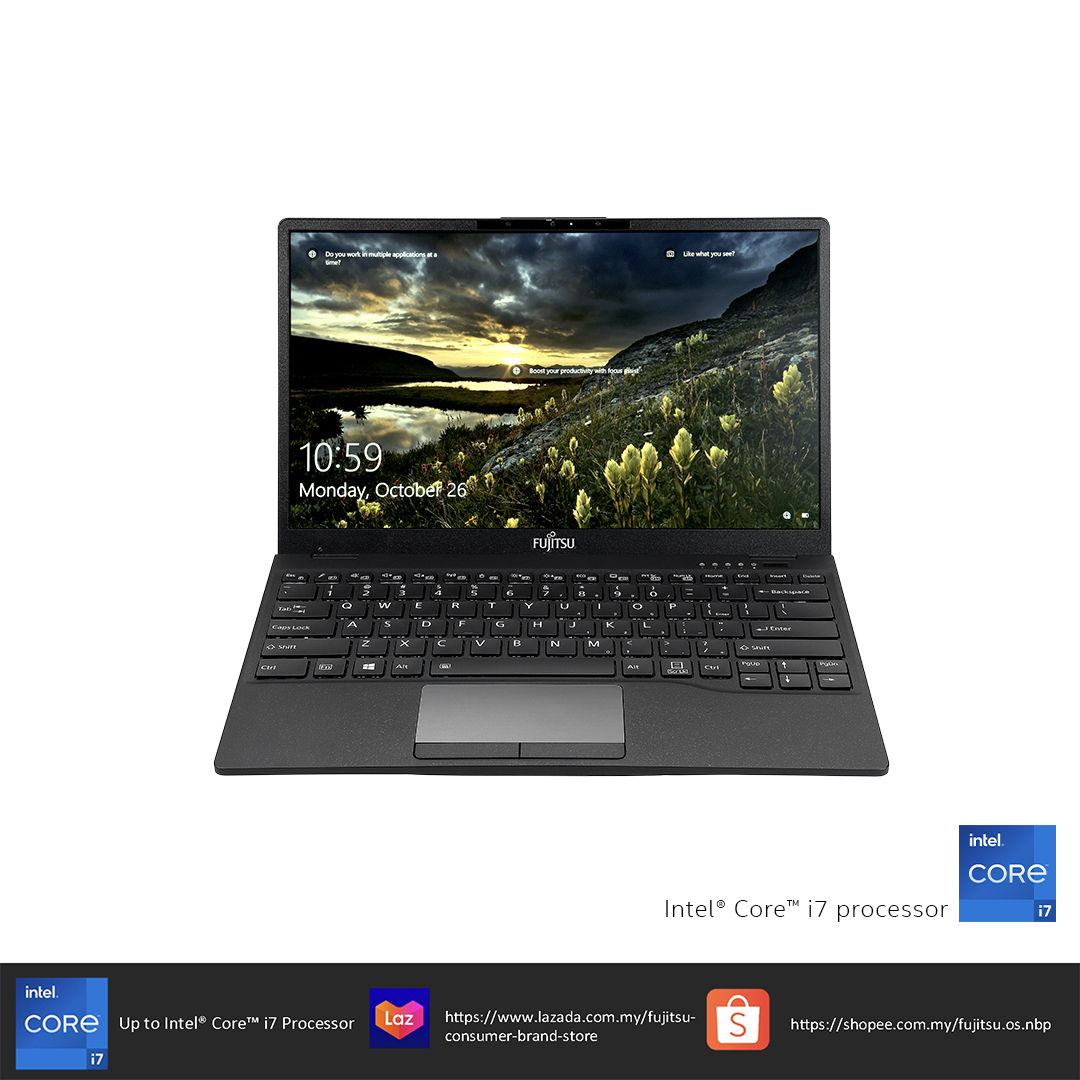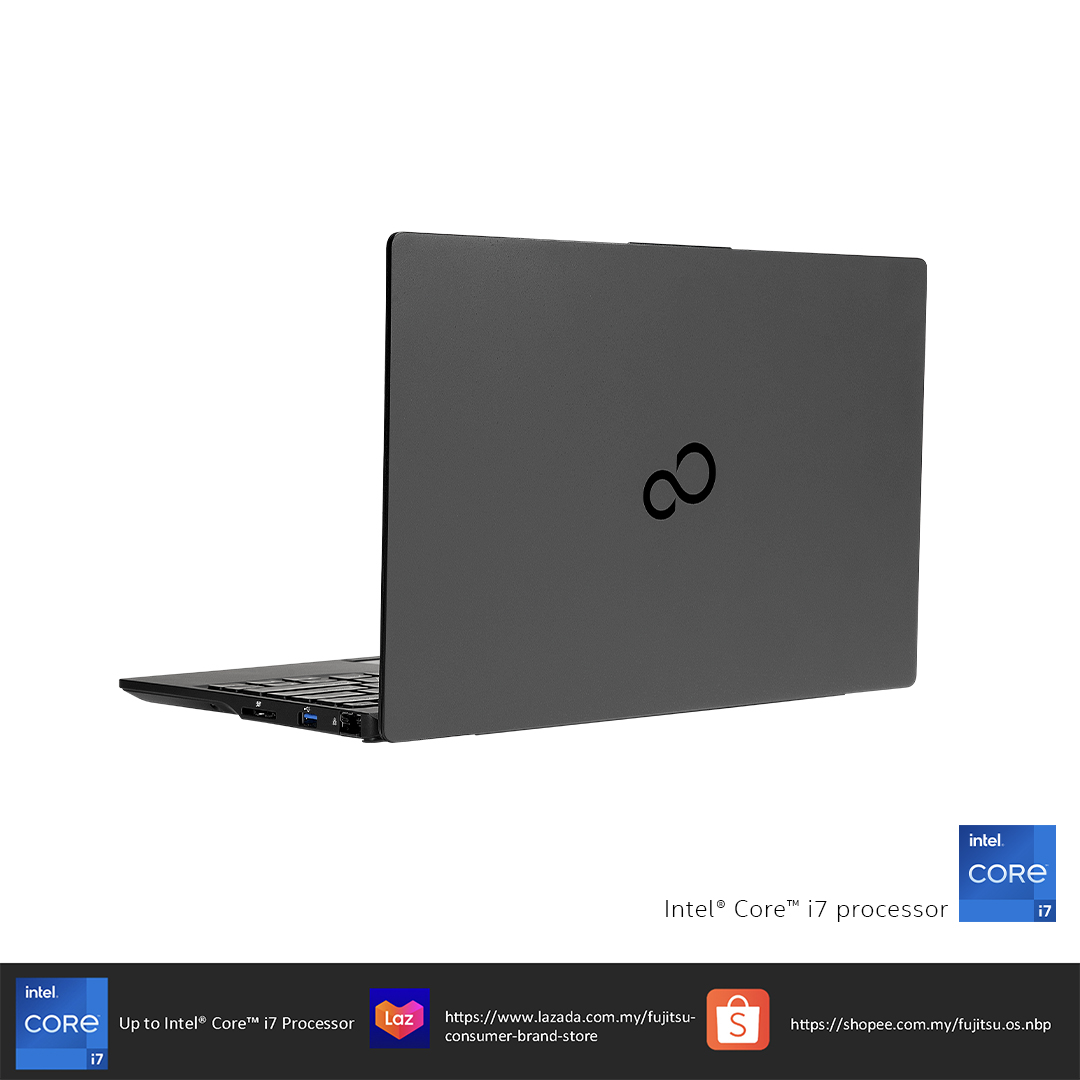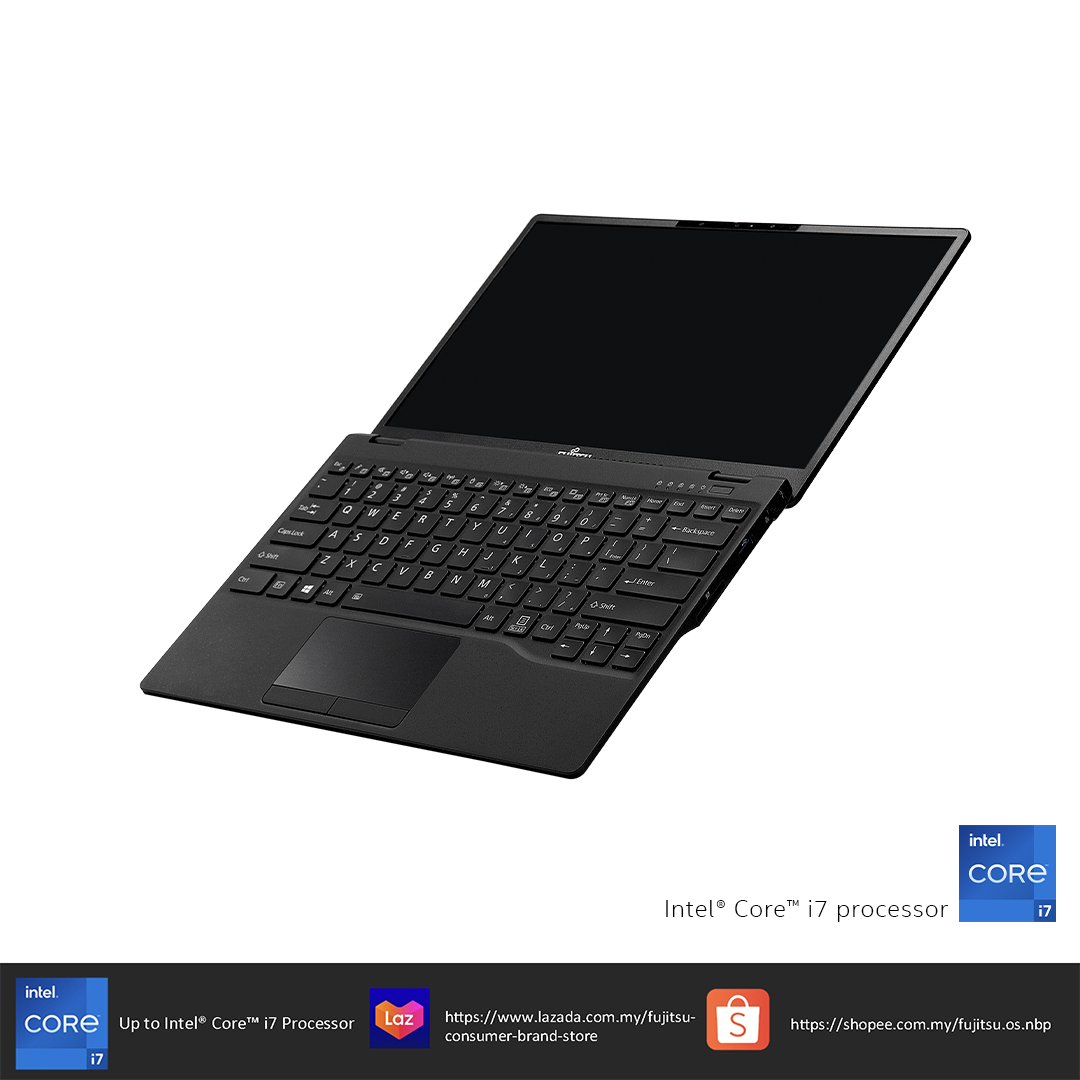 The pace of life just keeps getting faster. As we become more hyper-connected, with increasingly fluid boundaries between work and play, we're constantly switching between roles. Powered by an 11th Generation Intel® Core™ i7 processor, the Fujitsu UH-X delivers advanced performance at incredible speed, allowing users to confidently run work tasks wherever they are.
With a weight of just 749g*1 and a thickness of only 15.5mm, this sleek and stylish next-generation device is "lighter than light"—and one of the lightest models Fujitsu offers. That said, this powerhouse that's made in Japan is far from flimsy. The Fujitsu UH-X has passed the pressure test at 200kgf and the drop test at up to 76cm, making it ideal for business trips, hotel conferences and flexible workplace arrangements.
To keep your sensitive documents and confidential work files safe, this laptop also offers unmatched security features. You have the option of activating a fingerprint sensor integrated into the power button that works with Windows Hello Support, in addition to an automatic webcam shutter that safeguards your privacy.
When it's time to kick back and relax, enjoy an immersive viewing or gaming experience with true-to-life visuals and 84.1 per cent active-area-ratio on the FHD 400 nits Display by IGZO. The device's superior sound, courtesy of stereo speakers powered by Dirac Audio, is also great for video calls.
Smartly packed with plenty of ports—including HDMI in and out connectors for enhanced connectivity and more varied options for display—with a camera and a large-capacity battery, the Fujitsu UH-X offers exceptional performance be it for entertainment or work.
For the mobile modern professional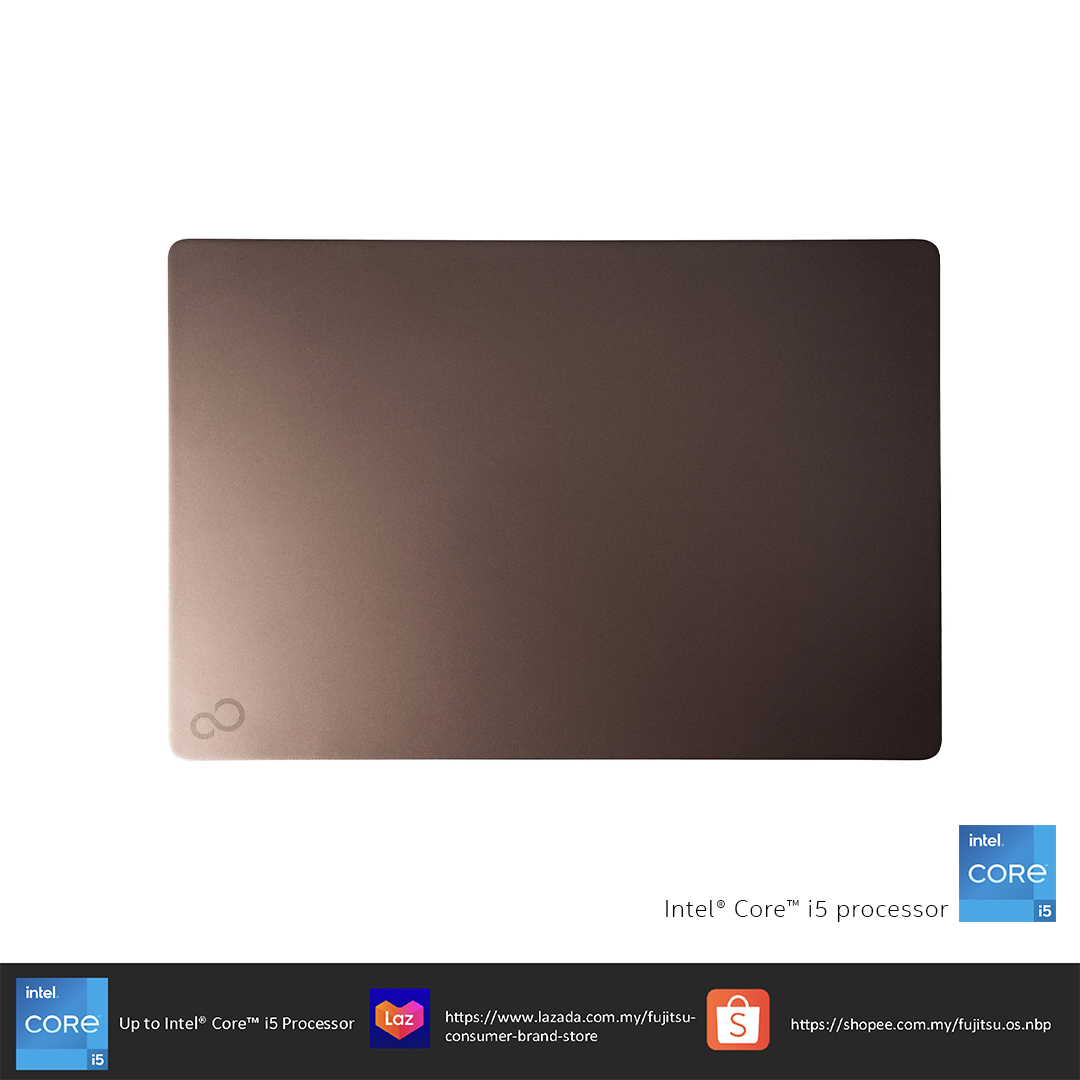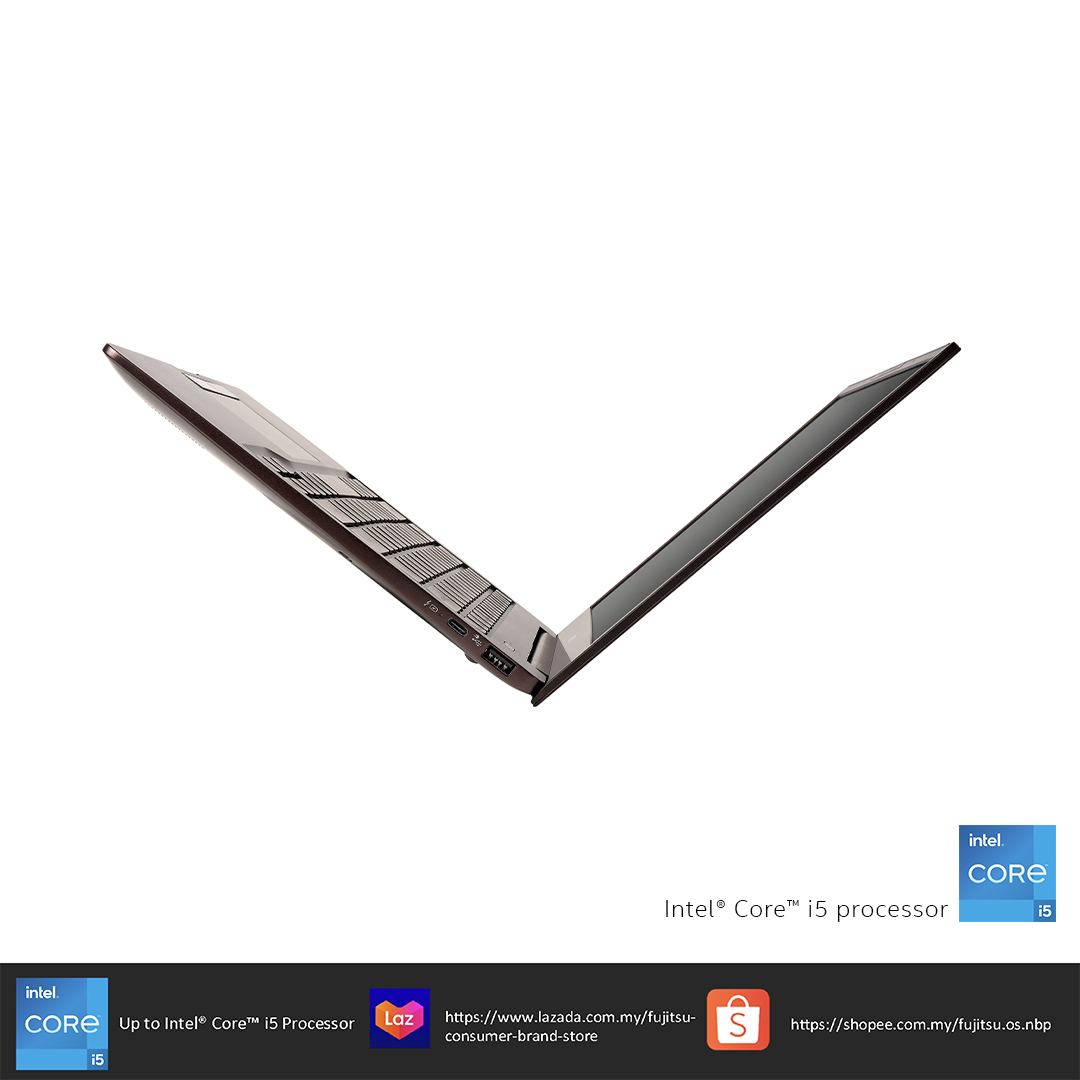 If you mostly use your device for work, we also recommend the Fujitsu CH as it's built to support the modern-day working professional. Powered by the Intel® Evo™ platform and equipped with 11th Gen Intel® Core™ i5 processor, users can expect smooth, exceptional performance from the Fujitsu CH.
This stylish, next-generation device is optimised for mobility whether you're working from home, the office or your favourite cafe. Weighing in at only 988g*2 and with a thickness of only 15.8mm, it won't add pressure to your shoulders or back when you've got it in your work bag.
Designed with four microphones that can collect sound over a wide range, Dirac Audio apps that makes it easier to hear people's voices and a full high-definition IGZO display with 400 nits of brightness, the Fujitsu CH enables crisp video calls as well as enjoyable video streaming. To protect your privacy, the device also comes with intelligent safety features such as logging in using facial recognition through Windows Hello. It boasts enhanced connectivity too with combo HDMI in/out connectors, easing your workflow anytime and anywhere.
From now until 31 December 2021, purchase either the Fujitsu UH-X or Fujitsu CH to redeem a free two-way, water-resistant Muji business bag worth RM229. Both models can be purchased online through the official Fujitsu Consumer Brand Store on Lazada and Shopee. For more information, visit the official Facebook page.
*1 Weight may vary due to manufacturing process (Windows 10 weight is 749g; Windows 11 weight is 878g)
*2 Weight may vary due to manufacturing process
| | |
| --- | --- |
| SHARE THE STORY | |
| Explore More | |