Technology
The Sony WF-1000XM3 noise cancelling headphones are perfect for travels, especially during the festive period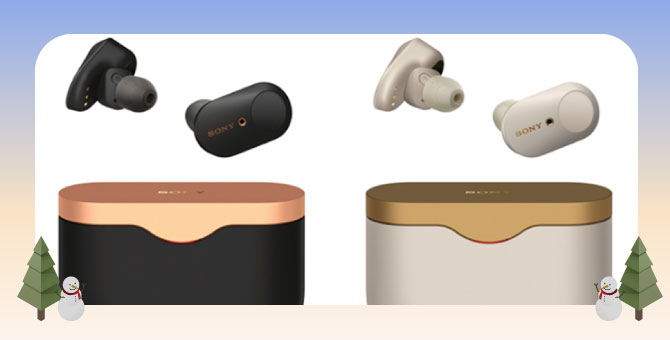 Everyone has their own ways when it comes to celebrating the festive period. Some spend time with loved ones at home, others go on staycations, and there are those who travel long journeys—flights, ships, and trains. During the commute, one might prefer to be in a state of peace and tranquility. Thanks to the advent of technology, we are now officially living in the zeitgeist of massive technological advancement. A major by-product of that is the Sony WF-1000XM3 Wireless Noise Cancelling headphones. These are the reasons why the addition to the 1000X family is perfect for your next trip, whenever and wherever.
Silence is indeed a bliss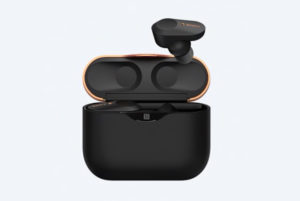 WF-1000XM3 headphones in black
Let all attention be on your music. How? The new HD Noise Cancelling Processor QN1e works with Dual Noise Sensor technology so that noise can be captured and cancelled respectively. In addition to that, you will be able to experience more of the ambient sound around you because of the one feed-forward microphone and one feed-back microphone on the headphones' surface. Therefore, whether you're in a packed train or a flight filled with crying babies, the WF-1000XM3 can dramatically remove any unwanted sounds.
11 out of 10 for sound quality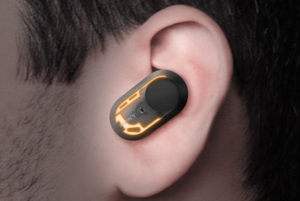 Sony WF-1000XM3 headphones antenna
There is no doubt that one would expect top notch listening experience in addition to the noise cancelling feature that the WF-1000XM3 provides. The good news is that the wireless headphones has stunning sound thanks to 24-bit audio signal processing and DAC with amplifier. Again—this is accomplished by the new HD Noise Cancelling Processor QN1e. Moreover, expect superb audio quality as a result of the upscaling of compressed digital music files with the assistance of Digital Sound Enhancement Engine HX. Imagine listening to The Sound by Carly Rae Jepsen, while you're travelling, with these headphones and actually being immersed in brilliant sound performance.
Where are the strings?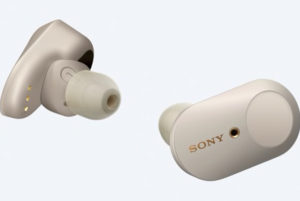 WF-1000XM3 headphones in white
No, they are none. The Sony WF-1000XM3 noise cancelling headphones are wireless. Truly wireless. Despite the size of the WF-1000XM3 buds, there is a Bluetooth chip developed for and inserted into the headphones. What does that mean? What does that do? Well—unlike conventional left-to-right relay transmission, both earbuds receive audio content at the same time. What you get is an extremely stable wireless connection especially with a new optimised antenna structure. Have you ever watched a film on the television with sound that doesn't sync time-wise with what you see? These headphones are low in latency, Therefore, everything on screen precisely corresponds with what you hear.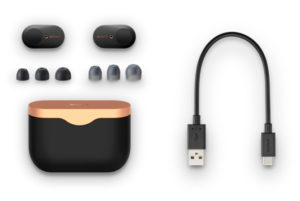 WF-1000XM3 headphones black set
It is really important that products we utilise are comfortable and user-friendly. The ergonomic tri-hold structure of the WF-1000XM3 ensures that the buds are firmly in place. In order for fitting to be stable, Sony has included a high-friction rubber surface. In the box, you will find four sizes of hybrid earbuds and three sizes of triple comfort earbuds. This means that you don't have to worry about loose cannons. You don't want to get to your travel destination just to realise your headphones are missing!
Why so easy?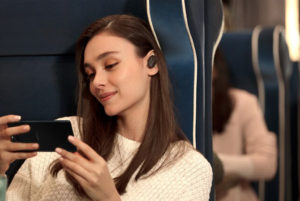 Woman in train with WF-1000XM3 in black
Using the WF-1000XM3 is really that simple. Battery life and listening time are boosted by the HD Noise Cancelling Processor QN1e. If you're wondering why, that's because it has low power consumption. Oh, the sleek case doubles as a charger and with that, you get up to 24 hours of usage—even with Noise Cancelling mode on. Moreover, the WF-1000XM3 earbuds can be used up to 90 minutes with just 10 minutes of charging. Give it up for the quick charge function!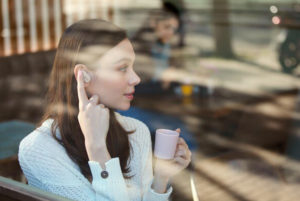 WF-1000XM3 headphones with woman in white
Convenience is at the forefront of Sony's WF-1000XM3 headphones. Without removing your earbuds, you can use Quick Attention mode to communicate. Tap the left earbud twice to switch between noise cancelling and ambient sound modes. You can also increase or decrease the volume by holding a finger on the left earbud. In addition to that, tapping on the right earbud also allows you to play, pause, skip songs, or activate your voice assistant. If that isn't the definition of convenience, what is? These features are best checked and customised using the Sony Headphones Connect app.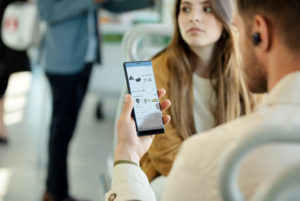 Sony WF-1000XM3 headphone connect app
The festive period is meant to be joyful and free. Travelling with the Sony WF-1000XM3 means choosing quality. After all, the truly wireless noise cancelling headphones are the personification of ease, comfort, and goodness. Listen to Michael Buble, Mariah Carey, Kelly Clarkson, and more festive song with these headphones. Familiar with the features of the WF-1000XM3 yet?
The Sony WF-1000XM3 is priced at RM949 in black or platinum silver buds. For more information, visit this website.
For more Christmas/Festive content, visit our Buro Christmas Village.
| | |
| --- | --- |
| SHARE THE STORY | |
| Explore More | |