Samsung has unveiled its latest flagship smartphones but what's the difference between the Galaxy Note 20 and Galaxy Note 20 Ultra?
When it comes to Samsung's wide variety of smartphones, there's definitely one for everyone. The Galaxy Note series, especially, has garnered a loyal fanbase over the years. A fanbase that prioritises productivity, efficiency and possibly, many a dash of creativity, in a preferred device. The key tool that sets it apart from the others is, of course, the S Pen. And with the Galaxy Note 20 series, the whole package is a clear winner and it's one designed for both work and play. Below, we highlight everything you need to know about both the Samsung Galaxy Note 20 and Note 20 Ultra. In addition, we'll be throwing in some of our first impressions as we had the honour moof viewing it up-close beforehand!
THE S PEN
The S Pen gets a huge upgrade that now, more than ever, it truly feels like pen on paper thanks to a massive dip in latency (9ms) and a high refresh rate. True enough, the S Pen instinctively  follows every scribble or squiggle, and accordingly to any level of pressure sensitivity.
With a powerful pen comes an upgraded suite of features for Samsung Notes. Namely due to Samsung's partnership with Microsoft, it's now pretty much 360-degrees as it'll auto sync from your phone to your tablet (if applicable) to your PC. Audio Notes within the app is also pretty cool as any specific part of your note-taking can be linked to the designated time the audio note was recorded. In addition, it now supports PDF so you can easily import it to your phone, sign any document and send it back out.
If you're a fan of the air gestures you could do with the S Pen, there's even more now such as swishing it to go Back, Home or even to take a screenshot. You're a wizard, [insert your name].
DIMENSIONS AND DISPLAY
Samsung Galaxy Note 20 - 6.7" flat FHD + Super AMOLED Plus | 161.6 x 75.2 x 8.3mm, 192g
Samsung Galaxy Note 20 Ultra - 6.9" edge Quad HD + Dynamic AMOLED 2X | 164.8 x 77.2 x 8.1mm, 208g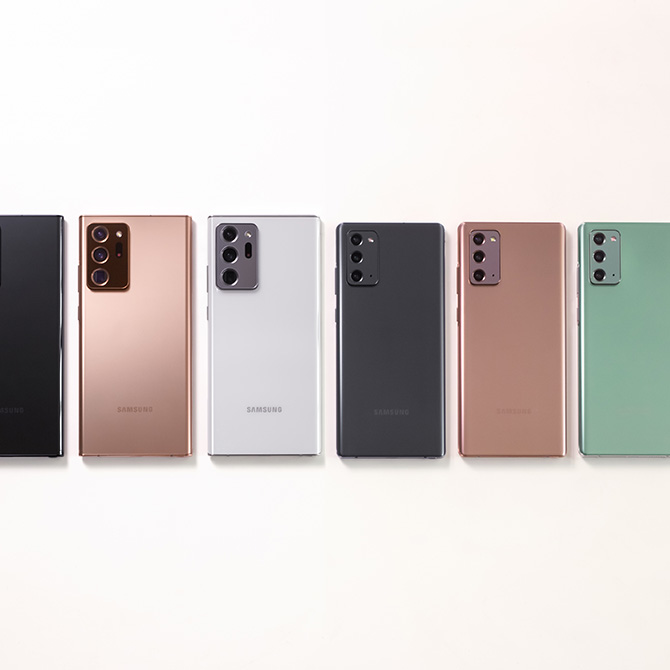 Depending on your preference, both phones are pretty large for an average palm size but that's the beauty of the Galaxy Note series, especially since it's now built with power that could rival a PC's. While both sports the almost bezel-less Infinity-O display, one thing's for sure: the Note 20 Ultra's Dynamic AMOLED 2X display is gorgeously immersive, showcasing vivid colours and crisp details.
REAR CAMERA
Samsung Galaxy Note 20 -12MP Ultra Wide, 12MP Wide-angle, 64MP Telephoto
Samsung Galaxy Note 20 Ultra - 12MP Ultra Wide, 108MP Wide-angle, 12MP Telephoto
REAR CAMERA (SPACE ZOOM)
Samsung Galaxy Note 20 -3x Hybrid Optic Zoom, up to 30x Super Resolution Zoom
Samsung Galaxy Note 20 Ultra - 5x Optical Zoom, up to 50x Super Resolution Zoom
In addition, the Note 20 Ultra features a Laser AF sensor for more accurate and faster auto focus capabilities.
SHOOTING VIDEOS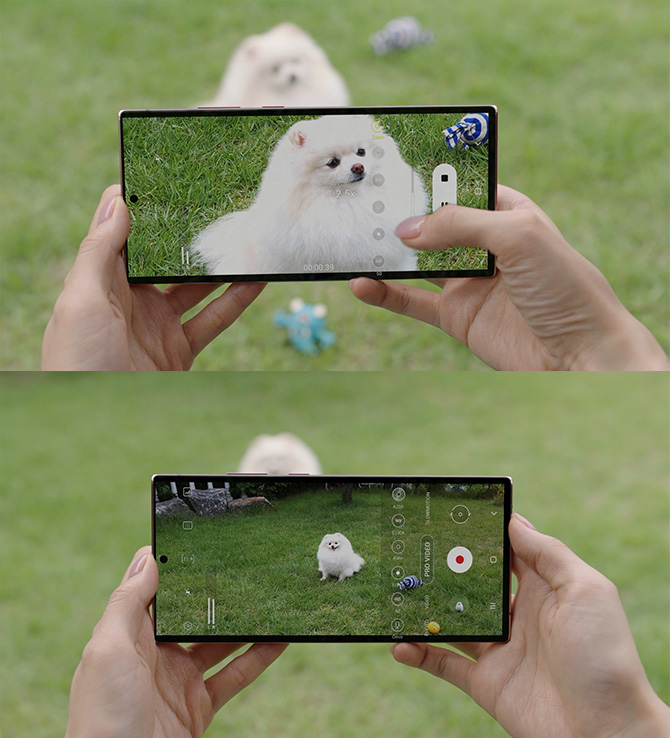 Say hello to 8K videos at 24 fps and the option to record in a cinematic 21:9 ratio! But what's more exciting for both home and professional video makers is the Pro Video Mode. One of the things you will be able to do is control the zoom speed with a touch of a button so you can decide between going in for that dramatic reveal or emotional close-ups. What really amazed us, however, was the option to select audio source or determine the directional audio input (from the front or rear of the phone, or sync it with a Bluetooth or USB mic).
GAMING
The global announcement of the XBox Game Pass Ultimate no doubt excited most gamers. The pass that allows you to play over 100 games instantly with your phone and/or cast to your TV? Of course! But hold you horses cause we hear it won't be available in Malaysia anytime soon.
On the bright side, the phones do have an AI-based Game Booster to up the performance without lag and the world's slimmest vapour chamber to cool the heat from even the heaviest gameplay.
BATTERY LIFE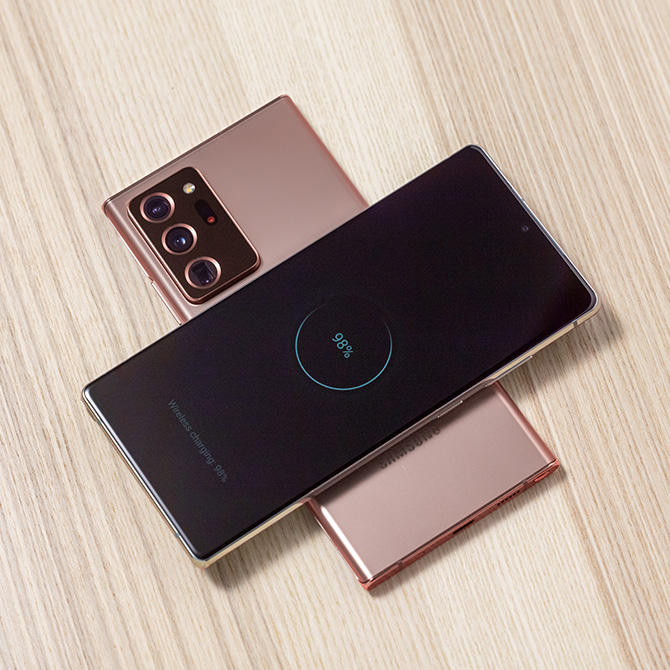 Both smartphones support fast (wireless) charging and the main difference is that the Note 20 features a 4,300 mAh battery and the Note 20 Ultra, a 4,500 mAh battery. Even better: get more than 50 per cent of battery life with just a 20-minute charge! And like earlier models, Wireless Power Share will let you share battery with other devices.
SAMSUNG DEX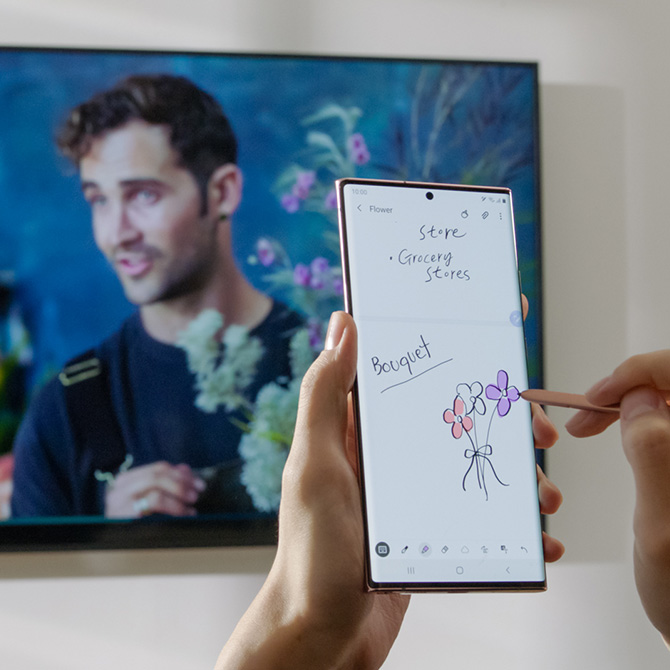 As productivity is one of the main visions behind the Galaxy Note series, Samsung has made multitasking even better. You'll now be able to connect the Galaxy Note 20 series to a Smart TV and you manage both screens separately, at the same time.
PRICE AND AVAILABILITY IN MALAYSIA
We'll update with the release date as soon as get the info. In the meantime, we've been told these will be the units Samsung Malaysia will be bringing in:
Samsung Galaxy Note 20
Mystic Bronze | Mystic Green | Mystic Grey
LTE, 8GB RAM with 256GB internal storage — RM3,899
5G, 8GB RAM with 256GB internal storage — RM4,299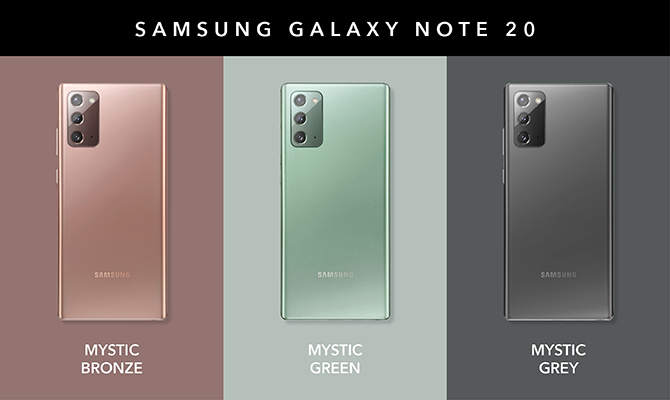 Samsung Galaxy Note 20 Ultra
Mystic Bronze | Mystic Black | Mystic White
5G, 12GB RAM with 256GB internal storage — RM5,199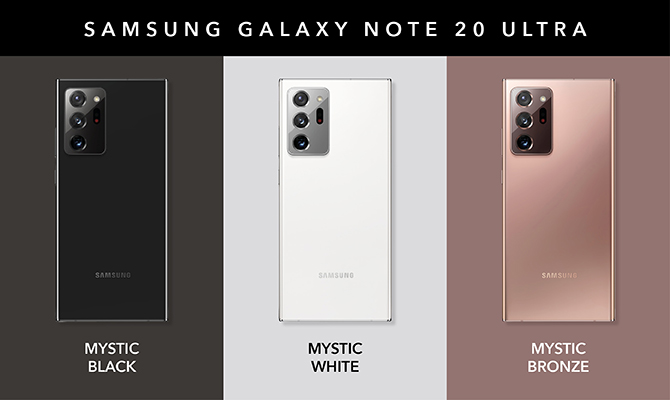 Pre-orders start at 10am, 6 August till 20 August (while stocks last).
For more information, visit Samsung Malaysia's website.