Over the last few days, you might have seen leaks and news that Apple Pay is coming to Malaysia. For the unfamiliar, Apple Pay is a cashless, contactless payment method that is linked to your credit or debit card. Thanks to the Apple ecosystem, you can use Apple Pay with your iPhone, Apple Watch, iPad and Mac once you've registered a card (or more). Well, it officially launched today—Malaysia is only the second country in Southeast Asia to have Apple Pay, with the first being Singapore—and if you have questions, we have answers.
How do I set it up on my iPhone?
1. Open the Wallet app on your iPhone
2. Tap on the + icon on the top right corner
3. Select Debit or Credit Card
4. Scan your debit/credit card with the in-app camera
5. Most of the card details will be added automatically, thanks to the scan, so you only need to manually fill in the security code
6. Agree to the terms and conditions
7. Verify the card by getting a code via text message
8. Done!
*Optional: If you have an Apple Watch…
Once the above is done, you'll be prompted to add it to Apple Watch as well. You'll need to get another verification code via text message.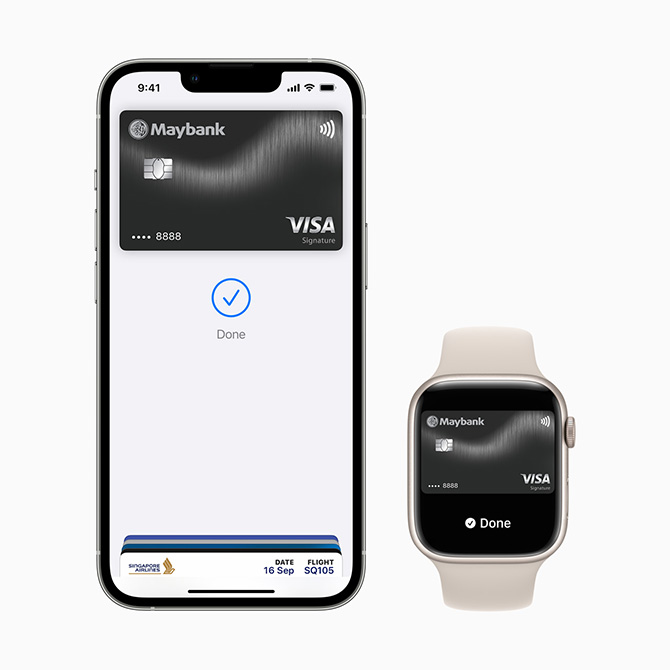 What banks or cards are eligible for Apple Pay?
At the moment, Apple Pay is only available for Visa and Mastercard cards from AmBank, Maybank, and Standard Chartered Bank. It'll be opened to American Express cards later this year.
How many cards can I put on Apple Pay?
You can put more than one, but the first card you register will be the default one. You can easily change this by going on the Wallet app and drag-and-drop to change the order.
Does Apple Pay have a purchase limit?
Unlike Pay Wave, there is no RM250 limit, so you can make any purchase, large or small, with Apple Pay alone.
Can I use Apple Pay for online purchases?
Yes, it's available on apps and websites such as Shopee, Sephora, Atome, and Adidas. If you're purchasing the items on the iPad or Mac, you need to authenticate with Touch ID or Face ID. No need for rummaging to find your credit card, fill in a PIN or TAC code, or shipping information. The shipping address will be pulled from your contact card.
Which stores allow me to use Apple Pay?
At launch, the press release states that Apple Pay is available at merchants such as KFC, Maxis, Machines, McDonald's, Mydin, Pizza Hut, Starbucks, U Mobile, Uniqlo, Village Grocer, and Watsons. It should be rolling out to more stores—just look out for the Apple Pay logo at the counters.
View this post on Instagram
So, how do I use Apple Pay with my iPhone?
Once you'll all set up, it's super easy to "activate" it. When you're ready to pay, double-click the Power button to open the Wallet app with your card. During this process, your iPhone will authenticate with Face ID or Touch ID. Then, hold the top part of your iPhone near the contactless terminal reader.
How do I use Apple Pay with my Apple Watch?
Similarly, double-click the Side Button to activate the Wallet when you're ready to pay, then hold it near the reader. The best part is that you don't need a data plan or connectivity on your Apple Watch to use Apple Pay, as it's operated via NFC. So you can genuinely leave your physical wallet at home or the office and pay with your Apple Watch.
Is it safe to use Apple Pay?
According to Apple, the feature uses industry-leading protection of users' personal information, transaction data, and credit and debit card information. The credit and debit card numbers are not stored on the device and Apple servers.
"A unique Device Account Number is assigned, encrypted, and securely stored in the Secure Element on the user's device, and each transaction is authorised with a one-time unique dynamic security code. Apple does not retain transaction information that can be tied back to the customer. Transactions stay between the customer, the merchant or developer, and the bank or card issuer," as stated on the Apple website.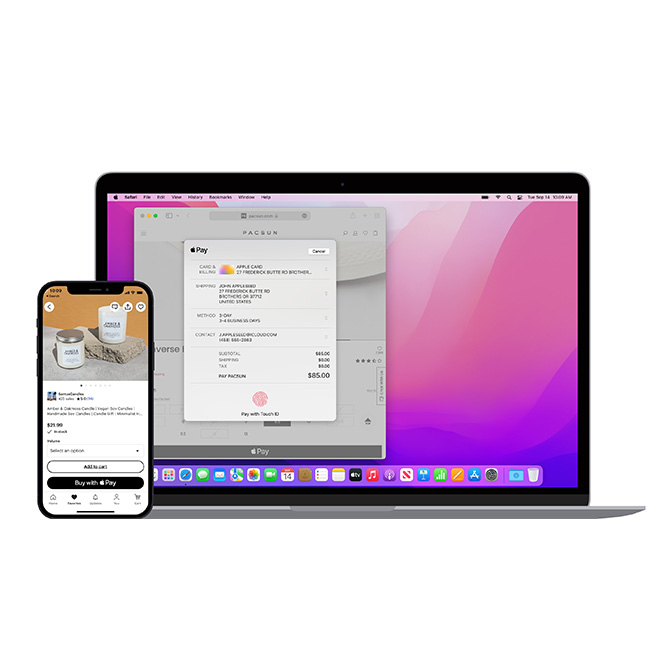 What happens if I misplace/lose my Apple device with Apple Pay?
Use "Find My iPhone" to locate the device, or if reported stolen, it will automatically wipe out the details of your credit and debit cards.
How do I keep track of my Apple Pay transactions?
Apart from the physical receipts or receipt emails after making your purchase, the Wallet app will have a record of your transactions.
There you have it! Are you excited to use Apple Pay in Malaysia? For more info on Apple Pay in general, head over to Apple's website.
| | |
| --- | --- |
| SHARE THE STORY | |
| Explore More | |