The WFH life and the 'new normal' (which, by now, isn't new) have brought *significant* changes to our daily lives. With all the time we're spending indoors, it's more important than ever to keep the home clean, safe, and protected. While purifiers and vacuums certainly help do the job, a new category of home appliances has arrived to change the way you look at clothing hygiene: smart wardrobes.
Enter the LG Styler™, a one-of-a-kind smart wardrobe that claims to reduce 99.9 per cent of bacteria, viruses, and allergens, while keeping clothes fresh and dry. It's not designed to replace your washing machine, but it could very well reduce your allergic reactions, save you a trip to the dry cleaners, and/or give germaphobes peace of mind.
What (exactly) does it do? For such a niche product, it comes with a surprisingly wide variety of features that I wasn't able to completely test out in my one week with it; but here are the highlights from my experience:
It boasts a modern, high-tech design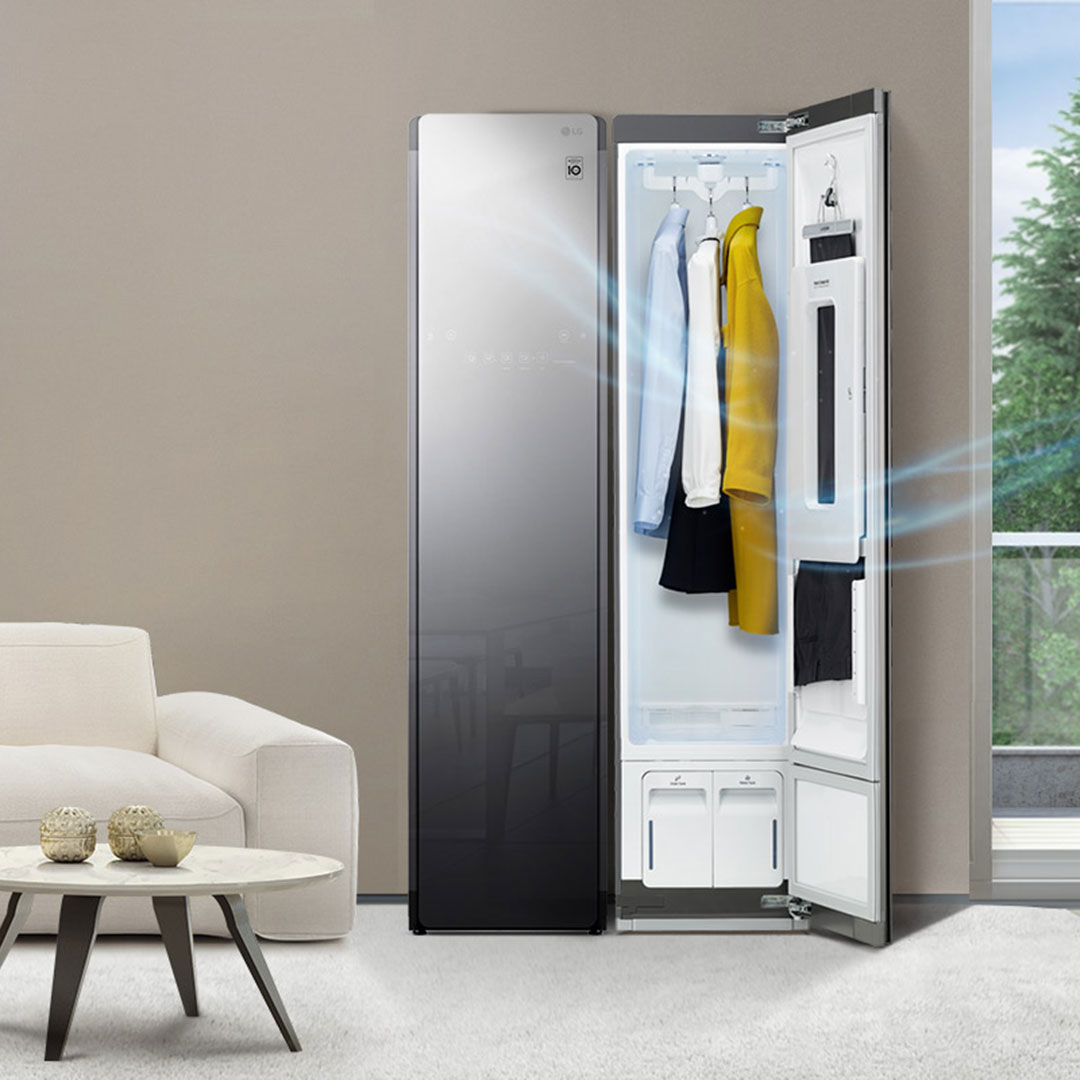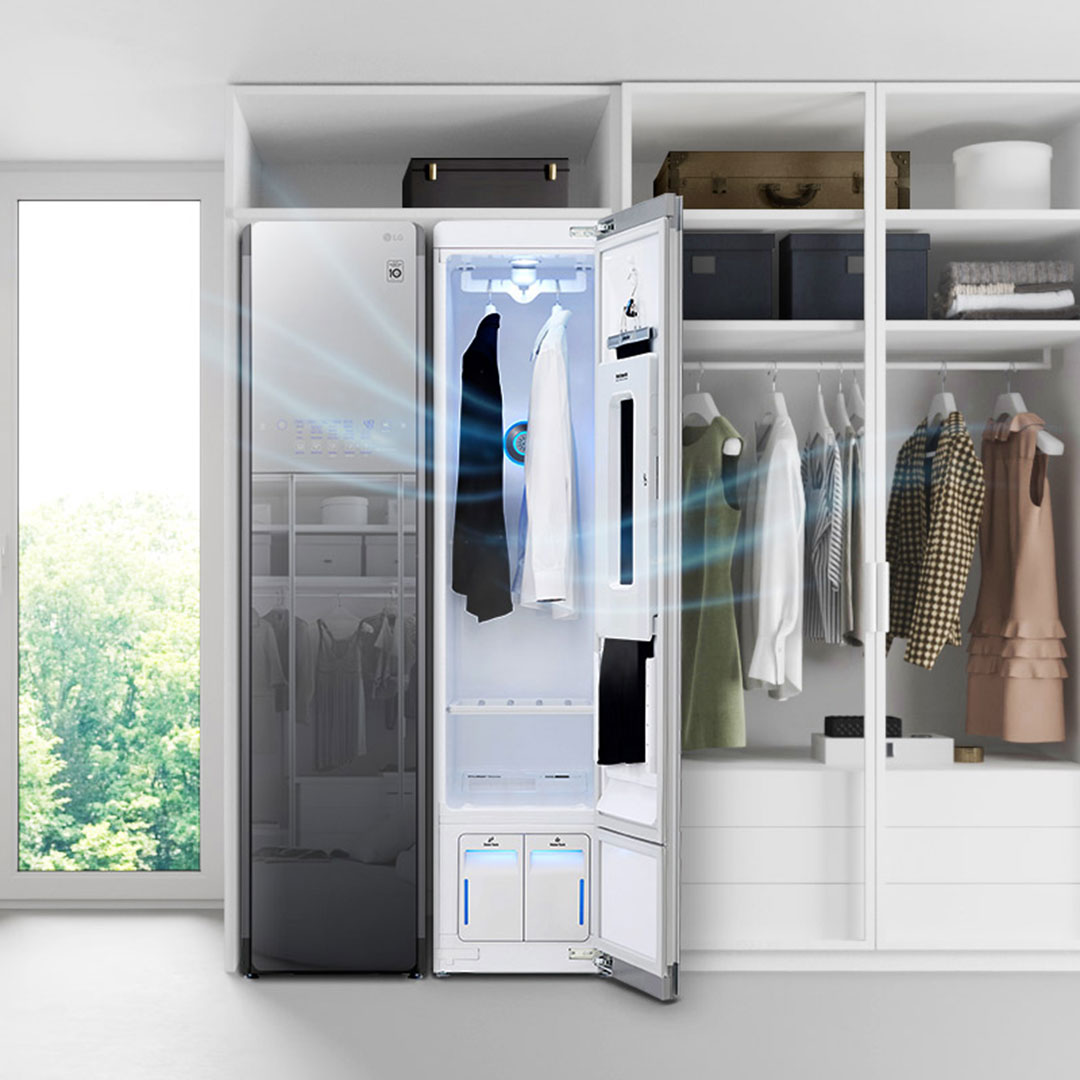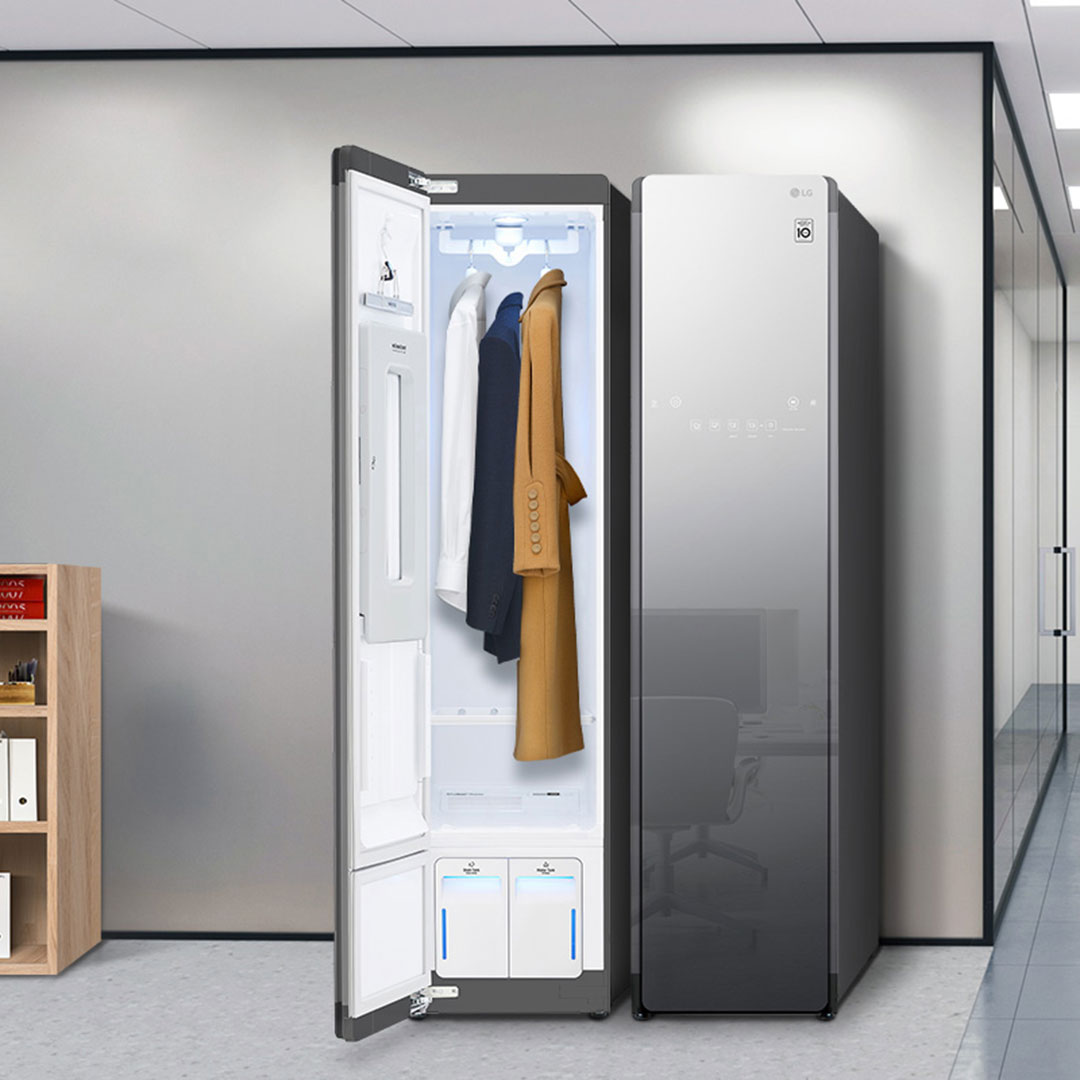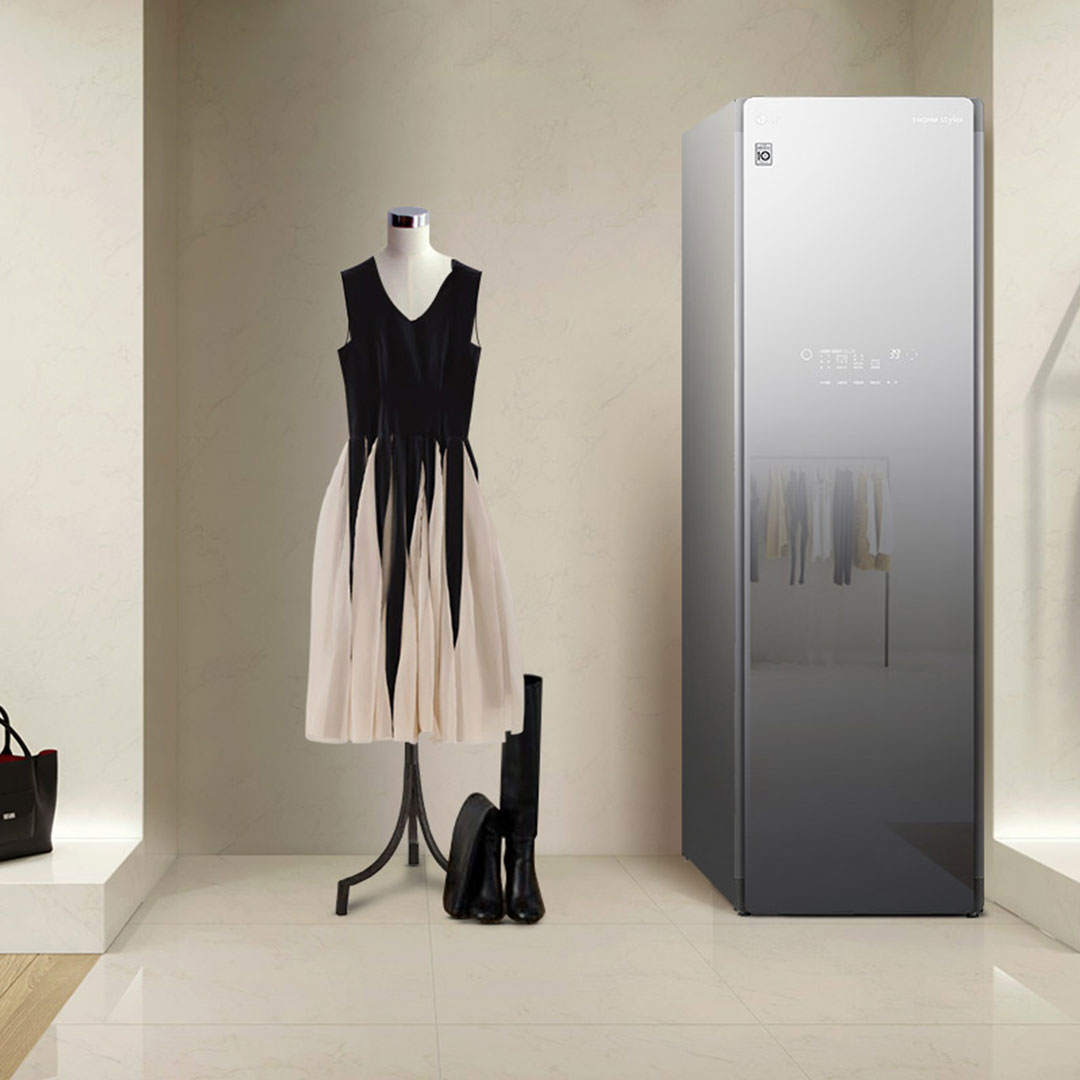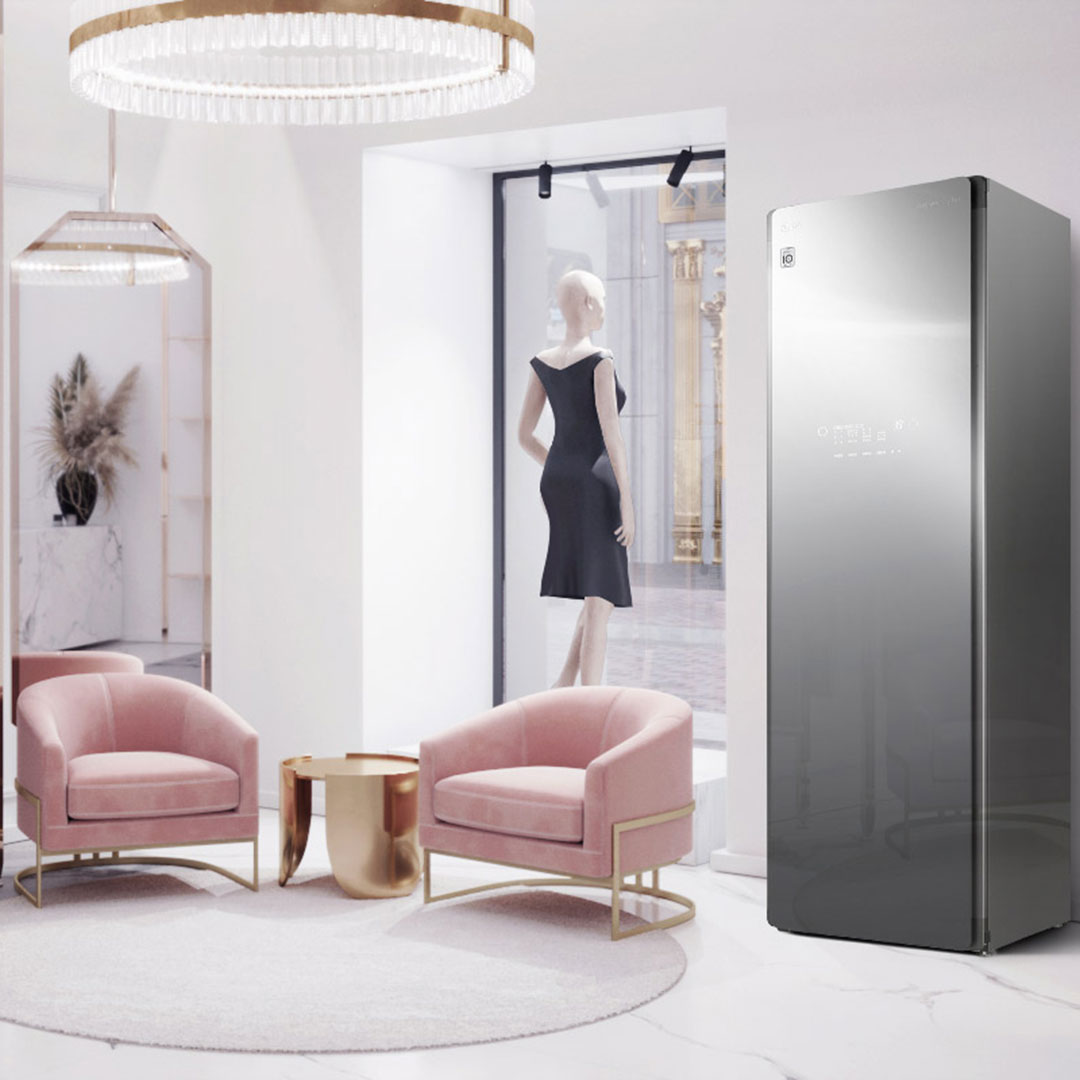 First things first—first impressions. There are currently two versions in the market: the LG Styler™ in White and the LG Styler™ Essence Mirrored Finish. I got my hands on the latter, which comes with a full-frame mirrored door that's great for trying on my clothes fresh off a cycle in the wardrobe.
Three words I'd use to describe it: tall, slim, and glossy. It definitely looks as premium as its price tag and will fit right in with smart home interiors or modern office settings. If you have a walk-in closet, this would be perfect. Just bear in mind that it needs to be connected to a socket, and leave room for air to circulate as it does generate heat.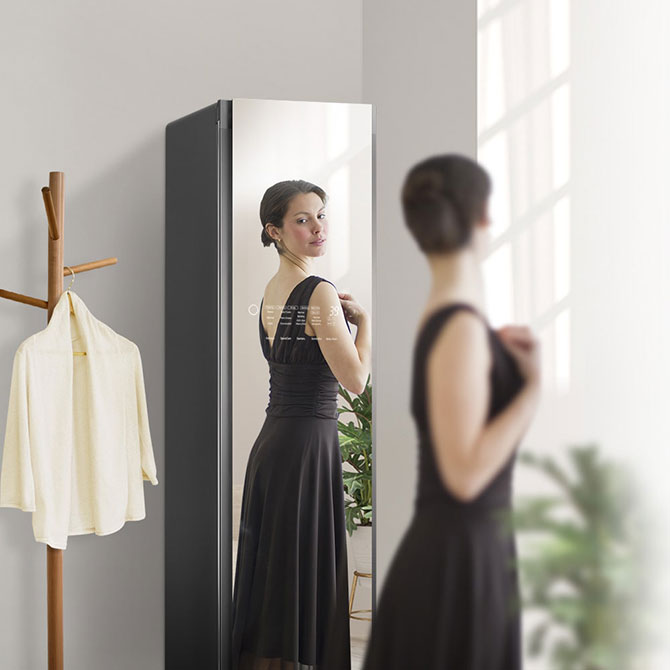 The main buttons are integrated into the mirror and light up instantly when the appliance is switched on. It may seem daunting for those less acquainted with smart appliances at first, but as with all new tech, you'll get the hang of it soon enough. In any case, the comprehensive user manual should prove helpful, as it did for me.
The product comes with two clothes hangers and one pants hanger, designed specifically for use with the main LG-patented Moving Hanger that helps to remove dust and improve steam penetration without making much noise. There's also a removable rack to lay out items; a fold-out Pants Press that reduces wrinkles and highlights creases; an aroma kit to add fragrance sheets; as well as a water and drain tank for LG's TrueSteam™ Technology to work its magic.
It sanitises more than just clothes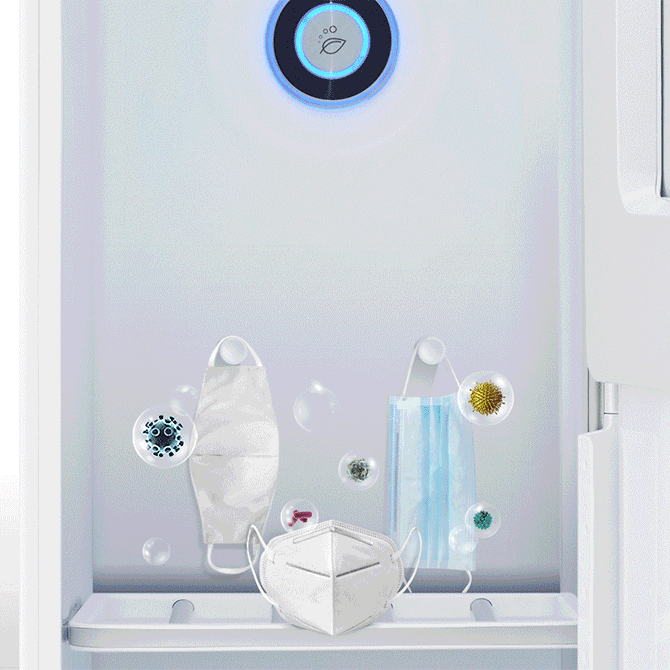 Speaking of magic, the aforementioned TrueSteam™ is capable of reducing 99.9 per cent of bacteria, viruses, and allergens purely through water, sans chemical additives—as certified by the British Allergy Foundation and VED. It can be used to Sanitise not just your clothing, but also your face mask, hats, bags, accessories, bedding, and soft toys.
I used this feature mainly for my collection of fabric face masks and tote bags that I regularly use, but usually only for a short period each time (i.e. quick grocery runs or picking up deliveries). Anything that helps keep them hygienic in between washes gets a nod from me! I also took the liberty to sanitise my pillows and soft toys (yes, I'm in my twenties but this is a judge-free zone) which are long overdue for a wash. By overdue, I mean they've never met the insides of a washing machine. If you're like me, the LG Styler™ really helps make cleaning items that you've overlooked sending for laundry feel effortless.
It refreshes garments while you get ready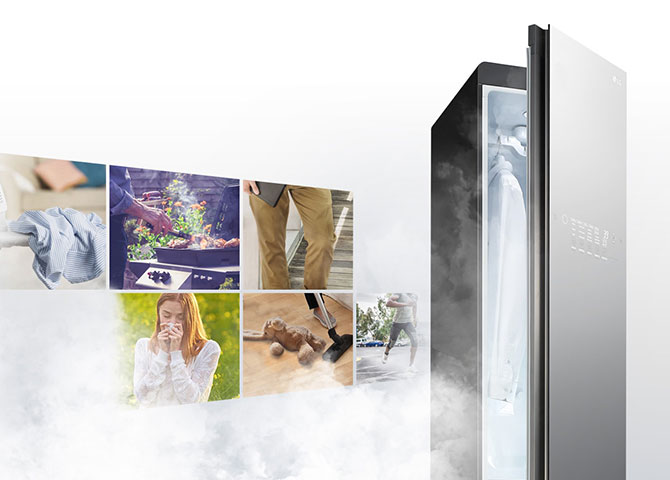 Besides the Sanitise function, the Refresh function is my next favourite. It's designed to get rid of unpleasant odours and harmful pollutants in as quick as 20 minutes. I can see its appeal when I'm rushing for an event—I can just pop my garment into the wardrobe while I get into the shower and do my makeup. It'll be crisp and ready by the time I'm done.
While that's only hypothetical for now (since physical events are still a no-go), I did use it on my favourite cardigan and a jacket that I'd typically get a few wears with before a wash. You can use this function with jeans too, which prolongs the time between washes and their lifespan, on top of removing funky smells. I also added the Aroma Sheet by Saffron that came with my demo model for good measure.
It gently dries and takes Special Care of delicate clothing
The two other main buttons on the LG Styler™, Gentle Dry and Special Care are designed for clothing that require special attention. Think suits, sweaters, and delicate fabrics or clothing that are sensitive to heat. Thanks to the in-built low-temperature drying system, it helps to dry clothes faster than air drying without causing shrinkage or heat damage.
My two blazers came out fresh and warm, almost like I just had them dry cleaned. I even made use of the Pants Press to crease my trousers in the same Cycle too. If you find yourself wearing suits, formalwear, or uniforms often, this function will come in handy for crisp, dry garments every morning.
Wait, there's more…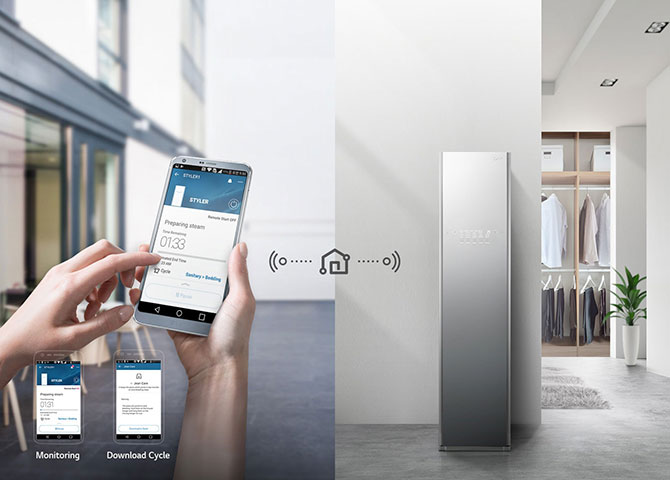 I managed to clock in a few cycles within a week without much effort on my part, but there are more downloadable cycles via the LG ThinQ app. Among them are Baby Clothing Sterilisation, Fur/Leather Care, Jean Care, Static Removal, and at least a dozen more. Plus, there's a Dehumidify function that can be used to refresh the room by leaving the LG Styler™ door open.
You can operate the appliance and monitor energy consumption using the app and get notifications once a cycle is complete, making this smart wardrobe a cool, covetable, and multifunctional appliance to add to your home.
The LG Styler™ is priced at RM8,499 and is available for purchase via LG authorised dealers nationwide.
For more information, visit the LG website here or follow them on Facebook here.
---
Giveaway Alert! 3 lucky winners will bring home either the LG Styler™ or LG PuriCare™ Air Purifier!
We're giving away:
1 x LG Styler™ worth RM8,499 (Demo unit)
2 x LG PuriCare™ Air Purifier worth RM3,300
All you have to do is:
1. Follow BURO Malaysia on Facebook & Instagram
2. Submit your details in the form below
3. Share the post on Instagram Story for a bonus entry (make sure your account is public)
That's it, you're done. Good luck!
The giveaway is now closed. Congratulations to the following winners, kindly check your email!
1 x LG Styler™ worth RM8,499 (Demo unit)
– Lim Huei Yuih
1 x LG PuriCare™ Air Purifier worth RM3,300
– Ivan Wong
– Amirul Mohd Din
The Giveaway runs from Tuesday, 24 August 2021 till Sunday, 5 September 2021. Winners will be announced on Wednesday, 8 September 2021, and will be contacted via email. Other terms and conditions apply*.
1. Employees of BURO Malaysia and its related corporations ("Indochine Media Ventures") or BURO Malaysia partners and/or sponsors for the giveaway (if applicable), and their immediate family members (including spouses, children, parents, brothers and sisters) are not eligible to participate in the giveaway.
2. The winners of this giveaway are chosen at random.
3. This giveaway is organised by BURO Malaysia (hereinafter referred to as the 'Organiser').
4. The prizes for this giveaway are neither exchangeable for cash nor transferable.
5. All persons ('Participants') taking part in this giveaway agree that these rules shall be binding on them, and that the entries in this giveaway, including their name and likeness, may be used without restriction in any future publicity material by the Organiser.
6. The Organiser reserves the right to amend these rules or terminate the giveaway at any time at its sole and absolute discretion. All decisions made by the Organiser under these rules shall be final and no discussion or correspondence will be entertained. The Organiser may, but is not required to, justify any decisions relating to this giveaway.
7. The Participant acknowledges that the interest and good reputation of the Organiser are of paramount importance. The Organiser reserves the right to disqualify a Participant from the giveaway, or to withdraw the prize if it is believed the Participant is in breach of its obligations under the rules. The Participants shall not by act or omission, directly or indirectly bring the Organiser into disrepute.
8. All entries are sent at the risk of the Participants and in the event that there are technical difficulties experienced arising out of the internet or from any associated equipment or internet security is compromised, the Organiser may at its sole and absolute discretion disqualify the entire entry and shall not accept any liability doing so.
9. Giveaway entries may only be submitted via the stated medium of communication.
10. This giveaway is open to anyone above 18 years old and within Klang Valley only.
11. Each entry must be completed in full. The Organiser reserves the right to disqualify any incomplete entries in its sole and absolute discretion.
12. Incomplete entries will be deemed void.
13. Winners will be notified via email.
14. Uses of 'aliases' shall be considered a form of deception and are prohibited.
15. The winner must produce their original IC / passport with legible IC / passport number in order to claim the prize. The winner may also be required to produce additional original proof of identity at the discretion of the Organiser.
16. All Prizes are accepted entirely at the risk of the winner, and the Organiser excludes all warranties in connection with the prize to the extent permitted by law.
17. All Participants release from, and indemnify the Organiser, its agencies, sponsors and representatives against, all liability, cost, loss or expense arising out of acceptance of any prize or participation in the giveaway including (but not limited to) personal injury and damage to property and whether direct or consequential, foreseeable, due to some negligent act or omission or otherwise.
18. All personal particulars furnished are meant for identification purposes and will not be sold or given to any third parties. In the case of giveaways, our partners may wish to offer you services which require your personal particulars. These specific requests will be expressly stated within relevant giveaways, with a choice to opt out.
19. Inability to contact the Lucky Winners by Friday, 10 September 2021 will result in disqualification and selection of an alternate winner.
20. Prizes are final; no cash equivalent or alternative prize will be given. Prizes are non-transferable, non-exchangeable and strictly not for resale. If the winner is found to be selling the prize(s), the Organiser reserves the right to demand the return of the prize.
| | |
| --- | --- |
| SHARE THE STORY | |
| Explore More | |