I managed to get my hands on the new Samsung Galaxy S10+ pretty early and less than a week in, here are my first impressions of it
When Samsung announced not two, but four new smartphones for the latest Galaxy S10 lineup, I was both excited and a little confused. If you're still wondering which Galaxy S10 phone is for you, we've done up a quick guide here. But if you're more intrigued with the Galaxy S10+ (since the 5G variant won't be available just yet) like I was (especially since it has been released officially just a few days ago) read on to see my initial thoughts about it. 
1. It fits nicely in one hand albeit it's more long-ish than it is wide-ish. Yes, you can type with one hand but you certainly won't be able to utilise the entire screen one-handed.
2. It's super slim and nice to hold, which makes me think it's easy to slip it into my handbag without it taking too much space or feeling bulky. 
3. My review unit came in Prism White and I have to say, I love the colour. It's reflective and almost holographic. The downside is that it does leave some fingerprints but thanks to the colour, it's not very obvious.
4. The new Dynamic AMOLED display is gorgeous, vibrant and the colours are sharp and almost fluid-like. The screen is also very, very bright.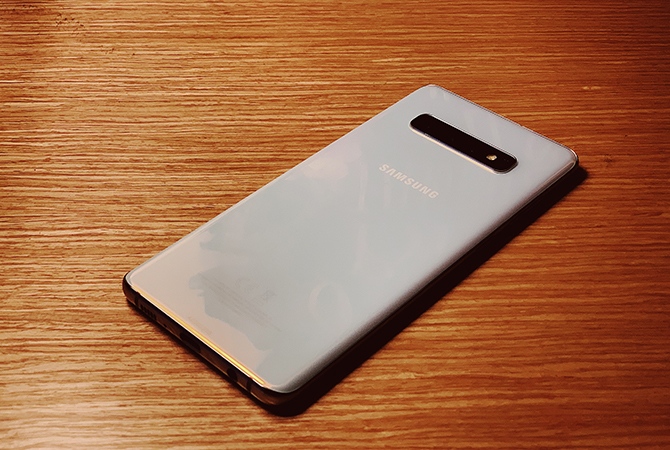 5. The Samsung Galaxy S10+ sports a new in-screen fingerprint scanner which is useful except you'd need to get used to its placement. Being new with the phone, I wasn't able to "guess" where the scanner was most of the time and the Face ID system usually beats it to it. 
6. The Face ID system wakes up the phone almost immediately upon lifting the screen. The fingerprint scanner, on the hand, is not as intuitive unless you successfully aimed your fingerprint onto the scanner. 
7. Generally, the Samsung Galaxy S10+ is a super fast machine: scrolling through pages of apps, the responsiveness of the keyboard, and heavy gameplay. 
8. That being said, the camera. There were a few times when it lagged a little in snapping a photo. I think this can be resolved in the next software update. 
9. There are three rear cameras: a 16MP Ultra Wide, Wide Angle and Telephoto (both 12MP). The new addition of an Ultra Wide lens is quite impressive, with that slight fisheye lens effect.
10. Generally, the rear cameras take a slight bit of work to operate, i.e the live brightness level during camera mode. There was one instance when my "photographer" didn't adjust it and the shot, especially my face, was slightly overexposed. 
11. Another gripe I have is that you don't really see the final photo pre-snap; although, post-snap, the photos do look pretty good and vibrant. 
12. One of the biggest plus points about the Samsung Galaxy S10+ is its battery life. On one particular day, I had even used it to hotspot my laptop for internet for almost eight hours, and still, I had enough battery life to make it home. 
13. Thank goodness there's still the headphone jack.

That's all I have to report for now about the Samsung Galaxy S10+ but I'll be sure to come back with an extensive review after a few more days with it. If you have any questions, feel free to drop us a message on Facebook or Instagram.
The Samsung Galaxy S10+ retails for RM3,699 for the 128GB model. For more info, visit Samsung Malaysia's website.