March was many things. Among them, it was a month that celebrated #PowerWomen as well as gender equality. It was a month where International Women's Day and Women's March Malaysia took place. And so, of course, we had to end this empowering month with a couple of PSAs to encourage the women going through these trying times that is the MCO and the pandemic–courtesy of the Women, Family and Community Development Ministry.
In today's news, the ministry released a few handy infographs with tips and advice, especially for the wives and mothers working from home. Shared on its social media accounts—such posts have since been taken down—the posters advise, essentially, the following: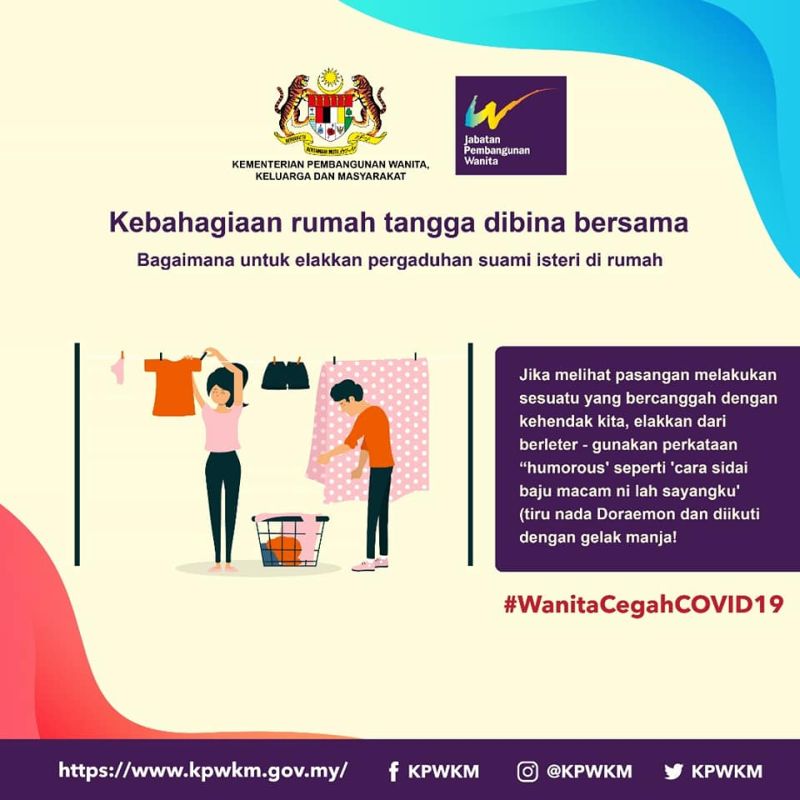 Avoid "nagging" and when asking your partner to help with the house chores, do so with a "Doraemon-like" tone and don't forget to "giggle coyly". Fun fact: Doraemon is a male robot cat. He also—in the original Japanese voice—has a "hoarse voice" due to weeping a ton after robot mice ate his ears, causing him a lot of sadness and trauma. Well, at least Doraemon can definitely empathise with abuse.
PLAY THE VIDEO TO HEAR HIS VOICE IN JAPANESE:
Since the MCO, the ministry's Talian Kasih hotline saw a 57 per cent increase in calls from women in distress, as reported by The Star. This isn't just a problem in Malaysia. Earlier on, the Security and Gender Group (SGG), chaired by United Nations Women, also reported an increase in incidents of domestic abuse during times of crisis in many countries. The COVID-19 pandemic is one such example and this has also affected countries including China and the United States.
MalaysiaKini has reported that the Women's Aid Organisation (WAO) and police in Malaysia have shared this to be likely as well. However, the article, which was released on March 27, mentioned a decrease in calls as survivors are confined with their abusers and are unable to to call for help or escape with the MCO in place.
"Domestic violence survivors are also at greater risk because they are trapped in the house all day with the abuser. It is also more dangerous for them to seek help, as the abuser may be monitoring their every move.
"Additionally, survivors who are unable to work during the MCO may also become more financially dependent on the abuser," WAO's Advocacy and Communications Officer Tan Heang-Lee told Malaysiakini.
So, is the ministry's anwer to this: don't nag, speak like Doraemon, dress up and wear makeup? The answer is clear, as demonstrated by some of these Internet reactions that best describe all of us. We shouldn't "nag", you see, so here's us being "humourous":
1.
2.
#WanitaBukanDoraemon pic.twitter.com/qRa0F6hoL3

— An Outrageous Success (Asia) (@an_success) March 31, 2020
3.
Even using their weird logic, I don't even understand this advice.

Doraemon is a male robot cat. pic.twitter.com/btktDWmpdV

— Syahredzan Johan (@syahredzan) March 31, 2020
4.
Just for the record, if you ever wanted to use Doraemon to support your misogyny, you need to stop.

Doraemon is a champion for gender equality and recognizes the power and intelligence of women

He also stands up to bullies.

I think the Women's Ministry should watch Doraemon

— Michelle Yesudas (@chelle_yesudas) March 31, 2020
5.
So you're telling me there are people who watched Doraemon growing up and thought "damn that's how my wife should speak "

— kartinee (@martineekag) March 31, 2020
6.
Dear @KPWKM:

1. Nagging, or berleter, is a gender-biased word. It perpetuates sexist stereotypes.

2. Carework is the responsibility of men AND women.

Please do better in your PSA posters. Personally, I found all of these to be problematic. pic.twitter.com/FFFGmdMqE9

— Melisa Melina Idris (@melisa_idris) March 31, 2020
7.
The #TalianKasih helpline has received over 1,890 calls by children and victims of #DomesticViolence since the #MCO started. This is an increase of 57% of calls in 2 weeks.

Makeup and giggling like Doraemon is not how solve this!#WanitaBukanDoraemonhttps://t.co/gGuwo33x6t

— Majidah Hashim (@majidahhashim) March 31, 2020
8.
Women should never have to act like 'Doraemon' or childlike to be taken seriously. And even if they want to #GelakManjaDoraemon it's their own decision. #WanitaBukanDoraemon #AprilFoolIsTomorrow pic.twitter.com/XVUEuDTCV9

— Women's Aid Org (@womensaidorg) March 31, 2020
9.
Yes, sometimes people get so busy telling women how to behave, how to dress, how to feel, how to take a joke, how to act, how to keep a husband and maintain a family that it becomes easy to forget that she is human.#COVID19Malaysia#PKP#DudukRumah https://t.co/cM7Xi35dZ7

— All Women's Action Society (@AWAMMalaysia) March 31, 2020
10.
#DoraemonRespectsWomen pic.twitter.com/2CxG8wjPqE

— HAKAM Youth (@HakamYouth) March 31, 2020
11.
YB @RinaMohdHarun I've decided to develop a poster with better messaging for your reference. @KPWKM @melisa_idris @TehminaKaoosji @AWAMMalaysia @womensaidorg @WCCPenang @hannahyeoh @netraKL @nisha8876 @crispyrendang @renchung @honeyean #StayHomeStayEqual #WanitaBukanDoraemon pic.twitter.com/N2u56fSefN

— Em (@emelliashariff) March 31, 2020
*If you are experiencing abuse or know someone who may be experiencing abuse, call 999 or WAO's hotline (03-7956 3488) or WhatsApp TINA at 018 988 8058. The hotlines are open 24-hours during the MCO period. Callers can also contact Talian Kasih at 15999.
*The above info was taken from The Star
| | |
| --- | --- |
| SHARE THE STORY | |
| Explore More | |